check*down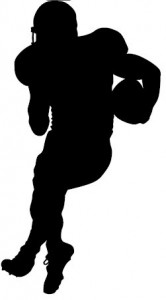 Definition Of Checkdown
1. This is short yardage pass attempt that the quarterback makes to a running back or tight end when all the wide receivers are covered, in order to avoid a sack.
The term "checked down" means that the quarterback has spent the time (usually 3-4 seconds) to look downfield to see if each one of his receivers are open or not, basically "checking down the list of receivers". If they are all covered, he will "checkdown" to the running back or tight end for a short yardage attempt.
Examples Of Checkdown
1. The defense has all the receivers covered downfield, forcing the quarterback to checkdown to his running back near the sideline.
Sport The Term Is Used
1. Football
Also Known As:
1. Checks
2. Checked Down
(Visited 183 times, 1 visits today)