So what does it look like when you sign a $148 million contract?
See below.
Philadelphia 76ers Joel Embiid signed a max contract with his team, for 5-years at $148 million. Yes, $148 million. I'm still trying to wrap my head around it. Oh, and this deal could reach $178 million if Embiid meets performance bonuses.
Wow.
Embiid, who's no doubt talented, has played in a total of 31 games since being drafted third overall by the team in 2014. He's been plagued by injuries since even before the draft, however has some how managed to keep improving game despite never seeing the floor.
The signing is a major gamble for the rebuilding Sixers, who are hoping that they have their own Big 3 in the making with Embiid, Ben Simmons and this year's first overall pick Markelle Fultz.
Judging by the SnapChat image to his buddy, Chandler Parson, Embiid looks pretty excited about the new deal.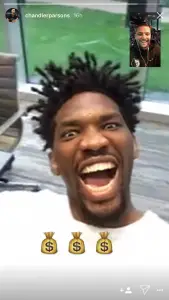 (Visited 37 times, 1 visits today)