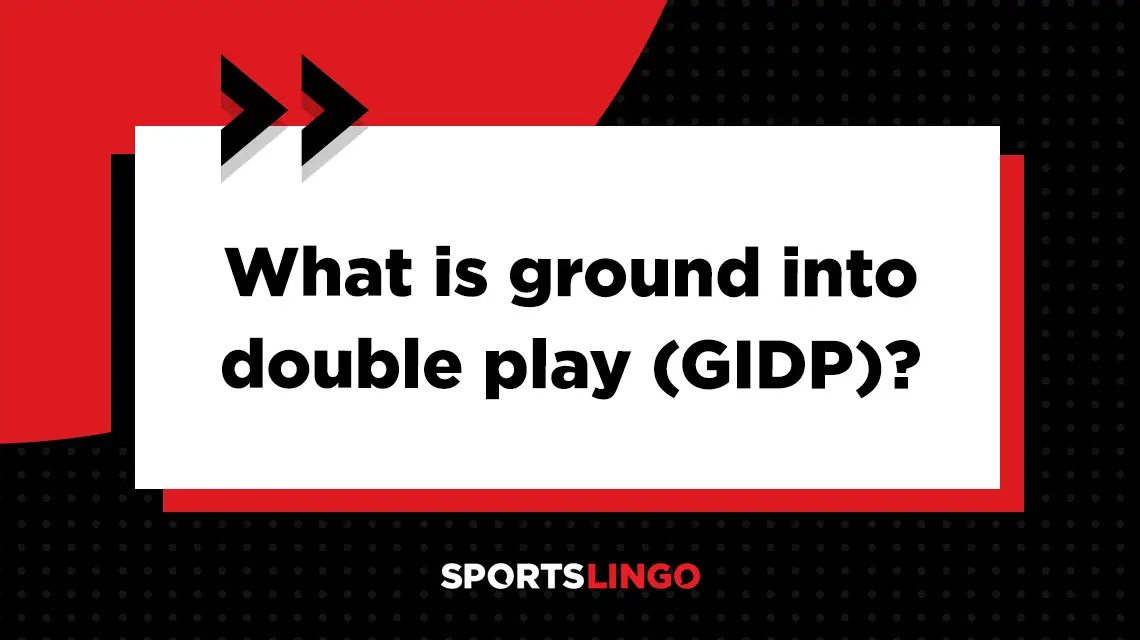 ground in*to dou*ble play
What is the definition of ground into double play (GIDP) in baseball?
1. To ground into double play (GIDP) means to hit a ground ball that leads to a double play. The term GIDP is used in baseball statistics to record the results of an at-bat.
What is GIDP in baseball?
A GIDP is a baseball play in which a batter hits a ground ball and the defense is able to successfully execute a double play. In order for a GIDP to occur, there must be at least one player on base and fewer than two outs when the hitter is at bat.
In Major League Baseball (MLB), the players with the highest number of GIDPs are those who hit ground balls frequently yet are slower baserunners compared to other players. Some of these players are known more for their slugging power than their speed, and they may also rack up a high number of home runs as a result.
What is GIDPO?
GIDPO stands for grounded into double play opportunities. It measures how many chances there were to get a double play after a batter hits a ground ball, while GIDP measures how many of those double plays were successfully completed.
In order for a GIDPO to be possible, there must be at least one baserunner and fewer than two outs when a ground ball is hit.
How many types of double plays are there?
There are numerous types of double plays in baseball, each of which is denoted by the numbers corresponding to each player on defense:
Pitcher
Catcher
First baseman
Second baseman
Third baseman
Shortstop
Left fielder
Center fielder
Right fielder
Scorekeepers track how double plays unfold by noting which defensive positions contributed to the play in the order of their involvement. For example, a 4-6-3 double play means that the second baseman (4) fielded the ball before throwing it to the shortstop (6) to get the first out at second base, followed by a throw to the first baseman (3) to get the batter out at first base.
Hypothetically, any combination of three numbers from 1 to 9 could define a type of double play. However, there are certain types of double plays which occur more frequently than others, including:
Although double plays often involve three players, there are certain scenarios where only two players might be involved in a GIDP. For example, if a first baseman fields the ball, they could tag first base for the first out, then throw the ball to the shortstop to get another out at second base. This would be recorded as a 3-6 double play.
A single player can even complete a double play. In these scenarios, an infielder usually catches a line drive, which causes an automatic out for the batter. Then, they tag a base before the runner has time to get back. With one runner on first base, for example, the first baseman could catch a line drive and then tag first to get both the batter and the runner out. When one player completes the double play on their own, it's known as an unassisted double play. It is extremely rare for an unassisted double play to be a GIDP.
One unique double play scenario occurs when a strikeout is immediately followed by an out for a baserunner who is caught stealing. This would not count as a GIDP since the batter does not successfully complete a hit. What usually happens in these scenarios is the pitcher striking out the batter followed by the catcher throwing the ball to a fielder (usually a second baseman or shortstop) to tag the runner caught stealing.
What is the most common GIDP?
Most GIDPs occur when there are two force outs, so the defense only has to touch the bags to make the outs rather than tagging the players directly.
An example of this is the 6-4-3 double play, which is one of the most common types of double plays. In this type of double play, the shortstop (6) fields the ball before throwing it to the second baseman (4) to get the first out, followed by a throw to the first baseman (3) to get the batter out. Because this series of events so often leads to two outs, it is sometimes abbreviated by baseball fans as 6+4+3=2.
What is the rarest double play in baseball?
The 3-2-8 double play is considered one of the rarest double plays in baseball. This happens when the first baseman (3) fields the ball and then throws it to the catcher (2), who gets the first out. Next, the catcher throws the ball to the centerfielder (8), who gets the second out.
The St. Louis Cardinals pulled off a 3-2-8 double play on August 28, 2020 in a game against the Cleveland Indians. That was the first instance of that specific type of double play in the MLB's expansion era, which began in 1961.
What are the odds of getting a GIDP?
The chance of getting a ground into double play varies based on a number of circumstances, including how many plate appearances are recorded, how often teams have runners on base when a player is at bat, the pitcher's skills and the reaction time of the defense. Because there are so many factors at play, it's very difficult to predict the odds of getting a GIDP.
How many GIDPs are in a baseball game?
Double plays in general happen fairly frequently. In the MLB's 2016 regular season, for example, teams had an average of 145 double plays per 162 games. However, not all of these double plays were GIDPs.
The most GIDPs for one team in a single game occurred on May 4, 1969 when the San Francisco Giants had a total of seven GIDPs and ultimately lost 3-1 to the Houston Astros.
What does GIDP mean in baseball stats?
On a baseball scorecard, GIDP means ground into double play. This means the batter hit a ground ball that was fielded by a defensive player and ultimately led to two outs. It's technically possible for a ground ball to lead to a triple play, but this is incredibly rare in baseball.
Players with a high number of GIDPs may potentially jeopardize their team's offensive performance. However, it doesn't necessarily mean that a player is not a good hitter or that they don't bring value to their team. Some of the all-time career ground into double play leaders also rank among the top home run hitters, and a number of Baseball Hall of Fame members are included on the list.
How are GIDPs used to evaluate pitchers?
GIDPs are attributed to the batter, not the pitcher. However, pitchers can be evaluated by how many times they forced a batter to hit a ground ball that resulted in a double play.
The type of pitch that a pitcher decides to throw and how well they execute that pitch affect whether a ground into double play occurs. A GIDP is favorable for the defense because they quickly get two outs, so pitchers who can successfully induce a ground into double play are valuable to their team.
Do you get an RBI for a GIDP?
A run batted in (RBI) is awarded to a batter when their plate appearance results in a run being scored. However, a batter is not credited with an RBI when their teammate scores a run as a result of a ground into double play.
Who has the most career GIDPs in baseball?
Much better known for his power than speed, first baseman Albert Pujols has grounded into a double play 426 times, putting him first in the standings for the most career GIDPs as of 2022. His record far outpaces other players ranking highly on this list. In fact, he has grounded into a double play 40 more times than the second-place player, Miguel Cabrera, another player with more power than speed who has a total of 356 GIDPs.
Baseball Hall of Famer Cal Ripken Jr. takes third place in the standings with 350 GIDPs, followed by Ivan Rodriguez in fourth with 337. The full list of the top ten players the most career GIDPs, along with the teams they are most closely associated with, is as follows:
Albert Pujols: 426 — St. Louis Cardinals, Los Angeles Angels
Miguel Cabrera: 356 — Florida Marlins, Detroit Tigers
Cal Ripken Jr.: 350 — Baltimore Orioles
Ivan Rodriguez: 337 — Texas Rangers, Detroit Tigers, New York Yankees
Hank Aaron: 328 — Milwaukee / Atlanta Braves
Carl Yastrzemski: 323 — Boston Red Sox
Dave Winfield: 319 — San Diego Padres, New York Yankees, Minnesota Twins,
Eddie Murray: 315 — Baltimore Orioles, New York Mets, Cleveland Indians
Jim Rice: 315 — Boston Red Sox
Julio Franco: 312 — Philadelphia Phillies, Chicago White Sox, Atlanta Braves
Who leads the MLB in GIDPs in a single season?
Left fielder and Baseball Hall of Fame member Jim Rice leads the MLB for the most GIDPs in a single season. He grounded into a double play 36 times in the 1984 season while playing for the Boston Red Sox. He also holds the second-place spot on the list for 35 GIDPs in the 1985 season.
Notable GIDPs in Baseball History
A ground into double play can have a quick and dramatic effect on a baseball game. The following are some of the most memorable GIDP moments in recent MLB history.
The Tampa Bay Rays faced off against the Boston Red Sox when this notable GIDP occurred. When Dustin Pedroia hit ground ball, Rays shortstop Yunel Escobar scooped it up and flipped the ball behind his back directly from his glove. Ben Zobrist received the toss and made an out at second base, then zipped it over to first base for another out.
In a game between the Los Angeles Dodgers and the Miami Marlins, a unique series of passes became part of an impressive GIDP. Dodgers catcher Yasmany Grandal hit a grounder in the fourth inning that was retrieved by Marlins shortstop Adeiny Hechavarría, who made a backhand toss to get the ball to Dee Gordon for an out at second base. Gordon then jumped up and threw the ball to Jeff Baker for another out at first.
A very rare GIDP was carried out by a single player in this game between the Oakland Athletics and the Los Angeles Angels. Athletics pitcher Kendall Graveman fielded a ground ball hit by Juan Graterol in the bottom of the fifth. Graveman proceeded to run over and tag one runner trying to reach home, then immediately dove to tag another runner from second base just before they made it to third.
In Game 7 of the National League Championship Series (NLCS), the Los Angeles Dodgers pulled off an amazing GIDP against the Atlanta Braves. After Nick Markakis hit a ground ball, Justin Turner fielder it and threw it home. The catcher threw it back to Turner, who made a diving tag after a rundown. Then, he made a quick throw to third base for another out. The Dodgers went on to win the NLCS and the 2020 World Series.
Example of ground into double play (GIDP) used in commentary
1. A power hitter who isn't known for his quickness to first base, it's no wonder that Albert Pujols has the most ground into double plays in MLB history.
2. With one out already, the Chicago Cubs pull off a GIDP at the bottom of the ninth, immediately ending the game with a win over the Arizona Diamondbacks.
Sports the term is used
1. Baseball
Also see:
1. 3-6-1 Double Play
2. 1-2-3 Double Play
3. 6-4-3 Double Play
4. 3-6-3 Double Play
5. 4-6-3 Double Play
----------------------------------------------------------------------------------------------------