If you've been following the National Basketball Association (NBA) for the last decade, you've probably gotten wind of Steph Curry's notorious reputation for ankle injuries. His ankle issues were severe enough at one point that his basketball career was at risk.
But Curry has been using the ZAMST A2-DX ankle brace, which eventually helped him shake those pesky ankle injuries. These comfortable and stable ankle braces provide strong support for moderate to serious ankle sprains.
In an interview in 2014, Curry said he's worn various braces to reinforce his right ankle. But since his surgery, he's only been using the ZAMST A2-DX.
Worn on both ankles by this two-time NBA Most Valuable Player (MVP), the brace is tailored for a precise fit to prevent Curry's feet from sliding forward and his ankles from rolling inward or outward.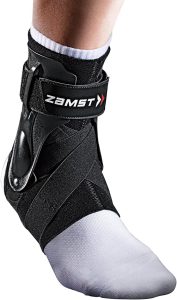 Provides increased support for all ankle sprains, especially high ankle sprains

Enhanced model that reduces inversion (rolling inward) and eversion (rolling outward) movements

Thin, breathable material with anti-bacterial and deodorant properties

Cross straps prevent unstable anterior and lateral movements

Plantar strap has an anti-slip function

Dual X-Strap Stabilizer offers three-way support for the lower ankle (medial, lateral, anterior)