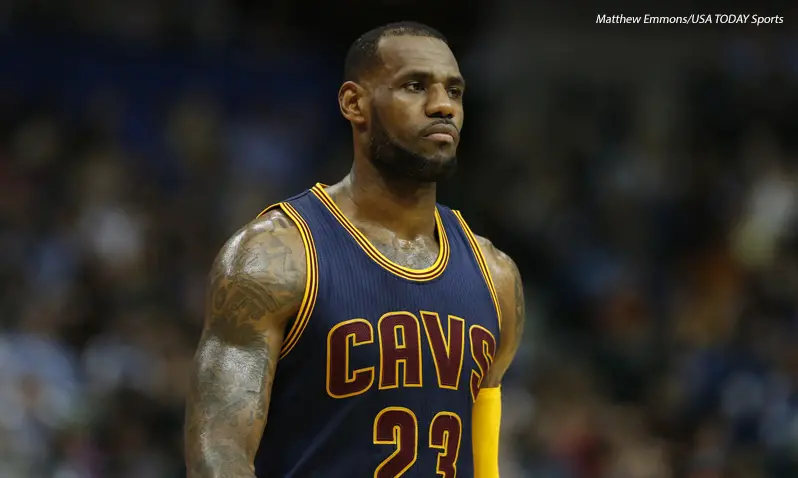 LeBron Was Almost A Buckeye?
Lebron James famously skipped college and became the number one overall pick in the 2003 NBA Draft. What many people didn't know was that had James gone to college, he would have stayed close to home and would have attended Ohio State.
Senioritis
By the time James was a junior in high school, he was already a national star. Because he had already dominated players at the high school level and was a men among boys, James tried to skip his senior season. After his team's loss in the Division II state championship game his junior year, James attempted to enter the 2002 NBA Draft, but was denied as NBA rules say a player must complete high school before turning pro.
Double Threat
James is arguably one of the best athletes we've ever seen, and his skills in other sports besides basketball were shown early on in life. Another sport that James excelled at was football. He was so good that he was a standout wide receiver on his high school's team and was even named to the All-State team his sophomore year. James got many offers to play Division I football and many speculate that he could even play in today's NFL.
LeBron Has Some Talented Best Friends
This year, James commented about his circle of friends and stated that he only has a few good friends in the NBA. The three pals he named should sound familiar, as they're Carmelo Anthony, Chris Paul and Dwayne Wade (pictured above). Talk about a great lineup for a casual pickup game at the playground.
LeBron & Soccer?
No, the All-Star is not looking to branch his skills out to soccer, but he has expanded his portfolio to the popular sport. James is actually part owner of the English Premier League football club Liverpool F.C., where he has a minority stake.
I'm Like Mike
The debate on who is better, "Michael Jordan or Lebron James?", will go on forever, but there is something that only the two of them have accomplished. No, it's not wearing the number 23, it's something much harder and probably won't ever be accomplished again. Both James and Jordan are the only players in history to win a regular season MVP, NBA Finals MVP and Olympic Gold Medal all in the same year. Talk about overachieving.
LeBron Never Showcased His Dunk Skills
James has been a regular attendee during All-Star weekend since early on in his career. Despite being a part of the All-Star game for many years, there's one challenge he's never taken: Entering the dunk contest. With his uncanny athletic ability and his powerful dunks, many want to see James enter the contest and take home the crown, but the King has never and probably won't ever enter the contest. He's still got a few good years left, so let's hope he'll try it once before he retires.
Mr. Lefty
Did you know that LeBron is a lefty? Well, he writes with his left hand at least. When it comes to shooting the ball and throwing down dunks, Mr. James uses his right hand.