Yes. This is not a drill.
Floyd Mayweather and Manny Pacquiao have finally agreed to fight. For years these two (and by two, I mean Mayweather) have avoided coming to ANY agreement to bring two of the best fighters of the generation into the same ring.
I'm kind of hesitant to even take this announcement seriously. Mostly because Mayweather announced the fight on Shots. Haven't heard of Shots? My point exactly. Had it been announced on Facebook, I may have taken Floyd a bit more seriously.
Anyways, the fight is scheduled for May 2 in Las Vegas. Let's all keep our fingers crossed in hopes that this actually happens. After all, it's been a long six years since the two have them first started their negotiations.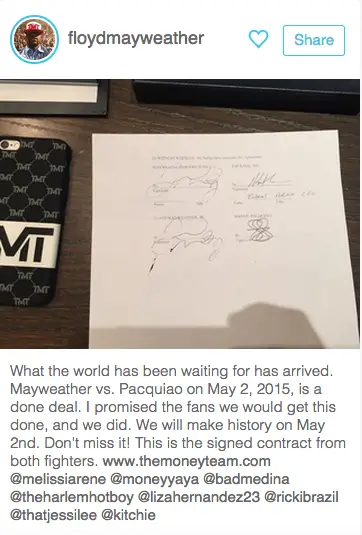 H/T: Shots