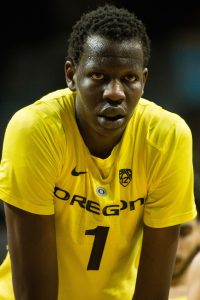 The Ducks have lost their might center.
According to multiple sources, and first reported by Matt Prehm, University of Oregon's Bol Bol will most likely miss the rest of the season with a stress fracture in his left foot.
Bol, the son of former NBA center Manute Bol, has been out for the past four games with the injury and has already confirmed that his time at Oregon has come to a premature end.
The 7'2 freshman did not disappoint during his short stint with the Ducks. In nine games, Bol averaged 21 points, 9.6 rebounds, and 2.7 blocks per game while registering a double-double in four contests.
Although there is a small chance Bol may play later this season, it's most likely he will not risk further injuring himself. With his size and talent, Bol has a chance to be a lottery pick in the 2019 NBA Draft.