Looks like Shady is being stingy with the tip.
Apparently after a hard fought win on Sunday, LeSean "Shady" McCoy of the Philadelphia Eagles needed to refuel at a local burger joint in Philly called PYT. Apparently he was so focused on eating, that he forgot to leave a fair tip for Rob. The gentleman who got the privilege of receiving a .20 cent tip on a $61.56 check.
I'm really hoping there's a reasonable explanation for this stiff on the tip. We know the running back has the cash after getting a 5-year, $45 million extension back in 2012. Maybe he took a few too many hits to the head earlier in the day? No, that won't work, cause he added the total properly.
Maybe he thought his autograph was worth at least $10 or more? Yeah. Yeah, that has to be it.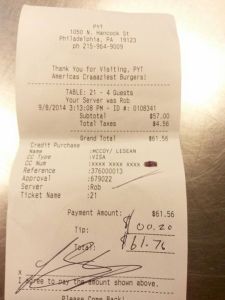 H/T: Facebook