"I just haven't gotten around to it yet."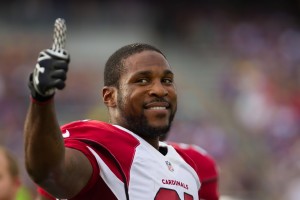 That's what Arizona Cardinals cornerback Patrick Peterson told MMQB on why he hasn't cashed his signing bonus yet.
His $15,361,000.00 signing bonus.
If you weren't aware, Peterson became the highest paid cornerback in the NFL, surpassing Richard Sherman who had signed an equally large, but slightly less contract this summer. Even if Madden doesn't have Peterson ranked as the best corner in their game, he's sure paid like it.
How big is his contract you ask? Oh, just $70 million spread out over five years. Maybe he wants to give the team a little extra time scrapping up all that cash before he deposits the money.
You'd think that with a signing bonus that large, the Cardinals would wire, direct deposit or something else a bit safer and quicker than writing a simple check for the total amount. And if I was Peterson, I'd be on my way to the bank before the ink dried on the paper.
H/T: MMQB