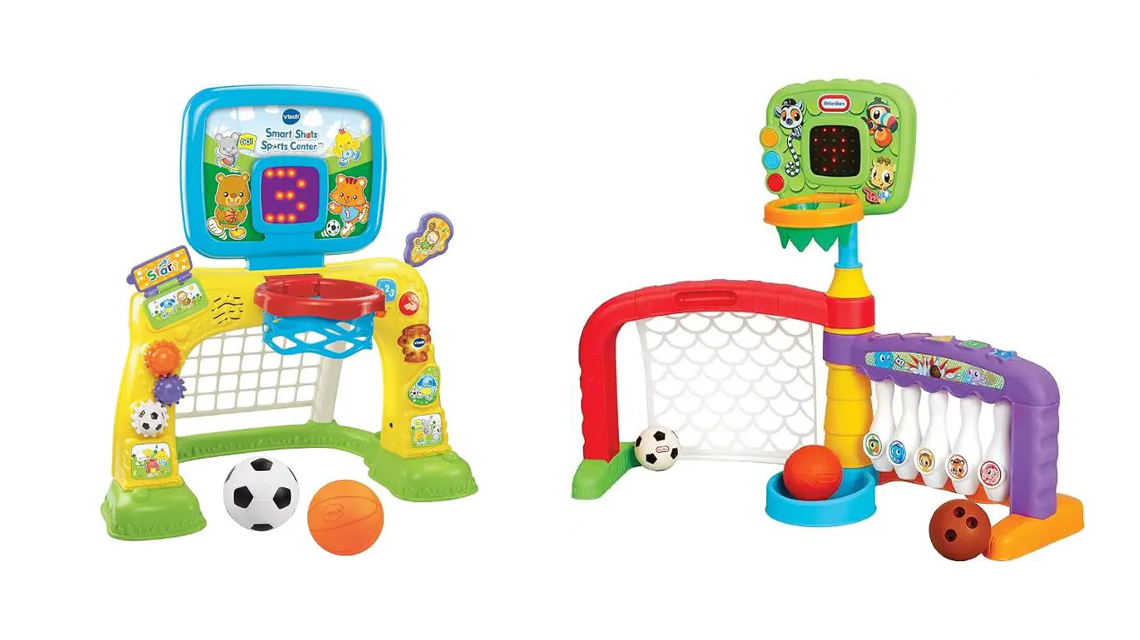 Encouraging an interest in sports is a great way to help kids stay healthy and develop a fun and rewarding hobby. If their sport of choice is basketball, you've got plenty of exciting options to choose from when it comes to holiday gift ideas. Simplify your Christmas shopping with this list of the best basketball toys for kids.
Sports toys for kids who love basketball
Ready to start shopping? Check out this selection of basketball toys for kids of all ages — and adults, too!
1. VTech Smart Shots Sports Center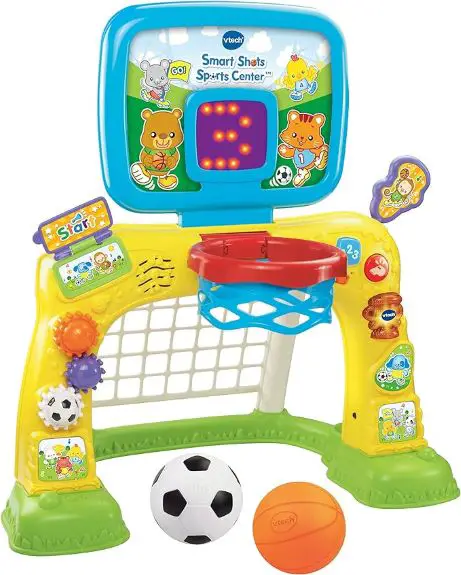 Teaches shapes, numbers and sounds

Recommended for ages 1–3 years old
For the littlest ballers out there, you can't go wrong with the VTech Smart Shots Sports Center. It's one of the most educational basketball toys for boys and girls in the toddler stage. It features a hoop at the center and counts up points as the ball goes through the net. Points are also totaled when kicking a ball into the included soccer net. Buttons along the sides help to introduce shapes, numbers, sounds and phrases to create an active learning experience.
2. Little Tikes Easy Score Basketball Set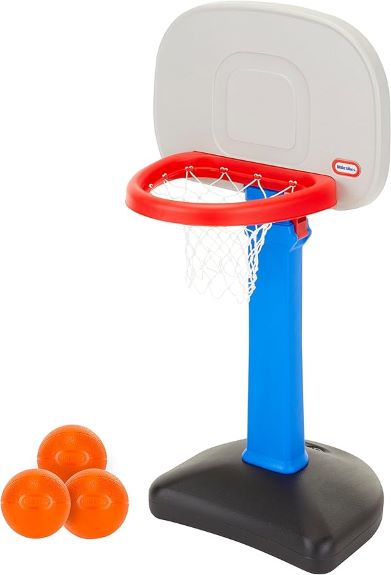 Adjustable height and oversized rim

Recommended for ages 1.5–5 years old
This Little Tikes set is one of the most popular basketball toys for kids. A long-time best seller, it has over 44,000 reviews on Amazon and an overall rating of 4.8 out of 5 stars. The freestanding basketball hoop has six adjustable heights from 2.5 to 4 feet, so it's perfect for growing kids. It's suitable for use as an indoor or outdoor toy, and it comes with three junior-sized soft basketballs. Just add sand to the base for a stable setup.
3. NERF Over the Door Basketball Hoop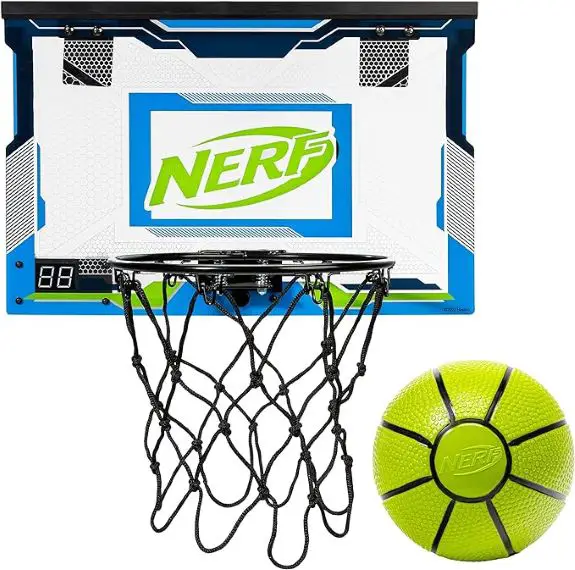 Light-up LED backboard with steel rim

Recommended for older children and adults
Bring the excitement of outdoor games inside with an over the door basketball set. This NERF basketball hoop is a major upgrade from flimsy indoor basketball goals. The premium-quality design features a shatterproof backboard with a spring-loaded steel rim that can handle slam dunks without issue. It also has a battery-powered LED scoreboard with a scoring sensor that illuminates the hoop for playing in the dark. The set comes with a mini PVC basketball that's safe for indoor play. This is a great kids basketball hoop that adults can enjoy, too.
4. Pop-A-Shot Arcade Basketball Game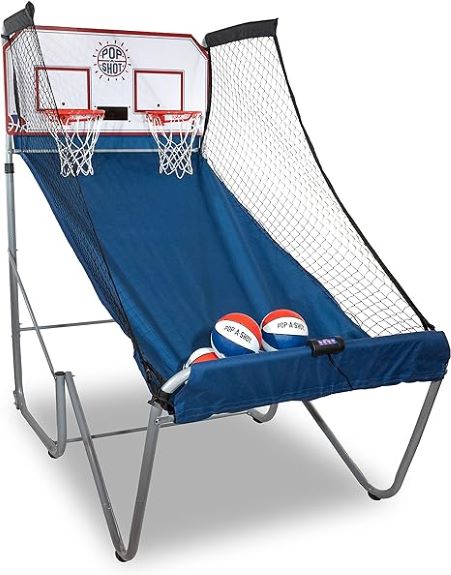 16 game modes with electronic scoreboard

Recommended for older children and adults
Bring the excitement and enjoyment of the arcade into your home with the Pop-A-Shot basketball game. This two-player set features a built-in electronic scoreboard which can be AC or battery-powered. The scoreboard also broadcasts the voice of an announcer who helps direct 16 different game modes. This is a durable basketball shooting game constructed with sturdy steel tubes, a commercial-grade backboard and a heavy-duty nylon ramp. The height can be adjusted for different players, and the set folds up to just 37 inches deep for easy storage.
5. Basketball Bubble Popper Sensory Fidget Toy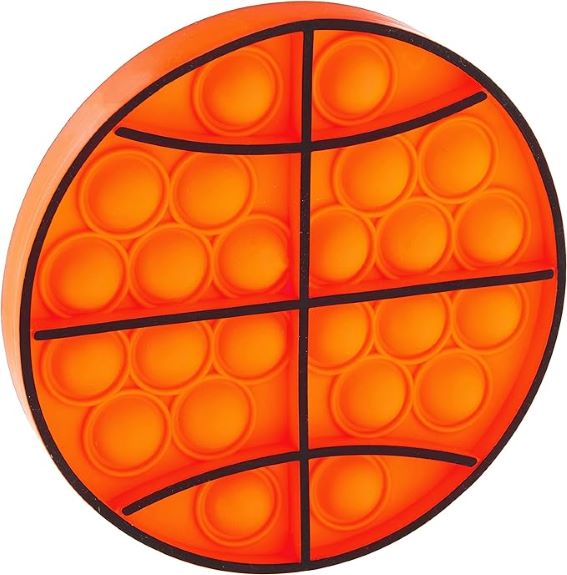 Silicone popping fidget toy

Recommended for ages 1.5+ years old
This basketball-themed sensory toy is the ideal stocking stuffer or party favor. Designed to look like a basketball, it features a series of popping bubbles that can be fidgeted with to relieve stress and excess energy. The waterproof, lightweight design is ideal for taking on the go by slipping it into a pocket or backpack. It's also made with durable silicone that can be bent, twisted or pulled without causing damage.
6. DR.DUDU Basketball Table Hockey Game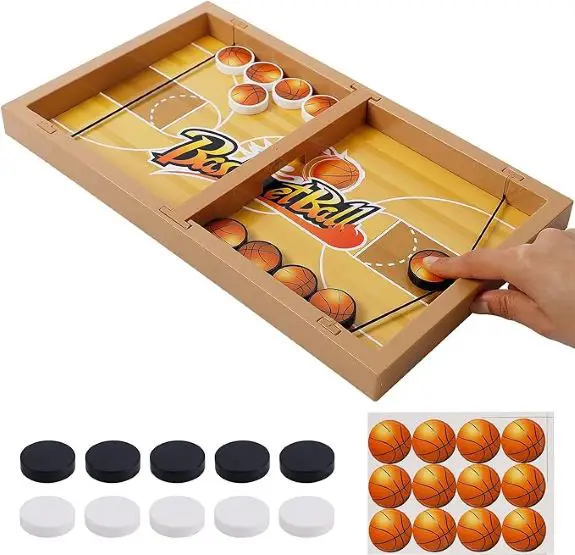 Two-player tabletop board game

Recommended for ages 6+ years old
This slingshot-style tabletop game adds a fun twist to classic basketball strategy. Rather than scoring baskets, players try to shoot their pieces through a slit in the middle of the board. It's a fast-paced board game that's not only fun to play, but also an effective activity for improving fine motor skills and hand-eye coordination. Plus, kids and adults can enjoy playing it together to create family memories.
7. MAX'IS Creations Basketball Hot Chocolate Mug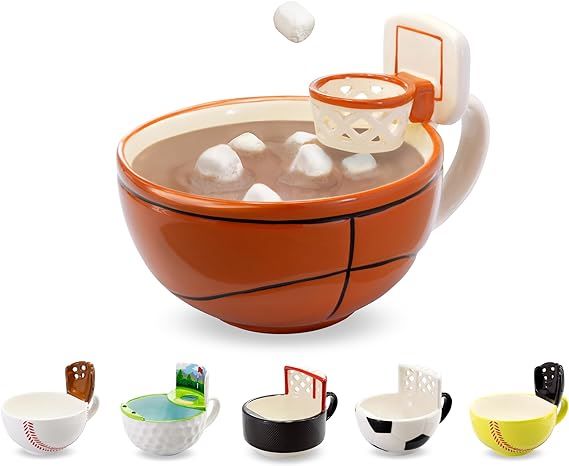 Coffee/hot cocoa mug with attached hoop

Recommended for kids and adults
This charming mug is one of the most unique and memorable basketball holiday gifts. Kids and adults alike will get a kick out of the whimsical design, which features a mini hoop perched above the rim of the mug. Shoot mini marshmallows into some hot cocoa for a tasty and festive treat. But you don't have to stop there. The mug's spacious bowl is also great for tossing cereal into milk, chocolate chips onto scoops of ice cream or crackers into soup.
8. Swimming Pool Basketball Hoop Set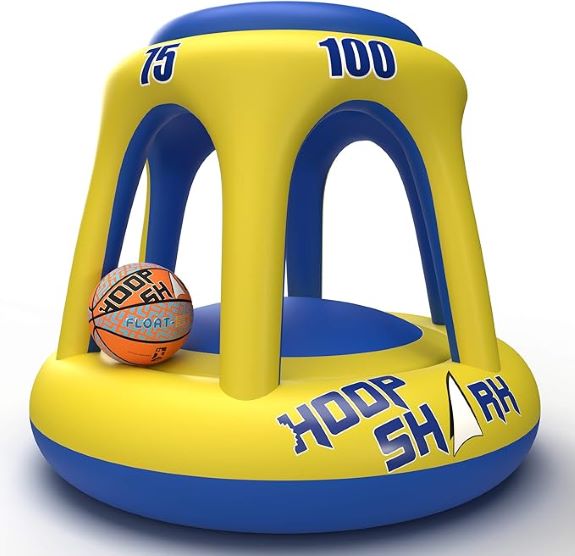 Inflatable hoop with ball

Recommended for older kids and adults
Enjoy a new form of outdoor play in the pool with this inflatable hoop and ball set. The versatile design can be used for practicing shots solo, competing in a friendly game or working on cool trick shots while jumping into the water. This high-quality inflatable pool toy is designed with large bore valves for quick inflation and deflation, so it can also be brought along on vacations or beach days so you can enjoy outdoor games anywhere.
9. IE Sports Adjustable Basketball Hoop with Rebounder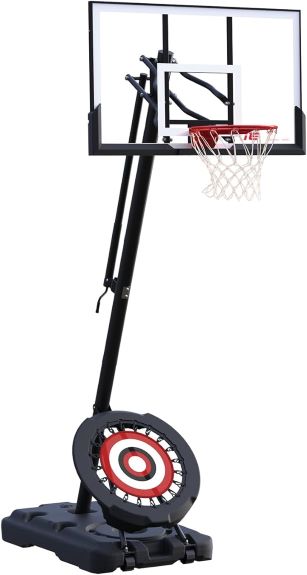 Portable outdoor hoop with adjustable height

Recommended for older kids and adults
If you want the ultimate holiday gift for a basketball player, choose this IE Sports basketball hoop. Perfect for driveway and backyard games, this portable basketball goal system features a shatterproof backboard and a sturdy base with wheels. The hoop is easy to assemble and can be adjusted from 7.5 to 10 feet. Best of all, it has a built-in rebounder, so it sends the ball back after successful shots and can be used for practicing passing and catching skills.
10. T Play Stuffed Basketball Plush Toy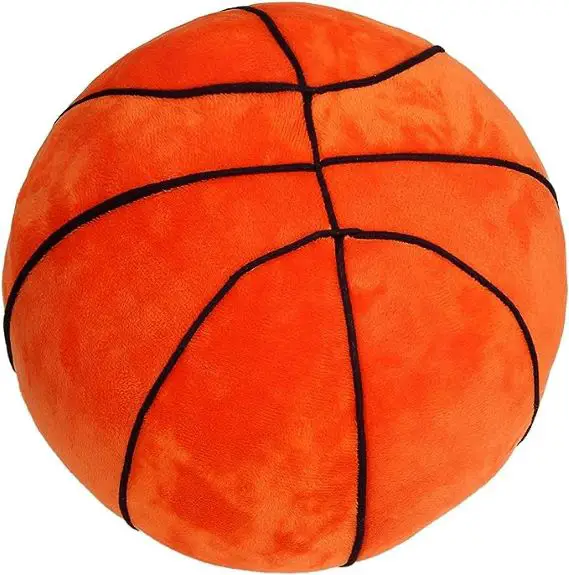 Super-soft and fluffy basketball toy

Recommended for ages 3+ years old
Sometimes a simple toy is the best toy, and this stuffed basketball is a perfect example. Made from high-quality plush material, it's made for little ones to toss and catch. It makes for a festive party decoration for a basketball-themed birthday party, or it can be used for indoor or outdoor play. Plus, it's so cozy and soft that it can even double as a pillow. Parents will appreciate that this plush basketball is conveniently machine washable.
11. Skip Hop Baby Bath Time Basketball Toy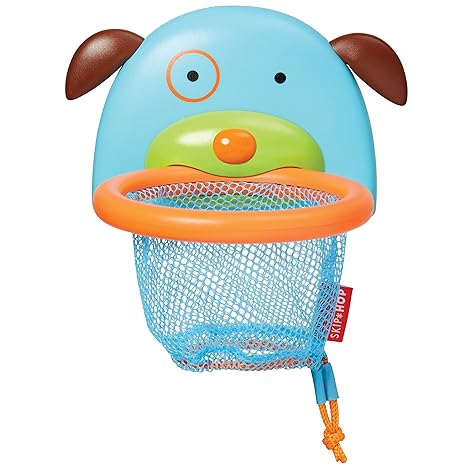 Attaches to bath or shower with suction cups

Recommended for ages 1+ years old
Make bath time more entertaining with this Skip Hop basketball set. Featuring a backboard designed to look like a cute dog, little ones are sure to love it. Plus, it's fun for them to make baskets by placing the balls through the plastic hoop. Each of the three included balls can squirt water, which adds to their bath time engagement. The net is also designed with a drawstring so the balls can be corralled more easily. To set it up, just secure it to a glass or tile surface using the two suction cups on the back.
12. Little Tikes 3-in-1 Sports Zone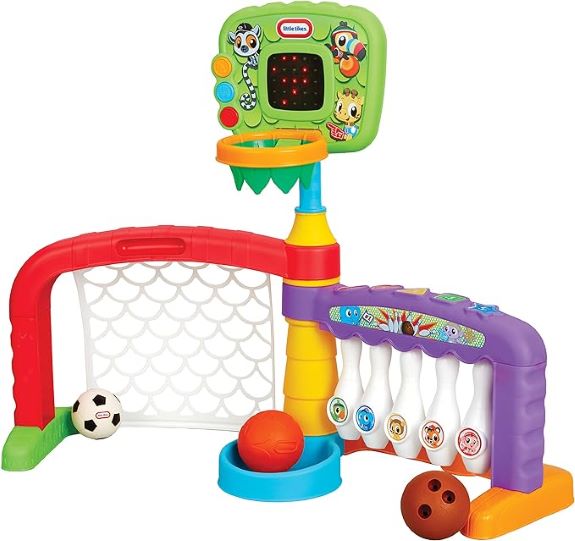 Features basketball, soccer and bowling

Recommended for ages 18 months–5 years old
Introduce young children to three sports at once with the Little Tikes 3-in-1 Sports Zone. At the center, this indoor playset features an adjustable basketball hoop that can be inched higher as little ones grow. Every time a shot is made, the backboard lights up for a dazzling display that is sure to delight toddler boys and girls. To one side of the hoop, there's a net they can kick a soccer ball into, while the other side features a lineup of five pins for bowling. With over 75 songs, sounds and phrases, it's the ultimate three-in-one system for sports ball fun.
13. Ceiling Swish Indoor Mini Basketball Hoop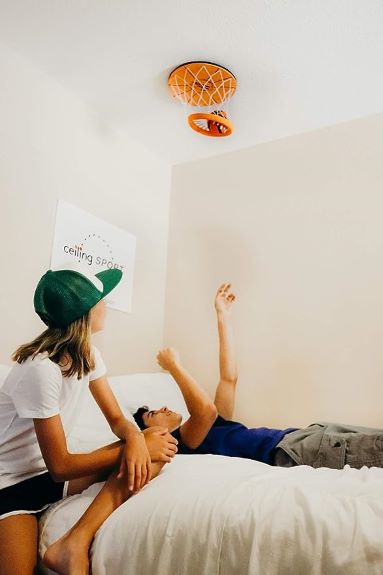 Attaches to ceiling with included adhesive strips

Recommended for ages 4+ years old
Lay back and relax while you shoot hoops with the Ceiling Swish. This indoor basketball toys gift is a great option for middle schoolers and teens who want to have their own cool hangout space in their bedroom. The lightweight hoop easily attaches to the ceiling so they can lay on their bed and shoot a mini ball up into the air. It also works for playing from the floor or a chair in an office, play room or dorm room.
14. FlashCatch Light-Up Basketball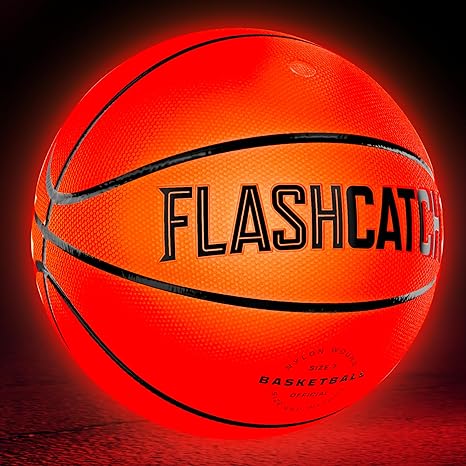 Battery-operated LED basketball

Recommended for kids, teens and adults
Enjoy outdoor sports after the sun goes down with this light-up basketball featuring vibrant LED lights. It has all the features of an official size 7 basketball, including a nice grip on the surface and good bounce. It includes two sets of batteries, so you'll have a spare when the first one runs out. Each set can last for up to 30 hours, however, so you won't need to switch them out anytime soon. Kids love that this ball's lights are bounce activated, and the automatic shutoff helps to preserve battery life.
15. 21-Piece Kaskey Kids Basketball Guys Set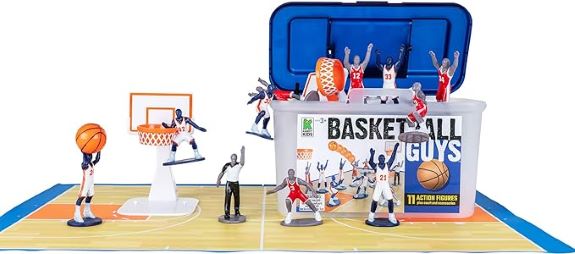 Set of basketball player action figures with play mat

Recommended for ages 3+ years old
Encourage imaginative play with this set of 21 basketball action figures. It comes with a 15 by 25-inch plastic play mat and two hoops designed to resemble a basketball court, so the players can be moved around to simulate a real game. The included carry case makes the entire set easy to tote around for fun on the go. In addition to being an engaging activity for kids who love basketball, this is an excellent educational tool for teaching the basics of the sport and demonstrating specific strategies and plays.
Whether you're looking for the perfect present for the holidays or a birthday gift that's focused on their favorite sport, any kiddo will light up when they receive one of these fantastically fun basketball gifts.
What are basketball toys?
Basketball toys are any kind of play product which is focused on the sport of basketball. That could be a classic item like a hoop that allows them to play basketball indoors or outdoors at home. However, this category also includes any type of basketball-themed toy, like tabletop games and stuffed toys.
What is the most popular basketball toy?
One of the most popular basketball toys is an indoor basketball hoop. This type of toy allows kids to play basketball whenever they like regardless of the weather outside. It's a wonderful choice for any age, too. In fact, even adults can have a blast using a mini basketball hoop indoors when they want to enjoy some family fun or take a little break at home or in the office.
How much does a basketball toy cost?
The cost of basketball toys varies widely depending on which type of product you wish to purchase. There are lots of kids toddler toys which are quite affordable, especially smaller basketball hoop sets. If you want to splurge on a holiday gift, consider higher-end options like arcade games with electronic scoreboards, durable outdoor basketball hoops or authentic NBA gear.
Types of basketball toys
Looking for some unique basketball gifts? Here are some of the top options to consider.
Basketball hoop sets
What better way to enjoy basketball than by playing it at home? A basketball hoop set is a great toy for any age group. Smaller indoor kids' basketball hoops with adjustable heights are ideal for toddlers and young kids. A wall-mounted mini basketball hoop is a good indoor option as well, but be sure to pair it with a softer ball that won't cause too much damage when it ricochets off the rim.
An outdoor basketball hoop allows older children and teens to practice their skills and host scrimmages in the driveway. A pool basketball hoop is another fun option for those lucky enough to have access to a swimming pool.
Tabletop basketball games
When play needs to be limited to smaller spaces, choose a stationary desktop basketball game. There are small shooting games that can be set up on a tabletop so the whole family can participate. Board games with basketball themes can also encourage quality time with friends and family.
Basketball video games
For kids who love both video games and sports, this is the ideal gift. They'll love a classic basketball arcade game, especially one that allows for multiple players to compete at once. If you have a video gaming system at home, choose a compatible basketball game that they can play alone or with friends.
Toy basketballs
The simplicity of a toy basketball shouldn't be overlooked. Something as simple as a stuffed basketball or a bouncy ball with a basketball design can become a treasured possession for a little one.
Last update on 2023-11-29 / Affiliate links / Images from Amazon Product Advertising API