When basketball players are out shooting hoops, the last thing they're probably thinking about is how they can prevent knee injuries. But with high-quality knee pads, you can protect yourself from future knee pain so you can keep playing at the top of your game.
Types of basketball knee supports
While shopping for basketball knee pads, you may notice some companies using the terms pads, sleeves, and braces interchangeably. However, each product provides a different type of knee protection and support. Choosing the right one is essential for getting the benefits you're after.
Basketball knee pads
Basketball knee pads are designed to prevent knee injuries and contusions by cushioning the patella, or knee cap, from impact damage. With they're made of a soft gel layer or foam padding, these pads are an essential piece of protective equipment to help prevent sports knee injuries.
Basketball knee sleeves
Instead of preventing injury, knee sleeves provide support when an injury has already occurred. These sleeves are usually worn by athletes who have sustained some type of damage to their knees, such as tendonitis. Made from a tight elastic material like spandex, knee sleeves provide compression that reduces chronic knee pain by improving blood flow and supporting ligaments.
Basketball knee braces
Finally, knee braces provide even more support for basketball players with serious knee injuries, such as ACL, MCL, or meniscus tears. Primarily designed for pain relief, many support braces feature an open patella design to reduce pressure on the knee cap.
How to choose basketball knee pads
Not all knee pads are right for every basketball player. Different needs and preferences can significantly impact which type of knee support is best for you.
Shock absorption
Your basketball knee pads must provide an adequate cushion to protect your patella and knee joint. Otherwise, you may still sustain serious injury to your knees despite wearing knee pads. Shock-absorbing materials, such as EVA foam padding, provide excellent protection while remaining lightweight and breathable.
Flexibility and comfort
While the most essential quality in basketball knee pads is their ability to protect you from knee injuries, they still need to be comfortable and flexible so they don't interfere with your ball playing. Choose a pair of knee pads that are moisture-wicking and allow for a wide range of motion.
Size
With so many different brands and types of knee pads, finding the right size for you can be challenging. As a piece of protective gear, your basketball knee pads must fit snuggly, so they give protection but are still comfortable. Some materials are also more elastic than others, meaning they might fit differently than expected for a particular size. Check reviews to see if a specific product runs large or small so you can find the right size for you.
Style
There are a few different styles of basketball knee pads. Some are designed exclusively for protection against bumps, bruises, and contusions, while others are integrated with a compression leg sleeve for stabilization. Sleeves or leggings also provide scratch and abrasion protection over a larger surface area, while smaller pads are easier to move in. There are long and short versions within those parameters, so you can find the style that fits your needs.
1. McDavid 6440 Hex Knee Pads/Elbow Pads/Shin Pads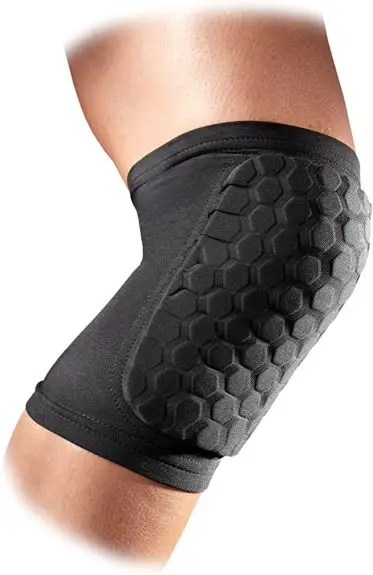 With superior hex technology, it's no wonder that these McDavid knee pads are popular with NBA players. Each pair of McDavid 6440 hex knee pads is ideal for body-to-body contact, preventing impact injuries to the knees, elbows, or shins. In addition, these knee pads reduce fatigue and cramping from cold muscles with comfortable, mild compression.
Hex closed-cell foam padding gives optimal support in any contact or collision

Versatile design allows for use as shin or elbow pads

Moisture Management Technology for moisture wicking and breathability

Available in seven sizes, youth to XXL
2. COOLOMG Basketball Knee Compression Sleeves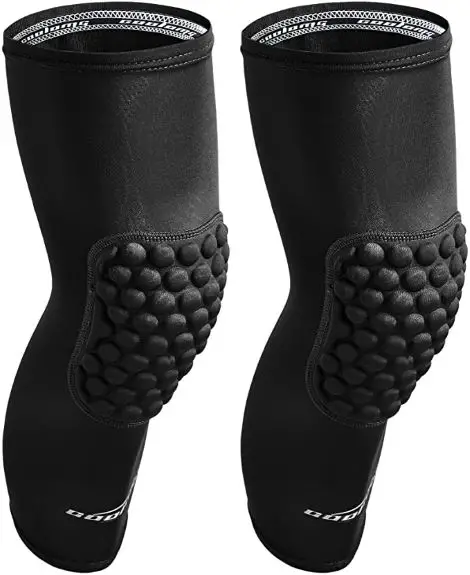 These full-length COOLOMG basketball knee sleeves provide complete knee protection while looking fantastic. Each one features an extra-thick EVA foam padding layer to protect your knees from high impact and a long polyester and spandex sleeve for stabilization. With seven fun colors and patterns to choose from in both youth and adult sizes, there's a COOLOMG knee protection sleeve for every basketball player.
Grooved EVA foam padding provides cushion and protection in high-impact activities such as basketball

A unique non-slip design ensures they stay in place and the entire knee is protected

Made from high-quality polyester, spandex, and silicone for a comfortable, shockproof design

Available in sizes XXS to XL, with the smaller sizes best for kids and youth and medium and up for adults
3. REACHSTOP Basketball Hexpad Protective Leg Sleeve Knee Pads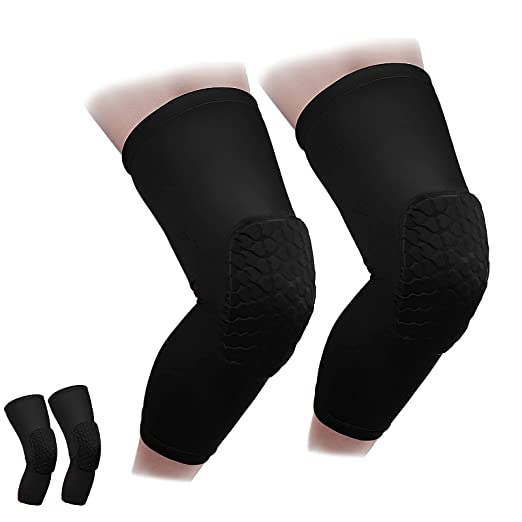 The best basketball knee sleeves are also knee pads! The REACHSTOP leg sleeve is a hybrid knee pad and knee sleeve that protects your knee joint while increasing circulation. This pair of leg sleeves is great for any contact sport, such as basketball, volleyball, or paintball. They're easy to move in and provide excellent protection.
Made from Chinlon and Lycra spandex for superior stretch and breathability

EVA knee pads protect from crash injuries and absorb shock

Anti-slip double silicone gel strips keep the knee pads in place

Compression knee sleeve design also provides pain relief and reduces soreness

Available in sizes small to XL
4. Crash Pad Youth Anti-Collision Basketball Knee Sleeves/Elbow Pads
For excellent knee protection for kids, look no further than these Crash Pad anti-collision padded basketball sleeves. With a high-density cellular gasket design, they prevent injury by cushioning impact. Even though these protective knee pads have more padding than competitors, they're still highly flexible for mobility. You can also use them to protect elbows, forearms, and upper arms.
High-density cell foam provides plenty of cushion

Provides added support while maintaining a full range of motion

Moisture-wicking to help stay cool and dry

Available in youth sizes small to XL for any kid basketball player
5. SZKANI Compression Leg Sleeve Knee Pads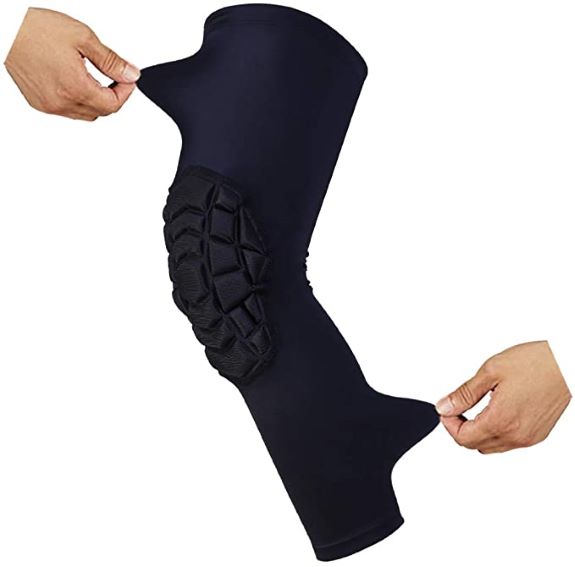 These SZKANI full-length compression knee pads are specially designed to reduce the effect of collisions while reducing stress and fatigue in joints and muscles. With a thicker, uniquely designed pad, they effectively protect your knee cap from impact-related injuries. Choose from short or long sleeve versions, four colors, and five sizes.
Soft silicone ripples prevent slippage, so you're always fully protected

Extra-thick knee pad for more effective collision avoidance

Made from breathable, moisture-wicking fabric for optimal comfort

Available in sizes small to XXL
6. Legendfit Basketball Knee Pads for Youth and Adults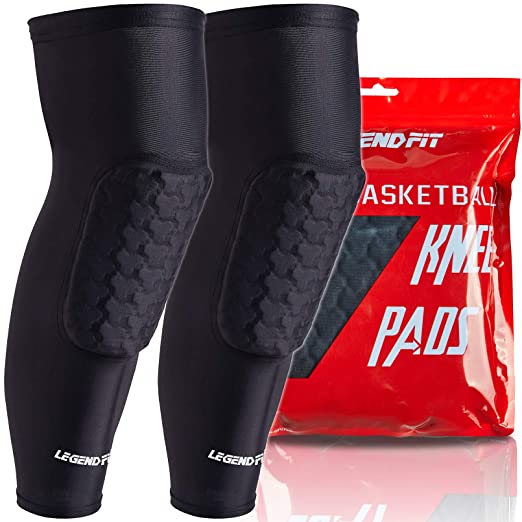 For an extra-thick knee pad suitable for basketball and other high-impact activities, check out these Legendfit basketball knee pads. Equipped with durable EVA pads, they absorb shock to reduce the risk of injury. Meanwhile, their comfortable, ergonomic design prevents chafing and ensures freedom of movement.
Textured high-quality EVA padding effectively protects knees

The non-slip design keeps them from moving during sports

Made from a high-quality polyester, spandex, and silicone blend for soft, breathable comfort

Compression fit for improved blood circulation and pain reduction

Available in adult sizes XS to XL
7. HiRui Knee Pads for Knee Support and Collision Avoidance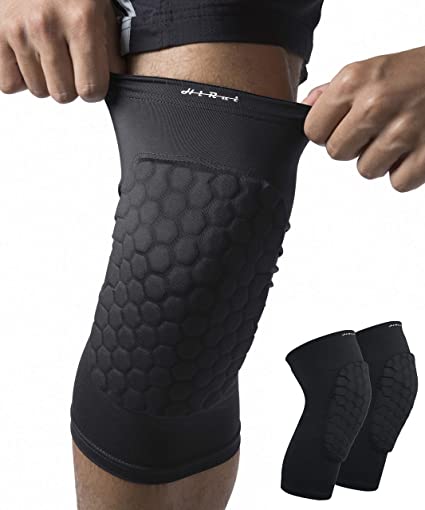 These HiRui knee pads protect the entire knee while adding support and stability. The hex pad honeycomb design absorbs and disperses shock while still being flexible enough to easily move around in. Made from a high-quality mix of polyamide and spandex, it has an elastic fit and is very breathable.
Light and elastic material to give a proper fit without causing chafing

Hex pad honeycomb design to absorb and disperse shock

Available in four colors and sizes small through XXL

Improves blood flow and provides pain relief from overuse
8. LARDROK Breathable Honeycomb Protective Knee Pads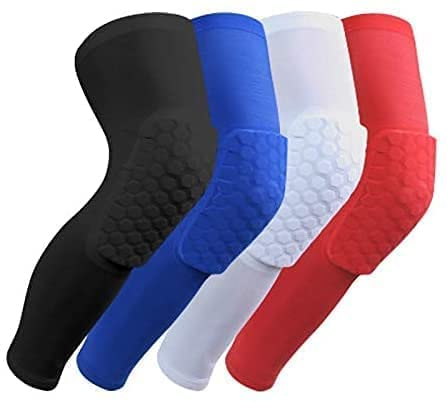 Made from high-density Lycra fabric, these honeycomb protective knee pads from LARDROK are breathable, quick-drying, and comfortable. With an engineered honeycomb design, each protective knee sleeve is made to absorb collisions and disperse shock evenly. Utilizing compression technology and anti-slip materials, these knee pad sleeves are guaranteed to stay in place no matter what maneuver you make on the basketball court.
Compression fit with anti-slip fabric

Fixed honeycomb pads for shock dispersion

Available in four colors and sizes small through XL

Breathable and comfortable high-density Lycra fabric

100% guarantee warranty with free replacement
9. Uunumi Crashproof Basketball Knee Pads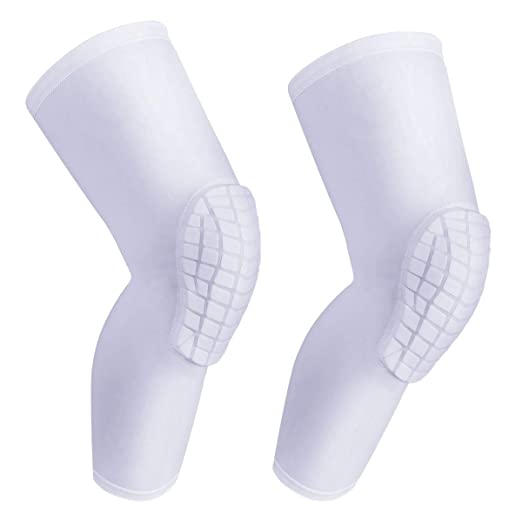 These Uunumi protective sleeves feature built-in knee pads which, despite being thicker than most, won't decrease your mobility. The compression sleeve is held secure by two elastic straps that prevent it from moving around. Made from high-density polyester-Lycra, each sleeve absorbs moisture and dries quickly while still being comfortable to wear.
Available in two colors and sizes small through XL

Extra-thick cellular gasket knee pad for added collision protection

Highly absorbent and breathable polyester-Lycra fabric

Sleeve design offers increased stability
10. ReachTop EVA Padded Knee Braces for Basketball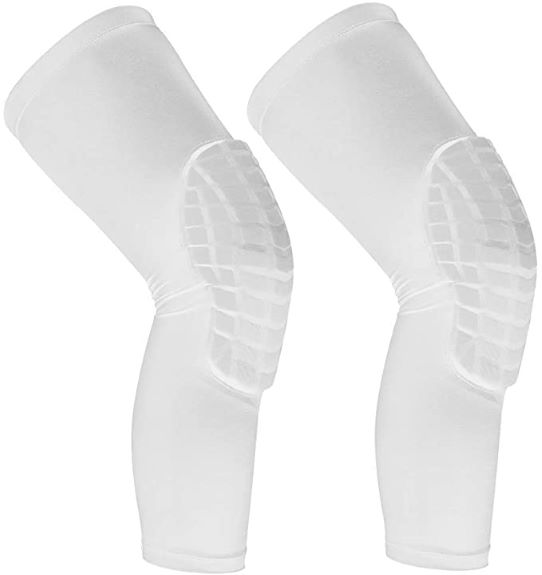 ReachTop's EVA padded knee sleeves put two knee-supporting accessories together, combining a cushioned knee pad within a full leg compression sleeve. These basketball knee pads have it all with stability and support for existing injuries and protection from collisions and crashes. They're also great for football and volleyball as well.
Protects the knee with special high-density PEF cellular gasket pads

Full-length leg sleeve for added stability and protection against cuts and abrasion

A great versatile design suitable for almost any contact sport

Available in sizes small to XL
11. COOLOMG 3/4 Basketball Compression Leggings with Knee Pads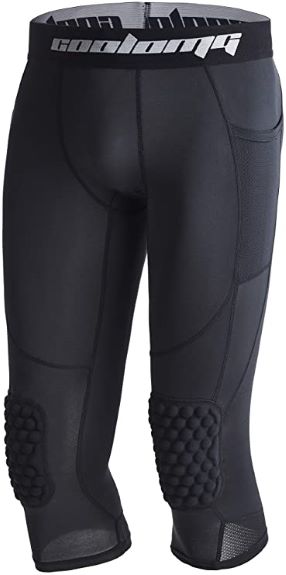 These 3/4 length compression leggings are another excellent knee pad design from COOLOMG. Instead of using straps or sleeves, this pair of protective leggings keeps the knee pads in place while maximizing comfort. Made from high-quality, quick-dry polyester and spandex, these compression pants may be the only protective leggings an athlete needs.
Legging design offers comfort while also reducing friction and chafing

Reflective parts increase visibility during nighttime

Built-in mesh pocket on the side

Available in two colors and sizes XS through XL
12. JUMISEE Anti-Slip Breathable Knee Pads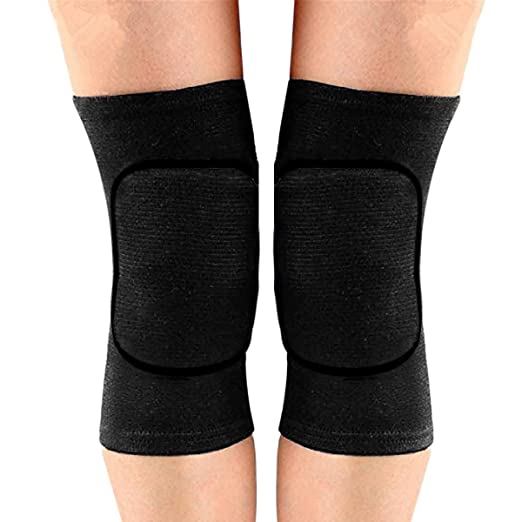 These anti-slip basketball knee pads from JUMISEE have low-profile, sponge-style pads that offer a wide range of motion. Made from cotton and a high-density sponge, these knee pads are flexible, soft, and will keep you warm in cold weather. In addition, the elasticity in the material is guaranteed to keep the knee pads in place no matter how intense the game gets. As a result, these pads can be used for various sports and will help protect against collisions and abrasions.
Thickened and high-density sponge knee pads resist impact forces

Made from a stretchy anti-slip material that keeps you warm in cold weather

Breathable, moisture-wicking, and quick-dry

Available in four sizes, with the smaller two suitable for youth
13. Nike Streak Volleyball Knee Pad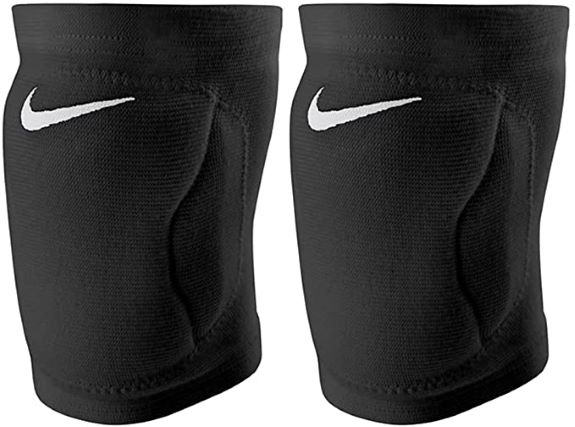 While not specifically designed for basketball, these Nike Streak volleyball knee pads deserve a mention as a great minimalistic, multi-sport knee pad. With excellent shock-absorbing protection from a combination of polyester, nylon, EVA, and rubber, these composite knee pads offer superior protection to other brands. In addition, the Dri-FIT fabric wicks sweat away to keep you dry while maintaining a snug fit. Plus, this low-profile design means it doesn't restrict movement, allowing you to play at your best.
Composite knee pad made from a combination of polyester, nylon, EVA, and rubber

Minimalistic design gives you unrestricted range of motion while still offering great protection

Dri-Fit fabric to keep you dry and comfortable

Stretchy material makes for flexible sizes

Comes in three sizes — XS/S, M/L, and XL/XXL
With so many excellent choices for basketball knee pads on Amazon, there's no reason to play without knee protection ever again! From simple, low-profile designs that prevent bumps and bruises to full-length knee sleeves with integrated pads, there is a protective knee pad for every basketball player.