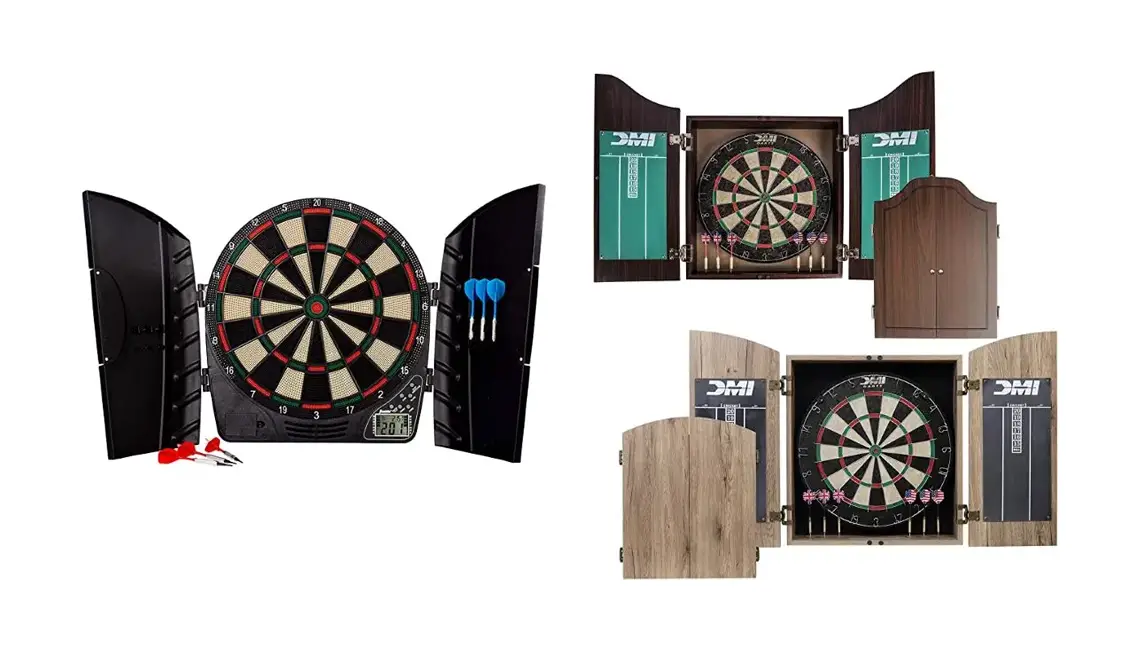 Do you want to play darts in your man cave, garage, or game room? The right dartboard set can provide hours of fun and help you improve your aim. Learn more about how to choose the best dartboard set for you.
Dartboard sets for playing at home
How to choose a dartboard
There are a few different types of dartboards for you to choose from, with bristle boards and electronic boards being the most common choices. Here you can find an overview of your options, including what to look for and the pros and cons of each, so you can choose the ultimate home dartboard.
Bristle dartboards
Pros:
Longest-lasting

Fewer bounce-outs

Professional quality play
Cons:
Steel-tipped darts can be dangerous

Higher chance of causing wall damage

Manual scorekeeping
When you think of a dartboard, what probably comes to mind is a traditional bristle dartboard. These boards are typically made with sisal fibers from the agave plant that are stretched tightly across the board to hold steel-tipped darts in place.
All professional dart players play on bristle boards, and they're a great option for novice dart players looking to improve their game. These dartboards are self-healing, long-lasting, and available with or without bladed dartboard wiring.
When choosing a bristle dartboard, consider these factors to find the best one:
Wiring:

In between each segment on a bristle board is wiring, often referred to as the "spider." Less expensive models typically have rounded wires, while higher-end boards have thinner angled wires embedded into the sisal. Quality wiring can help minimize bounce-outs from the dart hitting the wire on the board.

Depth and density:

The depth and thickness of a bristle board can make a big difference in gameplay. If your board is too shallow or the fibers are not weaved tightly enough together, the dart has a more challenging time penetrating the board, and you may experience more bounce-outs.

Bullseye:

Nothing is more disappointing than throwing a bullseye that doesn't stick into the board. You can help prevent bullseye bounce-outs by choosing a board with a staple-free bullseye area and bladed wiring.
Electronic dartboards
Pros:
Automatic scoring

Multi-player and game options

Minimizes the chance of causing injury or damage
Cons:
Less throwing accuracy

Fragile electronic components

Soft-tipped darts provide a less satisfying throwing experience
Playing darts at home doesn't mean you have to risk damaging your walls or furniture with flying pointed objects. Another excellent option for home play is electronic boards, also called soft-tip dartboards.
Electronic dartboards have thousands of tiny holes over electronic sensors on the playing surface. When a dart sticks into the board, the score is automatically counted. This automatic scorekeeping feature is excellent for new players learning the game.
Remember that electronic dartboards have sensitive electric components and are not self-healing like sisal. Therefore, when shopping for a soft-tipped dartboard, consider these factors:
Electronics and scoring:

The quality of a soft-tipped dartboard largely depends on the internal electronic components. A glitch-free and user-friendly interface will make a massive difference in your play experience.

Modes:

One of the greatest benefits of an electronic dartboard is all the different dart games you can play. Especially if you're looking for a party dartboard, look for a model with various games and multi-player options.

Grip:

Bounce-outs can be a common problem with electronic boards. Check reviews to see what other players say about how well the soft-tipped darts stay in the board.
Other types of dartboards
For most dart players, the best options for regular play are bristle boards and electronic boards. However, these are not the only home dartboards available. Here are a few other types of dartboards you may want to consider while you shop:
Magnetic dartboards:

For parties, kids, and casual play, you may want to consider a magnetic dartboard. These toy dartboards are made from a magnetic material and have small magnets on the tip of each dart. They are great for safe, family-friendly fun, but they don't provide the accuracy needed for a serious game.

Coiled paper dartboards:

These cheap and disposable dartboards are great soft-tip dart sets for parties or other one-off events. Since they're made from paper, they get damaged quickly but can be a lot of fun while they last.

Wooden dartboards:

Before sisal fiber dominated the scene, wooden dartboards were the go-to professional option. These dartboards need regular moisturizing to prevent them from drying out and have a distinct nostalgic smell. These boards are rare today, but many traditionalists enjoy playing on them.
7 best dartboard sets for every player
If you're shopping for a new dartboard, you might as well purchase a complete dart game set. These dartboard options all include compatible darts, so you can start playing straight away.
1. EastPoint Sports Bristle Dartboard and Dart Accessory Set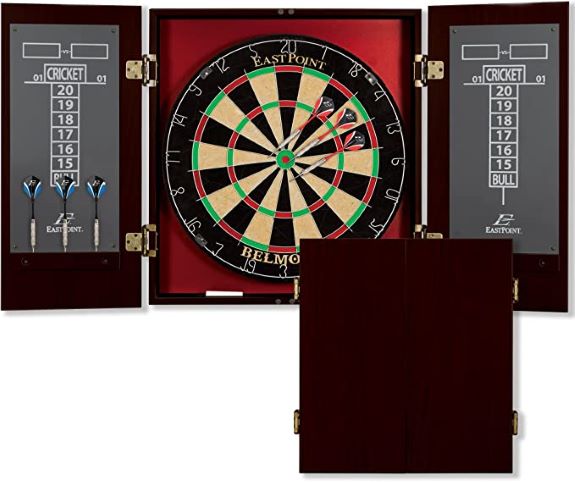 Best dartboard cabinet set

Bristle dartboard for steel-tip darts

Includes cabinet, dartboard, six darts, two pieces of chalk, one eraser, and hanging hardware
It is no wonder why the EastPoint dartboard cabinet set is an Amazon best seller. This 18-inch sisal fiber dartboard sits comfortably inside a stylish, easy-to-mount cabinet featuring a scoreboard and an integrated dart case. In addition, it has a staple-free bullseye to prevent bounce-out and a rotatable steel number ring for even board wear.
2. Fat Cat Mercury Electronic Dartboard With Integrated Scoreboard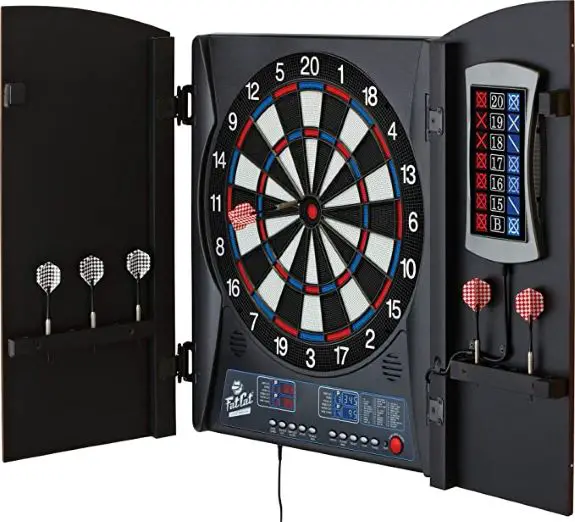 Best electronic dartboard set

Electronic dartboard for soft-tip darts

Includes dartboard, cabinet, six darts, six spare tips, mounting hardware, and an AC plug adapter.
The Fat Cat Mercury soft-tip dart set is one of the best-quality electronic dartboards available. The board is incredibly durable, with a large surface area and ultra-thin spider to prevent bounce-outs. Scoring is easy thanks to the board's extended catch ring, and it includes 28 games for up to eight players with over 150 scoring options.
3. Barrington Collection Dartboard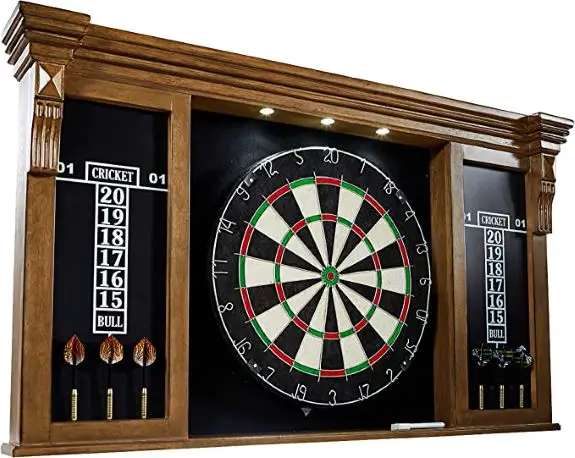 Best professional dart set

Bristle dartboard for steel-tip darts

Includes premium wood cabinet with LED lights, a sisal dartboard, six darts, six flats, and two scoreboards
Whether you're looking to add elegance to your man cave or practice like the pros, a Barrington Collection dartboard set is an excellent choice. This heirloom dart set not only looks great, but the regulation-sized board features premium density sisal, a staple-free bullseye, and a sturdy number ring. It also comes with six high-quality steel-tip darts to get you started.
4. Franklin Sports Electronic Dart Board Set with Digital Scoreboard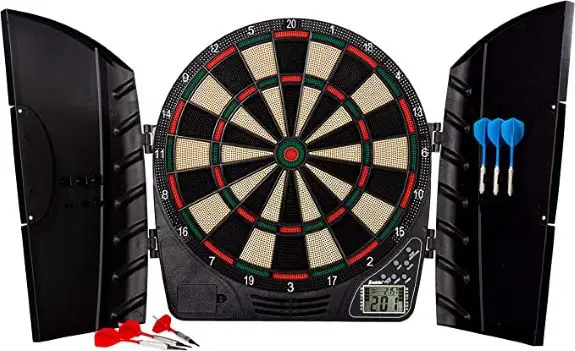 Best dart set for beginners

Electronic dartboard for soft-tip darts

Includes soft-tip dartboard, six darts, six replacement tips, and storage cabinet
The Franklin Sports electronic dart set is an excellent value for new players looking to sharpen their skills before sharpening their darts. It has fun sound effects to liven up any of the 65 possible games you can play and a strong-hold surface to prevent bounce-outs. This electronic board is also easy to set up and mount and has built-in dart storage.
5. ONE80 All-in-One Dart Game Center with Self-Healing Sisal Dartboard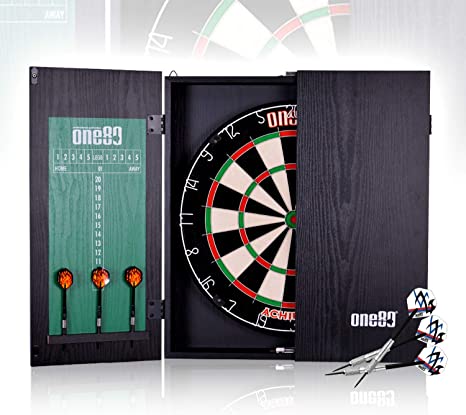 Best steel-tip dart set

Bristle dartboard for steel-tip darts

Includes multifunctional cabinet, sisal dartboard, three 22g darts, three 24g darts, scoreboard, chalk, eraser, and mounting accessories
Everything you need to get into throwing steel-tipped darts is included in the ONE80 dart center. This set features the ONE80 Achiever bristle dartboard with a staple-free bullseye and standard tournament size. In addition, the roomy MDF cabinet has integrated dart holders and scorecards. This set is easy to mount thanks to solid corner protection and hanging hooks.
6. DMI Sports Deluxe Dartboard Cabinet Set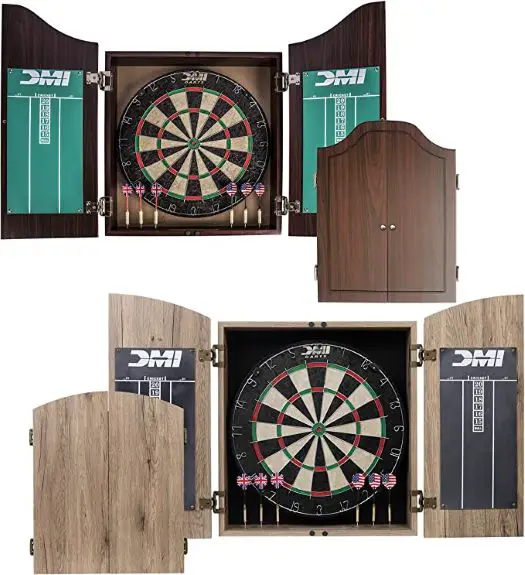 Best game room dart set

Bristle dartboard for steel-tip darts

Includes bristle dartboard, six steel-tipped darts, black scoring chalkboards, chalk, and an eraser
The durable yet stylish DMI dartboard set is an excellent addition to any home or garage game room. This set features a regulation-sized bristle board with a rotatable number ring to prolong the life of the board and all the accessories you need to have a great night playing darts. In addition, the board and darts all fit nicely inside a modern cabinet.
7. Magnetic Dart Board Game for Kids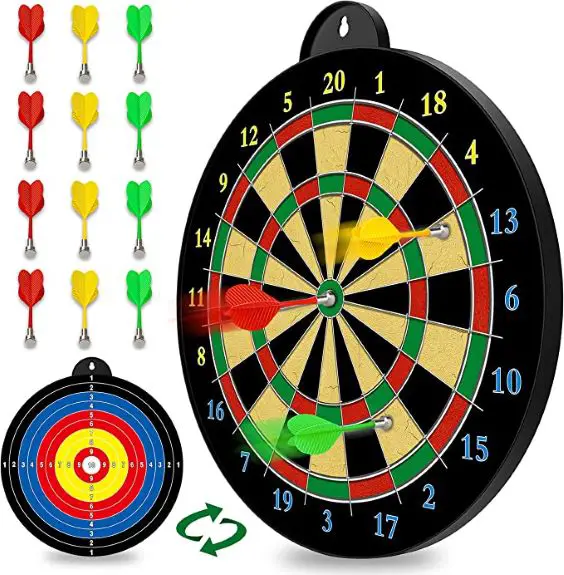 Best youth dartboard set

Magnetic dartboard and darts

Includes one 13-inch magnetic dartboard and 12 magnetic darts
Start your kids off playing your favorite game early with this best-selling magnetic dartboard. Unlike traditional dart games, these magnetic darts are entirely safe for kids and let you enjoy darts with the whole family. You can play conventional darts with this set or flip the board over and have some target practice fun.
Whether you're looking for a high-quality cabinet dart set to finish off your man cave or an electronic dart game you can play with the whole family, these options allow you to easily find a dartboard set that fits your needs.
How to pick a set of darts
While most dartboard sets come with a set or two of darts, you may want to purchase more or upgrade for use with your bristle dartboard. Here is an overview of the parts of a dart and what to look for in each component:
Tip:

The point or tip of a dart is the sharp part that sticks into the dartboard. Some barrels have integrated tips, while on others, they are removable. In electronic darts, the tips are made from soft plastic.

Barrel:

The barrel is the part of the dart that you hold while throwing. Barrels are typically made from either brass or tungsten. Professionals prefer the heavier tungsten steel-tip darts, while newer players often like the less expensive brass barrels. In addition, dart barrels are knurled to provide a better grip.

Shaft:

A dart shaft is the part of the dart that connects the barrel to the flight. A dart with a longer shaft is more stable, while a shorter shaft allows you to throw stronger and sharper. Aluminum shafts are a great mid-budget option, while pros prefer carbon fiber.

Flight:

The colorful end of a dart is called a dart flight. Larger flights offer more air resistance and a generally straighter throw, making them a great option for beginners. Smaller flights are preferred by intermediate and experienced players looking for more precise aim.
Dart Game FAQs
Can you lean over the throw line in darts?
There is much debate over whether players can lean over the throw line (also called the oche) while throwing darts. However, official rules state that leaning is fine as long as a player's feet stay completely behind the line.
What type of dartboard do professionals use?
All professionals play on bristle dartboards, with the top brands favored in tournaments being Winmau, Unicorn, and Viper.
How do you install a dartboard at home?
To hang a dartbord, first choose an area with enough space to play the game.
The bullseye should be 5 feet 8 inches from the floor in regulation darts. The horizontal distance from the board to the throw line should be 7 feet 9.25 inches for steel-tipped darts and 8 feet for soft-tipped darts.
Then, you should install a backboard if you are using one. Make sure that the dartboard and backboard are screwed directly into wall studs, or use heavy-duty anchors. Finally, follow the manufacturer's instructions for hanging your specific dartboard.