A dive light or torch is a fantastic yet often overlooked scuba diving accessory that benefits every scuba diver. Of course, dive lights are necessary on low-light dives, such as night dives or wreck diving, but they're also great for adding color back to the underwater world during the day.
How to Choose a Dive Light
With so many different dive lights to choose from, it can be hard to find the right one for you. While any functioning dive torch will allow you to see more clearly underwater, some are better suited for different types of dives or different user needs. So before you pick a dive light, consider what kind of diving you intend to use your dive light for and what brightness, beam angle, and run-time requirements you may have.
Type of Diving
There are many scenarios where a scuba diver might want a dive light. Certainly, dive lights are required for night dives, cave diving, and other low-light activities. But they can also be incredibly helpful for underwater photography or even bringing the reef to life.
As you dive deeper, less light penetrates the water column, colors appear less vibrant, and some disappear altogether. That little brown fish you see at 30 feet may actually be a brilliant red!
Some dive lights are specially designed for photography, while others are better suited for deep technical diving. There are even different styles to consider, including traditional hand-held models, hands-free mounted styles, and high visibility canister lights.
In most cases, you should also have a secondary dive light or backup light. Should your primary light fail or the battery depletes, your backup light will help you get to the surface safely.
Brightness or Lumens
Did you know that brighter is not always better when it comes to diving lights? Of course, cave diving and deep shipwreck diving require bright lights. However, most recreational divers don't need all that power. Too bright of a light might scare off the very marine life you're there to see!
Not only do too-bright lights startle fish, but they can also be dangerous. The brighter your dive light, the more likely it is that you could temporarily blind yourself or your dive buddy by accident. Nobody likes a bright light in their eyes, but it can be especially awful when you're in the middle of the ocean at night.
Ideally, you want to look for a dive torch with multiple power settings so you can make adjustments based on the conditions of each dive.
Beam Angle
There are two main types of dive lights: floodlights and spotlights.
Floodlights: These dive lights feature a broader beam, which allows you to see a wide area. Floodlights are great for cave diving because they can illuminate entire cabins.

Spotlights: Also known as spot beams, these dive lights are great for peering into crevices for activities such as lionfish hunting.
These days, many of the best dive lights are both floodlights and spotlights since they allow you to adjust the beam angle. An excellent feature for any scuba diver, adjustable beam angles are great for underwater photography. That's because they can be adapted to provide the right amount of light for every situation.
Run Time
The last thing you want to happen on a dive is for your dive light to stop working. That's why it's essential to look for a torch with long battery life and burn time. When it comes to battery life, you want to consider the type of battery as well.
A long-lasting rechargeable battery is an excellent option if you plan to use your dive light for multiple dives per day or extended dives. However, if you don't plan to use your torch often or would rather not rely on charging, alkaline batteries may be the way to go.
Extra Features
You may want to look for a few other features when choosing a dive light. Most importantly, you should buy a dive light with an emergency strobe feature. Fortunately, this is a feature found on most dive lights — you will be glad to have a beacon that can attract help in dark waters in case of emergency.
While all of the best scuba dive lights are suitable for recreational diver limits, technical divers may want a light that functions at deeper depths. Also, consider if you would prefer an easy-to-press button design or a travel-safe magnetic switch.
1. Tovatec Fusion 1500 Lumens 100m LED Dive Light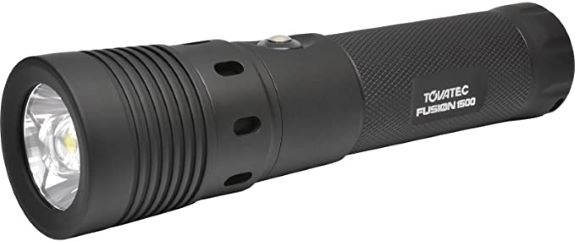 The Tovatec 1500 is an all-around excellent dive light with incredible adjustability. This dive torch can be used as a spotlight or wide-angle light, and it has three brightness settings. Plus, you can either use rechargeable lithium-ion or AA batteries to power the Fusion 1500. This is a great primary light for any scuba diver taking part in shipwreck, cave, or drift diving.
Three power settings from 450 to 1500 lumens and an emergency strobe feature

The sliding zoom head allows you to adjust the beam angle from 12 to 100 degrees

Rugged aircraft-grade aluminum body is lightweight and long-lasting

Burn time at full power is 1hr 45min with a rechargeable lithium-ion battery and 2hr 30min with three AA alkaline batteries

Maximum depth of 328 feet or 100 meters
2. Light & Motion GoBe 500 and SOLA Dive 1200 Combo Kit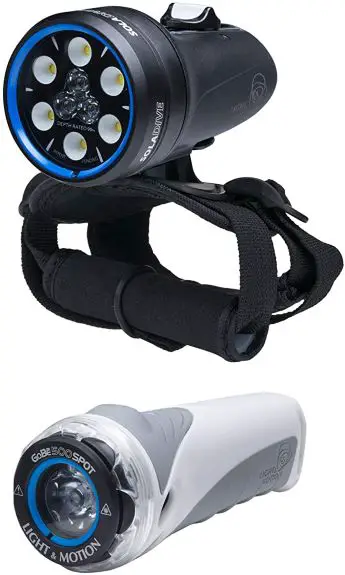 The only gear more critical than your regulator on low visibility dives is your dive light. Luckily, California-manufactured Sola dive lights feature quality you can trust. The only thing better than the Motion Sola Dive torch is this combination kit that includes the goBe 500 spot as a secondary dive light. This kit has all the illumination a recreational diver needs with the hands-free Light & Motion 1200 and the goBe 500 as a secondary.
Go hands-free with the Sola Dive 1200 wrist strap and goBe 500 lumen BCD attachment

FL-1 Standard certified regulated lumen output

Travel lockout prevents accidental activation inside luggage

Switch between multiple light modes with the easy-to-use magnetic switch

Reliable external charging eliminates the need to open the light for recharging
3. Mares Aluminum Eos Torch LED Rechargeable Dive Light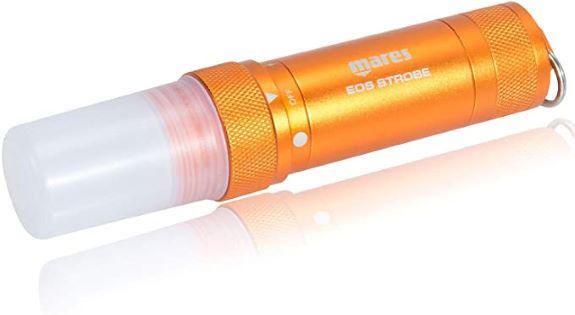 From the renowned Italian dive gear manufacturer Mares comes a great all-around torch that can easily be used as a primary or backup light. Ideal for night diving or other low-visibility dives, this high-quality torch comes with a travel-friendly padded case so you can rest assured that your light is protected in your gear bag.
Operational depth up to 120 meters for high floodlight visibility

Integrated Li-ion battery is USB rechargeable with an included cable

Burn time up to 25 hours

Cree LED bulb for bright light even at 450 lumens

Two operating modes — flashing and on — are controlled via a magnetic rotary switch
4. OrcaTorch D620 Technical Diving Cannister Flashlight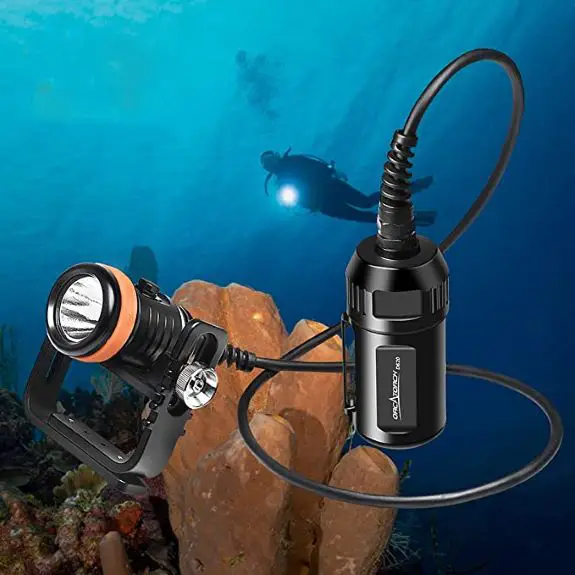 The OrcaTorch D620 is an excellent canister-style dive light for low-light diving scenarios. It's a great pick for expert and beginner cave divers alike. With more power than recreational divers might need, the OrcaTorch has everything a tec or wreck diver needs to peer into dark crevices and stay safe underwater.
2700 lumen output with a light beam distance that reaches 260 meters on land

Powered by four batteries for maximum brightness and reliability

Aircraft-grade aluminum construction allows full operation up to a depth of 150 meters

The 90-degree rotary lockable switch is easy to use and prevents the light from turning on accidentally

The easy-pack adjustable Goodman handle is easy to hold and assemble

Three light modes: 2700 lumens, 800 lumens, and 150 lumens
5. BigBlue AL1200 Dive Light

A versatile light for any diver, the BigBlue AL1200 dive light features an easily adjustable beam and rechargeable lithium-ion battery. Comfortable to hold and easy to use, this dive light is praised by GoPro photographers for being a great video light and illuminating the reef for gorgeous photos.
Variable 7 to 37-degree beam angle is easily adjusted with a bezel switch

16500K color temperatures and 1200 lumen brightness is excellent for underwater photography

Color-coded battery indicator makes it easy to know when to recharge

Rugged anodized aluminum housing is high quality and dependable

Four power settings help save battery life and provide just the right amount of light

Rated for depths up to 100 meters
6. Genwiss Scuba 2000 Lumen Dive Torch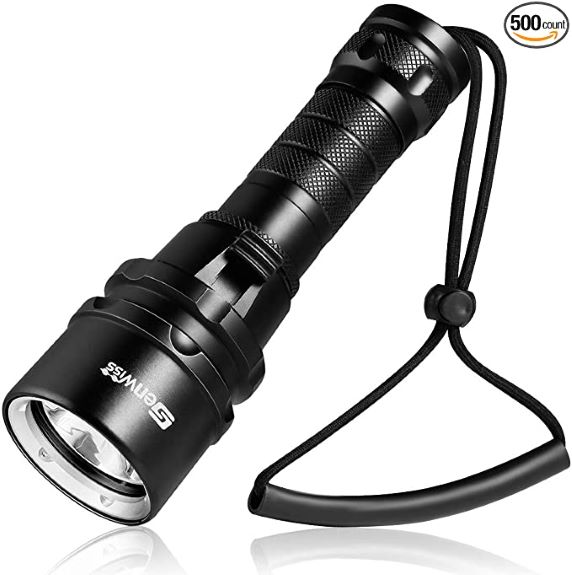 For a great budget dive light that still packs a punch, try the Genwiss 2000 dive torch. This super bright L2 LED light is highly corrosion resistant. One Amazon reviewer reports finding his light on the seafloor a year after dropping it, and it is still fully functioning! At such a great value and small size, the Genwiss 2000 also makes an excellent backup light.
Cree LED illumination for diving and other outdoor activities

Easy to operate with a siding magnetic switch and adjustable brightness

Includes a rechargeable battery and USB charging dock as well as backup O-rings

Military-grade 6061 aluminum housing for anti-oxidation and anti-seawater corrosion protection

Rated for underwater use down to 80 meters

It comes with a two-year worry-free warranty
7. Dive Rite CX2 Light 1700 Lumens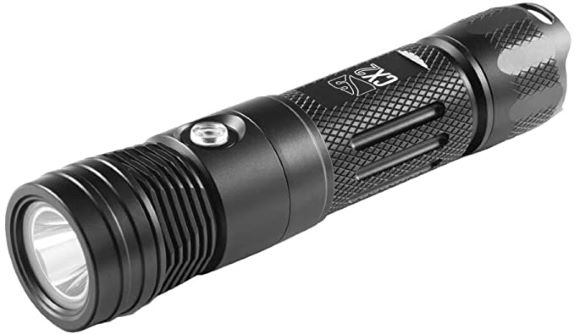 The Dive Rite CX2 is a powerful dive light with a compact, travel-friendly design. With a 1700 lumen max output and four brightness settings, the CX2 is ready for any underwater adventure. In addition, it features an integrated USB-C charging port, so there's no need for bulky chargers. Additionally, the battery is user-replaceable, so you can use any 18650 batteries you already own as backup.
Fixed focus light with an eight-degree beam angle

Switch between five light modes: 100%, 50%, 25%, 5%, and strobe, with simple push-button activation

LED battery level indicator ensures no low battery surprises

Chargeable with a USB-C cable and user-replaceable batteries

Compatible with the DiveRite QRM mounting system for hands-free operation

Waterproof to 100 meters
8. Odepro WD70 3000 Lumen Primary Canister Dive Light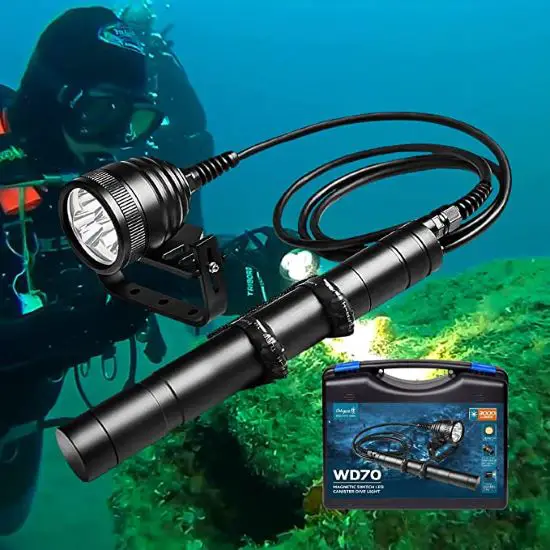 If you need a dive light with impressive power, then consider the Odepro WD70 canister dive light. Perfect for tec, wreck, cave, and deep-diving exploration, this heavy-duty dive light has an extra thick aircraft-grade aluminum housing and a battery life of up to 13 hours.
3 Cree LED offers up to 3000-lumen output

A 12-degree fixed beam angle is ideal for deep dives

Four light modes — turbo, high, medium, and low — provide the right amount of light for every situation

The comfortable Goodman handle is adjustable from 3-6cm to fit your hands, and the 46-inch cable is just the right length

Rated to 200 meters with multi-layered O-rings and 4mm tempered glass
9. OrcaTorch D550 1000 Lumens Waterproof Underwater Light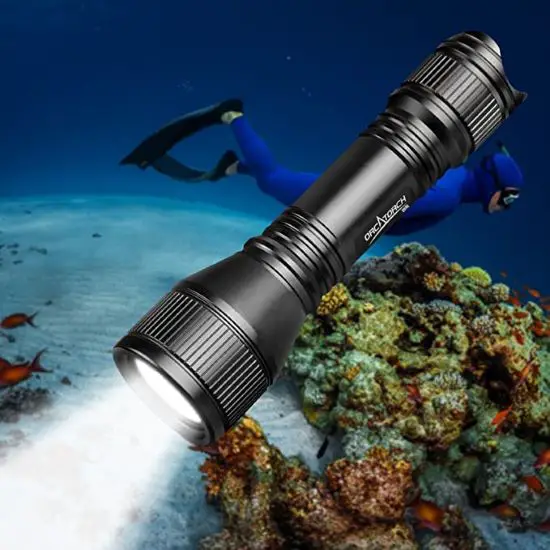 Another excellent dive light model from OrcaTorch, the D550 underwater light is great as a primary light for recreational diving or as a secondary for deep dives. With a maximum output of 1000 lumens and a duel beam design, it's easy to see without adjusting the beam angle. The bonus wrist strap even allows you to mount the D550 to the back of your hand for added agility in the water.
Switch between three modes — high, medium, and strobe — using the magnetically controlled tail switch

Aircraft-grade aluminum housing is heavy-duty and seawater corrosion resistant.

Hybrid flood and spotlight design features a 70-degree wide angle and an 8-degree focused center beam

The included wrist strap can be used on either hand and makes it easy to hold

Long-lasting rechargeable batteries last more than two hours on the highest setting

Diving depth rated to 150 meters
10. SEAC T5 300 Lumen Aluminum Scuba Dive Light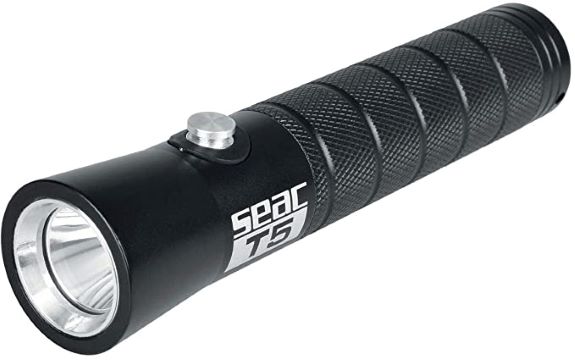 Need a dependable secondary dive light that won't break the bank? The Seac T5 is a great little light that conveniently runs on three AAA alkaline batteries. Also suitable for night dives, the aluminum T5 torch has tempered optical glass for long-term durability.
A narrow 9-degree beam angle provides 300 lumens of light

Simple push-button on/off switch is easy to use and locks to prevent accidental ignition

The lightweight yet sturdy aluminum housing has a knurled finish for a secure grip even with thick gloves

Three alkaline AAA batteries provide a burn time of 2.2 hours

Maximum operating depth of 100 meters
11. OrcaTorch D560 Mini Scuba Dive Light Headlamp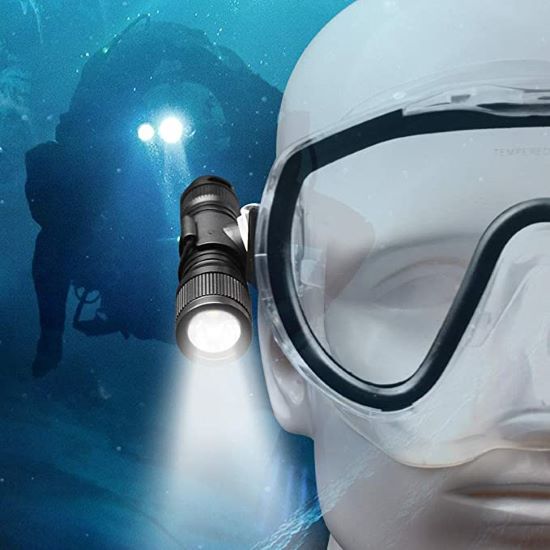 When it comes to mask-mounted dive lights, the OrcaTorch D560 provides plenty of power even with its tiny size. Only 92mm long and weighing just 47.5g, the D560 clips directly to your dive mask or cave helmet for hands-free illumination. At its small size, it also makes a great backup light for any low-visibility dive or night swim.
Utilizes an easy-to-use rotary switch to provide up to 630 lumens

Runs on one AA alkaline battery lasting over an hour

Includes an OrcaTorch MX05 mask clip for simple attachment to a scuba mask

High-quality construction with aircraft-grade aluminum and double-coated toughened glass lenses

Maximum depth 150 meters
12. Sherwood ST1000 1000 Lumens LED Underwater Light

A great go-to dive light, the Sherwood ST1000 has everything a recreational scuba diver needs for low-light dives. Providing a surprising amount of light for its compact 6-inch size, the ST1000 is a durable torch made from aircraft-grade aluminum. It even comes in a portable padded travel case for easy storage.
1000 lumens with a 12-degree beam angle

Three settings — 100%, 50%, and strobe — are controlled with a push button

Includes a USB rechargeable lithium-ion battery with a burn time of 2-4 hours per charge

Made from high-quality aluminum with a triple ridge seal

Features a color-coded battery indicator
13. Princeton Tec Sector 5 LED Dive Light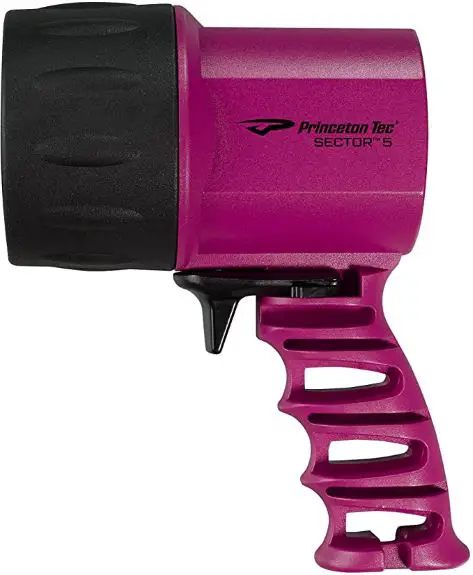 With a convenient pistol grip design, the Princeton Tec Sector 5 is the perfect dive light for conveniently switching between momentary and constant illumination. Made in the USA, the Sector 5 is a serious primary dive light ready for any underwater adventure.
Focused wide beam angle that simulates daytime conditions

Trigger switch design allows you to turn on the light temporarily with a half-pull and constantly with a full pull

Regulated LED bulb that maintains brightness as the battery level depletes

Uses four C-cell batteries for up to 24 hours of burn time

Available in 550 lumens and 1000 lumen models and multiple colors

IPX8 waterproof rated to 100 meters
14. HeCloud 1200 Lumen Dive Torch with USB Charger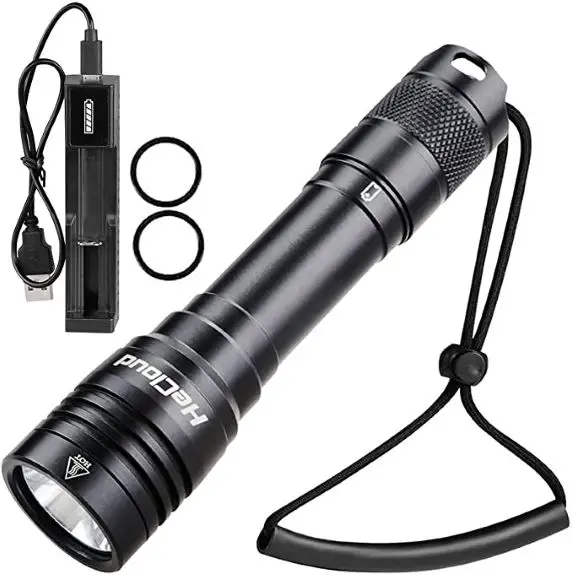 An excellent backup light or budget-friendly primary, the HeCloud 1200 dive torch is a super bright LED underwater flashlight that easily rivals more expensive models. With its small size and four light modes, this handy dive light is convenient for night dives and travel.
Four modes — high, medium, low, and strobe — for maximum versatility

Bright enough for most low-light dives with an output of 1200 lumens

Burn time of 1.75 hours on high and 30 hours on low

Includes a Li-ion battery and USB charger

Made from high-quality aluminum alloy with an anti-abrasive coating for outdoor durability

Certified for use in depths down to 70 meters
15. OrcaTorch D710 3000 Lumen Scuba Diving Light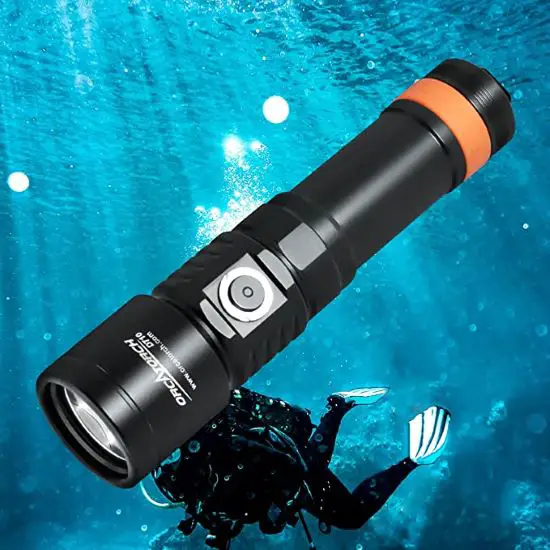 For a super bright light in compact housing, look no further than the OrcaTorch D710. With a maximum brightness of 3000 lumens, the D710 is suitable for tec, cave, and wreck diving. This dive light also comes with a portable EVA bag, USB-C charging cable, lanyard, and extra O-rings.
Four brightness modes — 3000, 1700, 800, and 400 lumens — allow it to be used at any depth

Easy to change modes with the titanium push-button switch

Made from high-grade aluminum alloy that is lightweight and anti-corrosive

Six-degree super focused beam angle reaches as far as 262 meters

Maximum burn time of 1 hour 40 minutes on high, with a color-coded indicator that shows battery level at a glance

With triple waterproof O-rings, it can be used underwater in depths up to 150 meters
16. Underwater Kinetics C8 eLED L2 Dive Light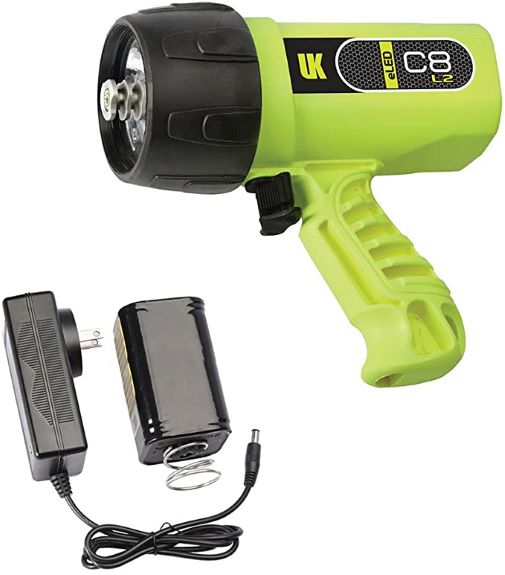 An updated version of the bestselling C8 eLED, the L2 by Underwater Kinetics, is one of the most reliable dive lights on the market. With a duel beam design, it's easy to see what you're pointing at and what's around you. This pistol-style dive light is comfortable to hold and easy to use while providing consistent, powerful light when you need it most.
Two light modes — full and half power — allow you to have just the right amount of light while conserving battery

Two options are available: one with a rechargeable Nimh battery and the other powered by replaceable C-cell alkaline batteries

The optical design uses two beams for both wide and focused light and twice the intensity

Run time up to 20 hours on low power

Rated for use as deep as 150 meters
17. Xlentgen Super Bright Dive Light Head Lamp with Rechargeable Battery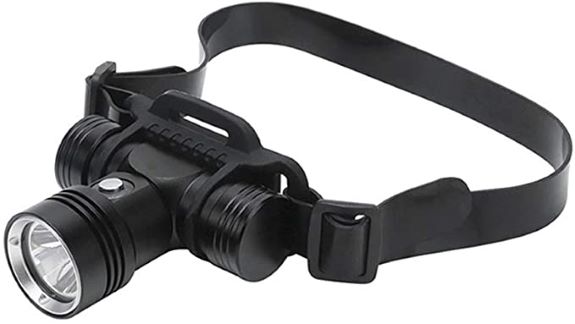 Are you looking for a headlamp-style dive light? This adjustable waterproof headlamp is perfect for hands-free illumination in depths up to 60 meters. With a soft elastic headband and flexible lamp head, the Xlentgen waterproof headlamp is excellent for recreational scuba divers and night swimmers alike.
Three light modes — high, low, and SOS strobe — can be changed with the top push button

Color-coded battery indicator warns you when the battery runs low

Constructed from high-quality aluminum alloy for durability and corrosion resistance

A comfortable and convenient headband strap allows for hands-free use

Waterproof to 60 meters
With so many fantastic options available on Amazon, finding a high-quality dive light that fits your needs is easier than ever. Whether you're a beginner going on your first night dive, an underwater photographer looking for the perfect shot, or an experienced cave diver, the best dive light is just one click away!