Shopping for new hockey elbow pads? While top-of-the-line brands such as Bauer offer excellent protection, plenty of great alternatives cost less while still keeping hockey players safe. There are plenty of affordable hockey elbow pads available on Amazon that are worth adding to your wish list.
How do I choose hockey elbow pads?
When picking out elbow pads for ice or street hockey, there are a few considerations to keep in mind. First and foremost, your elbow pads need to be durable enough to prevent injury. Like any other hockey protective gear such as shin guards and shoulder pads, elbow pads need to stay securely in place and withstand high-impact hits.
Materials
Look for hockey elbow pads made from high-quality materials, including a hard molded plastic elbow cap supported by protective foam. A secure strap system should be in place to prevent them from slipping. Additionally, they should have a moisture-wicking nylon or microfiber liner, ideally with microbial properties for odor control.
Fit
The next step is choosing the right fit. Traditional ice hockey elbow pads are bulkier and offer the most coverage and protection, which is great for highly physical players but can limit mobility. On the other hand, contoured fit elbow pads sit closer to the body for better movement but sacrifice some protection. There are also tapered elbow pads that combine the two with a bulkier upper and contoured lower.
Size
Finally, consider what size elbow pads you need. Even during intense play, your elbow pads need to be snug enough to stay in place. Your elbow should fit comfortably in the elbow cap, and there shouldn't be any gaps between the elbow pads and the bottom of your shoulder pads and the top of your hockey gloves.
Price
Serious hockey players often splurge on more expensive elbow pads, such as the Bauer Vapor 2X Pro, Bauer Supreme Ultrasonic, Warrior Alpha DX, CCM Jetspeed FT4, or Bauer Supreme 3S. That's reasonable for athletes competing at a high level, especially when they need gear that can hold up to daily training and frequent games. But for youth and amateur players, there are plenty of less expensive hockey elbow pad options that still provide excellent protection, many of which can be conveniently ordered on Amazon.
What size hockey elbow pads do I need?
Finding suitable fitting elbow pads needn't be difficult. First, measure the length between the cuff of your hockey glove and the middle of your bicep. Compare this measurement with the manufacturer's size chart. This method works for both senior hockey elbow pads and junior elbow pads.
Longer and shorter hockey elbow pads are also compatible with different hockey gloves. Typically if you wear a shorter cuff glove, you will want a more extended elbow pad to cover your entire arm while ensuring the pads fit comfortably.
1. STX Ice Hockey Surgeon RX3.2 Senior Elbow Pad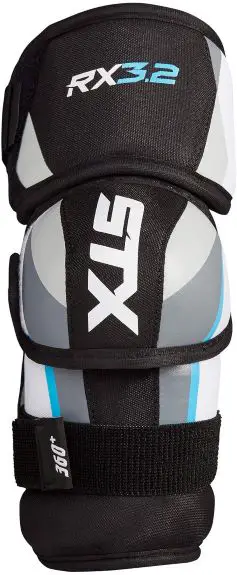 The Surgeon RX3.2 hockey elbow pad features an anatomical precision fit that minimizes bulk and weight while still offering a high level of protection. In addition, the contoured elbow pads stay securely in place thanks to a 360-degree strap design. These elbow pads are also available in junior hockey sizes. They are a great budget option for both ice and roller hockey players looking for complete protection from checks and flying pucks.
A comfortable contoured design allows for maximum agility

360-degree strap for a secure fit and maximum customization

Patented padding offers complete protection

Available in senior small, medium, and large sizes and junior medium and large
2. JAMM 1001 Youth Soft Elbow Pad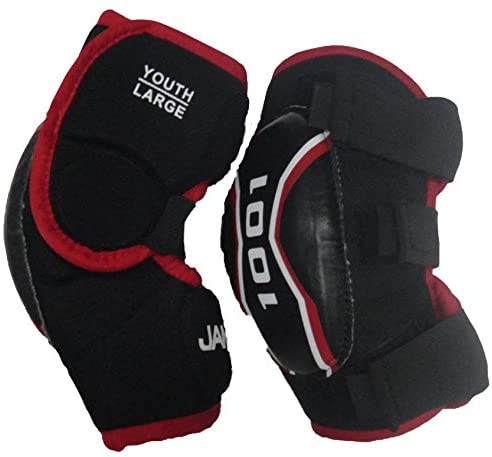 A fantastic budget elbow pad choice for junior hockey players, the JAMM 1001 soft elbow pad is a super lightweight piece of protective gear. These hockey elbow pads feature a soft foam padded plastic elbow cap, slash pad, and outer elbow pads for complete coverage and mobility. Your elbows stay securely in place with an extra-deep elbow pocket and a segmented design with three adjustable Velcro straps. JAMM 1001 elbow pads are also breathable thanks to dual-density moisture-wicking foam.
Deep hard plastic elbow cap for impact absorption

Complete coverage protection with a slash pad, outer pads, and three Velcro straps

Soft dual-density foam makes them extremely comfortable

Available in junior medium and large sizes
3. Tour Hockey Youth Code Activ Elbow Pad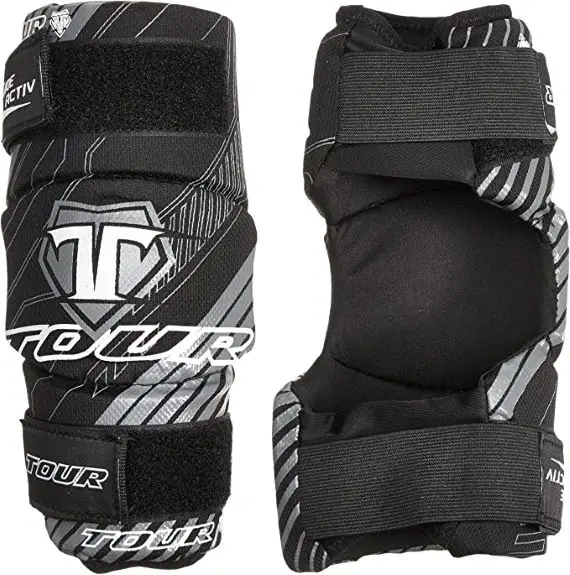 Possibly the most comfortable elbow pads for junior hockey, these Tour Hockey Tour Code Activ elbow pads are a lightweight option with solid protection. Featuring Tri-Flex ultra stretch material and Ultra-Lite protection, the pads allow your arms to move freely while staying safe from injury. They also use a custom Zurick padding around a hard interior elbow cup and reinforced polyethylene molding for superior elbow and forearm protection. These pads even come with a low price guarantee.
Complete protection via custom Zurick padding and a hard interior elbow cup

A reinforced forearm covering made from polyethylene offers additional support

Comfortable and breathable with air mesh venting and Tri-Flex material

Available in junior small, medium, and large sizes
4. TronX Force Senior Hockey Elbow Pads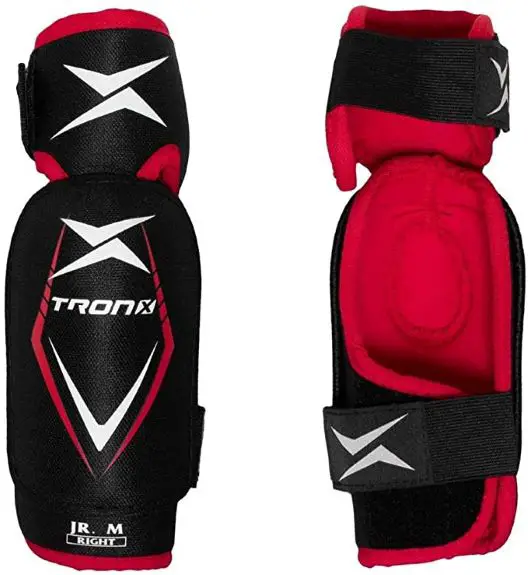 Protect yourself from swinging hockey sticks with high-performance elbow pads specifically designed to guard against slashes. These TronX Force elbow pads are made from thick dual-density foam with plastic reinforcement. In addition, each one features a hard molded elbow cap, and the two-piece design offers excellent coverage and mobility. These budget hockey elbow pads even come in a wide range of sizes to fit anyone on hockey skates.
Thick dual-density foam, molded elbow cap, and plastic reinforcement for a high level of protection

The lightweight and breathable material is comfortable and doesn't absorb water

Anatomically contoured design for long wear and full coverage

Available in senior small, medium, large, and XL sizes
5. STX Ice Hockey Stallion HPR Elbow Pad

The Stallion HPR is another excellent hockey elbow pad choice from STX, a trusted manufacturer of high-quality hockey equipment such as hockey pants, hockey helmets, gloves, and base layers. Designed for increased protection, they're suitable for any junior power player or goalie. With Power-Fit zones and HexPro foam for targeted protection, these hockey elbow pads offer a surprising level of coverage for an affordable price. They also have a 360-degree strap to secure the pad to your forearm and a removable slash guard. In addition, the HD2 foam throughout the pad is hydrophobic, so they stay dry all game long.
Customizable with a 360-degree strap and removable slash guard

Targeted protective zones and HexPro foam provide a high level of protection

Moisture-wicking HD2 foam makes these pads extra comfortable and breathable

Available in junior medium and large sizes
6. CCM JetSpeed FT370 Hockey Elbow Pads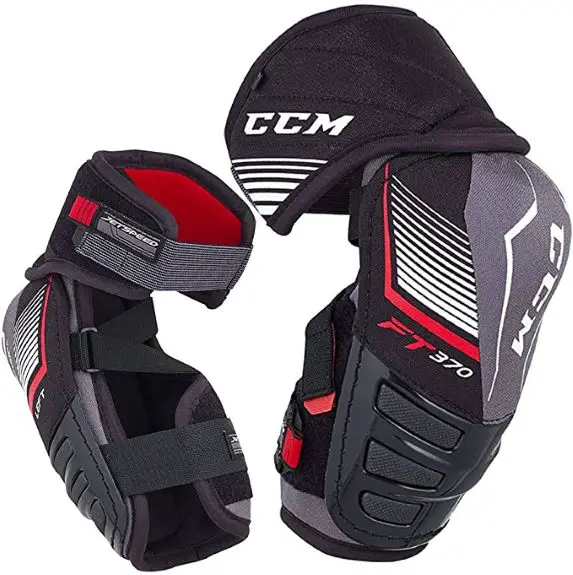 From the popular brand CCM, the JetSpeed FT370s are a budget option with the same guaranteed quality as their other models. These two-piece lightweight elbow pads provide excellent mobility without sacrificing protection. The forearm section features a molded PE elbow cap, while the bicep area is made with PE inserts for superior impact absorption. With an anatomical strapping system, these CCM elbow pads have a neoprene middle strap and nylon forearm strap for flexibility and security where you need it. CCM has also included an upgraded antimicrobial liner to prevent bacterial growth and improve drying time.
Two-piece design with a specialized PE elbow cap and PE bicep inserts for optimal protection and mobility

Three-strap attachment system uses both nylon and elastic for a fully customizable fit

A breathable antimicrobial liner minimizes bacterial growth and maximizes comfort

Available in senior small and XL sizes
7. Winnwell Classic Hockey Elbow Pads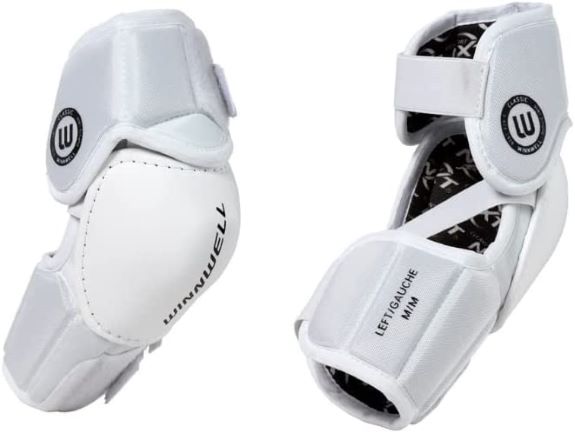 For affordable American-made protective men's and women's hockey gear, Winnwell wins. These hockey elbow pads provide complete coverage protection for ice, street, and inline roller hockey with a plastic elbow cap and high-density foam throughout. The three-strap design keeps the pads in place without restricting movement, while the patented Winnwell CleanSport NXTTM technology fights bacterial growth to help keep protective equipment clean and fresh. These Winnwell Classic Hockey Elbow Pads even come with a money-back guaranteed warranty.
Protective plastic elbow cap and high-density foam throughout for secure protection

Breathable antimicrobial CleanSport NXTTM technology

An adjustable three-strap design guarantees a wide range of motion and the best fit possible

Available in senior small, medium, and large sizes
8. TronX Classic Senior Adult Hockey Elbow Pads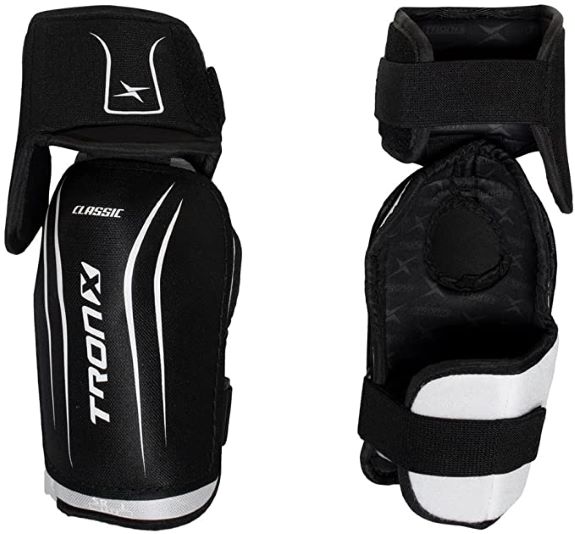 TronX Classic hockey elbow pads are an excellent choice for a simple design that doesn't sacrifice safety. These classic elbow pads have a segmented PE foam forearm guard, anatomical elbow cap, and wide coverage bicep guard made from medium-density foam for excellent all-around protection. In addition, the dual elastic strap system is easy to adjust and attach the bicep guard directly to the body over the jersey for improved mobility. Plus, the soft, moisture-wicking microfiber makes these pads cool and comfortable for long wear.
Hard anatomically shaped elbow cap and segmented PE foam forearm guard

The dual strap system is adjustable and attaches to the protective bicep guard

Moisture-wicking microfiber is comfortable and fast-drying

Available in senior small, medium, large, and XL sizes
9. G-Form Pro-X Elbow Pad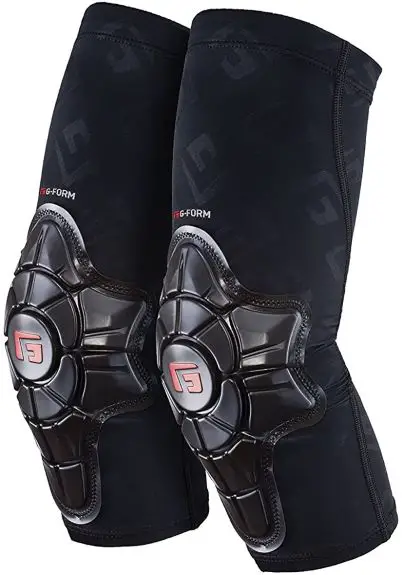 Need a basic elbow pad for street or roller hockey? The G-Form Pro-X elbow pad is a multi-sport elbow pad that offers excellent protection without hindering movement. With impact dispersion technology, the pads feature an advanced material composition that hardens on impact yet is flexible for uninhibited motion. In addition, these elbow pads are lightweight, breathable, and waterproof for maximum comfort. Instead of straps, these pads are mounted on UPF blocking compression fabric.
Basic sleeve design suitable for many activities

Low-profile impact dispersion technology reduces bulk

Waterproof and UPF 50+

Available in adult XS to XL sizes and youth small/medium and large/x-large sizes
You don't need to spend a lot of money to get great hockey elbow pads. All of these Bauer hockey pad substitutes protect your elbows so you can focus on the game.