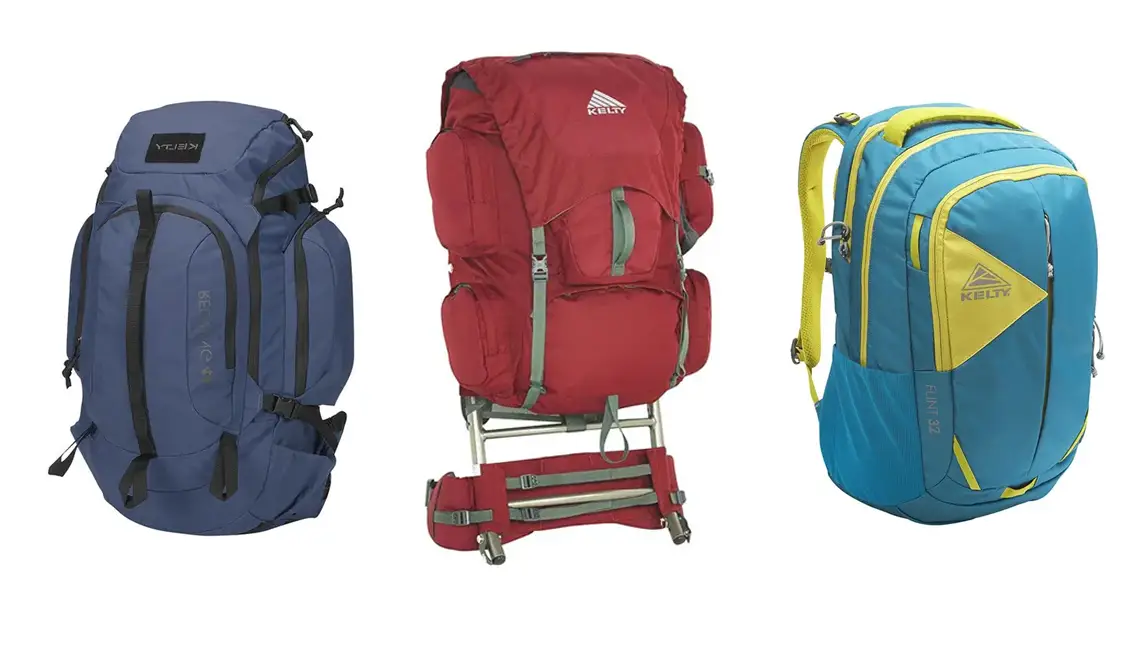 If you're heading into the great outdoors, you need a pack that can carry all of your gear. Luckily, the trusted outdoors brand Kelty has a complete line of backpacks perfect for every trip.
Find the right Kelty backpack
How to choose a hiking backpack
The right backpack is essential for storing your gear so you can have a safe and enjoyable hike. Get tips on how to select the best pack for your trip.
Destination
Where you're going can significantly impact the type of backpack you'll need. For example, backcountry trips requiring lots of gear require a different pack than a walk in your local park. Hybrid packs combine outdoor performance with travel-friendly features, such as laptop compartments and luggage-style zippers.
Also, consider if your backpack is appropriate for the expected weather conditions. For example, if it's supposed to rain for most of your trip, you'll want a water-resistant pack with a rain cover to keep your gear dry.
Size
Generally, the longer your trip, the more gear you will need. The more equipment you need, the larger your backpack needs to be to carry everything.
For day hikes and other short trips, a small 20 to 50-liter daypack is ideal. For weekend and multi-day trips, you will likely need a 50 to 80-liter backpack. Extended trips and winter camping often require packs with a volume of 70 liters or more to accommodate all the necessary gear.
Storage
Along with your backpack's volume, its storage features can provide you with different organization options. Pockets, gear loops, and other storage elements are a matter of personal preference. Some people like having many pockets in their pack, while others prefer to organize with stuff sacks and packing cubes.
Some popular organization features include:
Water bottle pockets

Hydration sleeves

Hip belt pockets

Stash pockets

Top lid pockets

Sleeping bag compartments

Elastic bungee straps

Laptop or tablet sleeves

Removable daypacks

Trekking pole loops

Daisy chains
Comfort
Several factors affect the comfort of your hiking backpack. Primarily, you want to look for a backpack that will fit you well based on your torso length and waist size. Ideally, you want to try on a fully loaded backpack to ensure the proper fit, but many packs feature adjustable torso length systems and waist belts for a customized fit.
Padding also affects backpack comfort. The best backpacks have well-cushioned yet breathable back panels, shoulder straps, and hip belts. Ventilation is most important behind your back, where sweat often gets trapped, and a comfortable hip belt is essential for carrying heavy loads.
Kelty backpacks for day hikes
For shorter jaunts and day trips, these lightweight backpacks from Kelty are the perfect fit.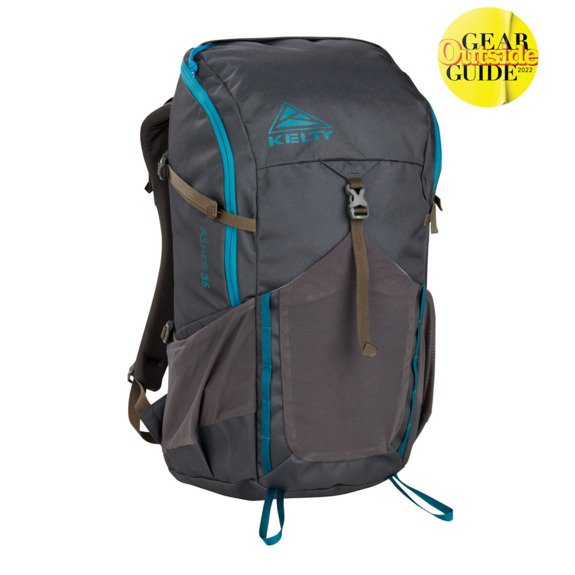 Streamlined outdoor daypack

Zippered lid pocket, mesh side pockets, and dual water bottle pockets

Internal frame with load lifters, sternum strap, and waistband stabilizer

9.5" x 12" x 21.5"
The Kelty Asher series of no-nonsense outdoor packs are designed in honor of the company's founder Asher "Dick" Kelty. This 35-liter daypack has all the features you need — and none that you don't — and was created for getting beginners and experts alike to enjoy the backcountry.
Roomy and reliable, this internal frame daypack is rugged enough for hiking trips yet suitably streamlined for city use. The AMP-Flow ventilated back panel keeps you cool and dry while the load lifter straps and weight stabilizers provide cargo balance.
There is also plenty of storage in the Asher 35, including the main compartment where you can store a hydration pack, front mesh pockets for extra layers, a zippered lid pocket, and slots for two water bottles. In addition, this pack has tool loops for storing hiking poles and compression straps keep everything in place.
Organized day trip pack

Padded laptop sleeve, tablet pocket, multi-pocket organizer, water bottle pockets

Airmesh back panel and shoulder straps

21" x 12" x 12"
From the urban jungle to the actual jungle, the Kelty Flint 32 is an excellent daypack. This unisex daypack is built for everyday adventures. It features a roomy main compartment with a dedicated laptop sleeve, tablet pocket, and multi-pocket organizer for keeping all your tech secure.
While ideal for city day trips, the Flint 32 has all the durability and functionality required for day hikes. This pack is made from 600D polyester oxford fabric and has dual water bottle pockets and a front stash pocket to keep essentials close. It also had a designated bike light loop and a handy grab handle.
Kelty backpacks for outdoor overnights
Bring along a sleeping bag and other overnight essentials with one of these mid-sized backpacking packs from Kelty.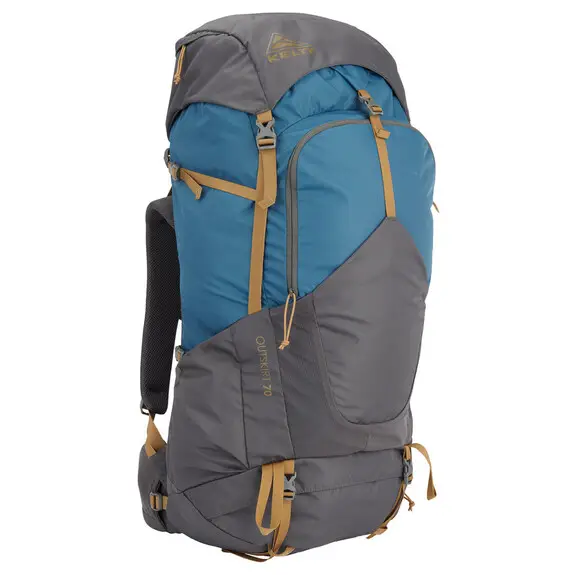 Adjustable backpacking backpack

Roomy main compartment, front stash pocket, and hip belt pocket

Advanced and adjustable perimeter frame

30" x 17.5" x 12"
The all-new Outskirt series by Kelty is made especially for exploration. This 70-liter model has a reinforced air mesh hip belt and shoulder straps for carrying heavy loads. An internal frame and the Fit-Pro easy torso adjustment system help provide the perfect fit. It also has a unique sternum strap with a locking track system for complete adjustability.
The main compartment on the Outskirt 70 is top-loading, provides plenty of space for all your gear, and has a bottom access zipper for stashing your favorite sleeping bag, such as the Kelty Cosmic. In addition, there is a hydration bladder pocket, front stash pocket, and convenient hip belt pocket for small essentials.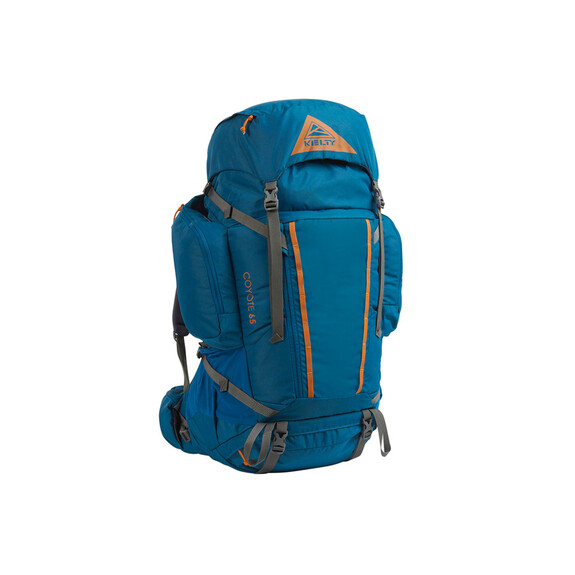 Organized and durable backpacking pack

Wing side pockets with pass-through functionality, two types of hip belt pockets, and a sleeping bag pocket

Internal frame, torso adjustment, and load lifter straps

30" x 18" x 12"
The Coyote 65 camping backpack is ultra-organized and ready for any backcountry adventure. At the back of this pack is Kelty's AMP-Flow ventilated back panel and customizable Fit-Pro adjustment system for a relaxed and customized fit. In addition, its perimeter frame is ideal for weight transfer and pack stability, while the load-lifting straps and hip belt stabilizers further aid in carrying comfort.
With the Coyote 65, it's easy to tote all your gear. The main compartment includes a hydration sleeve for your favorite water bladder, and the pass-through wing pockets are large enough to store a Nalgene water bottle. Plus, the tool loops are great for trekking poles.
At the top of the Coyote 65, you can find a floating lid pocket with a convenient side zipper and key clip. Two hip belt pockets make it easy to reach small essentials. The bag's exterior is water resistant, and there is even a designated pocket for your sleeping bag.
Kelty backpacks for trekking
Explore the great outdoors and enjoy some time off the grid with one of these top-rated Kelty trekking backpacks.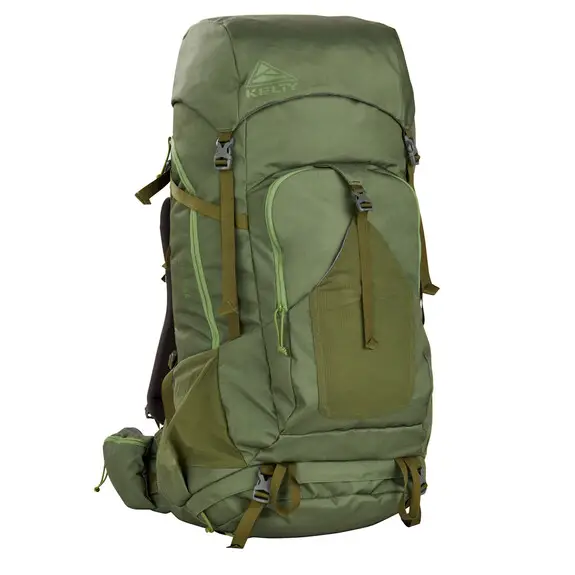 Spacious trekking backpack

Designated pockets throughout keep your gear organized and secure

Comfortable and adjustable with easy torso adjustment and ventilated back panel

19.5" x 14.5" x 30.5"
Nature newbies rejoice. The Kelty Asher 85 is the ideal backpacking backpack for no-fuss outdoor fun. This pack is the largest in the Asher collection and is great for weekends off the grid. It has an advanced perimeter frame with aluminum stays to provide a sturdy foundation for all of your gear.
This pack makes carrying heavy loads much more manageable by utilizing load transfer technology and the Fit-Pro torso adjustment system. Load lifter straps further aid in maintaining comfort, and the AMP-Flow back panel keeps you cool and dry. Compression straps on the floating lid and sides keep all your belongings secure.
You'll find tons of storage space in the Asher 85. The main cargo pocket features a hydration sleeve and easy access J-zipper. The front stash pocket is perfect for carrying extra layers, while twin hip belt pockets are great for storing your cell phone and trail snacks. Dual water bottle pockets ensure you never go thirsty, and the bottom sleeping bag compartment allows you to avoid digging through the pack when you get to camp.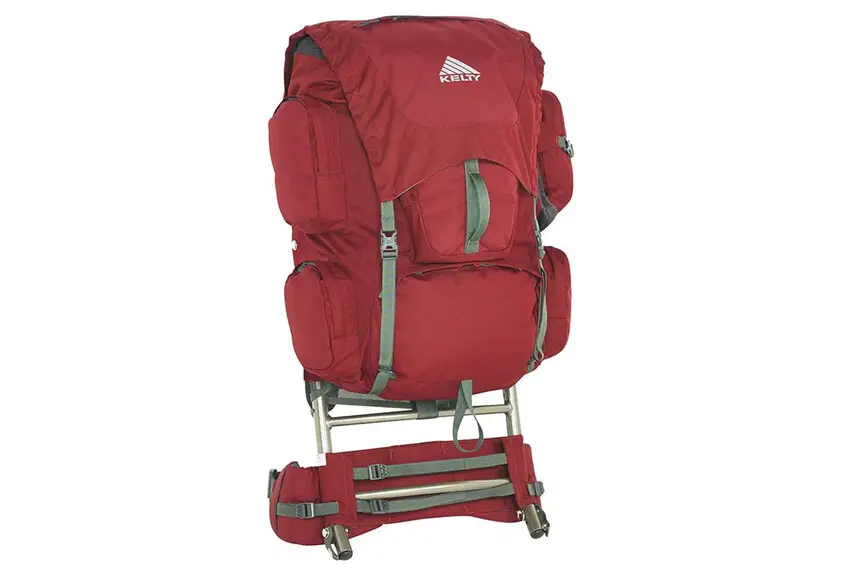 Classic trekking exterior frame backpack

Top loading with a hold-open bar and spin drift collar

Spacious interior with a hydration compartment and several exterior storage pockets

29" x 22.5" x 13"
While external framed packs are less popular than they were in previous generations, many hikers still prefer them for their ideal weight-carrying capacity and distribution. The Trekker 65 is Kelty's modern version of a traditional exterior framed backpacking pack.
The Trekker's external frame is incredibly efficient at carrying heavy loads, and the adjustable suspension system allows load customization. The main top-loaded compartment has a hydration reservoir sleeve, and a large front pocket and zippered side pockets add extra storage space. This pack also has load lifter straps, belt stabilizing straps, and a designated ice axe loop.
Kelty backpacks for travel
Take off on your next adventure by loading up your gear in one of these Kelty travel backpacks.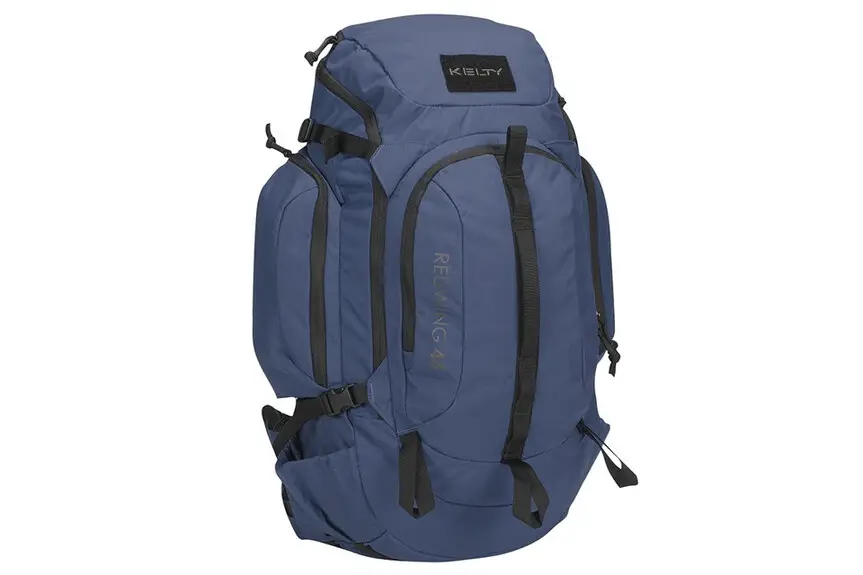 Tactical multi-use pack

U-zipper design, multiple stash pockets, and laptop sleeve for easy gear storage

Adjustable shoulder straps, side compression straps, and load lifter straps for a customized fit

24" x 12" x 16"
If you're looking for a pack to take from the airport straight to the trail, the Kelty Redwing 44 is a perfect choice. Built to military specifications, this pack is incredibly durable and features load-lifting straps and a removable waist belt. In addition, the outside of the pack is streamlined, with no mesh to prevent snags and side compression straps for keeping everything compact.
Many users of the Redwing 44 find this pack to be a perfect carry-on bag as it fits the size requirements of most major airlines. It has a laptop sleeve, water bottle pockets, and zippered outside pockets for extra gear. Additionally, the hybrid loading U-zipper design makes it easy to pack and access all your belongings inside the pack.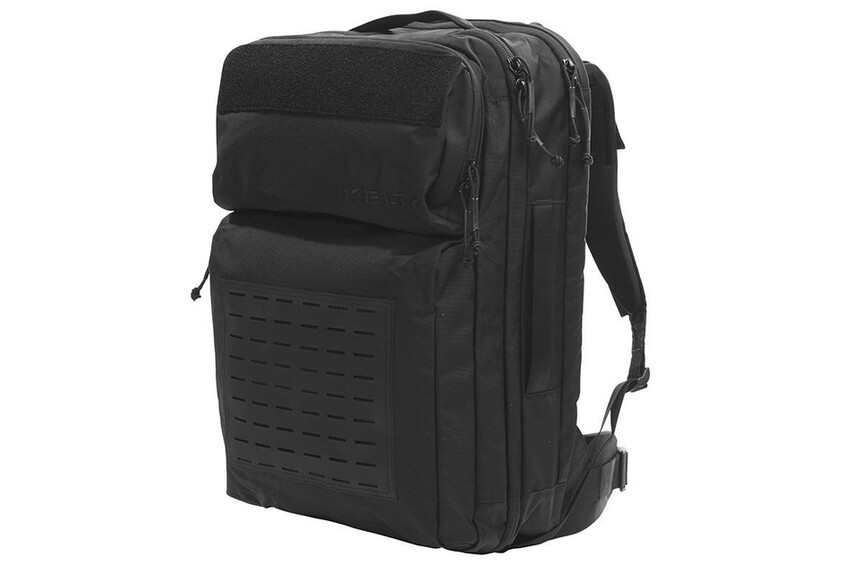 Multi-day luggage backpack

Converts to a duffel with stow-away shoulder straps and removable waist belt

TSA compatible and includes hidden pockets for security

22" x 14" x 8.5"
The Kelty Nomad is a travel backpack that's ideal for multi-day trips. This TSA-compatible pack has a spacious main compartment that unzips on three sides for easy packing and hidden storage pockets for extra security. Just like in a suitcase, an elastic cross strap keeps your belongings in place.
Transitioning this pack from a backpack to a duffel is easy. Stow-away shoulder straps and a removable padded waist belt allow you to tuck all dangling straps away. Multiple padded handles, shoulder straps, and comfortable back panels are also included for comfort.
Kelty backpacks for women
Many female backpackers appreciate that these Kelty backpacks are designed with women in mind for a more comfortable fit.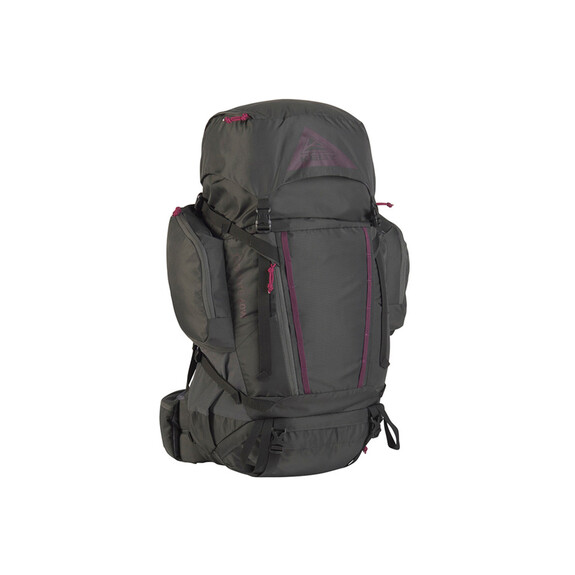 Women's backpacking and trekking pack

Customized female fit helps with proper weight distribution

Plenty of interior space and multiple stash pockets help keep you organized

30" x 17" x 12"
Women deserve a trekking pack that works as hard as they do. This women's version of the Kelty Coyote is specially designed to fit women's bodies, with a unique suspension system, shoulder straps, and a female torso fit. The Kelty Women's Coyote offers plenty of space, organization, and comfort with a women's fit.
With all the same great features as the unisex version, this pack has an AMP-Flow back panel for ventilation, FIT-Pro torso adjustment, and an advanced internal perimeter frame. Meanwhile, compression load lifter and hip belt stabilization straps balance heavy loads.
The Women's Coyote 60 has a roomy interior and a convenient front pocket for storing extra layers. Wing side pockets with a pass-behind capability, side mesh pockets, and hip belt pockets make storing small gear simple. This pack also has tool loops for trekking poles, a floating lid with easy access zipper, and a lower sleeping bag compartment.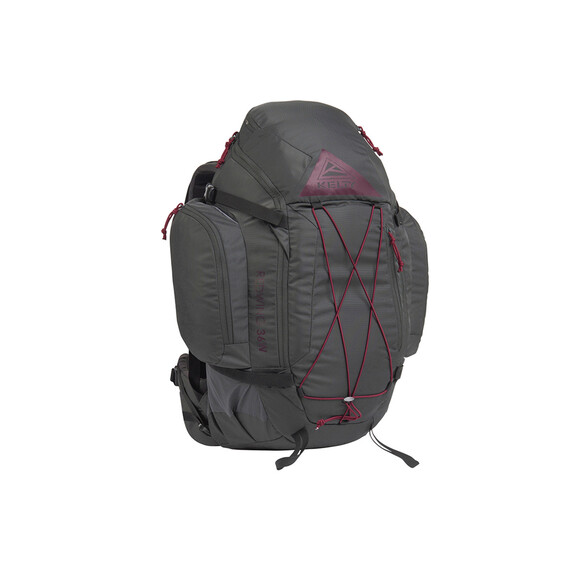 Women's versatile daypack

Hybrid U-zipper allows for top or panel loading

Women-specific shoulder straps and torso length

22" x 17" x 10"
Are you just going out for a short trip or a day hike? The Women's Redwing 36 is the perfect women's daypack. It has an internal frame system, load-lifting straps, waist belt stabilizers to help balance heavy loads, and women-specific torso length and shoulder straps. In addition, a ventilated AMP-Flow back panel adds to comfort and breathability.
The main compartment of the Women's Redwing 36 is excellent for larger essentials and includes a hydration sleeve. The lid pocket and front zippered pocket are great for small items. Wing pockets on both sides can fit large water bottles and have pass-throughs for hiking or fishing poles. Finally, a shock cord stash system at the front makes it easy to store a jacket.
Kelty child carrier pack
Bring your kiddo along for your outdoor excursions with this highly rated child carrier backpack from Kelty.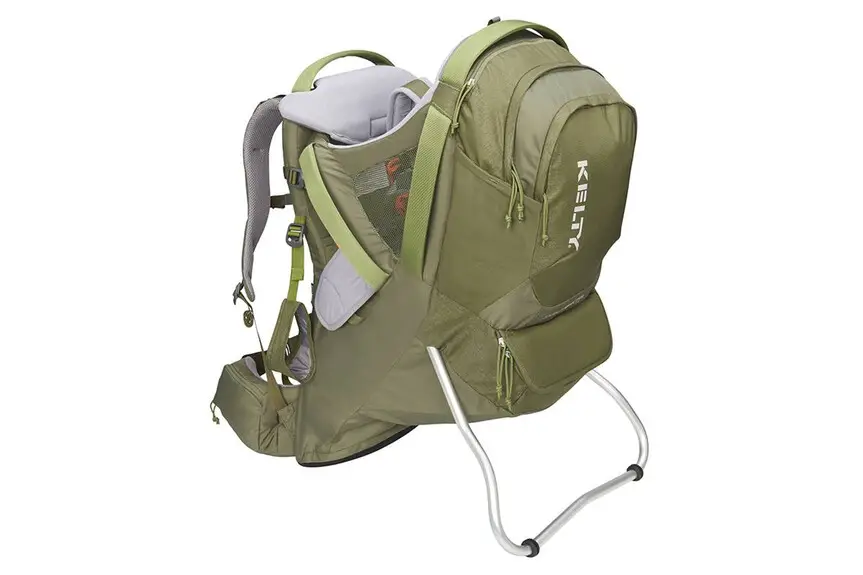 All-in-one child carrier pack

Easily adjustable and comfortable for mom and dad

No-worry safety features include a five-point harness and padded aluminum roll cage.

28" x 15.5" x 22"
The Journey PerfectFIT Elite is Kelty's best child carrier, designed to help you and your little one hit the trail in comfort and style. For parents, the PerfectFIT torso adjustment system makes it easy to distribute weight. In addition, a padded back panel, shoulder straps, and hip belt add breathability and comfort.
Little ones also will love this kid carrier pack. The five-point harness and protection roll cage ensure their safety, and an integrated sunshade keeps them cool and protected from UV rays. Meanwhile, the wide seat, plush lining, and adjustable foot stirrups are comfy for long walks.
The pack is also well designed with a handy kickstand for loading and unloading and dual grab handles for taking it off and putting it on fully loaded. It has organized internal storage, an extra front pocket, and an extended water bottle pocket on the hip belt. Kids can be messy, but the bottom pocket wipes clean, and the removable drool pad is conveniently machine washable.
Whether your trip lasts a day or a month, your Kelty backpack will always be your favorite hiking companion.
Kelty backpack FAQs
Need a little more guidance on using your Kelty backpack? Check out the answers to these frequently asked questions.
What is a good size for a day hike backpack?
Day hike packs should ideally be between 25 to 40 liters — large enough for all the essentials but not so big that you're unnecessarily weighed down.
How heavy should a backpack be for hiking?
Ideally, your fully loaded pack should be as light as possible and shouldn't weigh more than 20% of your body weight.
Do I need a special backpack for hiking?
You can certainly use a regular backpack for hiking. However, hiking backpacks can offer additional performance features that make them more durable and comfortable to carry over long distances.