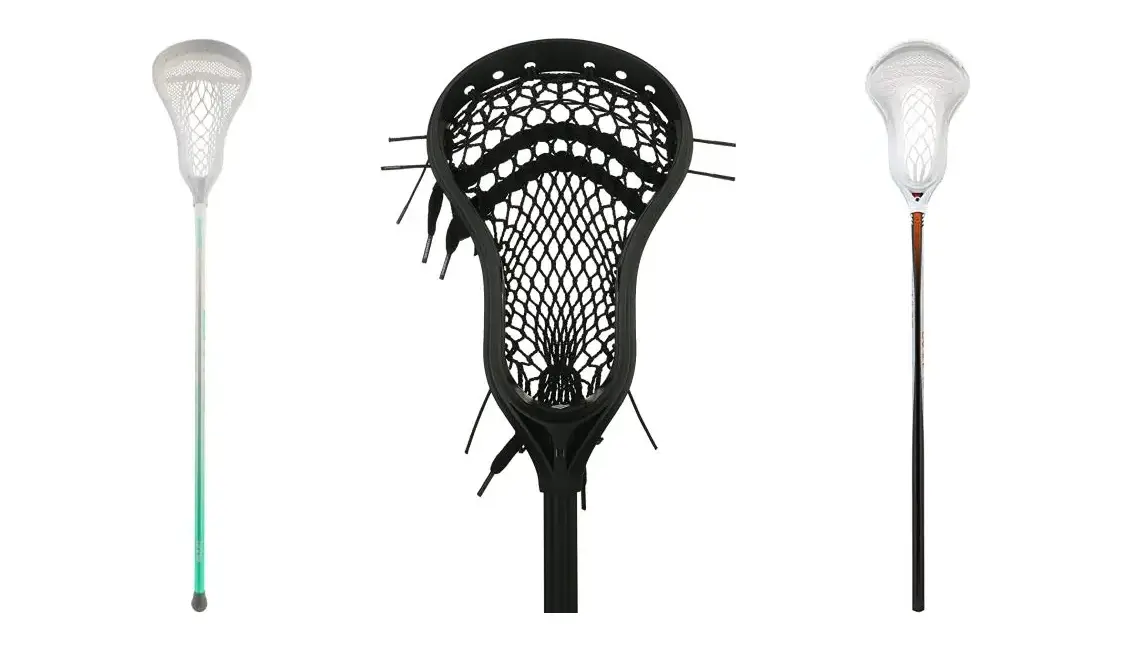 If you're like most lacrosse players, your LAX stick is almost an extension of your body. That's why choosing the right one can make or break your game. Discover the complete lacrosse stick to suit your unique needs in this handy guide.
Find your lacrosse stick
The best lacrosse stick matches up with your gender, age, and position on the field. Check out these options to discover the right fit.
Best men's LAX sticks
Best women's LAX sticks
Best youth LAX sticks
Men's vs. women's lacrosse sticks
Lacrosse is a sport enjoyed by both genders, but there is a key difference between men's and women's lacrosse: checking. Men's lacrosse is a full-contact sport that allows checking, while in women's lacrosse, body and stick checks are not allowed and result in penalties. With this significant rule difference, men and women lacrosse players, even at the high school level, require different gear.
Men's lacrosse sticks
Men's lacrosse has three types of sticks: attack/midfielder sticks, defensive sticks, and goalie sticks. Attackers and middie players use shorter sticks between 40 to 42 inches, while defenders and one long-stick midfielder have sticks measuring 52 to 72 inches. These longer sticks make it easier for defenders to keep constant pressure on offensive players.
Men's lacrosse sticks also have a deeper pocket depth than women's. For example, on a men's attack/midfield or defender stick, the pocket is one ball deep and made of a looser mesh than women's sticks. This offers better cradling control in case of checking while still complying with NCAA rules.
Women's lacrosse sticks
In women's lacrosse, attack, midfield, and defensive players all use sticks between 35.5 to 43.25 inches long. Since the women's game does not allow checking, there's no need for a long defensive stick.
Also, the mesh pocket in a women's lacrosse stick head is tied much tighter than in men's lacrosse. Rather than looser mesh, women's sticks have tight shooting strings called leathers that more closely resemble traditional stringing. This makes handling far more difficult than in the men's game. However, since checking is not allowed in women's lacrosse, female players can cradle the ball tightly between their ear and shoulder.
Goalie sticks
Goalie sticks are essentially the same in both men's and women's lacrosse. However, women's goalie sticks must be 35.5 to 52 inches long, while men's goalie sticks must be between 40 and 72 inches long.
How to choose an LAX stick by position
The type of lacrosse equipment you need depends on your position on the field. This is especially true in men's lacrosse, where there are three distinct types of sticks based on which position you play. In women's lacrosse, there are only two types of sticks — one for field players and one for goalies.
Attackers
Attack lacrosse sticks are the most common types of sticks on the field. Geared toward offensive players, they have the shortest stick length and narrower head width. These short lacrosse shafts are easier to control and give attackers an edge when maneuvering around defensive players. Meanwhile, the narrow head keeps the lacrosse ball in place and makes for a more consistent throw.
Midfielders
Most middies on the lacrosse field use the same sticks as attackers, which is why you will find many attack sticks marketed as attack/midfielder sticks. However, men's US Lacrosse rules allow for one long-stick midfielder or LSM. Longer sticks enable players in this hybrid position to play more aggressively, both in pursuing the ball down the field and helping defenders.
Defenders
Defensive players in the women's game essentially use the same lacrosse gear as offensive players. However, defenders use a much longer stick in men's lacrosse to maintain constant pressure on attackers. With this long lacrosse stick, defenders can accurately stick check from a farther distance, leading to more turnovers and fewer scoring opportunities for the opposing team. In addition, the head on a defender stick is wider, offering a larger surface area for intercepting passes.
Goalies
A lacrosse goalie stick looks much different than a field player stick. For starters, the length of goalie lacrosse sticks is usually somewhere between attacker and defender stick length in the men's game. Goalies need a balance between agility and safeguarding, so their sticks range between 46 to 53 inches in total length.
The pocket on a goalie stick is also much deeper — between two and three balls deep — to prevent the lacrosse ball from bouncing back out after a save. Finally, the head on a goalie stick is much broader, which helps goalies make saves and avoid injuries. It's also important to note that both men's and women's lacrosse players use the same type of goalie stick.
Best men's lacrosse sticks
Men's lacrosse has three types of sticks: the short stick, the long stick, and the goalie stick. Here you can find the right stick for you based on your position on the field.
Warrior Burn Warp Pro Complete Lacrosse Attack Stick

Best men's attack and midfield stick

Lightweight carbon fiber shaft

Customizable head with a low and high whip option
The Warrior Burn Warp Pro is an excellent lightweight complete lacrosse stick utilizing Symflex and minimum carbon technology for maximum shot power. With a carbon fiber shaft weighing only 125 grams, it already has a great weight-to-strength ratio. Additionally, it includes the Warrior end plug for attack and midfield players looking for the lightest possible stick setup. Instead, want maximum shot leverage? This Warrior stick also includes the brand's new Warrior end cap. Additionally, the mid pocket on the Burn Warp Pro head has both a high and low whip option to help maximize shot speed and accuracy.
StringKing Complete 2 Senior Defense Lacrosse Stick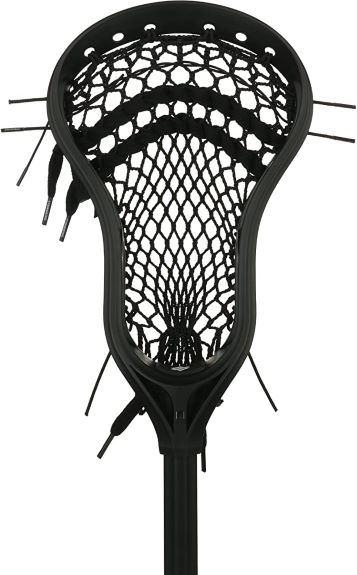 Best men's defense stick

Long premium alloy shaft

Game-ready pre-strung mesh head
The StringKing Complete 2 line of lacrosse sticks is perfect for players seeking worry-free performance from a game-ready stick. This version, designed for defensive players, features a lightweight and durable A380 premium alloy shaft that offers excellent value over shafts made from pricier materials. This complete lacrosse stick also utilizes StringKing's Legend Senior head, which comes pre-strung with Type 3 mesh for no break-in necessary execution on the field.
STX Lacrosse Eclipse 2 Complete Goalie Stick

Best men's goalie stick

34" handle and ergonomic throat design

Pre-strung yet adjustable pocket with an advanced sidewall design
If you're looking for a perfectly balanced complete goalie stick, the STX Eclipse 2 goalie stick is an excellent choice for new and experienced LAX players alike. This goalie stick has a 34-inch platinum handle and an ergonomic throat configuration for optimal grip. It has an updated sidewall design to help improve stiffness, while additional sidewall holes allow for an array of pocket styles. The stick head comes pre-strung with 12-diamond semi-hard mesh, and a new scoop shape helps improve ground performance.
Best women's lacrosse sticks
Women's lacrosse sticks are much different from men's ones, with tighter pockets and shorter shafts. Depending on your position in women's lacrosse, you can find your LAX stick here.
Brine Dynasty Warp Next Stick

Best women's attack and midfield stick

Lightweight composite shaft

Pre-strung warp pocket for consistency and control
For maximum off-the-shelf performance, check out the Brine Dynasty Warp Next. This women's complete LAX stick is ideal for the intermediate player looking for high performance and low maintenance. This lacrosse field stick offers consistency and control throughout the pocket by utilizing warp pocket technology with reinforced sidewalls. The Dynasty Warp has a composite 7/8-inch diameter shaft and meets US Lacrosse specifications.
StringKing Women's Complete 2 Pro Defense Lacrosse Stick
Best women's defense stick

Carbon fiber shaft within the length for women's lacrosse

Specially designed wider head for more defensive ball control
While female lacrosse defenders don't necessarily need a different stick than other players on the field, this StringKing LAX stick can offer a competitive edge. It utilizes the same length carbon fiber shaft as the attack version. Meanwhile, the head of this complete lacrosse stick has a more gradual offset and broader face shape to help you control loose balls. This women's defensive stick comes pre-strung with Type 4 performance mesh.
STX Shield 100 Strung LAX Goalie Stick

Best women's goalie stick

Shield 6000 alloy shaft

Forgiving head shape for easy ground pickups
Recreational lacrosse players of either gender will love the STX Shield 100 goalie stick. However, this stick is especially great for female players looking for a lightweight stick within the legal length requirements for women's lacrosse goalies. Featuring the Shield 6000 alloy shaft, this stick is easy to handle. The STX Shield 100 also has a head shape that makes for easy ground ball pickups and a pocket pre-strung with 12-diamond mesh.
Best youth lacrosse sticks
In youth lacrosse, players use shorter sticks that are more manageable for their small frames. These youth lacrosse sticks can help your kid develop their skills and become a great player.
Warrior Evo Warp Next Complete Lacrosse Stick Attack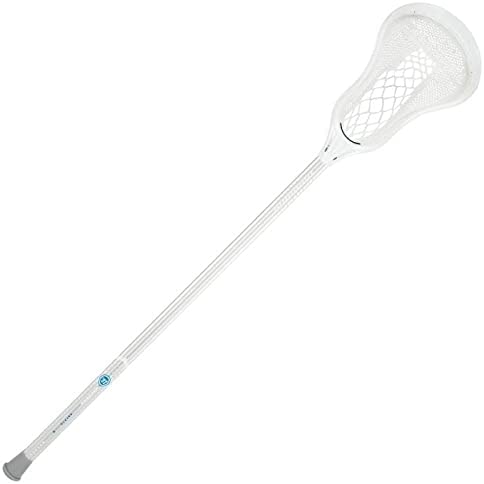 Best boys' attack and midfield stick

Solid and lightweight Kryptolyte shaft

Maintenance-free warp pocket
As one of the bestselling complete junior LAX sticks available, the Warrior Evo Warp provides youth players with the confidence they need to grasp the fundamentals and excel at the sport. In this latest model, Warrior has incorporated a Kryptolyte shaft that's incredibly strong yet lightweight. In addition, the warp pocket is water resistant and always consistent, meaning there's no break-in time or maintenance necessary. The Evo Warp also meets NCAA men's field specifications.
STX Lacrosse Exult 200 Girls Complete Stick

Best girls' attack and midfield stick

Pre-strung with a Crux mesh pocket

Lightweight shaft
The STX Exult 200 is a fantastic choice for a beginner girls' lacrosse stick. Made with young players in mind, this stick has a simplified pocket for durability and minimal maintenance. It comes pre-strung with a soft Crux mesh pocket that lends a more effortless feel. Meanwhile, the lightweight shaft makes it easier to develop stick-handling skills, while the wide catching area aids in catching and throwing. Whether she's an attacker, midfielder, or defensive player, the STX Exult is a great first-time stick.
STX Stallion 200 Complete Stick with Mesh Pocket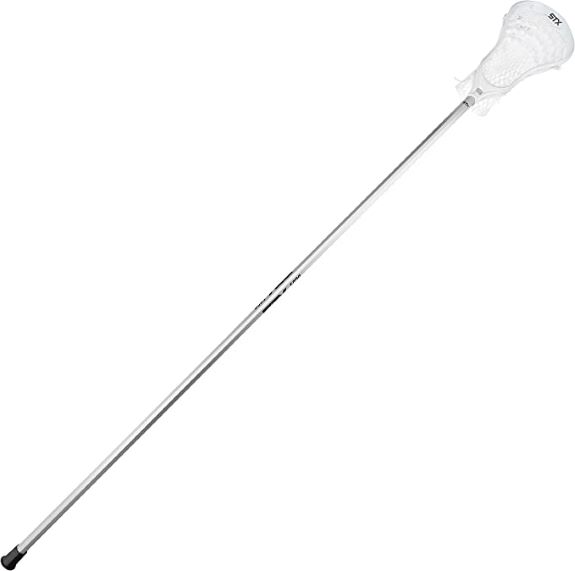 Best youth defense stick

6000 series alloy shaft with tonal memory marker graphics

Forgiving molded head pre-strung with soft mesh
Boys just starting as defensive lacrosse players need a stick to help them establish great fundamentals. Luckily, the STX Stallion 200 is a fantastic entry-level option. This boy's LAX defense stick features the STX 6000 series alloy shaft with tonal memory marker graphics. Meanwhile, the head is inspired by the elite Stallion U550, molded from a soft material for a more forgiving response. In addition, it has soft mesh stringing and meets both NCAA and NFHS rules.
Lacrosse stick FAQs
Check out these frequently asked questions to learn more about the most important piece of lacrosse equipment.
What is a complete lacrosse stick?
A complete lacrosse stick comes pre-assembled with a shaft and pre-strung lacrosse head. Players may also choose to assemble their own sticks with a shaft and unstrung head sold separately.
How long should my lacrosse stick be?
In men's lacrosse, the proper stick length depends on your field position. For example, attacker and midfielder sticks are typically between 40 to 42 inches in length, while defenders can have sticks as long as 72 inches.
Why do boys and girls have different lacrosse sticks?
Since checking is allowed in boys' lacrosse, their sticks are designed for full contact. In contrast, girls' sticks are designed with agility in mind. The rules of each lacrosse game also determine what sticks are allowed.