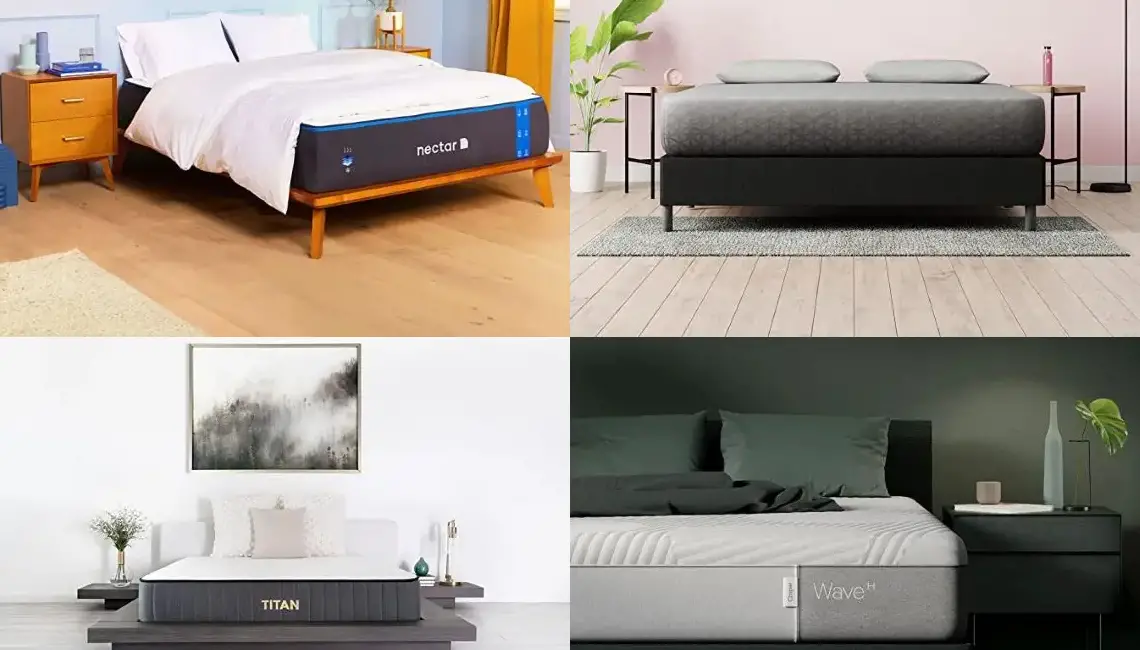 The right mattress can be the difference between a good night's sleep and a night full of tossing and turning. Your mattress is not just a place to rest, but also one of the best tools for recovering as an athlete. So if you're an active individual looking for a new mattress, check out this guide to determine the best choice for better sleep and muscle recovery.
Find your athletic performance mattress
Get the rest you need for better performance with one of these top-rated mattresses for athletes.
How to choose a mattress for an active lifestyle
If you're an athlete in need of a new mattress, keep the following factors in mind as you search for the right one.
Mattress type
There are many different types of mattresses to choose from, and understanding the differences can help you select the best option.
Innerspring mattress:

When you think about mattresses, this style most commonly comes to mind. These mattresses have a layer of pocketed coils that offer support surrounded by foam layers and typically have a quilted pillow top. Innerspring mattresses are often preferred by stomach and back sleepers and heavier people.

All-foam mattresses:

Also called memory foam beds, these softer mattresses forgo springs and rely on foam layers for support. There are many varieties of foam mattresses, including polyfoam and latex mattresses. Foam mattresses are often preferred by side sleepers and people experiencing joint pain.

Hybrid mattresses:

Hybrid model mattresses combine the supportive coils of an innerspring mattress and the cushioning comfort of memory foam. Couples and people looking for a medium-firm mattress often prefer hybrid mattresses.
Firmness level
There are several mattress firmness options. Firmness refers to the feeling of a mattress when you first lie down and how deeply it sinks. Ultimately, you should choose what works best for you and your body. However, athletes tend to need a medium to hard mattress to provide enough support for recovery REM.
Soft:

Plush mattresses feel like a big hug but offer little support. These mattresses are not great for most athletes but may be suitable for athletic people that weigh less than 130 pounds and who sleep on their sides.

Hard:

Firm mattresses are highly supportive and use less plush materials in their comfort layers. Instead, these mattresses have a layer of soft foam over a dense polyfoam or innerspring system. Heavier athletes and those who sleep on their back or stomach can benefit from the spinal alignment offered by a hard mattress.

Medium:

Medium mattresses are the hybrid option between firm and soft beds. These mattresses combine a denser foundation with soft foam top layers for pressure relief. Medium-firm mattresses are great for a wide range of sleepers, including athletes who prefer side sleeping and those who share a bed.
Sleeping position
The position in which you sleep dramatically impacts the kind of mattress that you should buy. For example, depending on whether you sleep on your side or back, you may want a softer or firmer mattress.
Side sleepers:

If you sleep on your side, you may have noticed pressure on your shoulders and hips. That's why the best mattresses for side sleepers and athletes are softer medium firmness mattresses made with memory foam or a pillow top that conforms to the body and relieves pressure points.

Back sleepers:

People who sleep on their backs require a mattress that can support healthy spine alignment. Medium to firm mattresses can offer the lumbar support that a back sleeper needs for a good night's rest.

Stomach sleepers:

Sleeping on your stomach can lead to neck and back pain, so having the right mattress is essential for healthy sleep. Harder mattresses are best for this sleeper since they can safely support the spine.

Combination sleepers:

If you move into different positions while you sleep, you're considered a combination sleeper. These sleepers typically prefer medium-firm mattresses that offer soft support. Also, most combination sleepers prefer a more responsive mattress than one made entirely of memory foam since they provide more freedom of movement.
Body type
Finding a suitable sleep surface also depends on height and body weight. Since athletes come in all shapes and sizes, consider how your body type will affect which mattress you should choose.
Lower body weight:

As a general rule, lighter people find that mattresses feel firmer than someone who weighs more. Therefore, they should consider a softer mattress.

Higher body weight:

Heavier people need more support from their mattresses. In particular, larger athletes should look for mattresses at least 12" thick and with medium-firm to firm support to prevent sinking into their mattress or experiencing back problems.

Over 6 feet tall:

Mattress size is another factor that athletes should consider, especially if they're tall. Since full-sized mattresses are the same length as twin beds, tall sleepers should look at mattresses that are queen-sized or larger. Otherwise, athletes over 6 feet tall may find that their feet hang off the edge, making it difficult to get comfortable in bed.
Breathability
Nothing makes it harder to get a full eight hours of sleep than overheating. Since athletes tend to be hot sleepers, it can help to choose a mattress with body temperature regulation features that improve airflow. For example, a mattress with cooling technology can help dissipate body heat for a cooler night's sleep.
Support system
Many athletes suffer from ailments such as muscle soreness and lower back pain. To get the most restorative deep sleep, consider a mattress with pain-relief features such as pressure-relieving support layers and motion isolation. In addition, if you're regularly waking up with lower back or neck pain, a new mattress can help provide the support you need.
Quality
A high-quality mattress can provide you with the high-quality sleep you need to perform at your best. If you're in the market for a new mattress, read mattress reviews to see what others say about your top picks, and choose ones with long-lasting or lifetime warranties. Also, many of the best mattresses offer sleep trial periods that allow you to test the mattress before fully committing.
7 best mattresses for active people
If you're an athlete shopping for a mattress, one of these seven options will give you the sleep you've been dreaming of.
1. ZOMA Start Memory Foam Mattress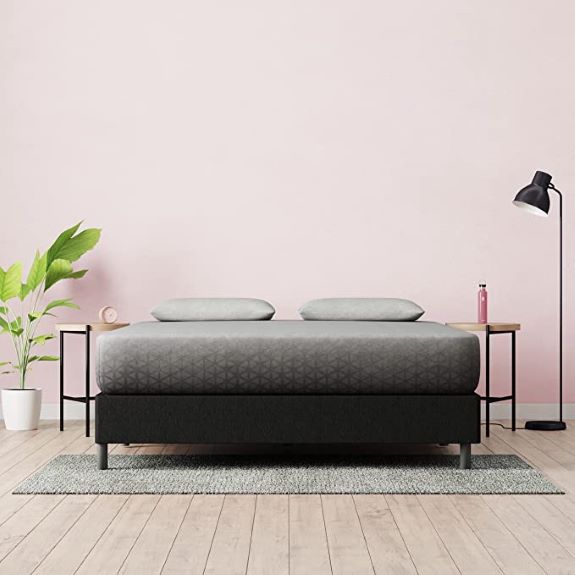 Best mattress for athletic recovery

Medium foam mattress

Available in twin, twin XL, full, queen, king, and California king sizes
The Zoma Start memory foam mattress is specially designed to speed up muscle recovery after a workout, making it an excellent purpose-made mattress for athletes. This mattress has different firmness zones across the comfort layer which help alleviate pressure points by distributing body weight.
Additionally, the Zoma Start has firmer foam in the midsection for lumbar support and memory foam cushioning at the shoulder to support spinal alignment. Unlike other memory foam mattresses, this mattress uses bouncy, responsive foam to prevent sagging. It also features gel memory foam for wicking away heat and an AirCloth cover that allows body heat to escape easily.
2. Nectar 12" Medium Firm Mattress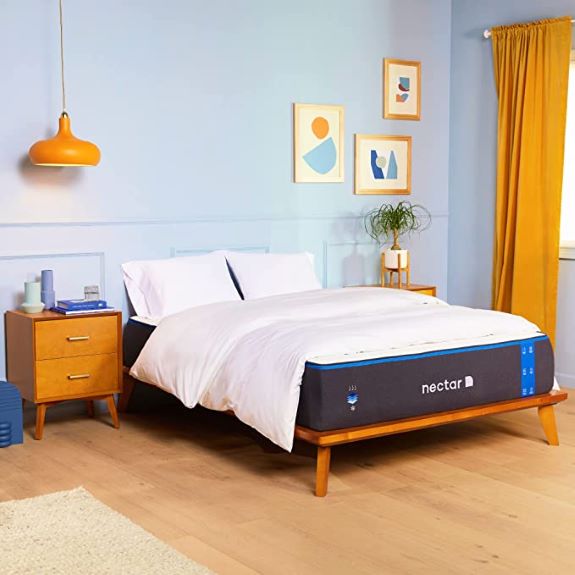 Best mattress for athletes with back pain

Medium-firm foam mattress

Available in twin, twin XL, full, queen, king, and California king sizes
This Nectar mattress offers athletes the pressure point relief they crave with adaptive memory foam that minimizes pressure on their joints, muscles, and back. This fully foam mattress has a gel-infused memory foam top made to keep you cool while you sleep, while the middle layer cushions your entire body. These layers of foam sit atop a sturdy 7-inch base foam layer for added support and durability.
Backed by a year home trial and lifetime warranty, this Nectar mattress is supportive and breathable. Plus, Nectar includes a certificate for a free sleep bundle which includes sheets, pillows, and a mattress protector for the ultimate bed-in-a-box.
3. Casper Sleep Wave Hybrid Mattress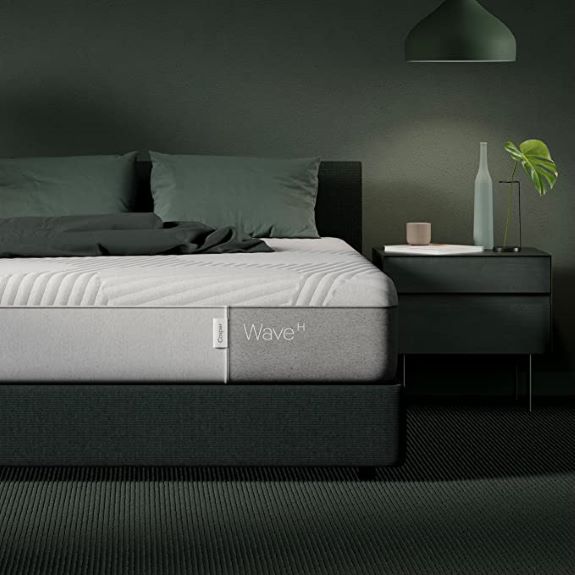 Best mattress for side sleeper athletes

Medium hybrid mattress

Available in twin, twin XL, full, queen, king, and California king sizes
Each zone of your body requires different support while you sleep. With the Casper Sleep Wave Hybrid, you can benefit from multiple ergonomic zones for a perfectly aligned spine and a better night's sleep. These contour zones comprise two layers of gel pods that cradle the waist and lower back for support where you need it most while maintaining softness around the joints.
The Casper Sleep Wave relies on the gel pods combined with pocketed coils to minimize motion transfer for more restful sleep while sharing a bed with a partner. Meanwhile, the three layers of perforated breathable cooling gel foam create air channels that allow heat to escape.
4. Brooklyn Bedding Titan 11" Hybrid Mattress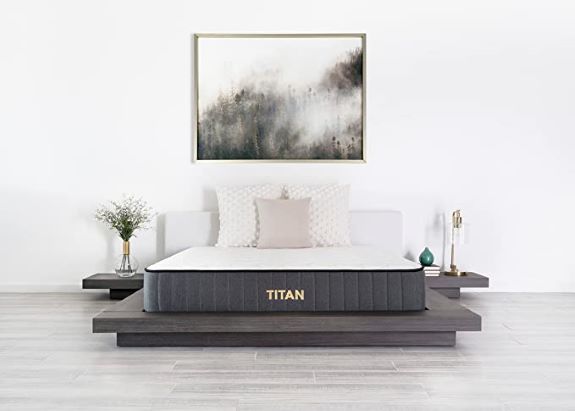 Best firm mattress for back sleeper athletes

Firm hybrid mattress

Available in twin, twin XL, full, queen, king, and California king sizes
The Titan hybrid mattress from Brooklyn Bedding is a luxury firm mattress for back and stomach sleepers who need extra support. This bed-in-a-box has four layers: a 2-inch polyfoam base, a 6-inch coil layer, a 2-inch TitanFlex foam layer for deep pressure relief, and a 1-inch gel memory foam top layer.
Athletes who share their beds will also enjoy motion transfer isolation provided by coils that move independently from one another. The Brooklyn Bedding Titan mattress also has a worry-free 10-year warranty.
5. Leesa Original Foam 10″ Mattress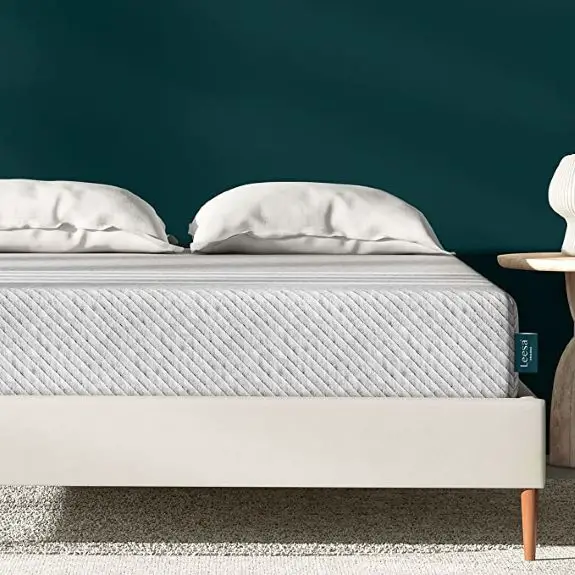 Best sustainable mattress for athletes

Medium-firm foam mattress

Available in twin, twin XL, full, queen, king, and California king sizes
The Leesa Original foam mattress is a fully foam mattress that offers a deep restorative sleep for all kinds of sleepers. This mattress features three foam layers for reducing lower back pain and pressure points. First is a supportive 6-inch base layer, then a central pressure relief layer, and finally, a foam comfort layer on top. The mattress also has a stylish and sporty four-stripe design reminiscent of classic tube socks.
While the Leesa mattress does wonders for a great night's sleep, the company's social responsibility makes this mattress shine. As a certified B Corp, Leesa donates a mattress to a non-profit for every mattress sold. Plus, all of their mattresses are made in the USA.
6. Purple GelFlex Mattress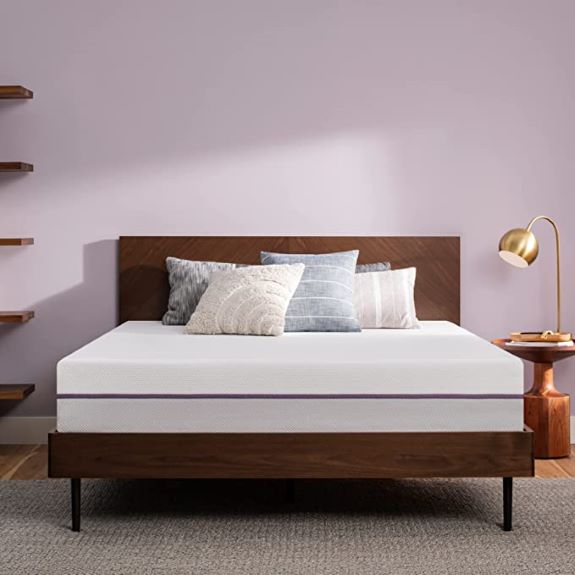 Best mattress for athletic couples

Medium-firm foam mattress

Available in twin, twin XL, full, queen, king, California king, and split king sizes
The best-selling Purple mattress has a unique design worthy of all the hype, especially for athletes. This mattress has a similar level of responsiveness as latex mattresses but is latex-free and hypoallergenic. The Purple GelFlex Grid technology gives excellent cushioning and support to hips and shoulders while keeping the body aligned fully. This distinctive gel material also adapts as you move for constant comfort.
The Purple mattress also has over 1,400 air channels in its temperature-neutral grid foam for maximum breathability and boasts nearly zero motion transfer, making it an excellent option for couples. All Purple mattresses are made in the USA from durable and non-toxic materials.
7. DreamCloud 14″ Luxury Mattress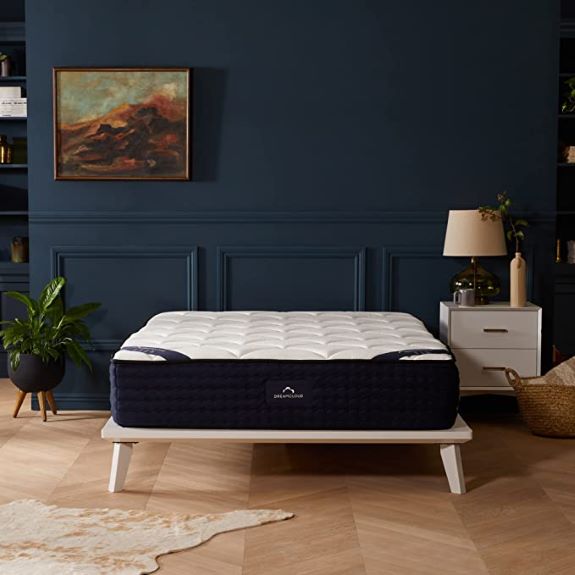 Best mattress for athletes that run hot

Medium-firm hybrid mattress

Available in twin, twin XL, full, queen, king, and California king sizes
Feel like you're sleeping on cloud nine with the DreamCloud luxury mattress. This gel-foam hybrid mattress is ideal for athletic back sleepers and boasts five comfort layers. First. a soft layer of quilted, cooling Tencel is on the top. Then, a layer of gel memory foam for weight distribution and an adaptive, responsive transition layer. Next is an innerspring with individually wrapped coils for edge support and an essential base layer for reinforcing support.
The DreamCloud mattress is also great for hot sleepers, with a cool-to-the-touch cover and cooling technology throughout. However, what makes the DreamCloud mattress truly unique is the 365-night trial period and Forever Warranty.
Athlete mattress FAQs
Check out these frequently asked questions to learn more about the best mattresses for athletes.
What mattresses do top athletes use?
The best mattresses for active people are medium to firm memory foam and hybrid mattresses, which offer supportive contouring for sore joints and muscles.
Are memory foam mattresses good for athletes?
Memory foam mattresses are an excellent option for athletes with soreness, aches, and pains from training since they relieve pressure points.
What is the best mattress for joint and back pain?
Athletes and other people experiencing joint or back pain need a mattress that promotes spine alignment and offers the right support for their body type and sleeping position. The best mattresses for side sleepers and athletes, for example, feature memory foam or a pillow top to help relieve pressure points.
Is it better to have a firm mattress?
Mattress firmness is incredibly personal, but heavier people and those who sleep on their back or stomach can benefit from a firmer mattress.