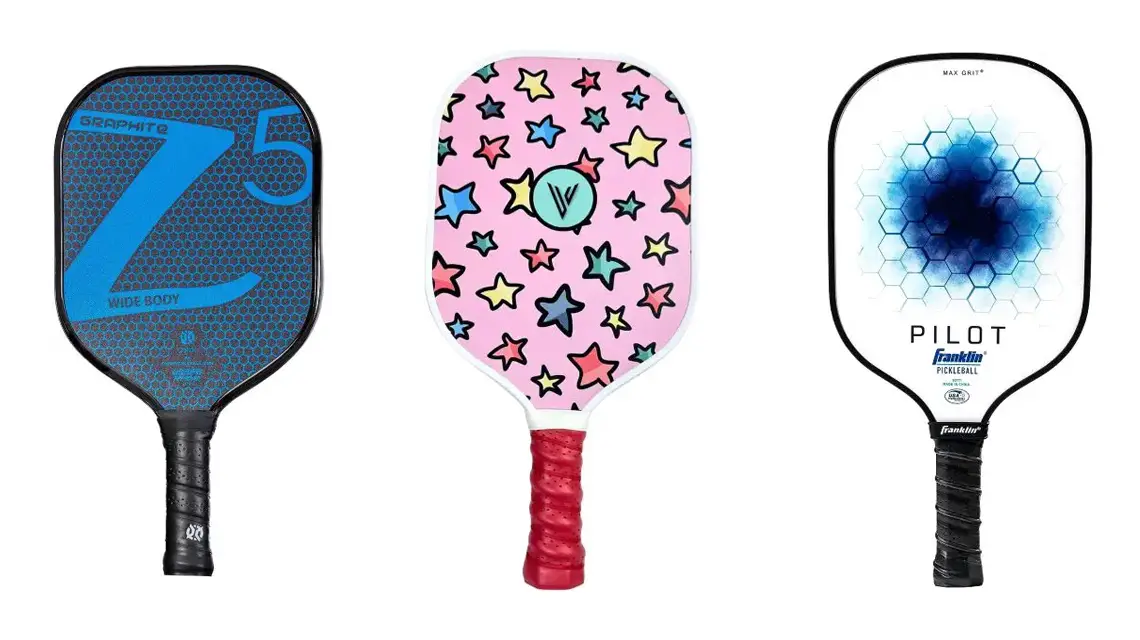 Pickleball is America's fastest-growing sport. Whether you've already been a pickleball player for years or you're interested in getting started as a new player, one of the most important things you need for this game is a quality paddle.
Pickleball paddle recommendations for every player
What type of pickleball paddle is right for me?
Experience level and playing style are two of the biggest factors to consider when choosing a pickleball paddle. There are also paddles available at a wide variety of price points to suit just about any budget.
Best pickleball paddle for beginners: ONIX Graphite Z5 Pickleball Paddle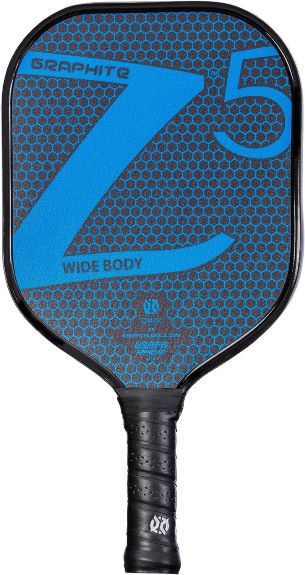 Wide-body, midweight paddle

Graphite face with a Nomex core
The ONIX Graphite Z5 is a great starter paddle for new pickleball players and meets all the requirements of USA Pickleball. It offers a nice balance of control and power, and the wide-body shape offers a large sweet spot. The cushioned handle is designed to mimic the shape of a tennis racket handle for a comfortable, secure grip. With a graphite face, it's neither too heavy nor too light, and the Nomex honeycomb core helps to give the ball a strong pop off the paddle for powerful shots when needed.
Best pickleball paddle for intermediate players: Paddletek Tempest Wave Pro Pickleball Paddle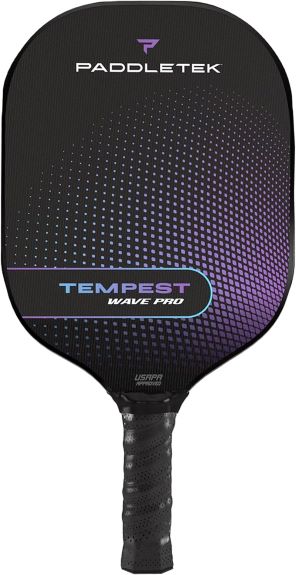 Wide-body, midweight paddle

Carbon fiber face with polymer core
After gaining a bit of experience on the court, pickleball players can level up their game with the Paddletek Tempest Wave Pro. With a carbon fiber surface, it offers a fast response for more finesse when serving or returning the ball. The polymer honeycomb core features Smart Response Technology (SRT), which delivers consistent bounce and minimizes noise. This paddle also features a cushioned, high-tack grip designed to optimize performance and comfort. It has a midweight design that's easy to control and a 1/8-inch edge guard to help absorb the shock of the ball.
Best pickleball paddle for advanced players: Selkirk Vanguard Power Air Invikta Pickleball Paddle
Elongated, midweight paddle

Carbon fiber face with polymer core
Pickleball players looking for unmatched performance from their paddle should check out the Selkirk Vanguard Power Air Invikta. Its distinctive open throat design maximizes flex upon ball impact for responsive power. It also features a micro textured surface which generates optimal spin and more control on the court. This top-of-the-line paddle is made in the USA with high-quality materials, including a polymer honeycomb core and a stiff carbon fiber face crafted from a proprietary blend of two layers of Fiberflex and two layers of Quantum+ carbon. The elongated shape enables an extended reach for forehand and backhand volleys.
Best pickleball paddle for kids: VIXII Youth Fiberglass Pickleball Paddle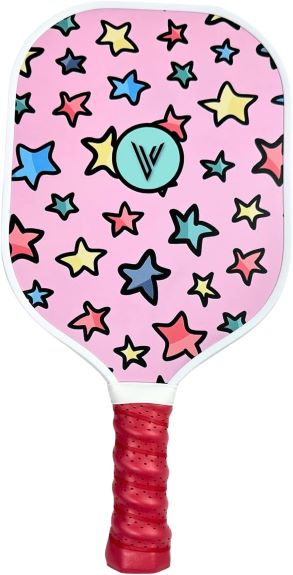 Youth size, midweight paddle

Fiberglass face with polypropylene core
Introduce kids to pickleball with this VIXII Youth Fiberglass paddle. Sized just right for young players, it offers a smaller grip size to accommodate a child's grasp. The grip also features a sweat-proof material to help keep it securely in hand as they dart across the court. Made with a fiberglass face and a polypropylene honeycomb core, it helps with ball control as they master the game. This paddle comes in lots of colorful, kid-friendly designs, so it's easy to find a custom pickleball paddle with a fun look they'll love.
Best pickleball paddle for control: Franklin Sports MAXGRIT Pilot Pickleball Paddle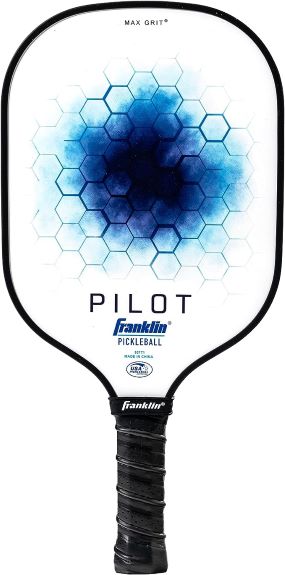 Wide-body, midweight paddle

Fiberglass face with polypropylene core
Prioritize ball control on the court with the Franklin Sports MAXGRIT Pilot Pickleball Paddle. The wide-body design provides a generous sweet spot, and the fiberglass surface offers a responsive touch and feel. The MAXGRIT surface adds light texture for better traction so players can put added spin on the ball and make more precise shots. Inside, a honeycomb polypropylene core offers a bit of flexible give to create a spring-like effect. This USA Pickleball-approved paddle also includes a non-slip handle grip for enhanced control.
Best pickleball paddle for power: JOOLA Ben Johns Hyperion CFS Pickleball Paddle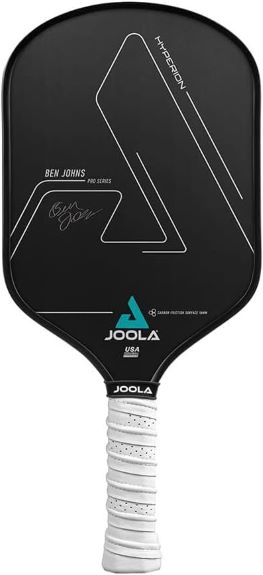 Elongated, heavy paddle

Carbon fiber face with polymer core
Developed in collaboration with the world's #1 pickleball player Ben Johns, this JOOLA paddle packs a wallop every time it comes into contact with the ball. It features a carbon-forged, longer handle for powerful two-handed hits and aces. Designed with an aggressive, offensive playing style in mind, the paddle has a heavier weight to maximize force behind the ball. The carbon friction surface (CFS) features an advanced Carbon-Flex5 textured material which is highly durable and great for producing spin on the ball. It's surrounded by a specialized foam edge which adds weight and stability. A reactive honeycomb polymer core reduces vibration and provides consistency with each impact. Additionally, the shape of the paddle features an aerodynamic curve at the top to produce less drag for a faster swing speed.
Best affordable pickleball paddle: Niupipo MX-08 Fiberglass Pickleball Paddle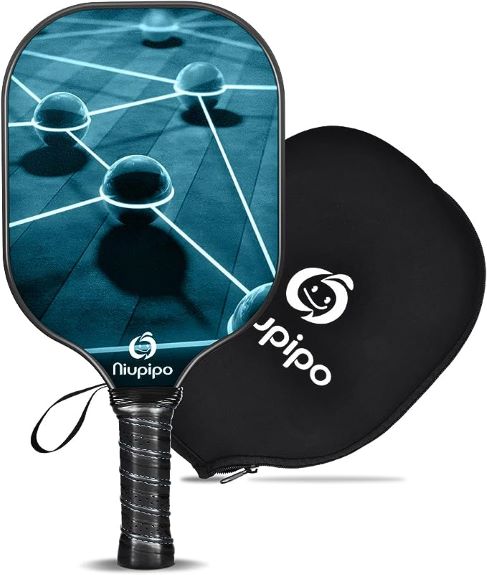 Wide-body, midweight paddle

Fiberglass face with polypropylene core
The Niupipo MX-08 Fiberglass Paddle is an excellent value buy for any pickleball player on a budget. Despite the affordable price, it still has a great array of features, including a premium fiberglass-reinforced face with a protective edge guard to maintain the paddle's integrity. The polypropylene honeycomb core minimizes noise and provides enhanced control with every shot. The handle has a perforated, cushioned grip designed to absorb sweat for a secure hold. This paddle offers excellent maneuverability and has a high-quality look and feel suited to beginners and intermediate players.
Best high-end pickleball paddle: JOOLA Ben Johns Perseus Pickleball Paddle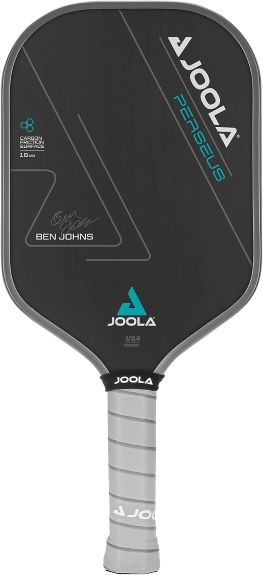 Elongated, midweight paddle

Carbon fiber face with polymer core
If you're willing to make a splurge buy to get one of the best pickleball paddles available, consider the JOOLA Ben Johns Perseus. This model, which was designed in collaboration with top-rated pickleball player Ben Johns, consistently earns rave pickleball paddle reviews from experienced players, particularly those who like an aggressive style of play. It features a reactive polymer honeycomb core and a fully encased carbon fiber face for strength and stability. The brand's unique carbon surface technology is noted for its crisp feel, impressive energy return and improved shot accuracy. The paddle is also easy to grasp securely thanks to the Feel-Tec Pure Grip handle which has a tacky feel and absorbs sweat. With its elongated handle, players can grab on with two hands for powerful smashes on the court.
Best pickleball paddle set: SLK Neo 2.0 Pickleball Paddle Bundle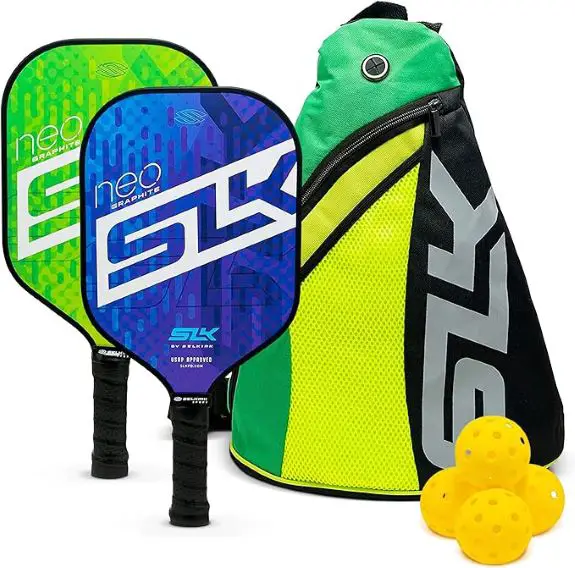 Wide-body, midweight paddles

Graphite face with polymer core
The SLK Neo 2.0 Pickleball Paddle Set from Selkirk is a great starter pack for new players. It comes with two paddles, four balls and a rigid carry bag to tote your gear around. Each of the paddles features solid construction with a graphite surface and a large sweet spot. The SpinFlex Textured Surface helps with ball control while the polymer core softens the feel of hard impacts with the ball. A durable edge guard keeps the paddles strong and intact. The handles are even designed to reduce fatigue with an ultra-comfort grip material which efficiently absorbs sweat.
Check out these models to find the best pickleball paddle to take onto the court. Although stores like Walmart and Dick's Sporting Goods carry similar products, shopping on Amazon generally provides the best selection and lowest prices for pickleball paddles.
What to know before buying a pickleball paddle
A good paddle is a must-have for every player stepping onto a pickleball court. This paddle will be used to serve and volley the ball.
While pickleball is often compared to other sports involving a net over center court, it's important to note that pickleball paddles are not interchangeable with ping pong paddles, badminton racquets or tennis rackets. These paddles have unique features designed specifically to respond best to pickleballs.
Is there really a difference between pickleball paddles?
There are significant differences between pickleball paddles that accommodate different players' experience levels, playing styles and personal preferences. Some of the many factors that should go into your choice of pickleball paddle include:
Paddle shape and size

Grip size and handle length

Paddle weight

Paddle surface material

Paddle core material
Paddle shape and size
There are three pickleball paddle shapes:
Wide-body:

Square-ish paddle with a total length around 16 inches. Sometimes known as a control paddle, it offers more stability and control thanks to a large sweet spot. However, the layout of the paddle's surface area generates limited power.

Elongated:

Rectangular paddle with a total length around 16.5 inches. Sometimes known as a power paddle, it offers a slightly further reach and more spin and power. However, it's more difficult to maintain control and accuracy with an elongated paddle.

Hybrid:

Falls between wide-body and elongated in paddle shape with a total length of around 16.25 inches. This versatile, all-court paddle offers a good balance between control and power.
According to the official USA Pickleball (USAP) rules, the combined length and width of a pickleball paddle may not exceed 24 inches, and the total length may not exceed 17 inches.
How do I know what size pickleball paddle I need?
Most pickleball players use a wide-body or hybrid paddle. Both offer a good level of control to help with placing the ball to score points.
Elongated paddles are generally better suited for experienced players who prefer an aggressive style of play or tennis players who prefer a paddle shape that's closer to that of a tennis racket.
Grip size and handle length
The grip size on a pickleball paddle is a measure of how thick the handle is, also known as grip circumference. This typically measures between 4 and 5 inches for adult pickleball paddles. Smaller grip sizes are available for youth pickleball paddles.
You'll want to find the size that gives you a solid grip without having to squeeze too tight or struggle to keep the handle stable in your hand. This will help to prevent hand and wrist fatigue, especially during longer matches.
How do I know what paddle grip size to choose?
One way to estimate your preferred grip size is to measure your hand while it's laid flat. Take a ruler and note the distance from the tip of your middle finger straight down to the middle of three larger creases that extend across your palm. For most people, this measurement equates to a comfortable grip size.
Does pickleball paddle handle length matter?
Most pickleball paddle handles measure between about 4.5 and 6 inches in length. A shorter or longer handle length corresponds to different benefits and playing styles.
Short handle (less than 5 inches long):

Creates more paddle surface area and a larger sweet spot.

Standard handle (5 to 5.25 inches long):

Provides a good balance of surface area and maneuverability to reduce errors.

Long handle (more than 5.25 inches long):

May allow for two-handed shots, making it easier to achieve high-power smashes.
Paddle weight
The USAP doesn't impose any restrictions on paddle weight. Most pickleball paddles weigh between about 7 and 8.5 ounces. Some youth paddles weigh less to accommodate younger players.
Is there any difference in the paddle weight?
The weight of a pickleball paddle can influence the style of play and individual performance. There are three general weight classes:
Lightweight paddles (less than 7.3 ounces):

Lighter paddles are easier to maneuver and control, but they offer less power on shots. They're better for soft shots like dinks and drops.

Midweight paddles (7.3 to 8.3 ounces):

Midweight paddles offer a balance of control and power, making it a good option for beginners.

Heavy paddles (more than 8.3 ounces):

Heavier paddles offer lots of power but may hinder ball control or result in arm fatigue. They're best for hard shots like serves and returns.
Some products, like lead tape, can be added to create a custom pickleball paddle weight. Be aware, however, that some options for adding weight to paddles are not legal for official play sanctioned by the USAP.
Paddle surface material
The USAP rules state that pickleball paddles must be made of a rigid, non-compressible material. This allows for many different options, including wood, carbon fiber, fiberglass, graphite, aluminum and composite paddle materials.
Is carbon fiber or fiberglass better for pickleball?
Carbon fiber and fiberglass are both popular options for the paddle face. A carbon fiber face is more rigid, which offers better ball control and shot precision. While less stiff than carbon fiber, a fiberglass surface is better able to add power to strong hits.
What is the difference between graphite and carbon fiber pickleball paddles?
A graphite pickleball paddle surface and a carbon fiber surface are nearly identical. This is because graphite is simply a type of carbon fiber. However, graphite paddles tend to be slightly more affordable compared to carbon fiber paddles.
Paddle core material
The core material of a pickleball paddle may or may not be the same as the surface material. Paddles with a different core material usually feature an edge guard that helps protect the edge from damage and maintain durability over time. Edgeless paddles are typically crafted as a single piece of material.
A honeycomb core is generally recommended for pickleball paddles. This design is more efficient at absorbing the impact of the pickleball, which gives players more control. A denser honeycomb design offers slightly less impact absorption, but it allows for more powerful hits.
Some of the inner core materials available for pickleball paddles include:
Polymer:

The most common pickleball paddle core is a polymer core, which helps to absorb sound and delivers a good balance of power and control. This type of material is sometimes referred to as a polypropylene core.

Nomex:

This paddle core material is harder than polymer, which makes it especially durable and better at enabling powerful hits. Note that Nomex is noticeably louder than polymer when coming into contact with the ball.

Wood:

Wooden paddles are softer, which offers more control, and they're typically some of the least expensive models. This makes wood paddles better suited to beginners, though these paddles are increasingly uncommon on today's pickleball courts.
Pickleball paddle FAQs
What pickleball paddle should I get?
When searching for the best paddle to play pickleball with, it's important to consider a few key factors. First and foremost, select a paddle that's suitable for your experience level. Standard, wide-body paddles are typically easier for new players to use, while experienced players with an advanced skill level often upgrade to an elongated paddle.
Next, think about your playing style. Do you like to have more control over the ball, or is it more important to have the ability to make powerful serves and returns? Different paddle features, such as the surface and core materials and the handle length, can help you achieve these actions on the court. There are also models which combine different features to ensure a good balance of power and control.
Finally, think about your preferred price point. You don't need to spend a fortune to get a quality pickleball paddle. It's easy to find a good paddle on a budget, or you can choose to invest more to get a top-of-the-line model.
What are the most popular pickleball paddles?
Some of the most popular pickleball paddles come from brands which are highly regarded in this sport, including JOOLA, Selkirk, Paddletek and Franklin. There are a number of models from each of these brands which are big sellers with new and experienced players alike. You can find hundreds of pickleball paddle reviews for these brands' models, which can help you choose the best fit for your needs.
In addition, it's a good idea to look for a paddle which has been approved by USA Pickleball. This ensures that it fits all the official requirements of the sport and is suitable for casual or organized game play.
What is the best pickleball paddle for beginners?
A number of models are counted among the best pickleball paddle for beginners. The ONIX Graphite Z5 Pickleball Paddle comes highly recommended due to its versatile design, quality features and reasonable price point.
Overall, there are a few features to look for in a paddle which can help a beginner learn the sport, including:
Wide-body shape (approximately 16 by 8 inches overall)

Standard handle length (5 to 5.25 inches long)

Midweight design (7.3 to 8.3 ounces)
How much do pickleball paddles cost?
The most affordable paddle models often cost around $30 and allow you to get a strong start as a new pickleball player. If you become committed to the game, consider upgrading to a more advanced model. To get the best of the best when it comes to pickleball paddles, be prepared to spend upwards of $200.
Is there a difference between indoor and outdoor pickleball rackets?
Pickleball paddles generally work for both indoor and outdoor matches. You don't have to have different paddles to play in these conditions. In fact, it's often better to stick with the same paddle in both cases since you'll already have a good feel for your paddle, and switching between different models could make it harder to play to the best of your ability.
Some experienced pickleball players like to have different paddles available for different conditions. Playing indoors provides a controlled environment, but outdoor play can expose you to wind, sun, heat, cold and more. For this reason, the pickleballs used for outdoor games are slightly heavier and harder than indoor ones and feature more holes.
A pickleball player may want a paddle that provides more power on a windy day to ensure their hits aren't blown far off their intended path. When playing indoors, some prefer a paddle that prioritizes ball control or dampens sound more effectively. These are just a few examples of why some players keep more than one paddle at their disposal.
It is not a requirement to use different paddles for indoor and outdoor pickleball. Ultimately, it's up to personal preference whether you want separate paddles for various playing conditions.
Last update on 2023-11-29 / Affiliate links / Images from Amazon Product Advertising API