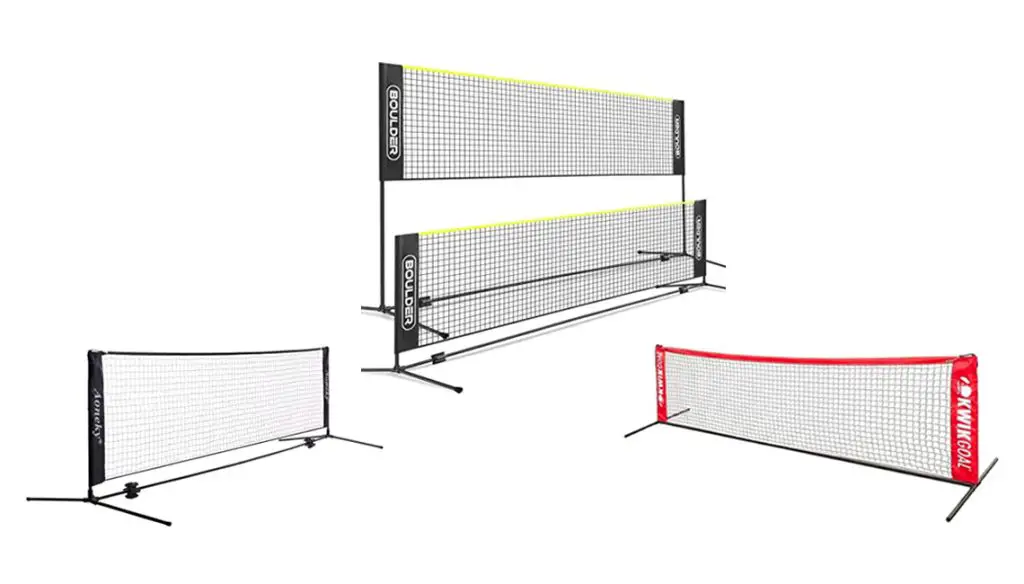 Portable tennis nets are fantastic for tennis players of all ages who can't get enough of the game. Whether you're looking to practice your skills or play a fun family tennis match, there's a portable tennis net that will fit your needs.
Find your portable tennis net
How to choose a portable tennis net
Selecting the right portable tennis net can be challenging with so many options available. Be sure to consider the following features to help you make the right choice.
Activity
Did you know that most portable tennis nets can also be used for other sports? From kids' volleyball to a wide variety of racket sports, portable tennis nets can be incredibly versatile. For example, some have an adjustable net height for racquetball, and others are regulation-sized pickleball nets suitable for competitive play. If you're a more serious tennis player, there are also portable training aids like tennis rebounders that come in mobile designs.
Size
According to USTA standards, a regulation tennis net is 42 feet by 42 inches in size. The net is a bit narrower at 36 inches at the center strap. In most cases, a regulation tennis net is far too large for home use. That's why most portable travel nets are between 10 and 22 feet wide. Consider how much space you have for your tennis net and who will use it. For example, smaller nets are better for young players and smaller spaces.
Storage
As most tennis players know, court equipment can be bulky. But with a portable tennis net, you can bring your love of the sport on the road with you. Most options come with a carry bag and pack as small as a camping chair. However, some of the more durable options aren't as compact, so consider where you will be storing your net before purchasing.
11 best tennis nets you can bring anywhere
From practice nets to pickleball, here are the best portable tennis nets for every tennis player.
1. Boulder Badminton Pickleball & Tennis Net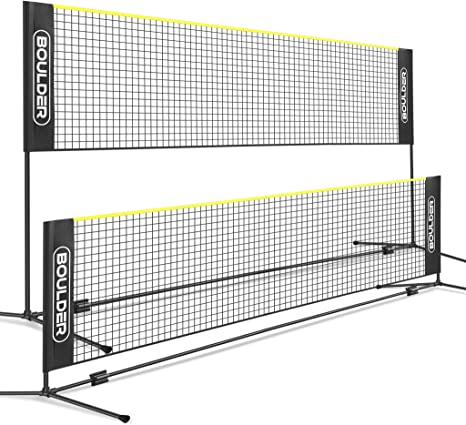 Best value

tennis net

Three sizes: 10', 14', and 17'

Sets up in minutes with a simple bungee cord construction

Packs up to 3' long into a

carry case

with a convenient shoulder strap
This adjustable net from Boulder is an excellent option if you're looking for a versatile sports net for on-the-go play. Perfect for use as a tennis net or kid's volleyball net, it features an adjustable height for different activities. A flexible bungee cord connects every part of this net for easy setup with zero risk of losing pieces. Since it's made from superior nylon mesh and rust-resistant painted steel, you can use this portable tennis net indoors and outside without worry. Meanwhile, the net packs to about the size of a small camping chair, so you can bring it anywhere. Available at an affordable price point, it's no wonder this Boulder net is an Amazon best-seller.
2. Street Tennis Club Portable Badminton Net Stand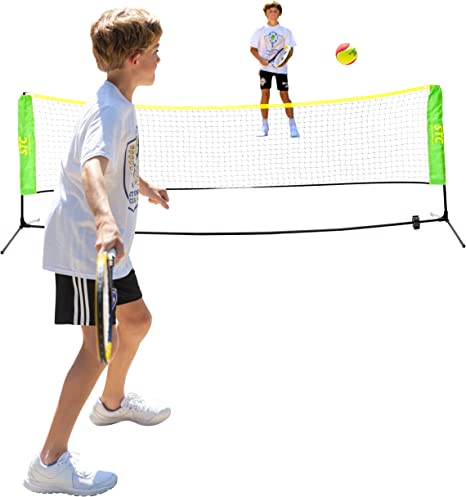 Best travel

tennis net

Net size: 10' x 5'

Lightweight and easy to set up

Adjustable height

makes it suitable for many types of family activities
Whether your family wants to play tennis at the beach, at the park, or in your own driveway, this Street Tennis Club mini tennis and badminton net can go wherever you do. With easy tent-like poles, setting up your net is easy. Simply open up the carrying case, piece together the aluminum poles, and secure your net with the hooked cords. This travel tennis net is great for all ages and weighs only 6 pounds, yet it is durable enough for hours of fun. The net height is also adjustable, so when it's positioned high, you can play volleyball and badminton or bring it down for games like soccer tennis.
3. Wilson EZ Tennis Net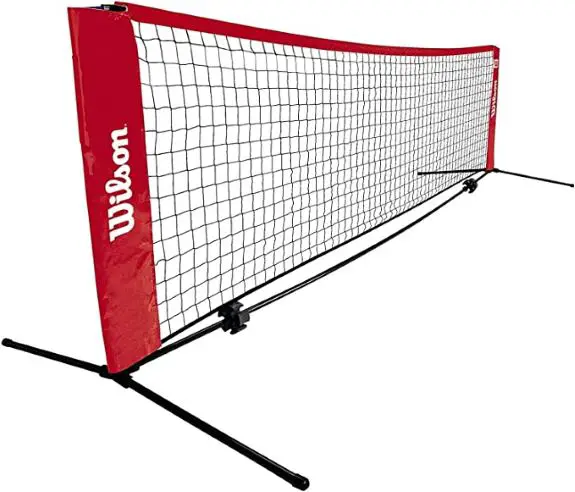 Best high-end portable net

Two sizes: 10' and 18'

Sturdy and reliable portable net designed by a trusted brand

Easy set up

and tear down
From the trusted sporting goods brand Wilson comes the EZ Tennis Net. Great for casual play or home tennis training, this lightweight net makes it easy to set up a tennis court in your own backyard. While it's a bit pricier than other models, the quality and durability of this portable net are unmatched. The Wilson EZ tennis net sets up and tears down quickly, yet the long, stable feet keep it from moving around in windy conditions. This net is also specially designed for tennis rather than multi-sport use, making it ideal for more serious players looking to perfect their skills.
4. Aoneky Mini Portable Tennis Net for Driveway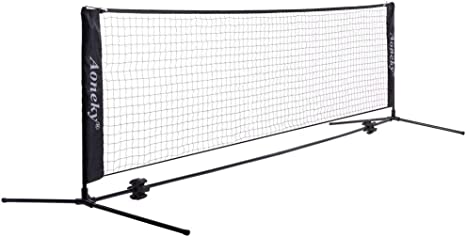 Best

mini tennis net

Two sizes: 10' and 18'

Great basic net for driveway tennis

Sets up in minutes with no tools required
Get ready for tennis fun for the whole family with this Aoneky mini tennis net, which is available in two sizes. The 10-foot version is ideal for neighborhood and driveway tennis with kids under 10years old, while the 18-foot net works great as a training tool for practicing depth drills in the comfort of your own backyard. Setting up this Aoneky tennis net is a breeze with no tools required. Then, when you're done hitting tennis balls, this portable tennis net packs up small into an included carry case.
5. Kwik Goal All-Surface Soccer Tennis Net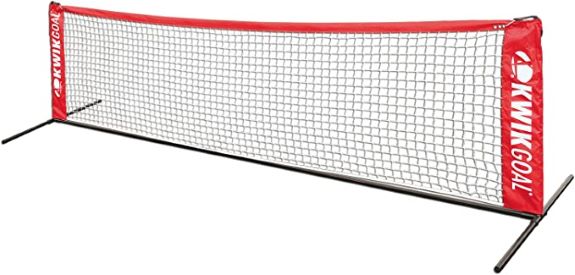 Best

soccer tennis net

Net size: 10' x 2'

This shorter net is excellent for the game of soccer tennis or young

tennis players

Steel frame and elastic cord construction make setup and take down easy
Do you love soccer as much as you love tennis? Try the fun hybrid game of soccer tennis. With this shorter net, you can practice your soccer skills like trapping and heading with the added challenge of tennis rules. Of course, if you would rather play regular tennis, that's possible too. Since this net isn't as high as a traditional tennis net, young kids can enjoy the sport without getting discouraged that their ball won't make it over the net. The Kwik Goal soccer tennis net has a durable steel frame and breaks down easily to fit into a carry bag. It's suitable for use indoors, on grass, or in a driveway.
6. Ksports Tennis Indoor & Outdoor Rebounder Net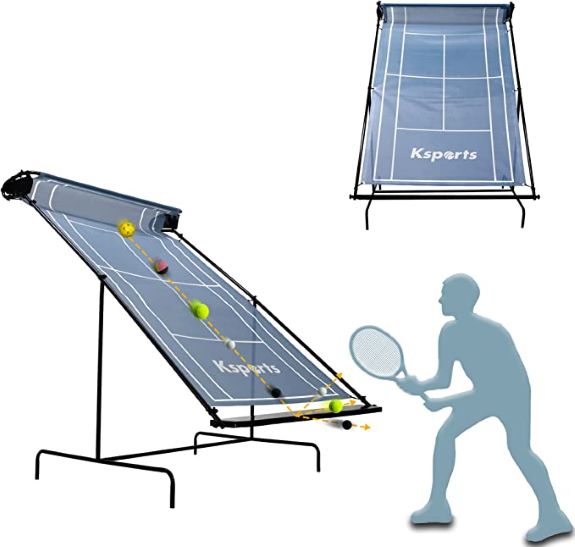 Best portable tennis

rebounder

Net size: 6.5' x 6.5'

Engineered to mimic actual tennis game conditions

Durable and portable so that you can practice tennis anywhere
Grab your racquet and practice your tennis skills with this portable rebounder training aid. The Ksports rebounder net has a unique, proprietary design that manages the time between shots to 1.5 to 2.5 seconds. Combined with a swivel board that delivers the ball back at the correct height, this rebounder mimics the conditions of real tennis play. This tennis rebounder is made from premium steel and a sturdy PET net for durability that can withstand even the hardest swings. You can bring this rebounder net anywhere with a weatherproof design, 10-minute assembly, and included carry bag.
7. A11N Portable Pickleball Net System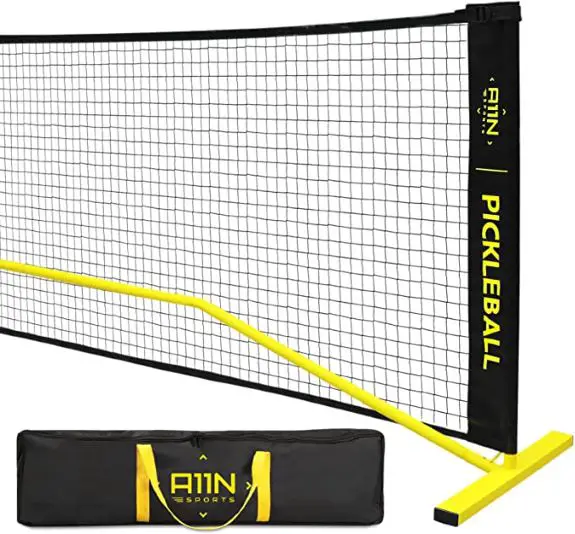 Best portable

pickleball net

Net size: 22' x 36" x 34"

Heavy-duty steel construction for long-lasting durability

USA

Pickleball

regulation-sized net suitable for travel
Whether you're looking to practice tennis or play competitive pickleball, the A11N pickleball net system is an excellent choice. This high-quality net is USA Pickleball regulation-sized, and it's durable enough to withstand harsh weather conditions with a broad reinforced base, robust metal frame, and center rod to prevent sagging in the middle. In addition, the hardy polyethylene net has a PVC tarp along with Velcro tightening straps on both sides for easy tension adjustments. While this net weighs a bit more than its competitors at 20 lbs, it's still light enough to take anywhere, and the added weight gives it more stability.
8. Tourna 18-Foot Portable Tennis Net for Youth Tennis

Best youth

tennis net

Net size: 18'

Compliant with

USTA

Junior standards

Lightweight and easy to pack
If your kids like tennis, they will love the Tourna portable youth tennis net. This lightweight and portable net complies with USTA junior standards for a 36-foot court, making it plenty large enough for driveway practice. The Tourna youth tennis net weighs only 7 lbs and packs up into a nylon carrying case. Plus, setup is easy with no tools required, so you can put it together on any flat surface and start playing straight away. Whether your kids are preparing for the upcoming tennis season or you want to play as a whole family, this portable tennis net is sure to do the trick.
9. Zicon Portable Tennis & Badminton Net Set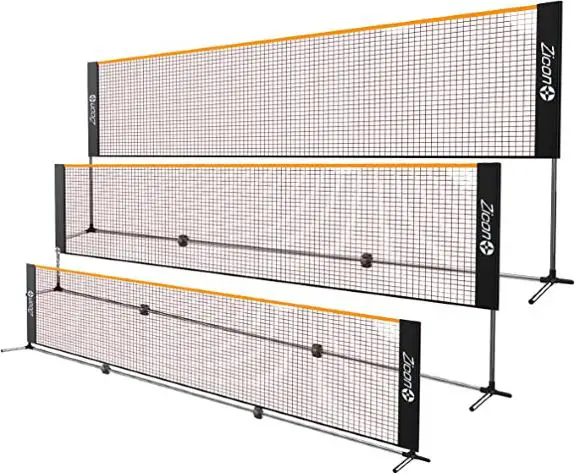 Best driveway

badminton

and

tennis net set

Three sizes: 13.5', 16.5', and 20'

Adjustable height

from 37" to 63" for a variety of sports

Stainless steel

frame and high-density mesh net
Want to play tennis one day and badminton the next? This portable net from Zicon has an adjustable height, so you enjoy multiple sports with the same net. Balancing weight and durability, this net has a stainless steel frame and a high-density mesh net. Setting up the Zicon portable net takes less than five minutes, and you can adjust the height between 37" and 63". In addition, it has a stable base that doesn't require staking, so you can set it up on the beach, in your backyard, or even inside your home. It also comes with a carry bag for on-the-go fun.
10. Flybold Regulation Size Pickleball Net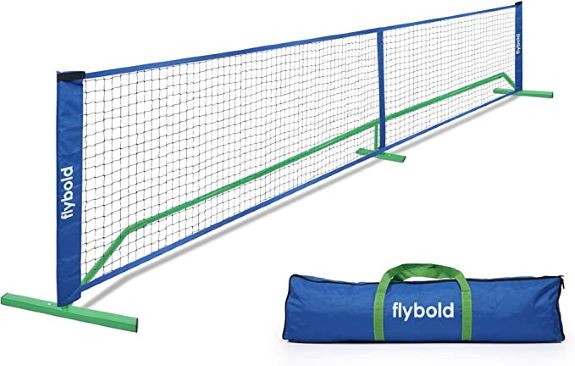 Best high-end

pickleball

set

Net size: 22'

The reinforced

metal frame

is durable and weather resistant

Option to add on

pickleball

paddles

and balls
If you're looking for a deluxe home net for pickleball or tennis, check out this option from Flybold. This regulation-sized pickleball net has a clever interlocking design for easy assembly and a lightweight carry bag for travel. It has a reinforced metal frame which is powder coated to prevent rusting, and the polyethylene knotless net is long-lasting. Tightening this net is also easy with hook and loop tightening on either side of the net. The Flybold net is excellent for practicing tennis, but it really shines for pickleball. At checkout, you can choose between purchasing just the net, or you can add on four paddles and balls for ultimate pickleball fun.
11. Franklin Sports Portable Tennis & Pickleball Net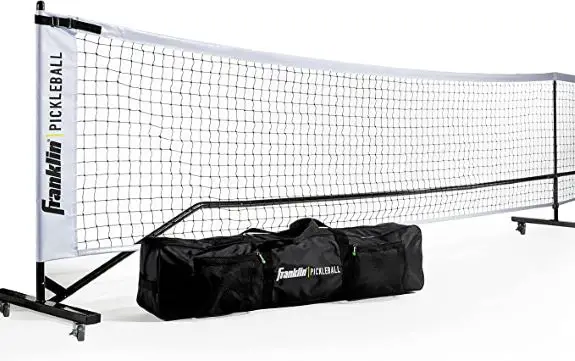 Best portable tennis net

with wheels

Net size: 22'

USA

Pickleball

regulation compliant

Easy to pack in a

carrying case

or wheel it away for storage
The Franklin Sports portable pickleball net is the best option for tennis players looking for a mobile, wheeled net for playing at home. This premium net is built to last with weatherproof steel net posts and heavy-duty nylon netting. So whether you want to play in your backyard, driveway, or rec room, you can quickly create a court on any flat surface. Set up is easy with a tool-free assembly, or you can wheel the net away into a garage or storage shed for on-demand pickleball and tennis play. This net complies with USAPA pickleball standards for competitive play and comes with a high-end travel bag.
What is the difference between a pickleball net and a tennis net?
A pickleball net is shorter and lower than a tennis net. However, pickleball nets make great home tennis nets due to their smaller size.
Are all tennis nets the same size?
Like tennis courts, tennis nets vary in size depending on whether you play singles or doubles. There are also smaller tennis nets designed for home use.
Why do you need a net in tennis?
Tennis nets are essential for playing tennis. They divide the court and ensure that the ball is returnable, not too low or short.