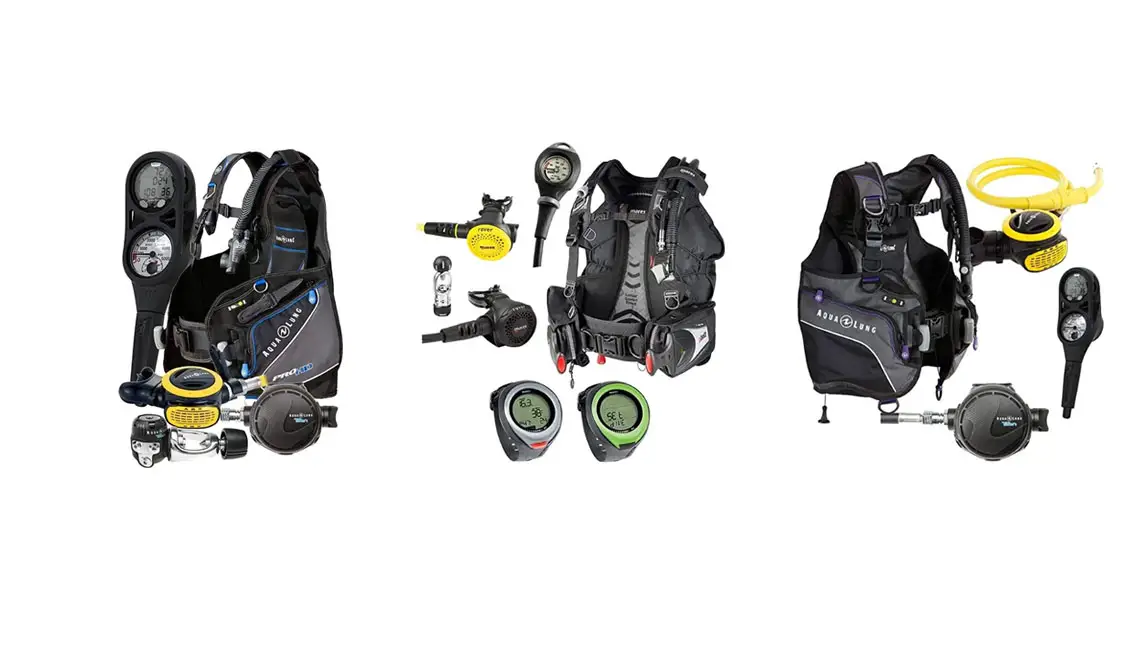 Piecing together the ultimate dive gear setup can be time-consuming, not to mention confusing. Luckily, the biggest names in scuba diving equipment offer high-quality gear packages suitable for all levels of recreational diving.
This year's top scuba dive gear packages
Some of the most trusted diving brands offer complete scuba gear packages that make it easy to get all the primary equipment you need. Here are some of the top scuba gear packages for 2022:
How to choose a scuba dive gear package
As you begin your scuba dive gear package search, ask yourself questions such as, "Where will I be diving?" and "What style of computer do I prefer?" Ultimately, the best scuba diving gear is the set you're most comfortable with and suits the conditions in which you use it.
Although you can usually get a great deal by buying your gear as a package, pay close attention to what is included in the set. All of the best scuba dive gear packages on Amazon include a high-quality buoyancy control device, a complete regulator set, and a dive computer. However, other sets may not have everything you need to jump in right away.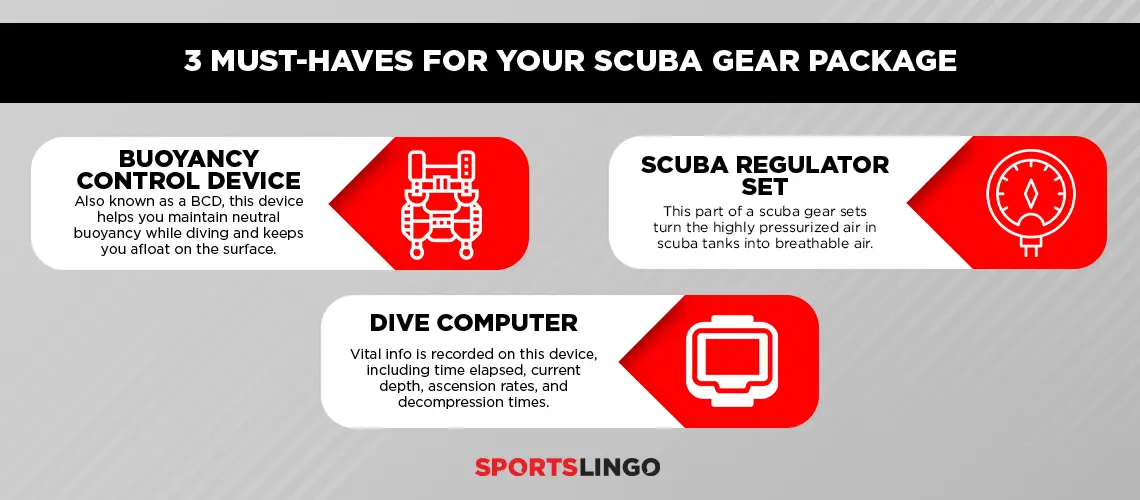 Buoyancy Control Devices (BCDs)
Your BCD, or buoyancy compensator, serves three key functions: keeping you afloat on the surface, maintaining neutral buoyancy while diving, and securing scuba tanks. While any well-functioning BCD will allow you to dive safely, choosing the right one mainly comes down to comfort and preference.
Jacket-style BCDs are the most commonly used and are suitable for all scuba divers, beginners and professionals alike. All jacket-style BCDs will come with the essential components: an air bladder, inflator, pressure release valve, and dump valves. Therefore, focus on optional features and considerations such as fit, adjustability, and whether it has an integrated weight system.
Scuba regulator sets
In scuba diving, a regulator is the most essential piece of gear you will purchase because they keep you alive and breathing underwater. Air in scuba tanks is highly pressurized, so the only way to breathe from these tanks is to "regulate" that pressure into breathable air.
In most cases, the first stage, second stage, submersible pressure gauge (SPG), and low-pressure inflator (LPI) hose are sold separately for you or a technician to put together into a regulator set. While this is great for divers that wish to customize their set, it can be hard to determine what you need. Luckily, the best scuba gear packages include all the necessary regulator components, and some even come pre-assembled.
Dive computers
A dive computer is an essential device for scuba diving gear packages. These computers record vital information as you dive. This information includes time elapsed, current and maximum depth, ascension rates, safety stop and decompression times, and when it's safe to fly again.
There are two main types of dive computers: wrist style and console. While both types allow you to dive safely, many divers prefer one over the other. Wrist dive computers resemble a wristwatch and are the most versatile. In contrast, console dive computers are attached to your regulators along with the pressure gauge. Besides the dive computer's style, consider whether the computer has settings for nitrox and other gas mixes if you need this feature.
1. Cressi R1 Scuba Diving Gear Package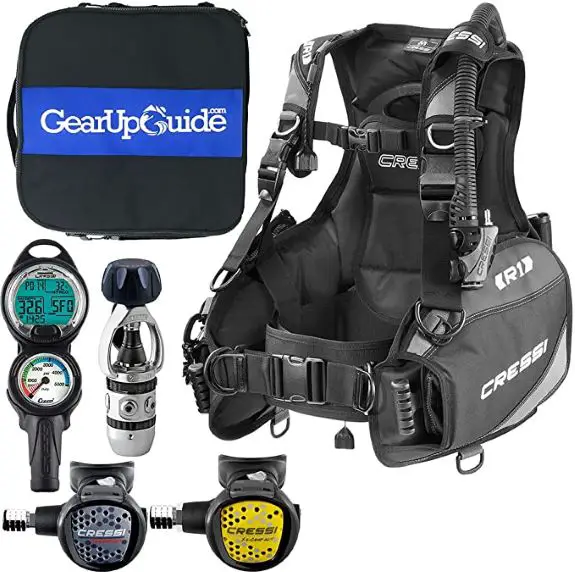 The Cressi R1 scuba diving gear package is a pre-assembled set for all divers. This family-owned scuba brand is known for its affordable, high-quality dive gear, so you know your gear will last for years to come.
These Cressi scuba gear packages include the Cressi R1 weight integrated BCD, Leonardo gauge console computer, and AC2 compact regulator and octopus. It even comes with a regulator bag from Gear Up Guide so that you can protect your regulators on the go.
Designed to withstand intense use, the Cressi R1 BCD is hydrodynamic and affordable. This BCD also incorporates Cressi's ultra-flat lock-aid system and has metal D-rings and an anatomic inflator.
Extremely adjustable with traditional squeeze buckles and movable shoulder, chest, and waist straps

Rigid backpack is padded for comfort and is equipped with a carry handle

Three exhaust valves offer easy buoyancy adjustments

Integrated weight pockets eliminate the need for weight belts

Made from durable yet lightweight 500-Denier Cordura
The console Leonardo C2 combines Cressi's popular Leonardo dive computer and a pressure gauge. With a large high-definition screen, divers can easily read their computer in any conditions while checking their air.
Complete Nitrox management

Two connection points (a clip loop on the top and a strap loop on the back) allow for adjustable mounting

The angled console is easy to hold and view

For safety and readability, the rugged pressure gauge is color-coded red, green, and blue.

Single-button interface
Extremely dependable and lightweight, the AC2 Compact regulator features a piston-designed first stage that's great for beginners. Combined with the XS octo, this complete regulator set comes pre-assembled and ready to dive.
Piston 1st stage regulator and a compact single-hull 2nd stage that's reliable and travel-friendly

Easy 1st stage maintenance since the intermediate pressure is adjustable from the outside

A heavy-duty conical filter prevents exposure to particles in tanks

A soft silicone mouthpiece prevents jaw soreness on long dives

The XS compact octopus is lightweight and reliable
2. Aqua Lung Pro HD, i300C, and Titan Regulator Scuba Gear Package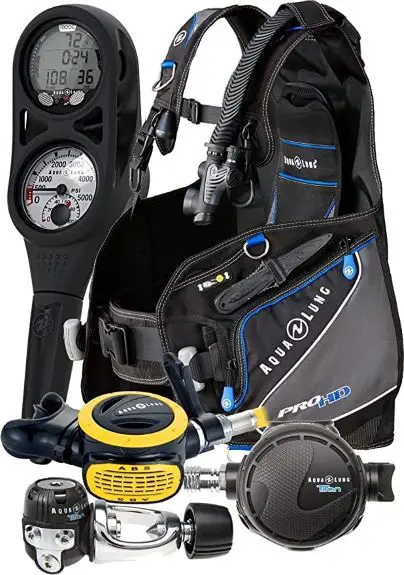 Aqua Lung, the pioneer of scuba diving equipment, still offers some of the best dive gear at affordable prices. A favorite of beginners and professionals alike, Aqua Lung provides quality you can trust.
This complete scuba gear package features the fantastic weight-integrated Pro HD BCD, the rugged i300C console computer, and a balanced diaphragm regulator set that makes breathing effortless.
The Aqua Lung Pro HD BCD is a favorite among scuba divers. With a classic wrap-around jacket design, it's comfortable and easy to use for all types of diving.
The SureLock II Weight release system holds 20-30 pounds of ditchable weight

Patented ResisteK material is fade-resistant against saltwater and chlorine

Tank band pockets allow you to add weight and establish proper trim

Plenty of pockets, D-rings, and attachment points make storing and accessing gear simple

An adjustable sliding chest strap helps to fit all body types and avoid drysuit valves; great for cold water diving
The Aqua Lung i300C is a robust dive computer that's uncomplicated yet has excellent features for recreational divers. Mounted in a console with the Pressure Gauge 2, all the vital information you need is in the palm of your hand.
The i300C features four operating modes: air, nitrox, gauge with run timer, and freedive
Compatible with the free DiverLog+ app, you can wirelessly change settings and view your dive log and profile data

A low battery no longer means a trip to the dive shop since it is user changeable

The Aqua Lung Pressure Gauge 2 shows remaining air pressure as well as temperature

Backlit with audible alarms to keep you safe
This third-generation Titan is a fantastic value for a balanced regulator set. Its innovative design results in a lighter, more comfortable, and easier-breathing regulator that still holds up to heavy use.
The Titan's balanced diaphragm mechanism provides consistent performance and easy breathing

Easy to maintain, you can have the QD hose fitting reversed from right-handed to left by a certified technician without additional parts

A durable polyurethane purge cover minimizes inhalation efforts and makes purging water easy

ComfoBite mouthpiece is soft and sturdy, reducing jaw fatigue with a palate bridge

Great for emergency air sharing, the 2nd stage alternate has a versatile design that allows it to function upside down
3. Aqua Lung Women's Pearl Scuba Dive Gear Package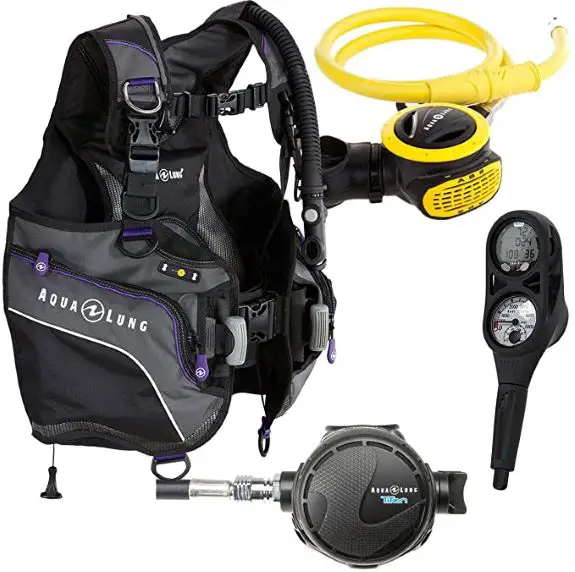 With all the benefits of the Pro HD set, the Aqua Lung women's scuba diving equipment package features the Aqua Lung Pearl BCD specifically designed to fit women's bodies and styles.
The Aqua Lung women's life support package is the best scuba gear set available. It has everything the female diver needs to stay safe and comfortable in the water.
Female divers love the Aqua Lung Pearl because it has the features a serious diver needs but fits more comfortably than men's or unisex BCDs. In addition, it combines an ADV-style jacket with back inflation to keep you streamlined diving and floating comfortably on the surface.
SureLock II single-pull weight release system

An adjustable waistband and curved shoulder straps are customizable for the perfect fit

Lower profile lobes and a shorter torso length help the Pearl rest comfortably on the hips

Two octo pockets for versatility: one on the right lobe and another on top of the front lobe

Pockets, D-rings, and attachment points make gear storage easy
Also included in the Aqua Lung Pearl dive gear package:
4. Mares Bolt Scuba Diving Gear Package with Puck Pro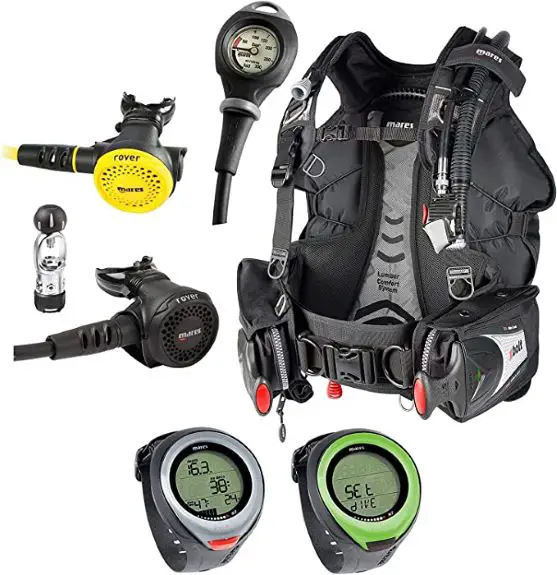 Italian scuba manufacturer Mares is a worldwide leader in state-of-the-art scuba diving equipment. Owner of the second-largest scuba training agency, Scuba Schools International, their gear is loved by students and instructors alike.
The unique Mares scuba gear package includes the Bolt SLS rear jacket BCD, Rover 2S regulator, Mission 1 pressure gauge, and wrist-style Puck Pro dive computer.
Unlike most jacket BCDs, the Mares Bolt SLS has rear-only inflation for optimal comfort and stability in dive position. This also makes it suitable for travel and can accommodate single or double tanks for tec diving.
Maximum freedom of movement with ergonomic back inflation and intelligent trim weight positioning

Lifting thrust of 18.5kg, making it suitable for all divers

One-piece backpack with a special coating can hold single or twin tanks

Integrated weight pockets and visual confirmations for correct insertions of pouches

Made from durable Cordura 420
A workhorse of a regulator, the Mares Rover 2S has a piston first stage and a high-performance second stage. Popular with premier dive operations as rental regulators, the Mares Rover is guaranteed to perform and even has a spot for an RFID chip.
Simple to use and easy to maintain or repair

A sandblasted scratch-resistant finish keeps it looking new after many dives

The large vent button on the 2nd stage makes it easy to activate the venting function and prevents free-flowing

Innovative Vortex Assisted Design and Fluid Dynamic Deflector make breathing at all depths natural

Alternate 2nd stage is sturdy, abrasion-resistant and hi-viz
No regulator set or beginner scuba gear package is complete without a pressure gauge. The Mares Mission 1 is a basic model, but it does its job perfectly by showing you exactly how much air you have left.
New modular design with an easy-to-read display

Shockproof in a protective rubber console

Multiple hook loops allow for correct and customized positioning
An improvement on the original Puck dive computer that made waves in 2008, the Mares Puck Pro is a wrist-style device perfect for years of diving. This user-friendly dive computer fits slim on your wrist yet has an easy-to-read display.
Wrist style for convenience and portability

One-button operation with an intuitive menu

Large scratch-resistant display lets you see important information at a glance

Air, nitrox, and bottom timer functions

Allows for two gas mixtures during a single dive
5. SEAC EQ-PRO Premiere Scuba Diving Equipment Package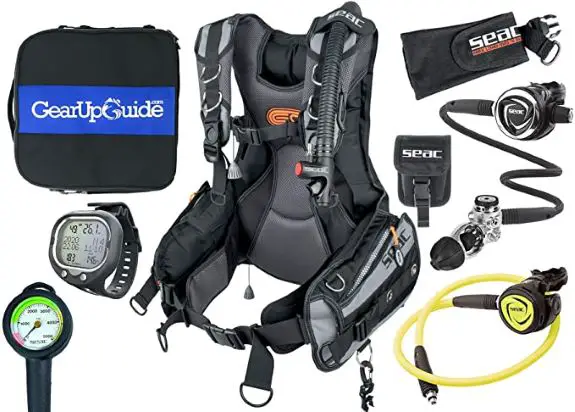 Another trustworthy Italian dive company, SEAC Sub, offers a complete line of scuba diving equipment. Offering great value and high-quality gear, SEAC individually tests all their products to meet their rigorous standards and strives to perfect even minor details.
This SEAC scuba gear package features the lightweight EQ-Pro BCD, a complete DX200 regulator with an X100 octo and SPG, and an easy-to-read screen wrist computer. These complete scuba gear packages also come with a Gear Up Guide regulator bag so you can protect your regs on the go.
The SEAC EQ-Pro BCD is an ultra-lightweight BCD that's great for travel and both male and female divers. Specifically designed for comfort, the EQ-Pro distributes weight properly and features an easy-to-use harness system.
Frame-to-back system that prevents warping by having the shoulder straps connect directly to the backpack

Independent bladder that allows the pocket area to rest comfortably on your sides without squeezing your midsection

Swivel buckles allow you to adjust the harness to fit women's bodies

3D mesh inserts wrap fully around the shoulder straps to prevent rubbing

Features eight metal D-rings for attaching all your gear

Weight integrated with two front weight pockets and two rear trim pockets
With a balanced first stage and adjustable second, the SEAC DX200 is an excellent all-around regulator at an affordable price. Combined with a coordinating X100 octo, the DX200 offers consistent, high-quality performance.
High-performance 1st stage with a balanced diaphragm design

Sandblasted and corrosion-resistant for long term use

Outside adjustment of intermediate pressure makes it easy to maintain and safer

Adjustable breathing effort and Venturi effect in both the primary and alternate 2nd stages

Second stage cover is specifically designed to prevent free flow in strong open water currents
An essential component of every regulator set and scuba diving equipment package, this low-profile pressure gauge is easy to read and highly durable so it can be used for hundreds of dives.
Pressed brass shell and chromium outside plating

High-pressure 31-inch hose and high-resistance polycarbonate glass face

Luminescent face and scale make it easy to read during low visibility dives
While watch-style dive computers are popular, some divers struggle to read the tiny numbers on their divers. Luckily there's the SEAC Screen wrist computer. With a large display and easy-to-read data, this wrist-style computer is excellent for all divers.
Features a unique backlit LCD display that you can adjust for brightness and contrast for optimal viewing

Long strap designed to fit all wrist sizes and to fit comfortably over a dry suit

Two-button system allows you to manage the screen quickly and easily, even with gloves

Allows for duel-gas management up to 99% oxygen for nitrox divers

Three diver modes: scuba, gauge, and freedive

Internal logbook can record 40 hours of dive time and can connect to a computer through a USB cable
Additional accessories for scuba diving gear packages
If you're putting together a beginner scuba gear package, you'll also need some essential accessories to go with your life-support equipment. Here are a few more things you may need for a complete scuba gear package:
Wetsuit:

Your wetsuit should have a snug fit to keep water out, but still be comfortable enough for free movement and easy breathing. Bright colors can help make you more visible to other divers.

Fins:

You need good scuba fins to achieve more power underwater. The fit should be snug, but you should still be able to wiggle your toes. If you choose open-heel fins,you'll also need dive booties.

Mask:

A scuba mask includes a nose pocket for equalizing air pressure. Make sure you can wear it comfortably with your regulator mouthpiece.

Snorkel:

This is an optional add-on for divers who also want to do some snorkeling. If you choose to get one, make sure it fits comfortably with your mask.
How to care for scuba dive gear packages
Once you've found the equipment you want to use, make sure you know how to clean and maintain your scuba gear. Complete system packages can hold up well for many years when they're cared for properly. These steps can help protect your investment so you don't have to buy another full scuba gear package for a long time.
Tips for cleaning scuba diving gear packages
The first thing you need to do after each use is to rinse your gear with fresh, clean water. You may see some people spray or hose down their equipment, but this can be rough on the materials. Immersion offers the same effect but is much gentler on your gear.
Allow each piece of your scuba dive gear package to dry thoroughly before you store it. Place it in a cool area where it will stay clean and dry.
Scuba gear package maintenance
Beyond cleaning, there are a number of things you should do to maintain your gear over time:
Avoid prolonged exposure to heat, sunlight and chlorinated water, all of which can cause damage to your scuba gear.

Handle each piece of equipment carefully to avoid physical shocks that may damage your equipment.

Have your scuba gear package serviced at a dive shop once per year to ensure the BCD, regulator, and computer are functioning properly.

Take a close look at your gear well before each trip to check for defects or other issues so you can get them fixed in time.
With so many incredible options on Amazon, finding the best scuba gear package for you is easier than ever. Whether you choose Cressi, Aqualung, Mares, or SEAC, you can be sure you're buying high-quality diving equipment that will keep you safe and comfortable in the water.