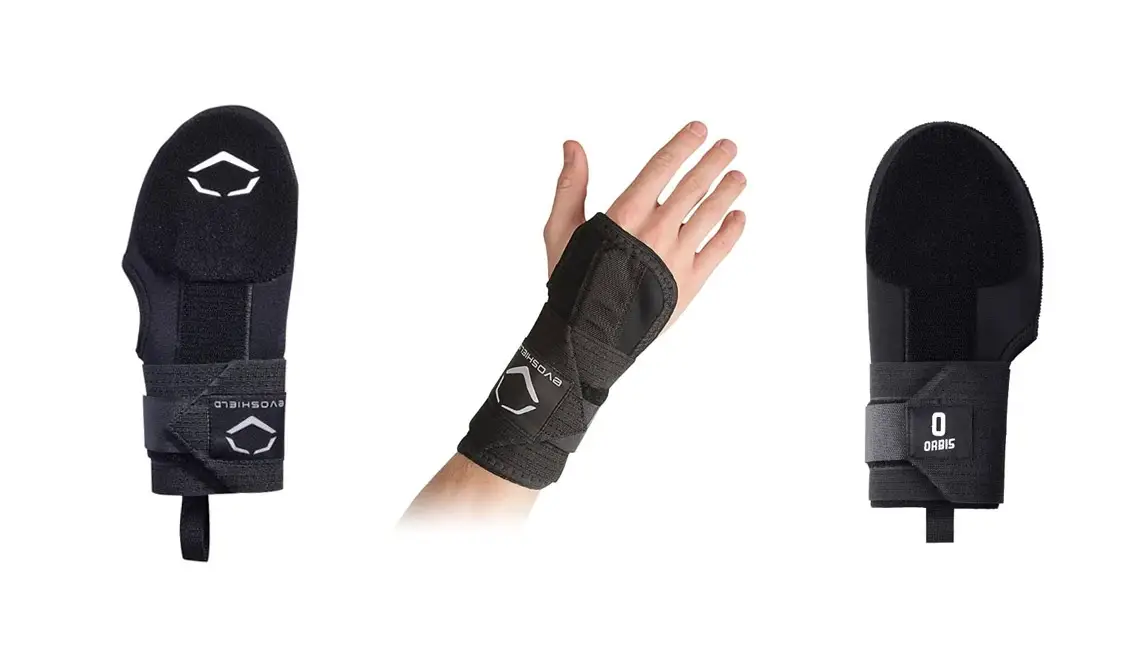 Are you a baserunner who wants to protect your fingers from injury during a headfirst slide? Baseball sliding mitts are a piece of equipment that provide fantastic protection for baserunning.
Top-rated sliding mitts
With a wide variety of styles and features available, there's a sliding mitt for every player — baseball or softball, adult or youth, left-handed or right-handed.
What is a sliding mitt?
Popularized by Scott Podsednik, the first Major League Baseball player to wear a sliding mitt after injuring his thumb, sliding gloves have become increasingly more common with MLB players. Today, all-star players such as Fernando Tatis Jr. of the San Diego Padres and Mookie Betts of the Los Angeles Dodgers are wearing these protective shields.
Resembling an oven mitt, the sliding mitt is a piece of protective gear that prevents injuries when sliding headfirst. These baseball running gloves prevent baserunners from jamming their fingers on the base or getting stepped on by a baseman's cleats.
As a classic sliding mitt substitute, many baserunners still hold their batting gloves or dirt in their hands to prevent themselves from extending their fingers as they slide. However, a fully cushioned sliding mitt offers far more protection.
How to choose a sliding mitt
The most important thing to consider when choosing a sliding mitt is the level of protection against injury it will provide. You want to ensure that the sliding glove stabilizes your wrist and shields your fingers. Also, consider which hand you will wear it on and its size.
Left hand or right hand
While the hand you wear your sliding mitt on is up to you, most baserunners wear them on their dominant hand. This is because baseball players will typically lead with this hand while sliding, so it's in the most danger of getting injured. Some sliding mitts are designed for specifically for left or right hands, while others can be worn on either hand.
Size
Since most base running gloves are one size fits all, you may need to try a few different brands to find the one that fits the best. Luckily, most have Velcro straps to secure the mitt comfortably. There are also youth sizes available for smaller hands.
1. EvoShield Sliding Mitt

EvoShield holds the honorable distinction of being the Official Batter's Protective Gear of Major League Baseball. So naturally, it's no surprise that the EvoShield sliding mitt is the number one sliding mitt on Amazon. Designed to protect you on the base paths, the EvoShield sliding mitt is a top-of-the-line baserunning glove for baseball and softball players that are serious about protecting their leading base sliding hand.
2. Tru Pro Sliding Mitt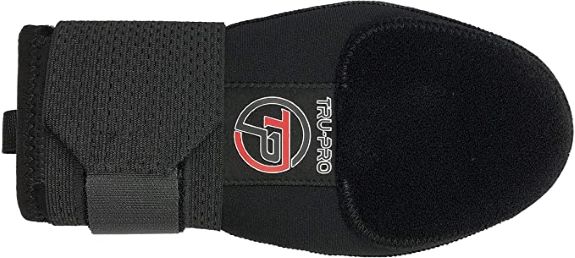 With a hardened exterior, the Tru Pro sliding mitt is perfect for both softball and baseball players to protect fingers from basemen's feet when sliding. An elastic strap makes the glove easy to slip on and off and can be tightened to the player's preference. The youth version is excellent for little league players at 10 inches long, while the adult version measures 11 inches.
3. Orbis Sliding Mitt with Wrist Guard for Base Runners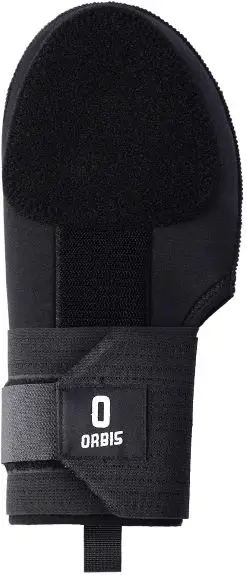 This Orbis sliding mitt offers complete protection while sliding into first base, second, third, or home. This base running glove is impeccably engineered to adapt to your hand's shape. Choose the appropriate left-hand or right-hand version for a superior fit compared to universal models. Made from heavy-duty neoprene, this smaller sliding mitt is 11.2 inches long and suitable for baseball players eight years of age and older.
4. Nocour Youth Baseball Sliding Mitt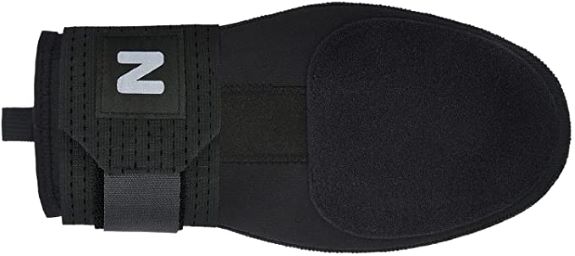 The Nocour baseball sliding mitt is excellent for protecting hitters and baserunners from injuring their hands on a slide. Comfortable and breathable, this 8-inch universal mitt is perfect for youth and teens playing baseball or softball. With an ergonomic design and full coverage protection, this baserunning glove dramatically reduces the risk of broken fingers.
5. Aceletiqs Sliding Mitt for Right and Left Hand Protection
While batting, baseball players have batting helmets, batter's elbow guards, and other protective shields to keep them safe. But when they slide and steal bases, they have the Aceletiqs sliding mitt. Available in two sizes, youth and adult, this portable sliding mitt comes with a convenient drawstring storage bag, so you're always ready to play ball.
6. Tucci Sliding Mitt Hand and Wrist Protector

The Tucci sliding mitt is a one-size-fits-most sliding glove that offers high protection for your hand, with extra focus on the fingers. It comes equipped with a high-impact polyethylene finger shield and has a maneuverable scuff pad so that you can adjust its position to your liking. Made for ease of use, it comes with a single heavy-duty wrist wrap to secure it to your hand.
7. BUI Baseball Sliding Mitt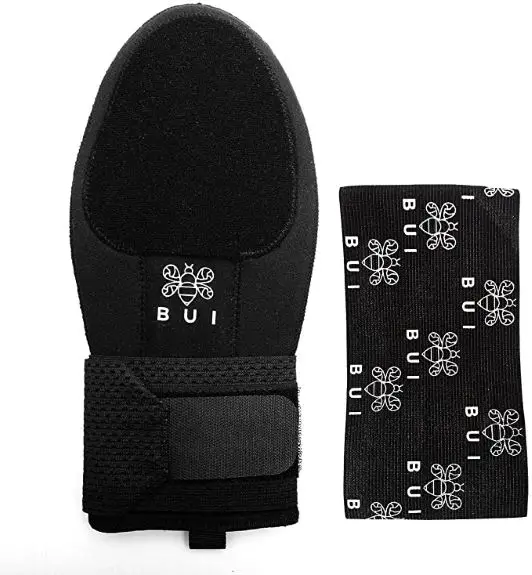 BUI's baseball sliding mitt comes in one size and has a unique ergonomic design. This baseball running glove fully covers your hand, including your thumb, and adapts to its shape. It comes with an adjustable compression wrist wrap which makes for easy use and allows a quick release. Additionally, the top and bottom of the mitt are made of hardened composite panels to offer optimal protection when sliding into a base or cleat.
8. EvoShield A154 Sliding Wrist Guard with Metal Insert
EvoShield's A154 sliding wrist guard provides excellent protection for the base stealer. Offering protection straight from the batter's cage without sacrificing mobility, this wrist protector is fortified with a metal insert that will keep you safe during slides while supporting and stabilizing the wrist. Made out of high-quality neoprene, it is durable and comfortable, just like all EvoShield sliding mitts.
9. Credenz Sliding Mitt for Baseball and Softball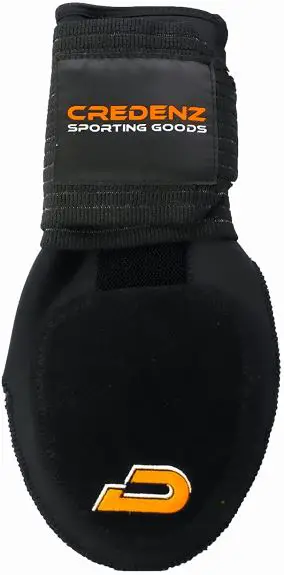 This sliding mitt by Credenz is great for both baseball and softball players. It's made from high-quality materials and features an adjustable hook-and-loop closure to make sure you have a proper fit. In addition, this mitt comes equipped with a PP board insert to protect your thumb and absorb shocks and hard falls.
Nobody wants to get hurt playing baseball. Make sure you can focus on the game and slide without worrying about injury by using one of the best baseball sliding mitts available on Amazon.
Last update on 2023-06-02 / Affiliate links / Images from Amazon Product Advertising API