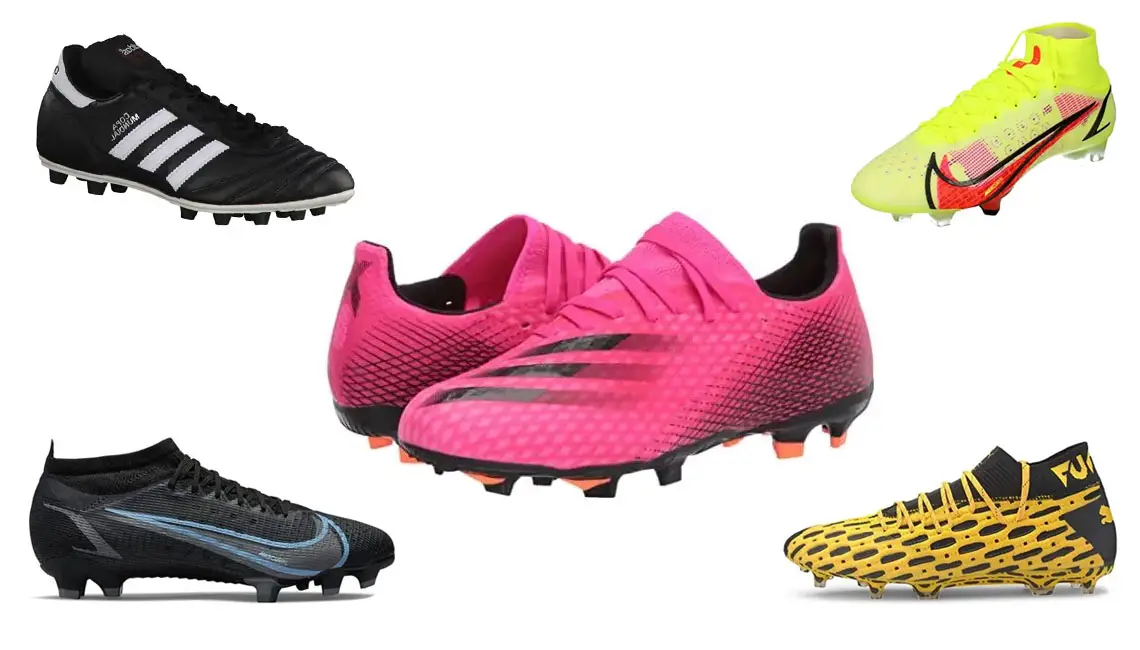 Midfielders are some of the hardest working players on any soccer team. They face particularly grueling demands, typically running more than players in other positions while also managing a majority of their team's ball possession. Midfielders have to be excellent all-around players with defensive and offensive abilities and great ball handling skills.
So when it comes to choosing soccer cleats or "football boots," midfielders need a pair that's just as versatile as they are. With most soccer players running multiple miles per game and an emphasis on ball control with the feet, it's no surprise that getting the right footwear is absolutely essential for success on the field.
Types of soccer cleats
Before diving in to specific football boot recommendations, it's important to understand the types of cleats available and how they can potentially impact a midfielder's performance.
There are four main types of soccer cleats, each of which offers a different feel and specific benefits on the field.
Control cleats
Most control boots feature a synthetic upper rather than a leather upper. This allows for the integration of design elements which help to cushion the ball upon contact and provide better grip and traction for accurate touches. Some of these boots are slightly heavier than others, so that's something to keep in mind if you prefer a very lightweight pair of soccer cleats. Most have a mix of conical studs to help with pivoting as well as bladed studs for running traction.
Speed cleats
Speed cleats are often the lightest option available to help players move as quickly as possible. They're made with minimal added elements and thinner materials for more of a natural feel when the ball comes into contact with the foot. While this does minimize cushioning, it can help with ball control. Speed boots often feature flashy, colorful styles as well. The studs typically have a thinner, bladed shape to help achieve faster running speeds.
Agility cleats
Also known as finishing boots, this style of soccer cleats is like a hybrid between control boots and speed boots. They are relatively lightweight, but they also feature some of the cushioning and grip elements on the upper. The studs are typically a mix of conical and bladed styles.
Comfort cleats
Comfort cleats typically feature a soft leather upper to help protect the feet. More cushioning under the feet is typically included as well, and the studs are usually all conical. This style of football boot is more focused on comfort over performance, so it's typically used by younger or recreational players more than those who are playing competitively. These cleats also tend to be more budget-friendly compared to the other styles mentioned above.
Cleats for different surfaces
Another way to distinguish which type of boot to get is by the type of surface you'll be playing on.
While the types of boots listed above are more about playing style and personal preferences, these cleat options are very practical and straightforward. To prevent injury to yourself and damage to the field, you should always play with the right boots for each type of playing surface:
Firm ground (FG): Firm ground soccer cleats are made for a typical football pitch. The studs in this style of soccer cleats are typically not removable and can be conical or bladed in shape.
Soft ground (SG): When playing on muddy or wet fields, the longer, metal-tipped studs on these cleats provide better traction. The studs are often removable for customization in different conditions.
Artificial turf: These cleats typically feature smaller, rubber studs which help with traction on artificial grass pitches.
Multi-ground: Sometimes called flexible ground cleats, these are designed to be used on natural grass or artificial turf. They have slightly shorter studs that can be bladed or conical.
Indoor: These shoes have flat rubber outsoles with no studs to provide adequate traction on indoor soccer courts.
In the guide below, we'll look primarily at firm ground cleats as these are the most commonly used type of football boots.
What type of soccer cleats are best for midfielders?
Because of the nature of a midfielder's role on the team, there are a few things you'll want to look for in a pair of soccer cleats:
Good grip on the football pitch surface

Comfort and durability for high running demands

Upper that provides good control of the ball
You may also want to consider the specific needs of your role on the field. Players are sometimes assigned specialty roles within the midfield position, such as:
Defensive midfielder
These players are assigned to provide extra support to the backs and goalkeeper. These players should look for studs which allow for the ability to pivot quickly. Extra cushioning in the upper can also lessen the impact when tackling players on the opposing team.
Attacking midfielder
These players are assigned to provide extra support to the strikers. Lightweight boots are a good choice for midfielders focusing on offense since speed is a top priority. A flexible sole plate can also aid in better agility.
Wide midfielder
These players stay closer to the touchlines along the side of the field. They need to be speedy, so lightweight cleats are a good choice. For quick changes in direction, wingers need studs which help them pivot rapidly when necessary.
Central midfielder
Central midfielders play throughout the middle of the field, and they often facilitate much of their team's ball possession. As a result, the best type of cleats for this role on the field will have an upper that delivers a good feel on the ball for more accurate passing and dribbling.
1. Adidas Predator 20.3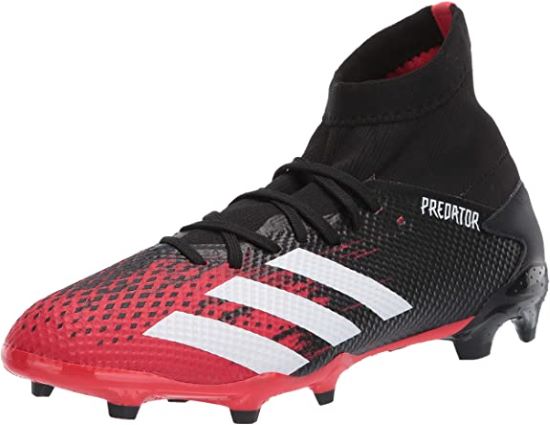 This soccer boot has become one of the most iconic in the sport. In fact, it's been worn by football superstars like Zidane and David Beckham.
This is a great style of FG soccer shoe for a midfielder who has to manage a good chunk of their team's ball handling. It features a 3D print on the soft textile upper which assists in better ball control and, when needed, can help bend the ball's path. Plus, the mid-cut ankle provides a snug fit for added support when making quick turns. The studs ride the line between conical and bladed, which aids in agility on the field.
Upper featuring 3D print synthetic material

Mid-cut ankle support with a sock-like feel

Rubber sole with unique stud shape for traction
2. Nike Mercurial Vapor 14 Pro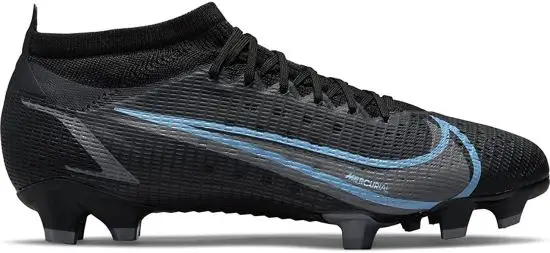 If you want great performance features without sacrificing comfort, consider the Nike Mercurial Vapor 14. This shoe's insole cushions midfielders' feet when they're running nonstop during practices and games.
These Nike men's and women's shoes also feature a lightweight design and a chevron-shaped stud style, both of which assist in achieving high speeds on the pitch as well as multidirectional traction. A synthetic mesh upper contributes to the light feel on your feet.
Chevron studs help with quick cuts at high speeds

Interior cushioning to support tired feet

Lightweight synthetic mesh upper
3. Nike Mercurial Superfly 8 Elite
This version of the Mercurial Superfly gives midfielders the perfect fit so they can play with confidence. It features NikeGrip technology that keeps your feet from sliding around inside your cleats. Plus, the Flyknit upper material molds to your foot for a secure yet comfortable feel.
Microgrooves and chevron studs in the bottom plate help playmakers take off quickly and turn on a dime. At the ankle, a dynamic fit collar provides additional support.
NikeGrip technology to prevent slipping

Breathable and stretchy Flyknit upper

Chevron studs for multidirectional traction and acceleration
4. Nike Tiempo Legend 8 Elite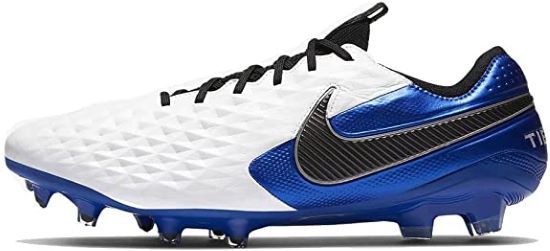 These Nike Tiempo Legend cleats are a great choice for midfielders who prefer leather boots. These are made with premium kangaroo leather with a soft, unstitched surface. Inside, Quadfit mesh and a wraparound Flyknit tongue feel comfortable and provide support under the arch of the foot.
The bottom of the shoe is designed to ensure stability when running and pivoting. A foam sock liner features NikeGrip technology to prevent slipping when you take off.
Premium kangaroo leather upper

Flyknit tongue wraps under the arch for support

Quadfit mesh lining molds to your foot

Multidirectional traction and stability
5. Adidas Copa Mundial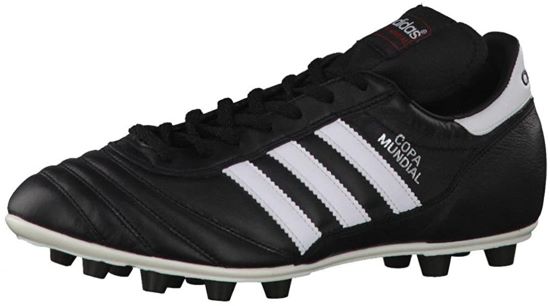 Copa Mundial has been one of the most popular soccer cleat styles for decades. It also happens to be more budget-friendly than some of the other options on the list. It has an old-school look and features premium kangaroo leather with the iconic Adidas stripes.
This durable upper is paired with an EVA insole for additional comfort and padding. This is a thicker boot than some of the more modern styles, making it a good choice for midfielders who prefer a classic design. The thicker material also provides more cushioning upon impact, which is why these are popular soccer cleats for defenders and defensive midfielders. Studs on the bottom have a conical shape, which is useful for quick turns on the pitch.
Premium kangaroo leather upper

Comfortable EVA insole that cushions feet

Classic black and white design
6. Adidas X Ghosted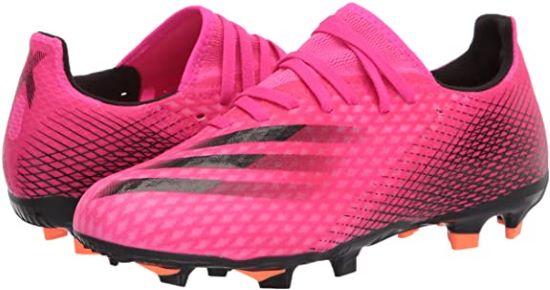 Adidas men's and women's Ghosted cleats are designed to keep you light on your feet. The Speedskin upper features a thin, dual-layer mesh that gives you a more direct touch on the ball. A stretch tongue makes it easy to slip the shoes on and off while providing extra comfort.
This is a lower-cut boot with a sock-like style that hugs the foot from all sides. The angled studs are helpful for fast acceleration on the field, making Adidas Ghosted boots a good option for attacking midfielders.
Lightweight shoe with low-cut silhouette

Stretch tongue for added comfort

Speedskin upper with thin mesh material

Flexible rubber sole
7. Puma Future 5.1 Netfit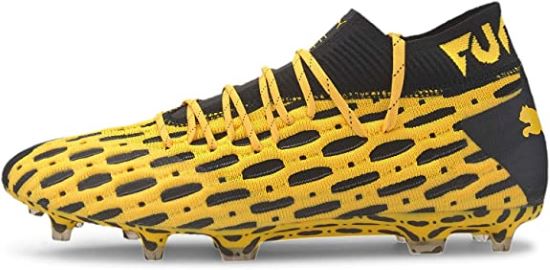 With Puma Future boots, you can use the laces to customize the fit to your unique foot shape. These feature an innovative system with a variety of strategically placed lacing options so you can make sure your boots are snug in all the right places.
The one-piece engineered knit upper is soft, flexible and lightweight, allowing you to move quickly on the field. It also features textured grip in key strike zones. The reactive outsole features a combo of bladed and conical studs, making it a versatile options for all kinds of demands on the field.
Netfit custom lacing system

Soft and flexible knit upper

Lightweight, low-cut boot style
8. Puma One 5.1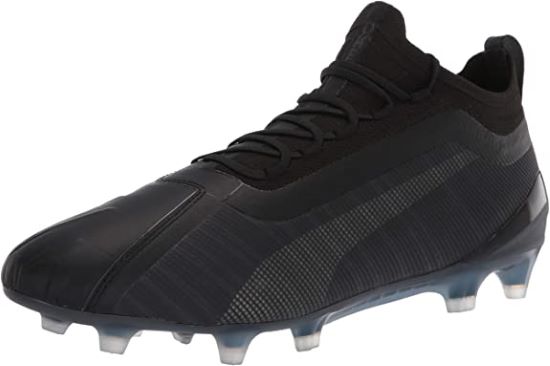 One thing that stands out about the Puma One is its Sprintweb technology. This is a lightweight woven material which provides lateral support and stabilization, which is especially helpful for midfielders who need to make quick turns on the field.
The boot's premium leather upper provides more stretch than a synthetic leather. It has a form-fitting feel and a seamless style. The lightweight outsole won't slow you down, and the conical and bladed stud configuration with is designed with speed in mind.
Premium leather upper with Sprintweb technology

Superior lateral support and stability

Breathable, form-fitting design with an ergonomic fit

Low-cut knitted sock collar
9. Puma King Pro 21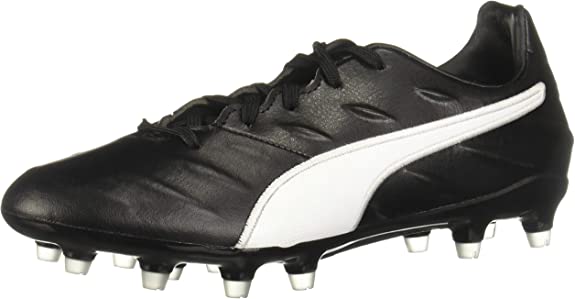 These Puma King cleats feature a traditional kangaroo leather upper which offers a bit of cushioning on contact while still delivering a good feel for the ball. This is a classic style of boot without the sock-like collars which have become more common. It does include, however, a knitted tongue that offers a snug, comfortable fit.
A key feature for the Puma Kings is KINGForm technology, which is a riblike structure on the upper which helps to provide better grip and accuracy with every touch. The outsole is also designed for stability with dynamic movements, and the conical studs offer excellent traction for fast pivots.
Soft premium K-leather upper

KINGForm technology to increase touch and responsiveness

Knitted tongue for a comfortable fit

Lightweight outsole built around a stability spine
Related questions
What soccer cleats are best for wide feet?
If you have a wide feet, you likely find that a leather upper offers the additional stretch that you need. Synthetic materials can be great for certain applications, but they're often designed to retain their shape and resist stretching, which can lead to a too-tight, uncomfortable feel. Leather, on the other hand, can mold to the foot as you break your cleats in. Some good options in this category include Adidas Copa Mundial and Puma King.
In addition, you may want to avoid speed boots if you have wide feet. These tend to be some of the slimmest styles of cleats. Consider boots like the Puma Future which feature a custom lacing system so you can get the best fit for your foot shape. A laceless style typically isn't a good match for a wider foot since it makes it harder to get the boots on and off.
Some brands, such as New Balance and Mizuno, offer cleats in wide sizes. These boots feature more room in the forefoot and midfoot to accommodate wide feet.
Which brand of soccer cleats is best?
There's isn't a universally correct answer for the best brand of boots since different players have different preferences and needs. However, there's no denying that Adidas and Nike have long reigned as two of the most popular soccer cleat brands.
Adidas has been around much longer and has continued to produce new and exciting styles throughout the decades, but Nike has also been an innovator in new soccer cleat technology. Adidas styles are often lighter weight and speed-focused, like the Adidas X Speedflow Messi.1. On the other hand, Nike has some of the better options when it comes to cleats designed for power and ball control, such as the Nike Tiempo.
Of course, both brands have many different boot styles to choose from, so you can likely find a good fit for your needs with either one. Ultimately, the best cleats brand will come down to your personal preferences and what feels better on your feet.
What size soccer cleats should I pick?
The right soccer cleat size will give you a tight fit that won't slide around on your foot. They should extend no more than about 1/4" past your toes — as close as they can get without actually touching. Many people size down by a half size when ordering soccer cleats in order to achieve this fit, but the best size for you may vary by brand.
Keep in mind that leather boots will stretch naturally with wear, so they should be a bit tighter when you first try them on. Synthetic uppers won't stretch much so they should feel comfortably snug out of the box.
What kind of cleats should I wear?
The best cleats for you will depend on what you need on the field. You need to keep in mind the demands of your position on the field, the type of surface you'll be playing on and what feels best on your foot. It may take a few tries to get the right fit and feel, so order from a site that offers easy returns in case you need to try another pair.