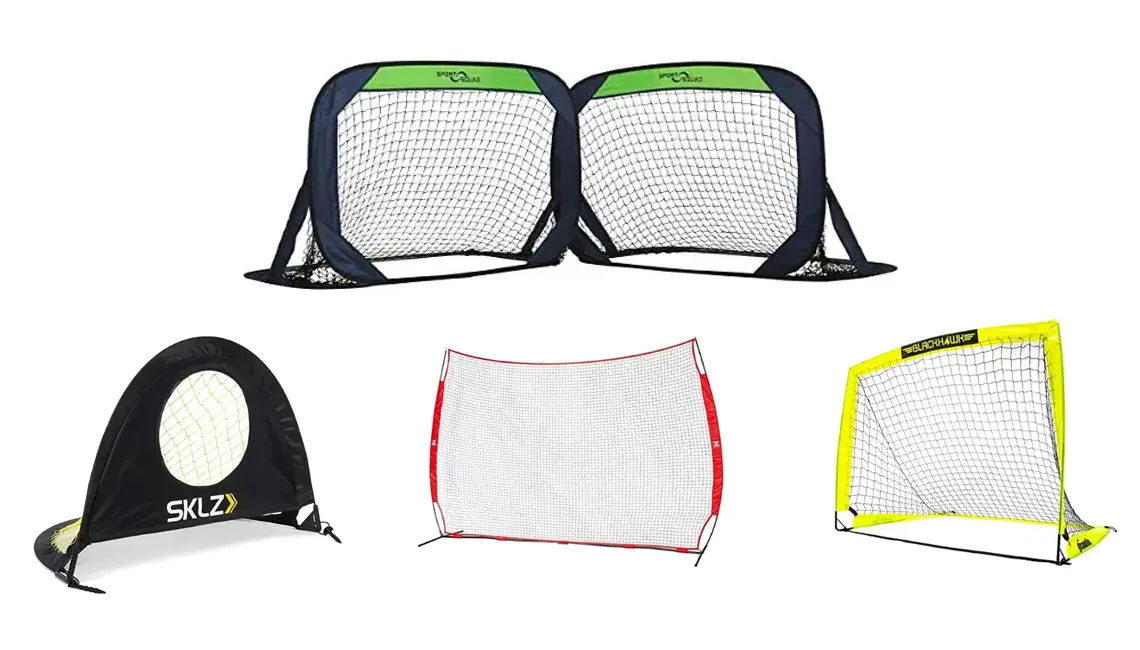 Want to bring your love of soccer home? With these backyard soccer nets, you can play with your family or practice your skills whenever you want. In this guide, you will find a backyard soccer goal for every player and purpose, including portable kids' goals, FIFA regulation-size nets, and training aids.
Find your backyard soccer goal
Whether you want to play a pickup game with all your buddies or practice for a competitive soccer match, there's a backyard soccer goal for you.
Portable goals
Full-size goals
Training goals
How to choose a backyard soccer net
While shopping for a backyard soccer net, you will find seemingly endless options. So before you start shopping, consider how big of a net you want, what you will be using it for, and whether it's easy to set up and store.
Size
When shopping for a backyard soccer net, size matters for a few reasons. First, you want to ensure that it will fit comfortably in your yard with plenty of space for play and practice. If you don't have a large yard, there are still many great options for backyard soccer goals. If you plan to store your soccer goal when it's not in use, you should also make sure that it packs up small enough to fit in your garage or wherever you plan to keep it.
Consider who will use the net and choose a size that correlates to your family's needs. Soccer goals come in many sizes, from small and portable kids' nets to large regulation-size goals. Professional soccer goals measure 24 x 8 feet, while kids' and practice goals are as small as 3 x 2 feet.
Purpose
There are many different home soccer nets, all designed for different types of play or practice. For example, if you're building a full-sized soccer field in your backyard, you can get regulation-size goals to complete the project. However, if you have children who love the game, there are plenty of smaller soccer nets that are perfect for family soccer or on-the-go play.
Serious soccer players looking to practice at home also have a number of options. For example, soccer rebounders are great for practicing passing and ball control. These rebounders have a tightly stretched net that bounces the soccer ball back and has adjustable angles. There are also practice nets designed for accuracy called target nets. These soccer nets have one or more target holes so that you can practice kicking the ball to a specific spot.
Setup
Any home soccer net should be simple to set up and take down. Most backyard soccer goals are either portable or semi-permanent. Smaller portable soccer goals either pop up or collapse for fast setup and disassembly. Popup soccer goals are the easiest to use since they spring open, but there are many collapsible options that you set up similarly to a camping tent.
Semi-permanent goals tend to be a little more complicated to set up as they tend to be larger and made from sturdier materials. However, most of these backyard soccer nets can still be set up by one adult in a single afternoon.
Storage
If you plan to store your backyard soccer net while it's not in use, consider where you'll keep it. Most smaller soccer goals that pop up or collapse come with a convenient storage bag. Larger home goals may be able to fold flat for storage. Goals are best stored in a garage or shed where they can lean against a wall to take up the least amount of space.
9 soccer goal nets for backyard play and practice
With these backyard soccer nets, you can have fun and hone your skills at home.
1. Sport Squad Portable Soccer Goal Net Set
Best pop-up soccer goal set

Set of two goals for family soccer games on the go

Mini pop-up soccer net

Dimensions: 4' x 3'
Play soccer together as a family everywhere you go with these Sports Squad portable soccer nets for kids and adults. These affordable goals are lightweight and set up quickly, making them perfect for pickup soccer games at barbeques, picnics, and even the beach.
Sports Squad kids' goals are simple to assemble with a pop-up soccer net and easy-to-insert poles. All you have to do is take them out of their carrying case, allow the nets to spring open, attach the bars, and secure them to the ground with the included heavy-duty stakes. When the game is over, the nets collapse for easy storage.
2. Franklin Sports Blackhawk Backyard Soccer Goal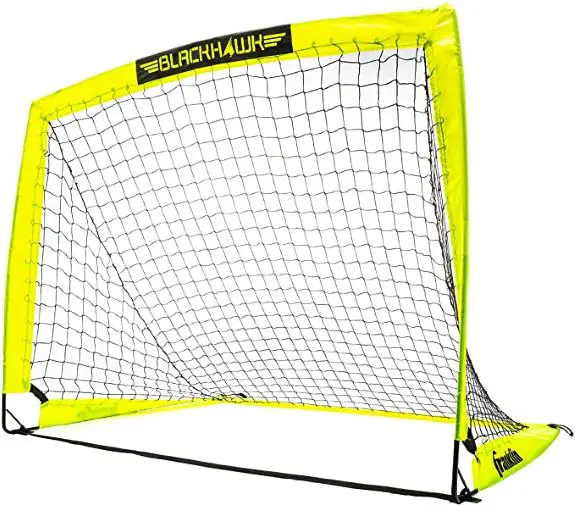 Best collapsible soccer goal

Durable soccer net for kids

Mini foldable goal for casual play

Dimensions: 4' x 3'
From the trusted Franklin Sports brand, the bestselling Blackhawk kids' soccer net is an excellent option for backyard soccer fun. This soccer goal features fiberglass and steel construction for added stability, yet packs up easily for storage and transport. The size is ideal for casual kids' play, but larger sizes are also available for serious players and larger backyards.
Setting up the Blackhawk takes only minutes, similar to putting up a small tent. The fiberglass poles are bungee attached with a reinforced steel corner design. Simply thread these poles through the net attachments and secure the goal to the ground using the four galvanized steel ground stakes.
3. Kwik Goal Weighted Infinity Goal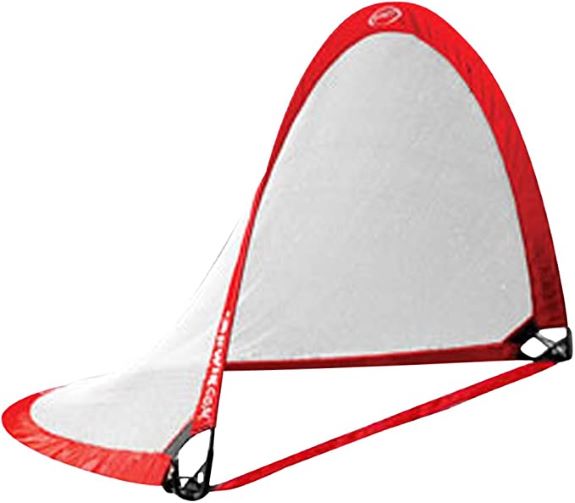 Best weighted mini soccer goal

Sets up in seconds

Pop-up soccer goal

Dimensions: 4' x 3'
Looking for high-quality soccer nets for kids and adults that you can take anywhere? The Kwik Goal Infinity is a pop-up soccer goal with a weighted base that offers stability without using anchor pegs. This incredibly sturdy design allows kids and adults alike to play soccer practically anywhere there's a flat playing surface indoors or out.
Setting up this Kwik Goal takes seconds. All you have to do is pull the net out of the carry bag, place it on the ground, and allow it to automatically pop up into place. It has a stable steel frame with a 15mm polyester net attached by double-layer nylon net pockets for added durability.
4. Bownet Futsal Soccer Goal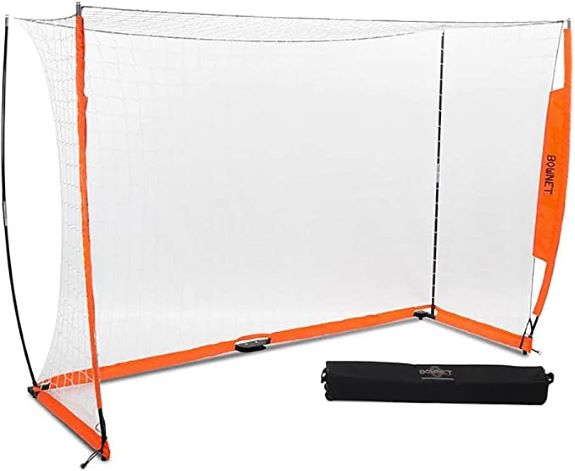 Best FIFA regulation-size soccer goal

A distinctive bow-shaped frame for lightweight durability

Full-size collapsible soccer net

Dimensions: 24' x 8'
Play like the pros from home with this FIFA regulation-size futsal goal. This high-end soccer or international football goal uses Bownet's proprietary Energy Absorption System to extend the life of the goal by offering more stability and flexibility on impact. In addition, unique bow-shaped poles help distribute the weight of the goal, and replacement soccer nets are available, making this soccer goal last a lifetime.
Despite this goal's large size, setup only takes minutes and doesn't require any tools. To assemble, take everything out of the rolling carry bag, open the frame, connect the poles, pull the net securely around the frame, and pull the elastic bands over the rubber feet to pop out the net. Now you're ready to play!
5. Quickplay Q-Fold Soccer Goal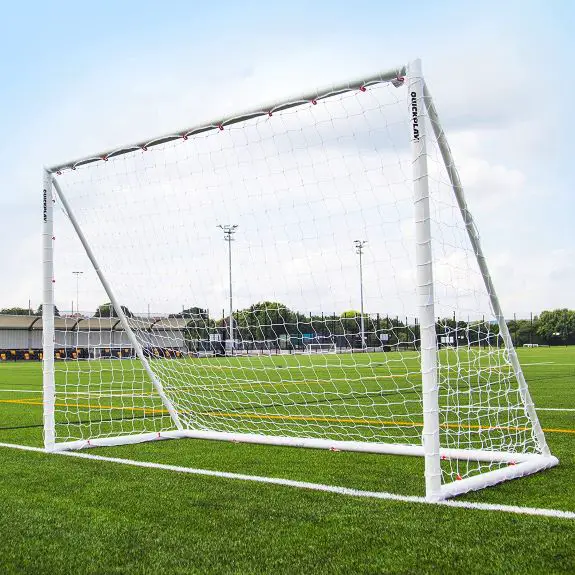 Best heavy-duty backyard soccer net

Folds flat for easy storage and set up

Full-size folding soccer net

Dimensions: 6' x 4'
Every soccer player's dream is to have an actual soccer field in the backyard. With the Quickplay Q-Fold soccer goal, that dream can finally become a reality. This all-weather soccer goal has a lightweight PVC frame with a flexible joint at the top of the diagonal support pole that makes it easy to fold and adds durability to a common weak point.
With a straightforward design, setting up the Quickplay Q-Fold is fast and simple. Easy-to-attach net clips allow you to swap in a replacement net, and UV treatment makes it possible to leave outside all year round. Then, when play is over, you can easily fold this soccer goal flat to store in a garage or against a wall.
6. Franklin Sports Competition Backyard Soccer Goal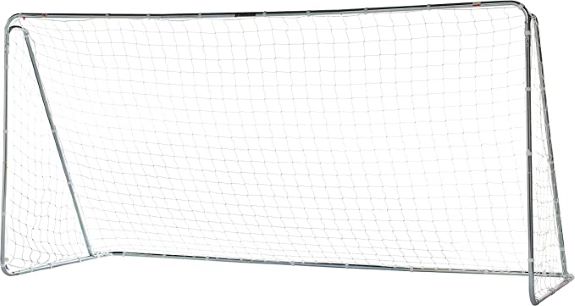 Best large lightweight soccer goal

Straightforward construction

Full-size folding soccer net

Dimensions: 6' x 4'
Make backyard soccer simple with this folding soccer goal from Franklin Sports. This soccer goal is great for backyard pickup games and practices. Since it is made from a hinged durable steel frame, this soccer goal folds flat when play is over for easy storage.
The Franklin Sports Competition goal has precision locking pins that make it easy to lock the soccer goalposts together. Galvanized ground stakes keep the goal securely attached to the grass to prevent toppling. In addition, the vibrant optic yellow has Velcro attachments that make for easy adjustments and breakdown.
7. Zelus Barricade Backstop Net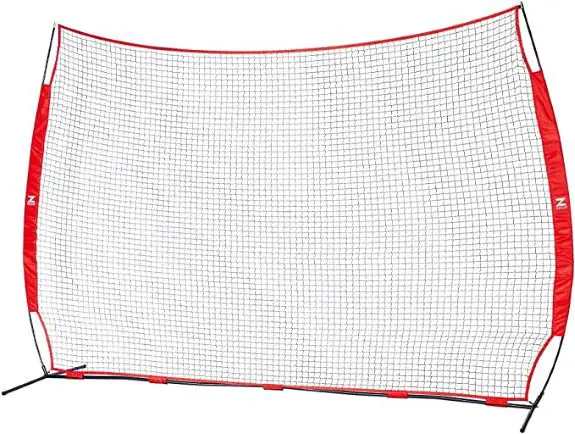 Best backyard practice net

Great for multi-sport practice

Backstop net

Dimensions: 12' x 9'
If you're a multi-sport athlete looking for the perfect home practice net, the Zelus Barricade Backstop is an excellent option. This large backstop net is great for soccer, lacrosse, volleyball, and football training without breaking windows or annoying the neighbors. In addition, no balls of any type are getting by this sizeable hitting surface.
The Zelus Barricade features seven-ply knotless netting that easily attaches to the fiberglass and steel base tubes. This creates an incredibly durable training space that can handle even the hardest hits. When practice is over, the frame and net collapse in minutes and easily fit into an included storage bag.
8. Franklin Sports Soccer Rebounder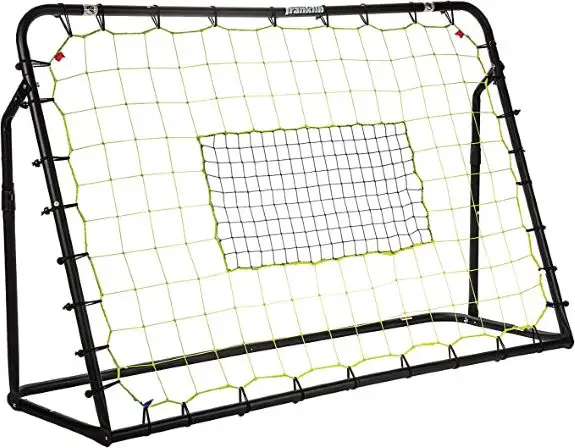 Best soccer rebounder training aid

Adjustable angles allow you to practice receiving any pass

Soccer rebounder net

Dimensions: 6' x 4'
The best soccer players deserve the best training equipment. This Franklin Sports rebounder features powder coat steel construction and precision locking pins for a secure setup. Attached with extra strong bungee cords is a rugged all-weather net that will last kick after kick.
As an essential training aid for any backyard soccer practice, this soccer rebounder has adjustable angles that allow you to practice receiving any pass, including ground, knee, chest, and heat trapping. The Franklin Sports rebounder also has a contrasting color center for a precise target zone.
9. SKLZ 2-in-1 Precision Pop-Up Soccer Goal and Target Trainer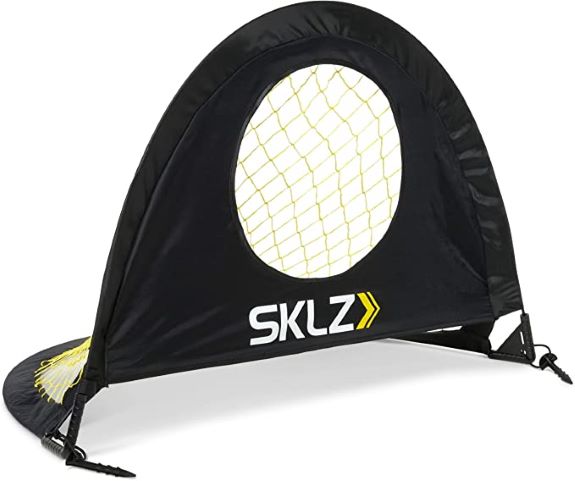 Best target net

Two-sided design for versatile practice

Pop-up target trainer

Dimensions: 3' x 2'
The SKLZ 2-in-1 Precision is a versatile training soccer goal for both target practice and pickup games. You'll find a standard goal on one side, but on the other is a training target for practicing accuracy, coordination, and technique.
This soccer net from SKLZ has an easy pop-up and twist-close frame, making setup a breeze. First, pull the soccer goal out of its carry bag and secure it in the grass with the attached ground stakes. Then, to switch from target practice to casual play, turn the goal onto its other side and keep on playing.
What is a good size for a backyard soccer goal?
The size of your backyard soccer goal depends on what you will be using it for. If you're planning on hosting backyard scrimmages, a 6' x 4' goal is a good size that fits most yards. A mini 4' x 3' goal should be large enough if you're playing just for fun or with the kids. If you're a serious player and have the space, a full-sized goal is preferable.
What is the best soccer net?
With so many options to choose from, it's hard to say if there's a best home soccer net. However, brands like Franklin Sports, Bownet, and SKLS offer high-quality soccer goals designed for backyard use.
How long do soccer nets last?
Soccer nets are made to handle a lot of stress, but they eventually wear out in about two years. Luckily, replacement soccer goal nets for backyard soccer goals are widely available.