Are you in the market for new baseball turf shoes? Check out the 11 best turf shoes available from trusted brands like New Balance, Adidas, and Under Armour.
What are turf shoes?
While traditional metal baseball cleats are great for use on natural grass, they aren't suitable for artificial turf. Since metal baseball cleats puncture the ground with metal spikes for grip, they rip up shallow turf, making it unplayable in the future. That's why turf shoes use a rubber tread pattern instead of spikes for traction.
Not only do baseball turf shoes allow you to play on turf grass without causing damage, they're also safer and more comfortable for players to wear. Because they are specially designed to provide grip on this type of playing surface, and they offer more maneuverability on baseball and softball turf.
How to choose turf shoes for baseball
Besides looking for turf shoes made from high-quality materials from reputable brands, you should consider a few other things when shopping for turf shoes.
Tread
Since you will be relying on a rubber tread rather than metal spikes for grip, it's crucial to ensure that your turf shoes provide enough traction to prevent slipping. In addition, you want to be as agile as possible on the field, so look for turf shoes with a durable rubber outsole featuring either a nub or tread pattern.
Size and fit
It's important for turf shoes to have a proper fit. They should be snug yet comfortable, with a bit of room at the toe to prevent blisters. Some brands offer half sizes or wide options, which can increase the chance of finding the right fit. Also, check reviews as some models may run a tad large or small.
Comfort
The midsole of your baseball turf shoes should be cushioned enough for comfortable long-term wear. Many turf shoes utilize EVA or PU foam cushioning for impact absorption and propulsion, which improves performance and comfort.
1. New Balance Men's Fresh Foam 3000 V5 Turf-Trainer Baseball Shoe
Offering advanced comfort and support on the field, the New Balance Fresh Foam 3000 is an excellent pick for a baseball turf trainer shoe. With Fresh Foam cushioning and an innovative design based on cutting-edge research conducted on natural baseball movements, these turf shoes offer all-day comfort and performance. The textured rubber outsole also provides superior indoor and outdoor turf traction.
Fresh Foam midsole cushioning for optimal comfort

Reaction diffusing perforated upper based on real performance data

Aggressive rubber outsole for excellent grip and maneuverability on both indoor and outdoor turf

Available in men's sizes 5 to 16 with half sizes
2. Boombah Women's Dart Turf Shoes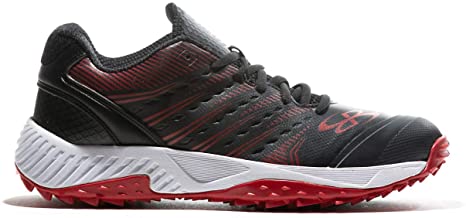 The Boombah Women's Dart is a fantastic turf shoe for female baseball or softball players. These comfortable and durable shoes feature a high-quality synthetic upper available in plenty of great color combinations, including black/white, navy/red, and white/gray. With a PU foam insole and a rubberized skid plate, these women's turf shoes are ready for all-day varsity practice.
Water-resistant synthetic upper keeps your feet dry and your ankles secure

PU foam insoles for all-day comfort

Rubberized toe cap with skid plate is abrasion-resistant and durable

Available in women's sizes 6 to 12 with half sizes
3. Adidas Men's Icon 7 Baseball Turf Shoe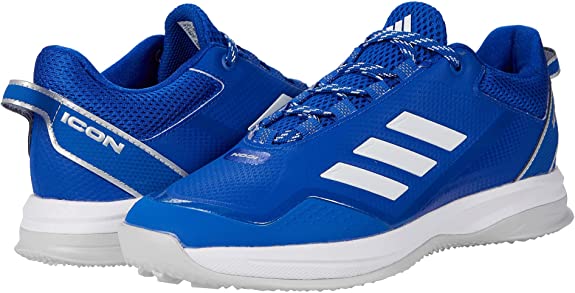 The Adidas Icon series does it again with the Icon 7 baseball turf shoe. These shoes are cleverly designed to provide plenty of speed and power while looking like a pair of stylish running shoes. Built for comfort, they have a soft upper paired with a molded sock liner. On the outside, a rubber outsole provides reliable traction on turf or in the batting cage.
Textile upper features a simple lace closure and molded sock liner for maximum comfort

Molded rubber outsole provides excellent grip

Lightstrike EVA midsole offers lightweight cushioning

Available in men's sizes 6.5 to 17 with half sizes
4. Mizuno Women's Trainer 2 Fastpitch Softball Turf Shoe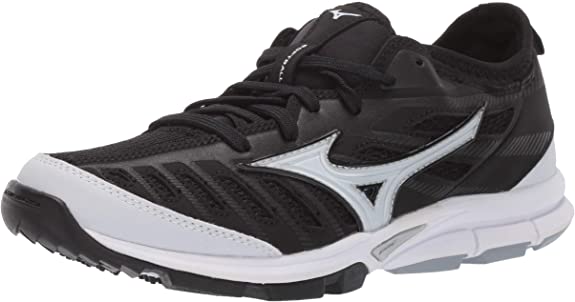 Look no further for a long-lasting fastpitch softball turf shoe for women. The Mizuno Women's Trainer 2 is perfect for female softball or baseball players who need comfortable, high-performance shoes. Their synthetic soles grip as you travel for optimal propulsion. With a lightweight midsole specially designed to absorb shock, these turf trainers provide plenty of cushion but are still highly durable.
Full-length bootie construction for a soft and secure fit

Anatomically designed for women's feet to minimize power loss and maximize acceleration

The rubber outsole provides excellent grip

Available in women's sizes 5 to 12 with some half sizes
5. Mizuno Men's Baseball Players Trainer 2 Turf Shoe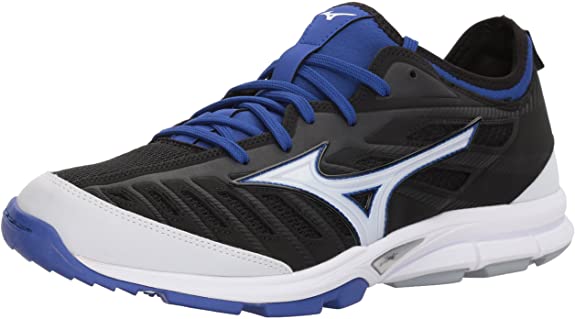 Uniquely engineered to help you take your performance to the next level, these turf shoes are the men's baseball version of the Mizuno Trainer 2. With a focus on acceleration, traction, and stability, the shoes help improve the three main movements of baseball. In addition to being an excellent shoe for artificial turf fields, the Mizuno Players Trainer 2 is great for training in the batting cage or at the gym as well.
Full-length U4ic midsole for cushioned, responsive, and resilient comfort

Soft and supportive upper strategically uses mesh and synthetic leather for stability and breathability

Specially designed outsole for acceleration, traction, and stability

Available in men's sizes 7 to 16 with some half sizes
6. Under Armour Men's Yard Turf Baseball Shoe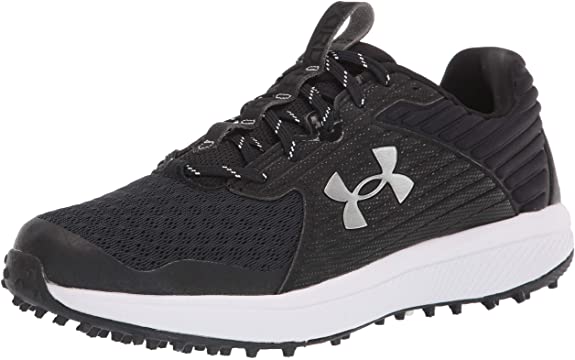 As stylish as they are practical, the Under Armour Yard Turf baseball shoe is a sneaker-like turf shoe with high-performance features. These shoes have a molded heel, a mesh toe box, and a softer, more secure heel pocket for extra comfort. Additionally, with an updated cushioned midsole, these turf shoes easily convert impact into power on the field.
Durable rubber sole with mini-lugs for incredible traction on turf and dry natural fields

Charged cushioned midsole uses a lockdown fit for explosive speed and power

Textile forefoot, secure molded heel, and breathable mesh toe box make them fit like sneakers

Available in men's sizes 4.5 to 10 with some half sizes and wide options
7. Adidas Men's Speed Trainer Turf Baseball Shoe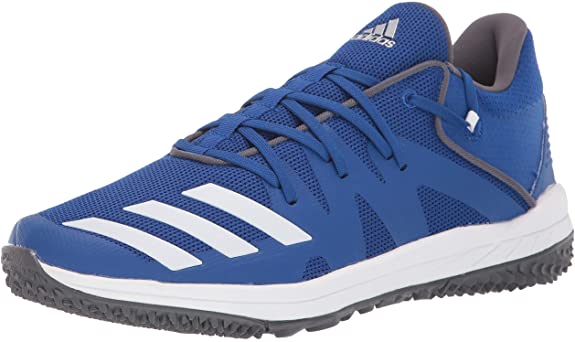 Great for versatile wear on the field or at practice, the Adidas Speed Trainer is a fantastic shoe for any baseball and softball players who play on turf. The mesh upper features abrasion protection while the toe cap provides durability. These turf shoes also have elevated internal support for a custom, locked-down fit, and the rubber outsole adds a soft grip on the turf.
Mesh upper features abrasion-resistant TPU overlays

The widened lacing system provides ankle support and a custom fit

Turf traction rubber outsole offers just the right amount of grip on turf

Available in men's sizes 4.5 to 18 with half sizes
8. Adidas Men's Adizero Afterburner 8 Turf Baseball Shoe
The Adizero Afterburner turf shoe is an excellent training shoe for both practice and the batting cage. With a specially designed widened lacing system, they lock in your foot for optimal ankle support that prevents any side-to-side movement within the shoe. In addition, the synthetic overlays are incredibly durable and utilize recycled materials to minimize their environmental impact.
Breathable, lightweight textile upper and lining for comfort and performance

Widened lace closure for ankle support and a lockdown fit

Rubber outsole for grip and traction

Available in men's sizes 6.5 to 17 with half sizes
9. Nike Alpha Huarache Elite 3 Turf Baseball Shoes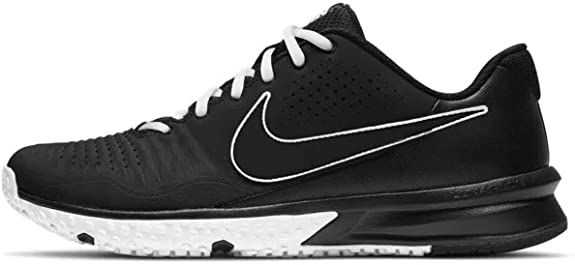 These Nike Alpha Huarache Elite 3 baseball shoes are the perfect unisex turf shoes for any baseball player. With a sneaker-like feel and high performance, you can dominate any position on the field. The specially designed aggressive traction pattern ensures every step grips the ground securely, guaranteeing power and maneuverability.
Active rubber pegs in a durable rubber sole provide superior traction and grip

A strategic mesh overlay provides breathability and a secure fit

Nike Renew foam cushioning and a foam collar provide optimal comfort

Available in men's sizes 3.5 to 16 and women's sizes 5 to 17.5 with half sizes
10. New Balance Men's FuelCell 4040 V6 Turf-Trainer Baseball Shoe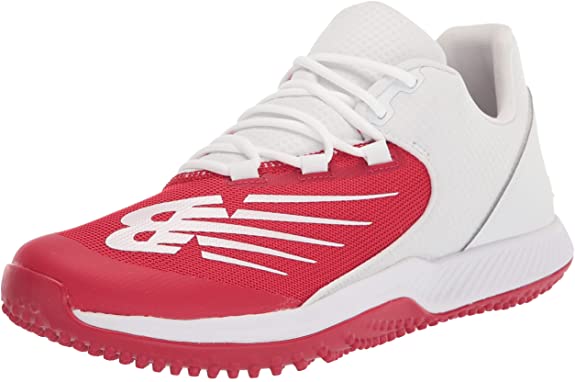 The FuelCell 4040 turf trainers from New Balance are specially designed to boost your performance through function and style. The full-length FuelCell midsoles offer plenty of propulsion while the nubby rubber outsoles prevent slipping. They feature a burrito-style tongue made from synthetic and mesh material to keep feet locked in and comfortable.
FuelCell foam for propulsion to drive you forward

Durable and flexible synthetic mesh upper and secure burrito closure

Nubby rubber outsole for excellent traction on and off the field

Available in men's sizes 5 to 16 with half sizes
11. Under Armour Men's Harper 6 Turf Baseball Shoe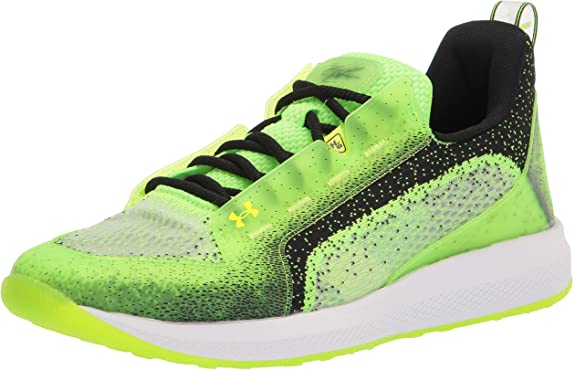 From off-season workouts to batting practice, the Under Armour Harper 6 baseball shoe is an excellent turf shoe for serious baseball and softball players. With a breathable mesh upper, a Charged Cushioning midsole, and a plush sock liner, the Harper 6 is an incredibly comfortable turf shoe you can wear all day. It also has a full-length bootie design and a non-marking rubber outsole for high-performance wear.
Mesh upper with strategic TPU shield for comfort and durability

Full-length bootie design with an updated collar for a snug fit and custom feel

Charged Cushioning midsole converts impact into explosive power

Available in men's sizes 6.5 to 17 with half sizes
It's easier than ever to find excellent baseball shoes on Amazon. So improve your game and protect the turf by adding a pair of these top turf shoes to your cart for checkout.