Join the e-bike revolution with an electric bicycle from Blix! Based in Santa Cruz, California, this brand offers a complete line of innovative e-bikes for commuters and adventure seekers alike. 
Find your Blix bike
With every model specially designed for style, utility, and performance, Blix has some of the best electric bikes for occasional riders, daily commuters, and everyone in between.

5 Blix bikes for every rider
The Blix bike line of electric bicycles has something to offer for everyone. Adventurers will love the brand new Ultra fat tire bike, while families benefit from the Packa Genie's 200 pounds of cargo capacity. No matter what kind of rider you are, there's a Blix electric bike for you!
Best for: Adventurers

Type of bike: All-terrain mountain bike

Blix Ultra weight: 68 lbs (single battery) or 76 lbs (dual battery)

Dual battery for extended range

Large, heavy-duty tires that can handle rugged terrain

Excellent cargo capacity and customizable modular design
The most rugged e-bike in the Blix line, the Ultra, is unique for its ability to go practically anywhere. In addition, the Ultra performs under harsh conditions such as sand, snow, or potholes in an urban jungle with extra-wide all-terrain tires and hydraulic disc brakes. While fat tire e-bikes are quickly gaining popularity, the Blix Ultra stands out as a strong competitor for the best all-terrain electric bike available.
Attaching any Blix bike accessories to the Ultra's mounting points is easy, and the rear rack is so durable that it can support 150 pounds of weight. This is a game changer for parents of heavier or older kids with mobility restrictions. Even with a large little one in tow, there is still plenty of space for you to cycle thanks to the elongated seat stay and chain.
The Ultra also has a dual battery system with a whopping 1334Wh capacity. With that much juice, you can venture twice as far — up to 80 miles on a single charge! In addition, you can monitor battery health, access navigation, and change your Ultra from a Class 2 to a Class 3 bike within the Blix Connect App. Plus, like all Blix electric bikes, the Ultra is covered under a one-year comprehensive warranty for the frame and all components.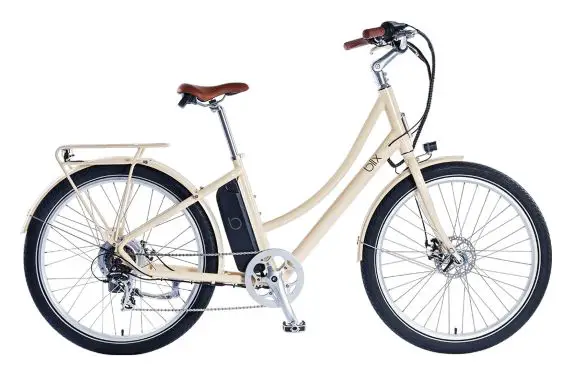 Best for: Commuters

Type of bike: Cruiser

Blix Aveny weight: 56.5 lbs

Upright seat and low step-thru frame for comfortable cruising

Looks great without sacrificing features

User-friendly and customizable for all your daily needs
Quite possibly the most attractive e-bike you can buy, the Blix Aveny Skyline is a high-performance electric bicycle with all the charm and comfort of a beach cruiser. With smooth, easy handling, the Aveny Skyline rolls so easily that it's even comfortable to ride powered off. Although this e-bike has an impressive battery range, it's also easy to pedal, so you don't have to worry as much about the battery dying on a long trip and not being able to make it home.
Despite not having a suspension, it absorbs bumps exceptionally well, helping with the battery life. While the Aveny Skyline's specs state a maximum distance of up to 45 miles on a single charge, users have reported far longer journeys without a recharge. Combined with this e-bike's comfort and rideability, its battery life makes it an excellent option for a commuter bike.
The Aveny Skyline boasts a classic Dutch-inspired style that looks great in urban environments. Electric bike reviews on the Aveny Skyline also mention an impeccable paint job, matching fenders, and four beautiful colors to choose from. In addition, there are both rear and front headlights for city-riding safety, and you can customize your e-bike even further with Blix's integrated rack system.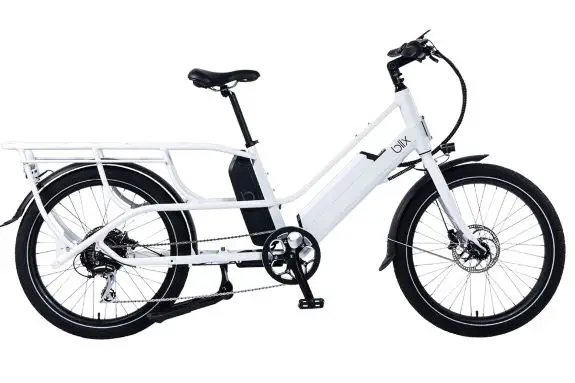 Best for: Families

Type of bike: Cargo

Blix Packa weight: 67 lbs (single battery) or 75.5 lbs (dual battery)

Carries up to 200 lbs of cargo with the innovative modular rack system

Easy to handle

Perfectly balanced for carrying large loads
The Blix Packa Genie won the 2020 Bicycling Bike Awards for the Best Value Cargo Bike, and it's not hard to see why. This heavy-duty cargo e-bike has the capability of hauling everything you need and some of what you don't, with tons of customizable options. In addition, multiple e-bike reviews boast front and rear cargo space that can rival small cars and even allow you to carry a whole week's worth of groceries on a single trip!
An upgrade from the original Packa, the Packa Genie has a more powerful motor to handle steeper hills and heavier loads. It also has improved hydraulic disk brakes for quicker and safer stopping capabilities regardless of your cargo weight. Plus, there's less chance of a flat with puncture-resistant Kevlar tires.
Compared with other cargo bikes, the Packa Genie looks much more like an ordinary bicycle. Other cargo-equipped e-bikes have stretched, distorted proportions that look strange and interfere with comfort and rideability — but not the Packa Genie. With a total length of 81 inches, it's only a bit longer than a regular bike. Plus, the 24-inch wheels keep the cargo baskets from sitting too high and becoming unbalanced, yet are close enough to full-sized wheels that you don't sacrifice torque.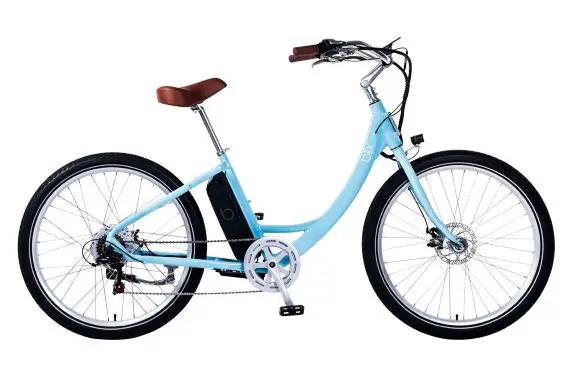 Best for: Beginners

Type of bike: Cruiser

Blix Sol weight: 56 lbs

Wide saddle and wide swept-back handlebars for maximum comfort

Large, fat tires absorb the impact of hard pavement

Stylish and user-friendly design
Whether cruising down the beach or on a city bike path, the Sol Eclipse is a fun, comfortable cruiser perfect for anyone interested in the electric bike lifestyle. Designed with comfort in mind, the Sol Eclipse has a wide, cushy saddle, adjustable seat post, and a casual handlebar alignment, so mile 40 is just as lovely as mile one.
Despite its stylish and user-comfort design, the Sol Eclipse has unexpected thrust thanks to a powerful 750w hub motor. Riders can choose whether to peddle along easily with pedal assist or use the throttle for a no-effort ride. Handling feels more similar to a regular bike, so it's an easier transition for someone who isn't ready for a more advanced model. It's easy to lean into turns naturally, and the upright positioning takes the stress off your neck and back.
The Sol Eclipse is also the least expensive option in the Blix line, making an excellent entry-level model offering a great value. In addition, it has an easy-to-read LCD display right in the middle of the handlebars for changing settings quickly and safely while on the go. Overall, the Sol Eclipse is everything you need in a beginners' electric cruiser and more.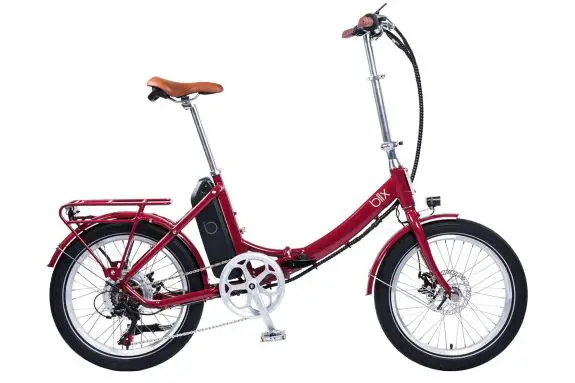 Best for: Travel

Type of bike: Folding bike

Blix Vika+ weight: 55 lbs

Frame folds down to a stowable 36 x 21 x 28.5 inches

Comes with carry bag for easy transport

Smooth handling with reliable braking
Go almost anywhere with the Blix Vika+ Flex folding e-bike. With a lightweight frame that folds fully in half, the Vika+ Flex is ready for any adventure. Whether you need to bring it along on public transportation or want to ride it on your next cross-country RV road trip, this electric bike folds up for compact storage or convenient travel. It even has a carrying bag for easier transporting.
Despite its folding frame, the Vika+ delivers all the comfort and power expected from a Blix bike. Its upgraded wide, cushy tires make every ride smoother, and the peppy rear hub motor makes steep hills feel like speed bumps. Plus, it has an extra-long battery life of 45 miles compared to other brands' folding e-bikes.
It has smaller 20-inch wheels, which help with its portability as a folding bike. However, these shorter wheel spokes also mean that the Vika+ is super snappy with fast turning and quick handling. And although this e-bike may be compact, it's still plenty comfortable for taller riders. A standout in the realm of folding bikes, the Blix Vika+ is a solid option with all the functionality of a larger e-bike.
Tips for using your Blix bike
Congratulations on your new e-bicycle! Now that you've jumped on the e-bike bandwagon, you might be wondering, how do I ride this thing? Luckily, operating your Blix electric bike is simple.
You can choose between five levels of pedal assist power or use the throttle for effortless fun. With Blix Assist technology, all your trip data is conveniently located in the center of your handlebars, so you can easily check your battery life, change your speed, and view your distance traveled. You can even use it to charge your phone or speaker via USB.
How to turn on a Blix bike
First, find the battery mounted underneath the saddle and press the "I" to power it on. For the dual-battery Packa and Ultra models, you will also want to press and hold the button on the downtube battery.
Then, press and hold the Mode button for a few seconds to turn on the display. At this point, the default assists level 1 (PAS 1) will be automatically activated. From here, you can change your Blix bike's modes.
Finally, you can turn off the display by either waiting ten minutes for it to power down automatically or by pressing and holding it for a few seconds.
How to charge a Blix bike battery
You can charge your Blix bike battery while it's still mounted on the e-bike, or you may detach it to charge elsewhere. If you're charging the battery while it's still attached, simply pop open the charger cover, and plug the charger into the bike and an outlet.
If you want to detach the battery to charge, first, you will unlock the battery and remove the key. Then, you pull the battery upwards to release it from the battery rails. Finally, you can pull the battery out through the side of the frame.
To reattach the battery, you slide it back down the frame to secure it into the mount. Then, you want to lock the battery in place to prevent theft and keep it correctly mounted.
Advantages of electric bikes
There are countless benefits associated with electric bicycles. Riding an e-bike is an excellent form of exercise and transportation with a low barrier to entry. Plus, it's better for the environment than driving a car!
Accessible
E-bikes are fantastic for people that may not have the endurance to ride a regular bicycle. In addition, with the electric assist, pedaling is much easier. Therefore, many riders who need extra help or have health or physical limitations can enjoy cycling.
Healthy
Even though you can go faster and further with an electric bike, you can still get the same health benefits as you would from traditional cycling with an e-bike. Studies have shown that e-bike riders get around 90% of the cardio benefits as conventional riders. Meanwhile, e-bike riders perceive they are working less hard, making them more likely to be active for longer periods of time.
Time-efficient
Cycling as transportation is extremely popular in European countries where buildings are much closer together. Stateside, riding a traditional bicycle for transportation often requires much more riding time. However, you can double your maximum speed with an e-bike, making them suitable for much longer distances.
Inexpensive
Compared to other transportation methods, like cars or scooters, e-bikes are much cheaper to purchase and maintain. There's no need for expensive fuel or insurance costs, making your cost per mile much lower. With rising fuel costs, there's no better time to switch to an electric bike.
Convenient
In cities with lousy traffic or inefficient public transportation, an e-bike can make your commute much more manageable. No longer would you need to worry about getting stuck in traffic on a short trip to the store or rely on bus schedules to get you where you need to go.
Environmentally friendly
When faced with choosing between a car or an e-bike, the electric bicycle will always beat out gas or diesel vehicles for protecting the environment. With exponentially less pollution per mile, you can ride comfortably knowing that you're doing your part to save the planet.
What to look for in an electric bicycle
With so many features and specifications, figuring out how to compare electric bikes can be difficult. Most importantly, you want to ensure that your e-bike will get you where you need to go safely and comfortably. However, other factors such as how a bike looks and whether it can carry everything you need also matter.
Power
A good e-bike needs to have a great motor. Since the idea of an electric bicycle is to make cycling more manageable, you want to ensure that your e-bike can easily take you up steep hills and tow all the weight you need.
All of Blix's e-bikes have a rear hub motor with at least 500w of power, with a carry weight of 270 pounds. The Ultra and the Packa Genie sport dual batteries for a maximum output of 1350w for conquering the steepest hills and carrying loads up to 400 pounds.
Battery
The last thing you want to happen while riding your e-bike is to run out of battery. A long battery life lets you go further and charge less, so you should look for an e-bike with a high-quality battery with enough juice to get you where you need to go.
Blix electric bike models have a maximum range of 45 miles per charge for their single battery models and up to 80 miles for their dual battery models. Also, you can charge all Blix batteries while mounted on the frame or remove them to charge.
Safety
Staying safe on your electric bike is of the utmost importance. Since you will be traveling at higher speeds than on a regular bike, you want to be seen and heard, so look for an e-bike with bright front and rear lights and a bell. You also want to have reliable brakes so you can stop quickly if necessary.
Every Blix e-bike has LED lights and an integrated bell. They also have puncture-resistant tires to reduce your chances of a sudden flat. The Ultra and Packa Genie models use hydraulic disc brakes for smooth and fast stopping, even with heavy loads, while the other models use reliable mechanical disk brakes.
Comfort
Riding your e-bike should be a pleasurable experience. Whether you're on your way to work or riding through the park, you want a comfortable seat and an easy-to-use display. One of the most appealing features of e-bikes is that they take less effort to ride, so ideally, you want a model with pedal assist and a throttle. Pedal assist helps you maximize your e-bike ride, but when starting, stopping, or even if you're just feeling lazy, you can use the throttle for an extra boost.
All Blix electric bikes have both pedal assist and a throttle, so you can choose to ride with or without pedaling. For the most leisurely ride, the Aveny Skyline and the Sol Eclipse cruiser models maximize rider comfort with step-thru frames and cushy seats.
Cargo space
Need to carry groceries or want to take your kids along for the ride? Then you need an e-bike with ample cargo space. There are two key considerations regarding cargo space: carry weight limit and accessory attachment options. You want to be sure that the frame and engine can handle the weight you intend to put on it and that there's a place to put everything.
All Blix e-bikes feature multiple attachment points for racks, bags, or child carriers. Their casual models can carry up to 270 pounds total weight, but if you need to haul more, models such as the Packa Genie are specially designed to carry a total of 400 pounds, 200 pounds of which can be cargo.
Weight
Depending on what you're looking for in an e-bike, the total Blix bike weight may impact your decision on which model to buy. For example, the Blix Vika+ weight is just 55 pounds with the battery attached, which makes it easier to bring up the stairs in an apartment building, carry onto public transit, or lift into the trunk of your car. And while other models may not be as compact as the fold-up Vika+, the Blix Aveny weight of 56.5 pounds and Blix Sol weight of 56 pounds are nearly as lightweight.
On the other hand, a heavier e-bike may add a little more stability to your ride. The Blix Packa weight of 67 pounds (single battery) or 75.5 pounds (dual battery) helps keep this e-bike steady when hauling heavier loads. The Blix Ultra weight is 68 pounds (single battery) or 76 pounds (dual battery), which helps you remain stable on uneven terrain.
Customization
Every e-bike rider has specific needs based on what they will use their e-bike for and their own preferences. The best solution is to purchase a modular e-bike that allows you to adjust your accessories based on your current needs. You also want to choose an electric bicycle that looks nice and fits your aesthetic preferences for color and style.
You can make your e-bike your own with Blix's unique bike accessories. With baskets, racks, platforms, child carriers, bags, and other add-ons specifically designed to work with their models, it's easy to store everything you need in a way that works for you. All of their models also come in several attractive colors, so you can choose one that suits your style.
If you're ready to discover a new way to ride, choose from these Blix bikes to find the perfect electric bike to suit your unique needs.