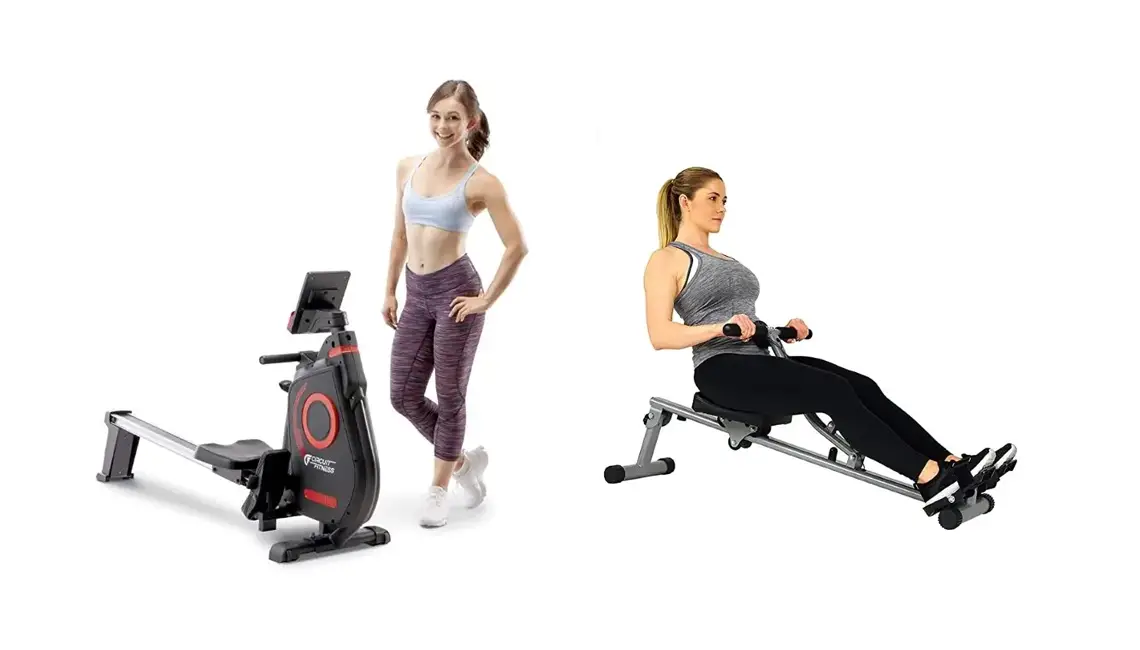 Rowing is an excellent exercise for people of all fitness levels looking for a great workout. But due to their size and weight, traditional rowing machines are better left at the gym. If you're looking for the same type of workout at home, choose a compact rowing machine designed to fit a home gym or even a small living space.
How to choose a rowing machine for your home
To get all the great benefits of rowing at home, you need a machine that suits your fitness needs and your lifestyle. When shopping for a home rowing machine, consider how the device performs, what features it has to offer, where you can store it, and how much noise it produces.
Features
Rowing is a relatively simple activity, so rowing machines tend to have fewer bells and whistles than other fitness equipment such as exercise bikes. However, there are a few things to look for that will optimize your rowing experience.
Levels of resistance: Changing the resistance level on your rowing machine should be quick and straightforward. Whether you adjust the resistance during every workout or choose to up it as you build strength, you will want more resistance at some point.
Display: Tracking your fitness goals needs to be simple, so choosing a rowing machine with an easy-to-read monitor is essential. At a minimum, you should look for a dashboard that displays time, count, and calories. Some advanced models even have an integrated touchscreen where you can watch fitness videos for even more motivation.
Comfort: Exercise equipment shouldn't be as comfortable as your couch, but your rowing machine shouldn't cause you pain. Look for a model with a padded seat, non-slip handlebars, and ergonomic pedals for the best rowing experience.
Size and storability
Unlike the rowing machines commonly found on the floor at a gym, you will likely want to move your rowing machine while it's not in use. Choose a device with a small footprint that fits comfortably in your space while in use and stored. Foldable models are even easier to tuck away, and transport wheels help you move the machine yourself without injury so you can store it after every workout.
Noise level
If you're planning to use your rowing machine in a common area or an apartment building, the noise level of your machine matters. While commercial models are used in loud gym environments, a noisy rowing machine in a residential space quickly annoys family members, roommates, or neighbors. Consider where you will be using your machine to determine how loud it can be.
Quality
For a safe and enjoyable workout, you want to ensure that the rowing machine you buy is sturdy and reliable. Look for a durable frame, non-slip handlebars and pedals, and ergonomic designs. A great warranty indicates that a rowing machine is high quality, as manufacturers are less likely to guarantee flimsy products.
Also, lightweight models are easier to store but often have a lower weight capacity than heftier options. If you're a larger rower, check the weight limit of the machine you want to buy to ensure it's safe for use.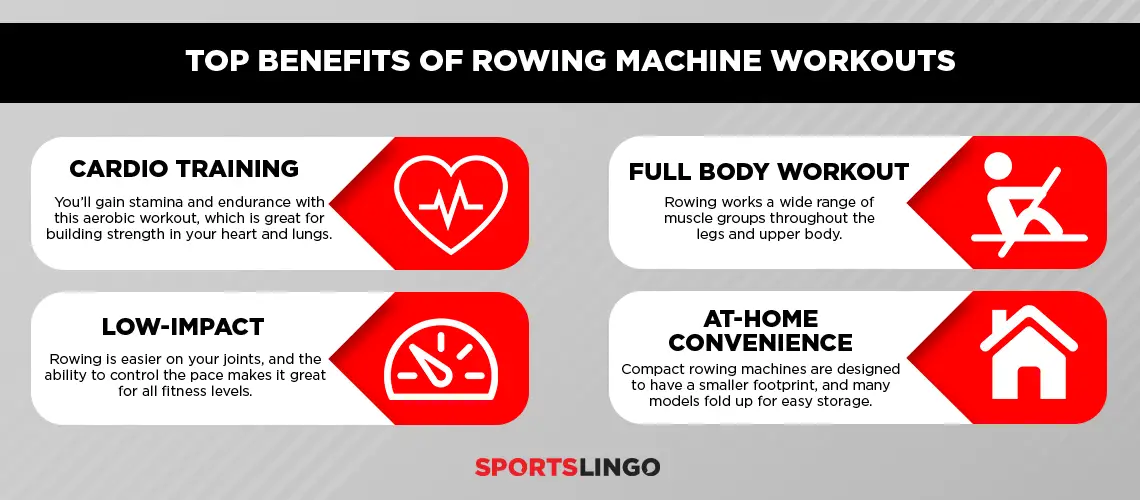 How much do you need to spend on a rowing machine?
From $100 budget options to fancy machines costing thousands of dollars, compact rowing machine for home use are available at a wide range of price points. Rather than considering just the price, try to measure how much value you will get from your rowing machine. For example, beginners probably don't need a top-of-the-line machine to get the benefits they are after.
It also matters how much you will use your rowing machine. For example, an athlete training for competition would be better off with a durable fixed model, which often costs more. On the other hand, casual users that prefer to store their machine while it's not in use would benefit more from a less expensive folding rower.
Is getting a rowing machine worth it?
A rowing machine is absolutely worth it for anyone looking to live a healthy lifestyle. Rowing is a full-body workout, yet it's still a low impact option for staying active. With a rowing machine, you can burn calories and get stronger without putting stress on your joints. It is also great cardio, helping you achieve total body health.
5 best budget-friendly rowing machines
New to rowing or looking for an affordable rowing machine for home use? These great value rowers offer an incredible workout at a reasonable price.
1. Sunny Health & Fitness SF-RW1205 Rowing Machine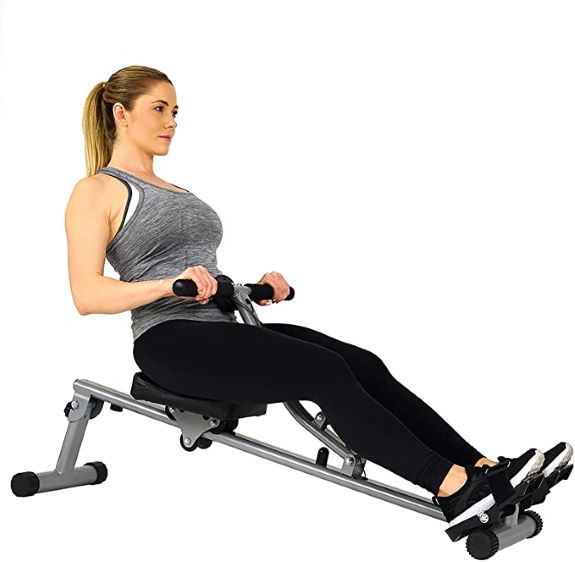 Hands down, this is the best compact rowing machine for small spaces. The Sunny Health & Fitness SF-RW1205 rowing machine has a tiny footprint that would allow you to work out in any room in your house. In addition, this compact rower features a comfortable seat and foam handlebars for maximum comfort. Meanwhile, non-slip foot pedals keep you safe and stable.
Utilizing hydraulic resistance, the SF-RW1205 offers a quiet, smooth row over 12 levels of hydraulic tension. It has a steel slide rail and pivoting pedals for a wide range of motion. Plus, the integrated digital monitor tracks and displays time, count, total count, calories, and scan.
Known for offering affordable, high-quality home fitness equipment, Sunny Health & Fitness has included all of these features at an incredibly reasonable price. Not only that, but this compact rowing machine is easy to set up and incorporates wheels for portability. So for a cost-efficient full-body workout, few rowing machines can beat the SF-RW1205.
Weight capacity: 220 lbs

Resistance type: Hydraulic rower

Storage: Small, lightweight, and includes wheels

Dimensions: 54 x 20 x 23 inches

Weight: 20.9 lbs

Noise level: Low
2. Lanos Hydraulic Rowing Machine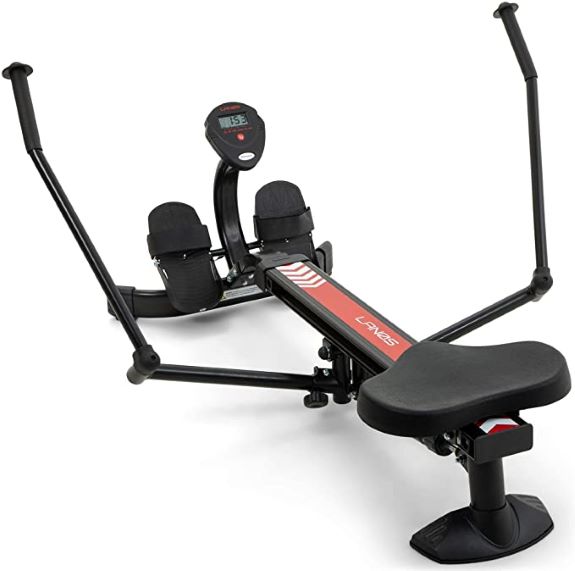 Exercise your glutes and improve your cardio with the Lanos hydraulic rowing machine. Then, when your workout is over, conveniently fold in the arms to stow it away in spaces as small as 20 x 23 inches. This lightweight and compact rowing machine offers excellent value for beginner to intermediate rowers who need to store away their devices after every home workout.
Despite its lightweight and petite frame, this rowing machine features a durable steel frame. The machine adjusts to fit users from 4'2" to 6'7" and allows a full range of motion to hit every major muscle group in your body. The molded padded seat glides easily, while the pivoting foot plates have two safety strap positions that allow them to accommodate feet of any size.
Users of this rowing machine from Lanos can track their progress on the easy-to-read LCD display centrally located between the pedals. You can monitor workout time, row count, and calories burned to meet your fitness goals. It's also easy to adjust between the 12 hydraulic resistance settings using the manual control knob.
Weight capacity: 250 lbs

Resistance type: Hydraulic rower

Storage: Compact and foldable

Dimensions: 50 x 36.22 x 20 inches

Weight: 38.5 lbs

Noise level: Low
3. Merax Water Rowing Machine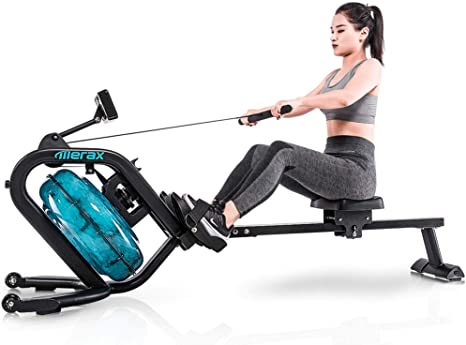 While not the least expensive option available for at-home rowers, the Merax water rowing machine offers incredible value for a realistic water rower. This rowing machine has solid steel construction and a uniquely inclined water tank for powerful resistance. Long ergonomic handles maximize the rowing experience, while the contoured seat and extended footrests improve comfort.
Water rowers such as this one offer a smooth glide and dynamic rowing, easily customizable with adjustable resistance. Simply fill the water tank, more or less, depending on your desired workout level. And since the resistance is directly proportional to how hard you row, you can interval train without changing settings.
The Merax's large multi-feature LCD monitor shows your rowing duration, strokes, calories, and distance and calculates heart rate. In addition, there is a competitive race mode for challenging yourself through a simulated rowing competition. After your workout, you can tilt your rowing machine vertically and move it to a designated storage spot using the durable rubber wheels.
Weight capacity: 330 lbs

Resistance type: Water rower

Storage: Stores upright with wheels

Dimensions: 20 x 78 x 25.5 inches

Weight: 72 lbs

Noise level: Medium
4. Marcy Foldable 8-Level Magnetic Resistance Rowing Machine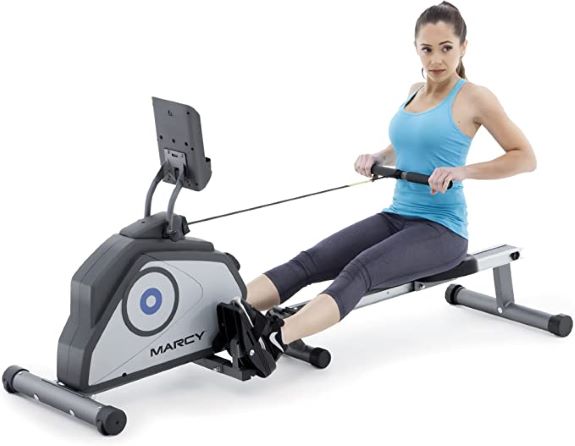 With eight preset levels of magnetic resistance, the Marcy foldable rowing machine is an excellent home rower for any workout level. For casual fitness, turn the manual knob to the lowest setting, or train your entire body, burn fat, and increase your endurance by building up your resistance level for a targeted workout.
This compact rowing machine for home use sports a comfortable, ergonomic design with well-placed slip-resistant pedals and customizable foot straps. The foam-covered handles prevent hand slippage, while the foam seat is cushy and contoured, so sitting is comfortable throughout your workout. Even the LCD panel with your workout data can be tilted for optimal viewing.
When you're finished with your workout, you can conveniently tuck this machine out of the way. The innovative folding design incorporates a quick-release pin and a lockable folding monitor so it can collapse into a small profile. Roll this rowing machine away on the built-in transport wheels until your next session.
Weight capacity: 300 lbs

Resistance type: Magnetic rower

Storage: Foldable with wheels

Dimensions: 74.4 x 19.7 x 31.9 inches

Weight: 65 lbs

Noise level: Low
5. Circuit Fitness Deluxe Foldable Magnetic Rowing Machine
Do you love reading or watching workout videos on your tablet while rowing? This magnetic rowing machine from Circuit Fitness features a convenient device holder on its display panel — an overlooked feature on many budget rowing machines. This hybrid display panel also has an easy-to-read LCD display for tracking your fitness progress.
Great for cardio training and developing a well-defined upper and lower body, the Circuit Fitness Deluxe offers eight customizable resistance options for various workout intensities. Utilizing a 9-lb magnetic resistance flywheel, rowing is smooth and efficient. With an injection-molded seat and slip-resistant pedals, the machine is ergonomically designed for maximum comfort while you exercise.
This rowing machine offers an incredible workout, and storage is also simple with a convenient folding design. With compact folded dimensions of 36 x 19 x 53.5 inches, this machine can easily be stored in a closet or corner, taking up minimal floor space. It also features durable transport wheels to avoid lifting the machine after workouts.
Weight capacity: 330 lbs

Resistance type: Magnetic rower

Storage: Foldable with wheels

Dimensions: 72 x 38.5 x 19 inches

Weight: 72 lbs

Noise level: Low-Medium
3 best of the best rowing machines
Is price not an issue? These three top-of-the-line rowing machines offer deluxe features to enhance your home workouts.
1. NordicTrack RW900 Smart Rower with 10" HD Touchscreen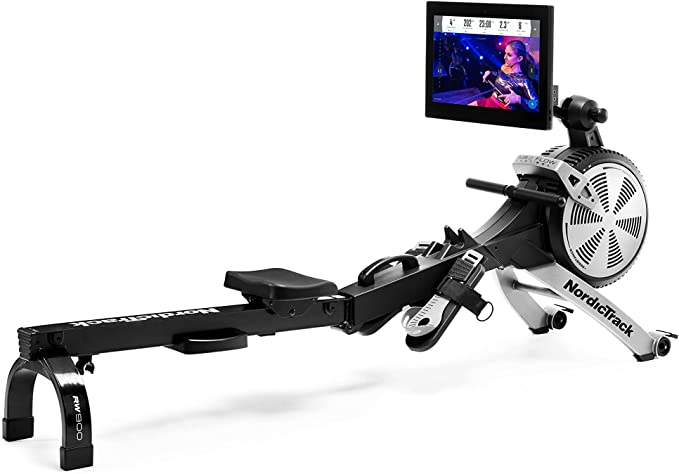 With a 10-year frame and two-year parts warranty, the NordicTrack Smart Rower offers quality you can count on. It has an incredibly sturdy foldable rowing machine frame with steel stabilizers and an oversized steel monorail. The padded seat glides easily and almost silently, making it an excellent option for use in a shared space such as your living room. The flywheel is also extremely quiet due to the belt construction that connects it to the handle.
This high-end home rowing machine features a 22-inch touchscreen designed explicitly for watching iFit live streams or on-demand workout videos. The included 30-day iFit Family Membership offers access to thousands of classes, including tutorial studio classes to outdoor route simulations of rivers worldwide. In addition, their interactive leaderboard makes it fun to compete against other users of all fitness levels.
All of the NordicTrack RW900's functionality is conveniently incorporated into the touchscreen console. You can change between 26 digital resistance modes, adjust the volume, and connect your Bluetooth headphones. The screen also tilts and turns, so you can adjust it for minimal glare or take other classes with iFit. Simply fold your rower in half when your workout is done for convenient and compact storage.
Weight capacity: 250 lbs

Resistance type: Magnetic rower

Storage: Folding, with wheels

Dimensions: 50.4 x 22 x 86.5 inches

Weight: 130.6 lbs

Noise level: Ultra-low
2. Concept2 Model D Indoor Rowing Machine with PM5 Performance Monitor
Train like a professional with the best-selling Concept2 Model D rowing machine. This commercial-grade rowing machine can quickly separate in two for easy storage, and smooth, durable wheels help you move it around. Ideal for home gyms, its storability also makes it suitable for small spaces.
Whether you're looking for strength training or a low-impact cardio workout, this compact rowing machine for home use is excellent for any level of rowing experience. It has a proven ergonomic design with a 14-inch seat height, adjustable footrests, and comfortable handlebars. Plus, controlling the intensity of your workout is accessible with a sensitive air-resistance flywheel and damper levels 1-10.
Measure and track your workout data on the backlit LCD screen. Here you can find information like time, distance, and intervals. You can even connect an ANT+ compatible heart rate monitor to sync your heart rate data to your workout log and save workouts to a flash drive.
Weight capacity: 500 lbs

Resistance type: Air rower

Storage: Separates in two with wheels

Dimensions: 48 x 108 inches

Weight: 57 lbs

Noise level: Low-Medium
3. WaterRower Club Rowing Machine with S4 Monitor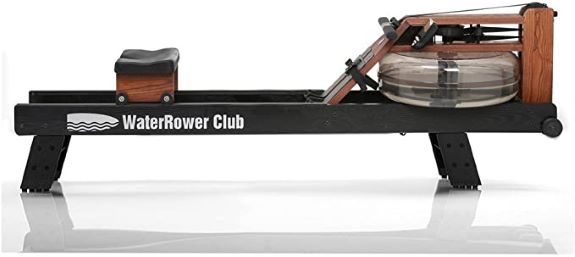 Perhaps the most stylish option on this list, the WaterRower Club is a water rower made from beautiful, sustainable Appalachian hardwoods. Rather than magnetic or air resistance, this rower utilizes water resistance for a more realistic rowing experience. It works much like rowing a real boat by using paddles that push against the water in the machine. There's no limit to how much resistance this rowing machine can offer as it's limited only by how hard you can row! Maintenance of the water tank is simple: just fill with purified water, and add one of the included water purification tablets every six months.
Despite this rowing machine being a bit bulky, it can easily be stored upright and out of the way. However, many users find that the WaterRower Club looks less like exercise equipment and more like high-end furniture. Plus, this machine's S4 monitor is more advanced than other water rowers, calculating your 500m, 2k, split times, and speed in both mph and mps.
Weight capacity: 700 lbs

Resistance type: Water rower

Storage: Easily stores vertically

Dimensions: 83 x 22 x 21 inches

Weight: 114 lbs with water

Noise level: Medium
Whether you're looking for a great budget rowing machine or top-of-the-line home gym equipment, Amazon has the right rowing machine for you. Order one today for a full body workout at home.