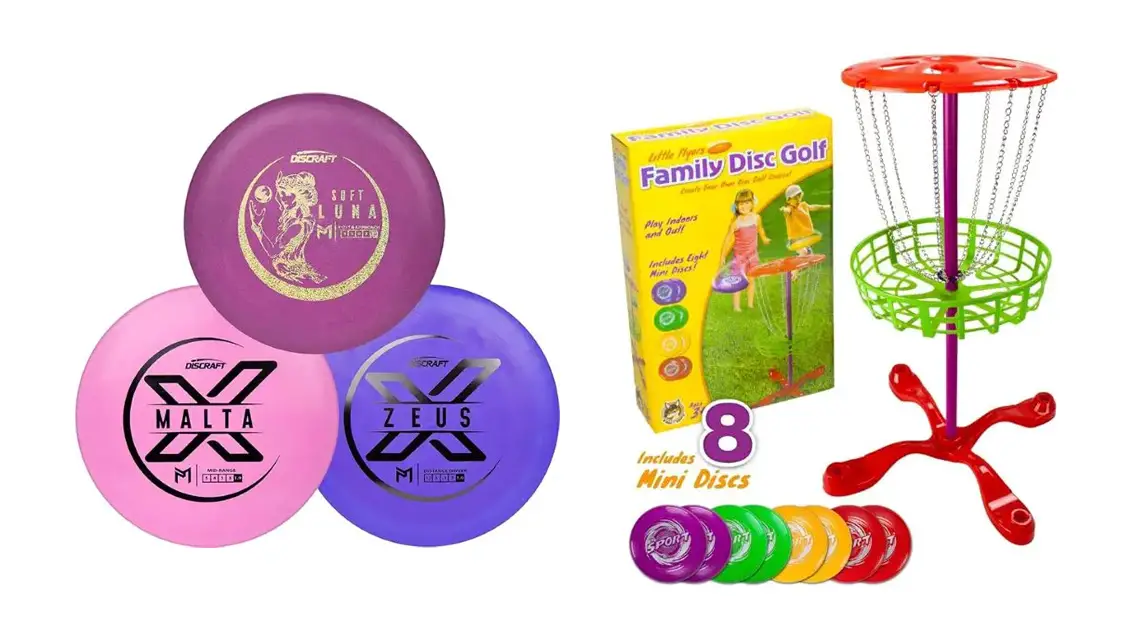 Dipping your toe into the world of disc golf is easier than you might think. To become a disc golfer, all you need is a few discs and access to a disc golf course (or your own backyard targets). Whether you're a complete beginner or you've been playing for years, it's important to have the right disc golf set to meet your needs.
Find the best disc golf set for hitting the target
Disc golf sets for every skill level
Disc golf sets often cater to specific levels of experience within the sport. You can also find sets to suit your budget or specific needs, like portable baskets for backyard practice or glow-in-the-dark discs for evening matches.
Best beginner disc golf set: Dynamic Discs Prime Burst Disc Golf Starter Kit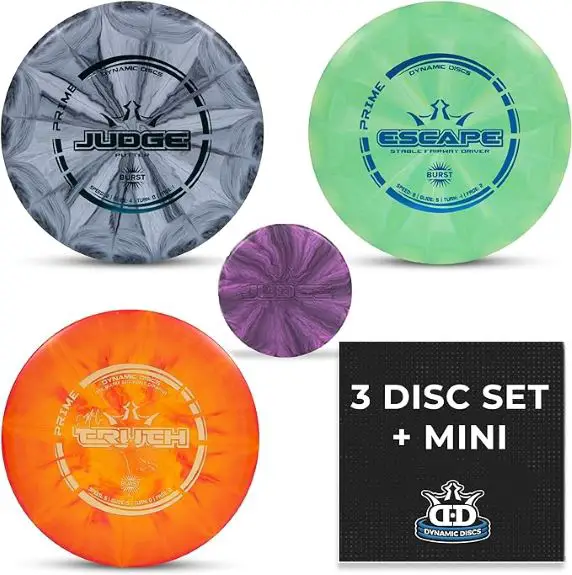 Includes 3 discs

PDGA-approved
This Dynamic Discs set is a best-seller among new disc golfers. It includes the three must-have discs for a beginner's starter pack, including a driver that flies straight even at low speeds for easier control. Made from high-end plastic with an excellent grip, these discs are all PDGA-approved. Plus, the set comes with a bonus mini disc to mark your lie on the fairway.
Best disc golf set for intermediate players: Discraft Paul McBeth Disc Golf Set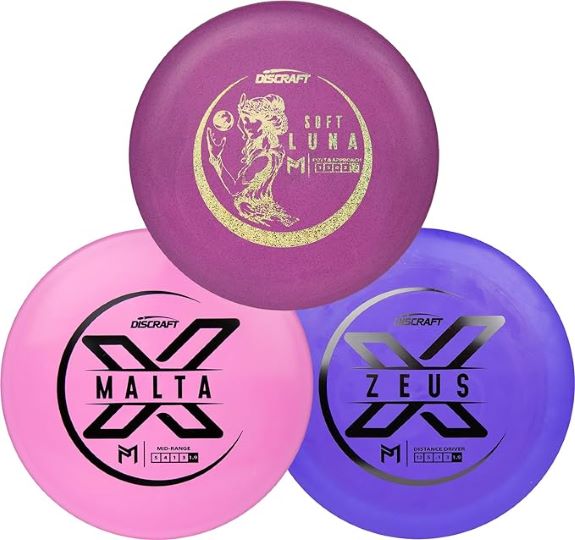 Includes 3 discs

Designed with world champion Paul McBeth
When you're ready to level up your abilities on the disc golf course, consider upgrading to the Discraft Paul McBeth Disc Golf Set. This three-pack comes with Discraft's Soft Luna putt and approach disc, Malta mid-range disc and Zeus distance driver. Each of the discs in the set was co-designed with Paul McBeth, a six-time winner at the PDGA World Championships. These discs require slightly more control without being too difficult for intermediate players to handle.
Best disc golf set for advanced players: Discmania Active Mega Distance Disc Golf Set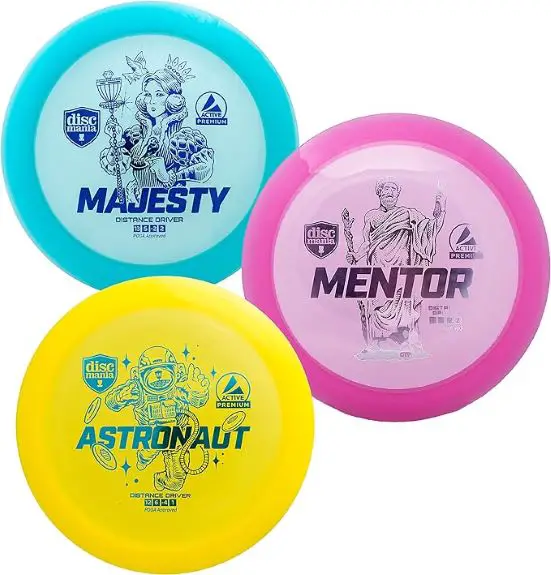 Includes 3 discs

Features Discmania's premium plastic
Experienced players may feel limited by traditional disc golf drivers. The Discmania Active Mega Distance Disc Golf Set allows for faster speeds and greater distances. Each of the included distance drivers is crafted from Active Premium plastic, a translucent and highly durable plastic. Discmania uses this material for overstable discs intended for advanced players. You'll need a strong arm and good form to get these discs to fly the way you want, but the distance payoff is worth it.
Best disc golf set for kids: K-Roo Sports Little Flyers Family Disc Golf and Target Set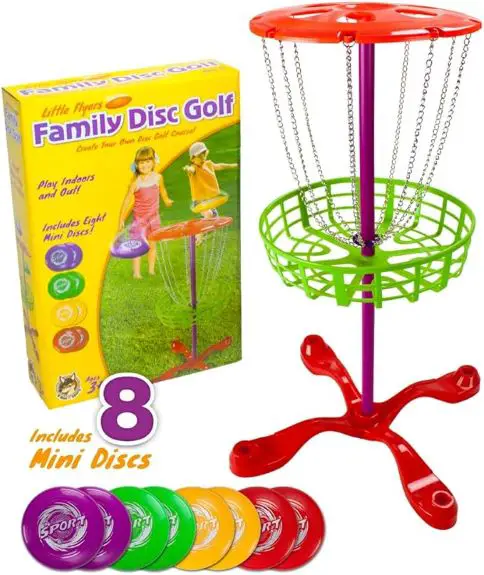 Includes 8 mini discs and a 25-inch basket

Suitable for indoor and outdoor use
Provide a safe and fun way for little ones to try their hand at disc golf with this junior starter set from K-Roo Sports. Designed for ages 3 and up, the set features lightweight, kid-sized discs that are easy for small hands to grasp and throw. There are four pairs of discs so up to four players or teams can compete at once. Plus, the set includes a 25-inch-tall basket that's easy to set up in minutes.
Best affordable disc golf set: Axiom Discs R2 Disc Golf Starter Set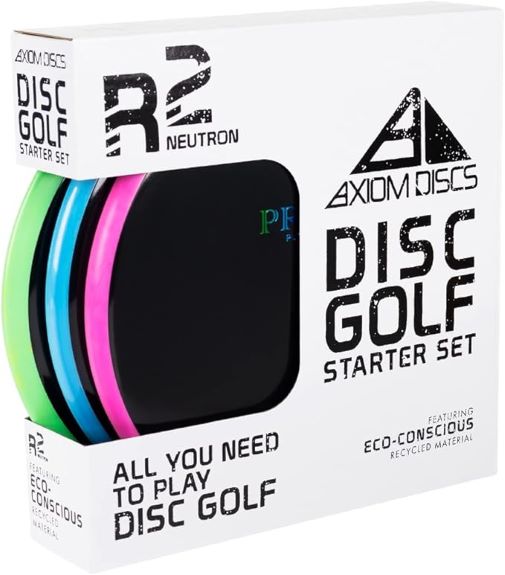 Includes 3 discs

Made with recycled materials
This Axiom set is a great option if you're on a budget. It provides all the essential discs for a beginner: a driver, a mid-range disc and a putter. Each of the discs is PDGA-approved, and they're crafted using recycled materials for a more sustainable design.
If you're looking for even lower prices on gear, consider checking out misprints from disc golf brands. You can often get deep discounts on discs with minor aesthetic flaws.
Best premium disc golf set: Viking Discs Competition Disc Golf Set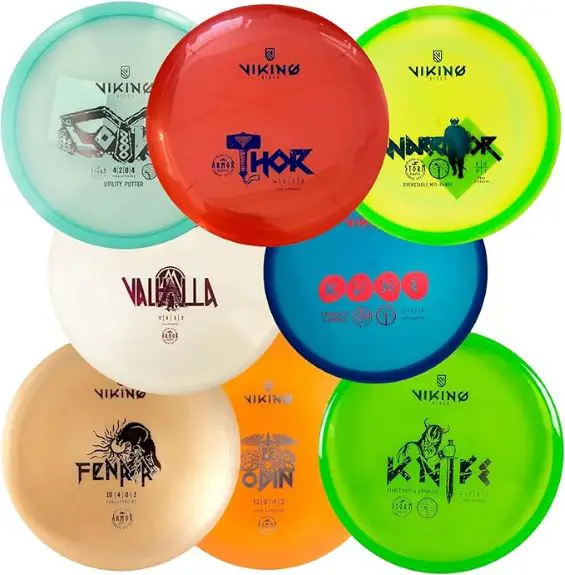 Includes 8 discs

Competition set made from high-quality plastics
Viking Discs is an excellent resource for top-of-the-line gear, and this competition disc golf set is no exception. The discs are made using Viking Discs Storm and Armor plastics, which offer excellent glide and long-lasting durability. With eight different discs to choose from, there's a fit for all types of situations and conditions on the course. This disc golf set is backed by a two-year warranty and is PDGA-approved.
Best disc golf set with portable basket: SGSPORT Disc Golf Basket with Discs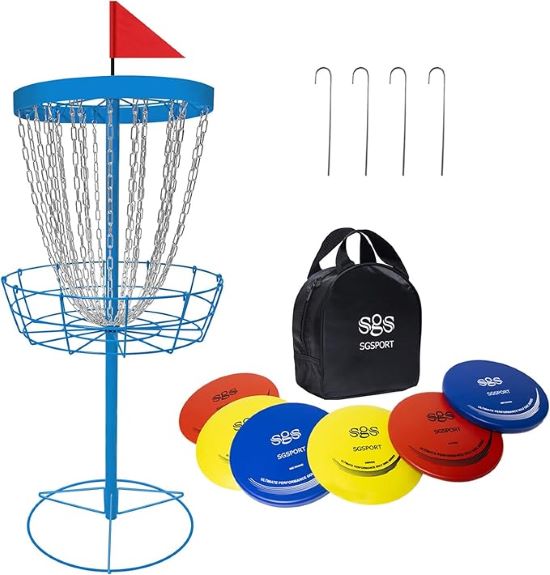 Includes 6 discs, a full-size target and a carry bag

Easy to assemble with no tools necessary
Enjoy playing in your backyard or a nearby park with this SGSPORT disc golf set. When you don't want to travel to a disc golf course, this set is an excellent alternative. It comes with six discs (two putters, two mid-range discs and two drivers) as well as a carry bag to tote them around. The sturdy and portable disc golf basket has a solid support pole, a powder-coated steel frame and zinc galvanized chains, so it can withstand harsh weather conditions. The target only takes a few minutes to put together and requires no tools for assembly.
Best glow-in-the-dark disc golf set: Divergent Discs Glow-in-the-Dark Disc Golf Set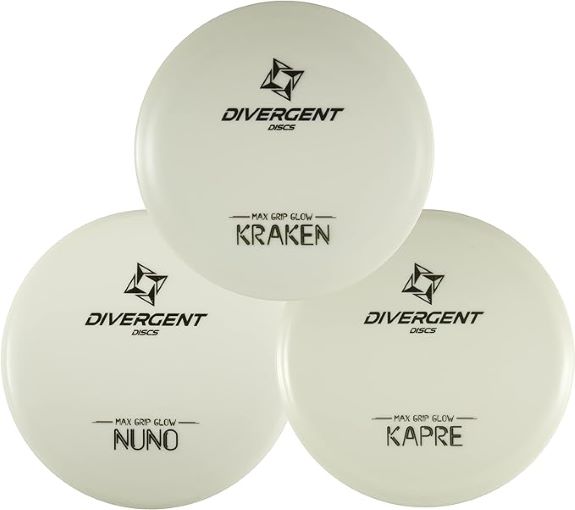 Includes 3 discs

Easy to charge with a UV flashlight
Enjoy nighttime matches with this glow-in-the-dark Divergent Discs set. You'll get three premium discs (a driver, mid-range disc and putter) made with max grip plastic that offers excellent durability. The PDGA-approved discs need to be exposed to a flashlight to activate their glow so you can find them in the dark. For a long-lasting, extra-bright glow, charge your discs with a UV flashlight instead of a regular flashlight.
Best disc golf set for fun disc designs: Discraft ESP Buzzz Custom Supercolor Disc Golf Discs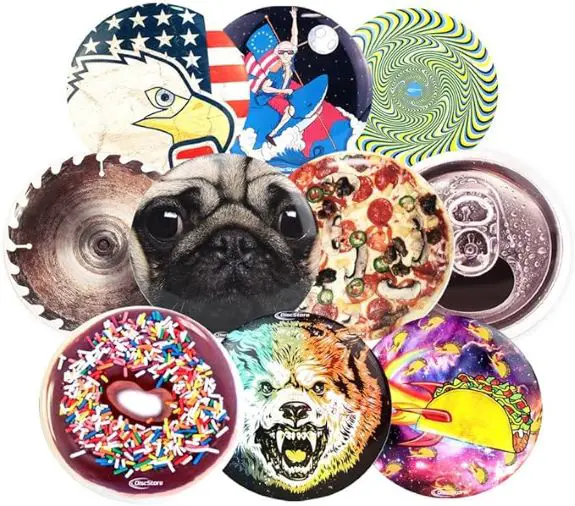 Select your discs to create a custom set

Choose from a range of unique disc prints
Add a little extra fun and personality to your disc golf matches with these Discraft Buzzz Supercolor discs. These mid-range discs feature a variety of modern, retro and realistic images that are sure to bring a smile to everyone's face on the course. Choose from an assortment of whimsical disc golf disc designs, including a pizza or a doughnut, to create an eye-catching set.
Best disc golf set with bag: Innova Discs Golf Starter Set with Bag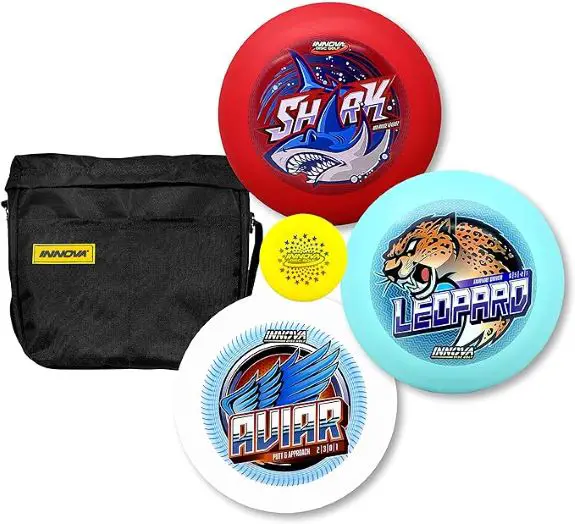 Includes 3 discs, a mini marker and a carry bag

Bag features extra pockets for phone, keys, etc.
Make it easy to carry all the essentials onto the course with this convenient Innova disc golf set. It comes with three high-quality Innova DX discs made with premium plastic to provide superior grip as well as a mini marker to mark your place on the course. Use the included shoulder bag to carry up to 10 discs in the main compartment. Additional exterior pockets are perfect for other accessories, such as a phone, wallet or set of keys.
Note: If the smaller Innova shoulder bag isn't sufficient for your needs, we recommend upgrading to the Prodigy Disc Apex XL Backpack. It's easily one of the best disc golf bags on the market and includes a number of convenient features, including space for up to 34 discs and an insulated cooler pocket.
Best disc golf training set: GOOSO Disc Golf Starter Set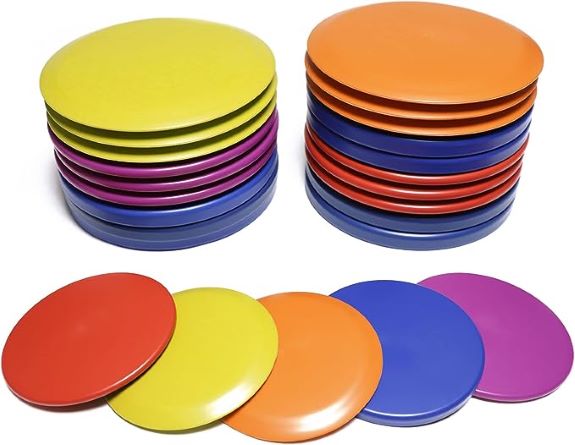 Includes 24 discs

Disc types are categorized by color
The GOOSO disc golf starter set is ideal for training at home or on the course. With 24 discs, it allows you to simply practice your shots without having to retrieve your disc every time. You'll get a variety of different disc types (eight putters, eight mid-range discs and eight drivers), each of which is easy to note by its color. These PDGA-approved discs are made with flexible, durable plastic so they can hold up to frequent throwing practice.
If you want to be the MVP on the disc golf course, gear up with one of these sets. Make sure to choose disc golf equipment that's geared to your skill level, your needs and your budget.
What do you need to play disc golf?
Disc golf is a relatively simple sport when it comes to gear. There are only two key pieces of equipment that you need:
Flying discs:

When comparing disc golf to traditional golf, the flying discs are like the golf ball and the golf club in one. Different types of discs are used depending on what kinds of throws you want to make. The goal with each throw is to get your disc as close to the basket as possible.

Targets:

The target is like the hole on a putting green. You want to get your flying disc to the target with as few throws as possible. Most disc golf courses feature baskets as targets. These baskets feature a tall pole with hanging chains and a tray underneath. This setup helps to secure the disc in place when it reaches the target.
There are other accessories which can be used in disc golf but aren't necessary to play. For example, you can use a disc golf bag to carry your discs or set down mini markers to note the positions of various players on the course.
How many golf discs are needed to start disc golf?
There are three main types of disc golf discs which you'll need to participate in this sport:
Driver:

Best for long-distance throws to get the disc far down the course

Mid-range disc:

Best for accuracy and control on medium-distance throws

Putter:

Best for the short-range shots to get the disc in the basket
There are some additional variations of these disc types which intermediate and advanced players may want to add to their collection of gear. For example, there are distance drivers (for maximum distance off the tee) and fairway drivers (for long distances but with more control). Additionally, approach discs are like a hybrid between a mid-range disc and a putter (though some putters are designed as "putt & approach" discs to fulfill both needs).
Understable vs. overstable discs
Disc golf discs are sometimes categorized as understable or overstable. Generally, understable discs are better for beginners, those who don't throw with a lot of power and throwing into a tailwind. With a traditional right-handed backhand throw, an understable disc will turn right during its flight.
Overstable discs are better for experienced disc golfers, those who throw with a lot of power and throwing into a headwind. With a traditional right-handed backhand throw, an overstable disc will turn left during its flight.
Can I use a regular Frisbee for disc golf?
It's best to buy new discs which are specifically designed for disc golf. There are significant differences between golf discs and Frisbees. For example, they're typically made using smaller injection molds and some are heavier than a Frisbee.
Frisbees can technically be used for disc golf, but they're not as efficient in reaching the targets. For the best results, choose discs which have been approved by the Professional Disc Golf Association (PDGA).
What is the difference between a disc golf set and a regular golf set?
A regular golf set comes with different clubs, while a disc golf set consists of various discs. There are similar names used for golf clubs and golf discs, like driver and putter, which indicate how these different pieces of equipment are used on the course. However, the number of discs in a disc golf set is usually lower than the number of clubs in a regular golf set.
How to choose disc golf discs for beginners
A beginner set for disc golf should contain the following discs: a driver, a mid-range disc and a putter. Look for stable or understable discs marketed for beginners to get simple, easy-to-use equipment. You can find beginner sets through online retailers like Amazon, specialty sites like Infinite Discs and classic sporting goods stores.
How many discs should a beginner have?
A disc golf starter set should have three discs: a driver, a mid-range disc and a putter. As a player's skills advance, they may want to add more discs to their collection of gear. However, these three discs are best for simplifying the elements of the game for beginners.
Disc golf FAQs
Is disc golf an expensive sport?
Disc golf is a relatively cheap sport. You can get a starter set of discs for under $30, and many courses are free to play or have low fees.
What age is disc golf for?
Disc golf is an all-ages sport. Toddlers and young children, however, typically play using child-sized sets. Disc golf courses are more challenging, and kids under age 18 may need an adult present to play depending on the course rules.
How many holes are in disc golf?
As in regular golf, the typical length for a disc golf course is either nine or 18 holes.
What is the disc golf target?
The disc golf target is typically a basket with a chained area to help capture the discs. This is like the hole in regular golf in that players aim to get the disc into the basket in as few throws as possible.
When traditional disc golf baskets aren't available, players can improvise by designating certain objects in the surrounding environment (like trees, for example) as targets.
Last update on 2023-12-01 / Affiliate links / Images from Amazon Product Advertising API