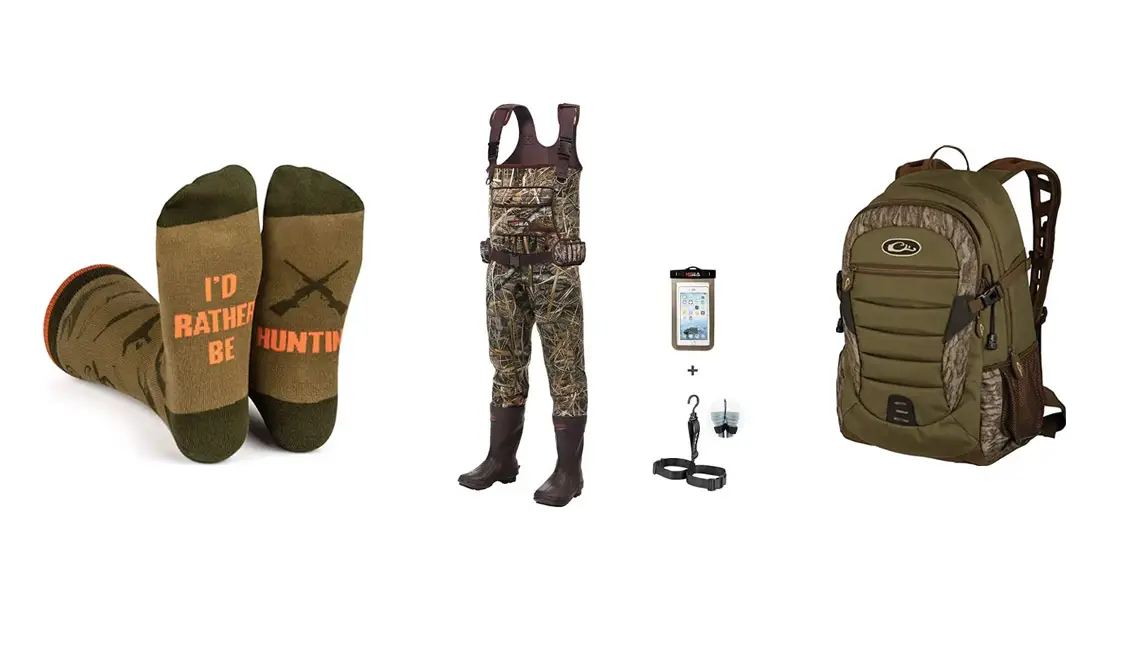 Are you looking for the best gift ideas for the waterfowl hunter in your family? These Father's Day duck hunting gifts will ensure that Dad has the best hunting season ever.
How to choose the best gifts for duck hunters
With so many fantastic duck hunting gifts available on Amazon, finding just the right one can be tough. Hunters can be picky about their equipment, so consider if there is any hunting gear your dad mentions he needs or that you've noticed wearing out. Otherwise, be sure to choose from trusted brands to guarantee that what you're buying is built to last.
Apparel
Whether you want to get your dad waders, boots, or hunting T-shirts, the fit is the most important quality. If it's not comfortable, he can't use it out in the wilderness. While most hunting apparel comes in a wide range of sizes, these sizes can vary from brand to brand, so read reviews to find out of a product runs large or small.
Also, hunters must stay well-hidden from their prey. Choose camo materials that suit your local foliage so your dad can blend in seamlessly with his surroundings and get the perfect shot.
Weather conditions
Depending on your region, some products will make a better gift than others. If it's cold where your dad usually hunts, consider gifts like hand warmers, a thermos, or insulated outerwear. On the other hand, if it's warm and muggy, moisture-wicking and breathable materials are essential as well as sun protection.
No matter the temperature, duck hunters spend a lot of their time wet. So be sure to buy watertight or fast-drying products to prevent mold or mildew growth.
1. Carlson's Waterfowl Choke Tube Set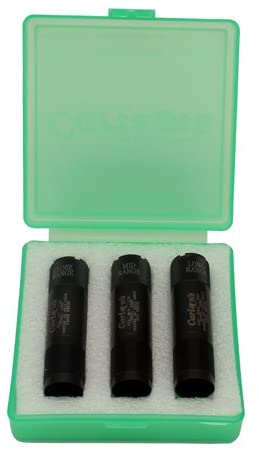 Every serious duck hunting enthusiast needs waterfowl choke tubes, and this premium choke tube set from Carlson's is precisely the one Dad wants. These delta waterfowl chokes shoot great patterns for duck hunting, with close-range, mid-range, and long-range choke tubes all packaged in a convenient case. Each choke tube even has a knurled end for easy removal.
2. Drake Mossy Oak Waterfowl Hunting Outdoor Backpack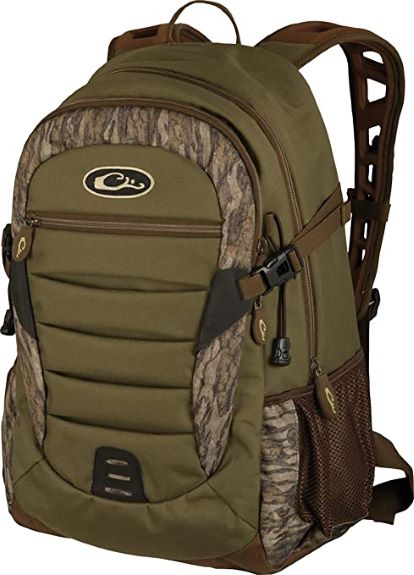 Nothing is worse than duck hunting all day with no way to store all your belongings. This spacious waterfowl hunting day pack would make the perfect gift for Dad or Grandpa. With a spacious yet compact design, he can fit everything he needs for the day in this rugged pack. There's no risk of being spotted with a camo and olive outer, plus it has a hydration pouch pocket and two side mesh pockets. The EVA shoulder straps, chest straps, and waist straps make it easy to carry the pack long distances comfortably.
3. Duck Commander Jase Robertson Pro Series Duck Call

Duck calls always make great gift ideas for waterfowl hunters, and the Duck Commander Jase Robertson Pro sounds exactly like a mallard hen. This handmade duck call uses the Phil Robertson double reed for a wide range of vocalization, including a piercing sharp high end for open water and a soft raspy end for finishing. Made from beautiful tigerwood, this patented duck call makes it easy to hunt like a pro — and sound like a duck!
4. MOJO Outdoors Wind-Driven Mallard Duck Decoy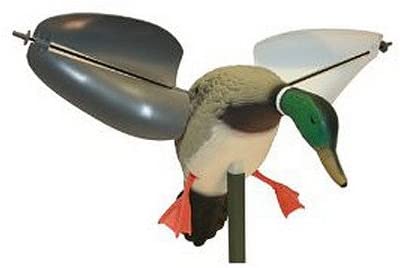 Is it a bird, or is it a plane? No, it's the MOJO wind-driven mallard decoy! This spinning wing decoy makes it easy to hunt anywhere, even where motorized decoys aren't allowed. Convincing enough to fool even the smartest greenheads, this high-quality duck hunting decoy is easy to use and lasts for years. Its smooth spinning wings rotate in wind as light as 5 mph, and it comes with a 4-ft mounting stake.
5. HotHands Hand Warmers 40 Pair Set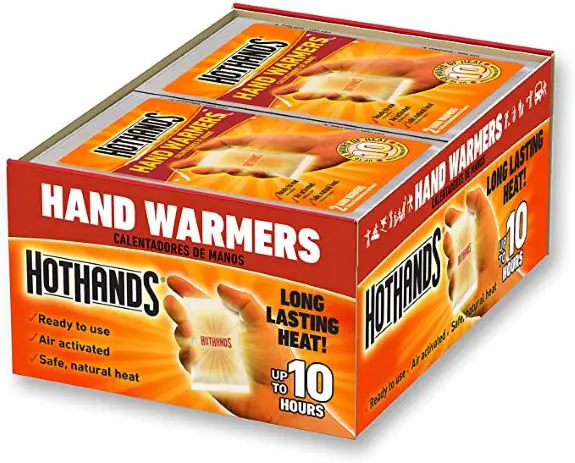 HotHands hand warmers are a must-have item for keeping everyone from duck to deer hunters warm on a long outing. Simply shake to activate and these bad boys provide 10 hours of warmth when you need it most. Additionally, each pair has an average temperature of 135 degrees Fahrenheit, so you're never cold. Made in the USA from ingredients that won't harm the environment, these multi-purpose warmers make the perfect Christmas stocking stuffer or Father's Day gift for the outdoorsy dad.
6. HISEA Neoprene Duck Hunting Waders for Men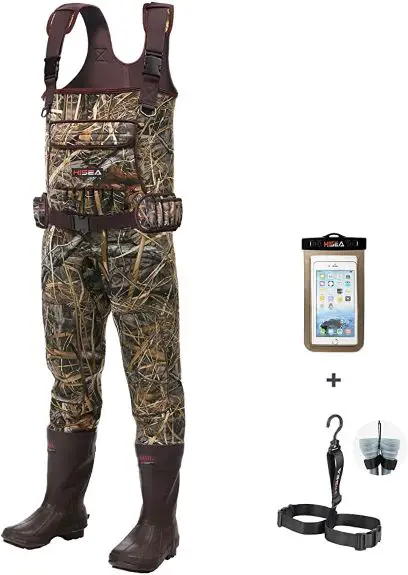 These chest waders are perfect for any active outdoorsman who needs waterproof protection they can count on. Made from 4.5mm neoprene, the waders are laminated with a nylon jersey stretch layer for warmth and comfort. The attached boots are lined with 3M Thinsulate Ultra for extra warmth and have cleated soles for superior traction. With features such as quick-release buckles, a handwarmer pocket, and reinforced knees, these are the only waders your dad needs this Father's Day. Plus, each chest wader from HISEA is turned inside out and filled with water to confirm water-tightness before shipping, so you can be sure Dad will stay dry on his next hunting trip.
7. Rig'Em Right Waterfowl Shell Shocker Blind Bag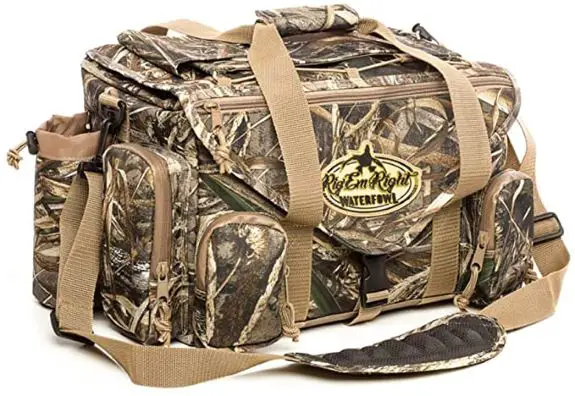 Dad can never have enough storage for his hunting gear and ammo. Measuring 12 x 8 x 8 inches, this Rig'Em Right blind bag has all the secure organization and pockets he needs, all in a compact duffel. With a built-in hard sunglass case, water bottle pocket, cell phone with a rainproof zipper, an internal ammo compartment, clear interior pockets, and more, this blind bag has been tested and approved by experienced waterfowlers. It has padded sides for maximum floatation and an adjustable shoulder strap so he can take it anywhere. Designed to keep you invisible, the Realtree Max5 Camo print mimics mud, water, bark, and shadows.
8. Midwest 330 Extreme Cold Decoy Gloves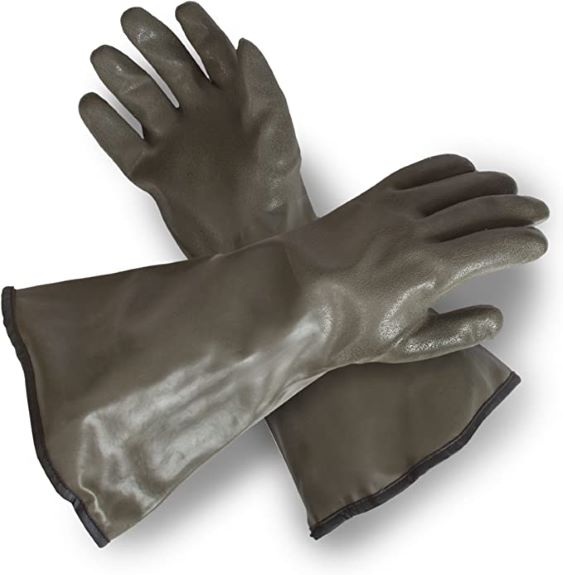 Nobody likes having cold hands, but it can be perilous when they're also wet! So this Father's Day, get Dad decoy gloves that are warm and waterproof, even in the harshest water conditions. The Midwest 330 Extreme Cold decoy gloves are made with a 100% PVC coating for a watertight fit and a 100% Thinsulate Insulation lining for maximum warmth. Their sandy finish provides a rough grip, and the long extended gauntlet is excellent for working with waterfowl. Plus, the brown color blends in wonderfully with the wilderness.
9. ALPS OutdoorZ Stealth Hunter Hunting Chair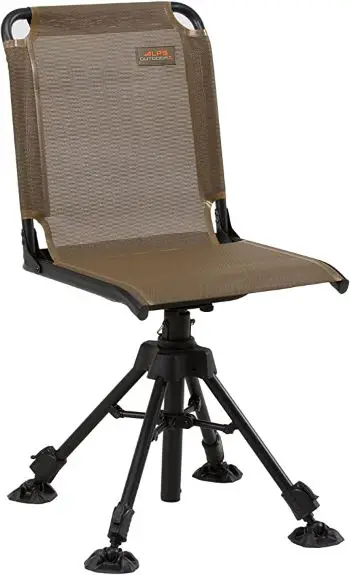 This Father's Day, let Dad take a load off even while he's duck or turkey hunting. The Stealth Hunter hunting chair from ALPS OutdoorZ has four sturdy steel legs with large footpads that keep the chair from sinking into the soft ground while staying silent. With a comfortable 360-degree rotating seat, your duck hunting dad or grandpa can keep spotting while sitting easily. It even folds up easily for conveniently transporting through the wilderness.
10. Avian-X Top Flight Duck Open Water Mallard Decoy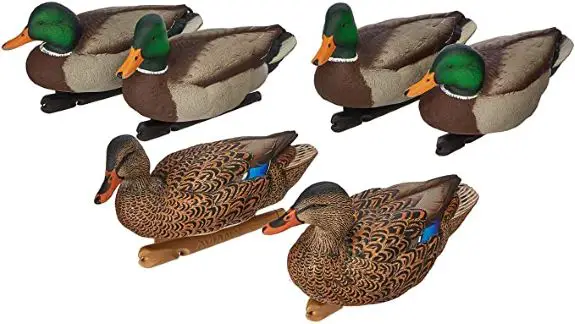 Look no further than the Avian-X Top Flight Open Water mallard for a decoy that will impress Dad and the ducks. This male and female duck combo set includes perfect replications of mature mallards. Each has four swimming postures and a weight-forward swim kneel for realistic movement. Made with rugged durability, the paint will never flake, so these decoys will maintain their realism for years to come. These are possibly the most realistic mallard decoys available and make excellent Father's Day or Christmas gifts for any duck hunter in your family.
11. DecoyPro Camo Balaclava Face Mask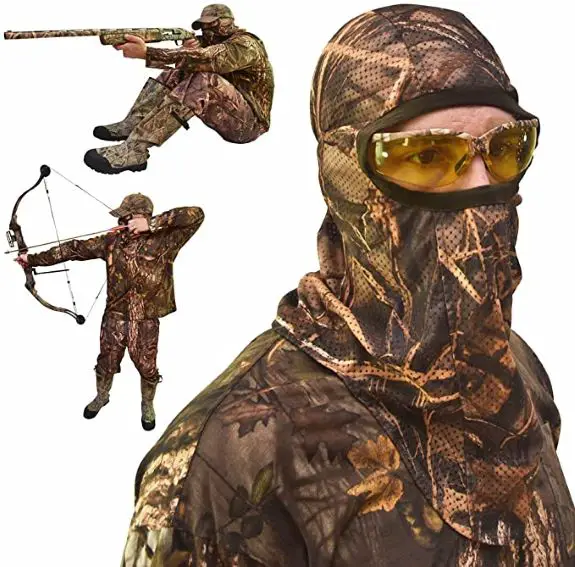 Now you see me — now you don't. The DecoyPro Camo Balaclava is an all-purpose full-face mask ideal for duck, pheasant, and turkey hunting. Made from a breathable, quick-dry material, this face mask has a natural camouflage pattern for going incognito in the wilderness. In addition, it has an extended neckline that ensures your neck is covered and protected from the sun. One size fits most, so this balaclava is an excellent gift for any dad or grandpa who loves to hunt.
12. Mossy Oak Men's Lightweight Camo Shirts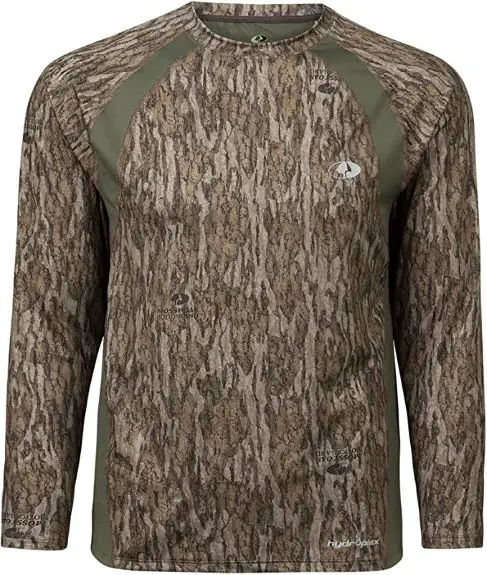 Keep Dad comfortable and camouflaged on his next duck hunting trip with this high-quality hunting shirt from Mossy Oak. Made from 88% polyester and 12% elastane, this camo T-shirt is super comfortable and has a mesh back panel for extra ventilation. It even features an inner lens cloth, so he never misses a shot because his glasses are smudged. Mechanically engineered for moisture-wicking and cooling properties, this hunting shirt provides up to 30% body temperature reduction — perfect for hot hunting days. It comes in six camo prints, so you can choose the one that best resembles where your dad usually hunts.
13. The Original Duck Duck Boom Long-Sleeve Hunting T-Shirt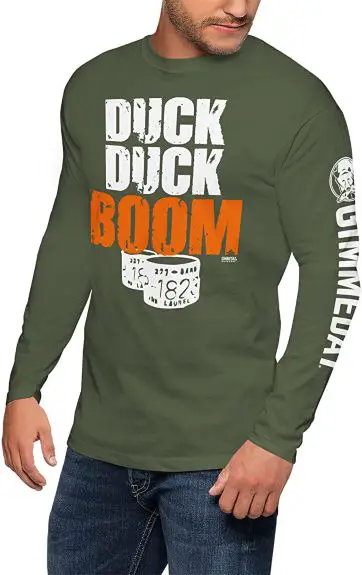 Duck, Duck, BOOM! A play on the popular children's game, this funny duck hunting T-shirt is the perfect Father's Day gift for any duck hunter with a sense of humor. Whether he wears it out in the wilderness to impress his hunting buddies or around the house, this long-sleeve T-shirt is made from high-quality cotton, so he'll be comfortable anywhere he goes. Available in men's sizes small to 3X, this shirt is a unique gift idea that's great for dads.
14. CamelBak Chute Stainless Steel Water Bottle

Impress Dad with a thermos water bottle that blends into nature as well as his hunting blind. Made from 18/8 stainless steel, the CamelBak Chute keeps drinks hot or cold for hours. It also features a universal CamelBak cap compatible with other models with a convenient carry loop that allows you to clip it onto your pack with a carabiner. While the color choice Real Tree Edge is ideal for hunters, there are dozens of other fun colors and styles for a Father's Day gift any dad would love.
15. Ducks Unlimited Men's Wool Blend Wader Socks

Keep your dad's toes warm and toasty with these awesome wader socks. Made specifically for duck hunting, these 100% wool socks are a full 26 inches long so that they can be pulled up and over your knees. They're comfortable for long hunting days in waders with full cushion and leg and arch support. Manufactured in the USA by Carolina Hosiery, these high-quality socks are warm beyond belief, making them also great for shoveling snow, fishing, and snowshoeing.
16. Highwild Duck Call Lanyard with Removable Drops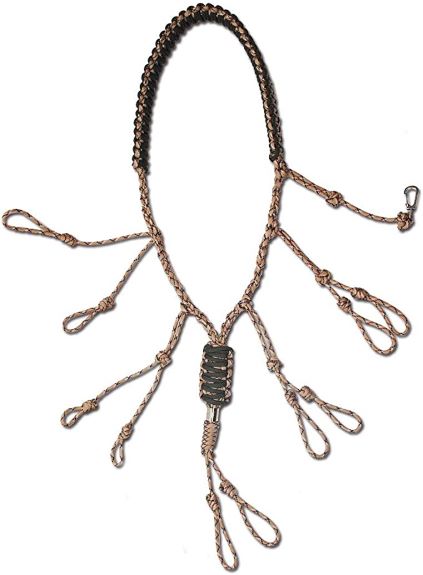 An excellent duck call is no use if it's lost at the bottom of your blind bag. That's why a high-quality duck call lanyard such as this one from Highwild makes such a great gift. Made from braided 550 paracord, this military-grade duck call lanyard holds five calls and one dog whistle, so Dad is always prepared. Field tested and duck hunter approved, these large lanyards are durable, easy to clean, and incredibly convenient.
17. ALPS OutdoorZ Zero-Gravity Layout Blind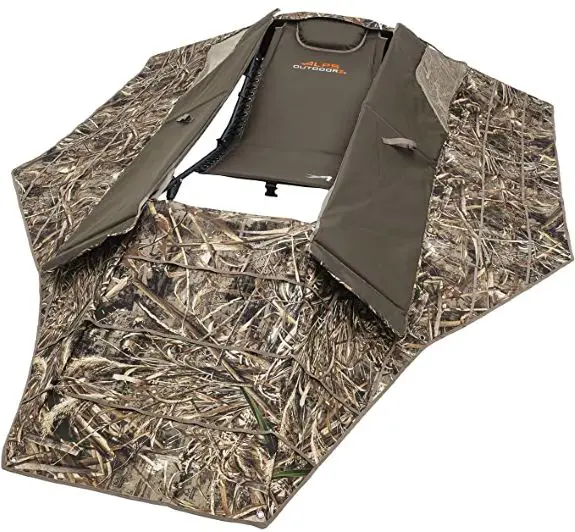 This Father's Day, give dad the best gift ever with this zero gravity layout blind from ALPS OutdoorZ. This layout blind is low profile and fully camouflaged, so Dad can go incognito from his prey, yet it features a zero gravity chair that keeps him off the ground. No assembly is required — this layout bling folds up into a small backpack for easy transportation. Flared sides and stubble straps create natural concealment outdoors. This zero-gravity blind is incredibly comfortable and has added storage for all of his gear.
18. Avery 18' Decoy Retriever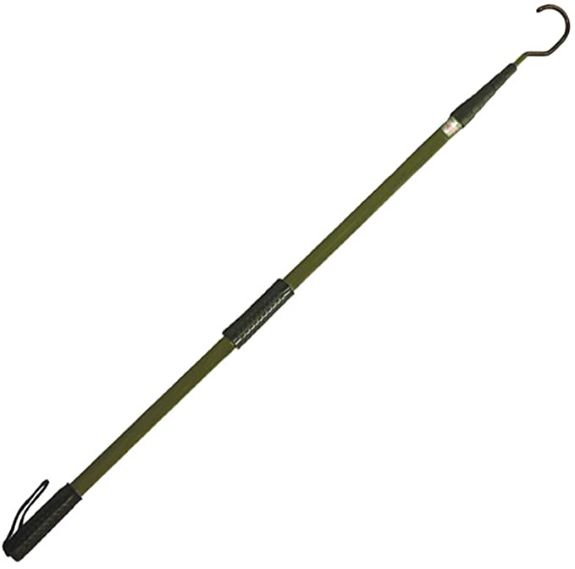 No dog, no problem! Make cleaning up decoys a breeze with the Avery 18-ft decoy retriever. This telescoping pole is made from high-quality aluminum with a clever hook end for grabbing hard-to-reach decoys. It has a padded handle for superior grip and a twist-lock tightening system which stays secure when in use. It's the next best thing to getting Dad a puppy for Father's Day, and unlike a dog, it fits into any blind bag.
19. YETI Daytrip Packable Lunch Bag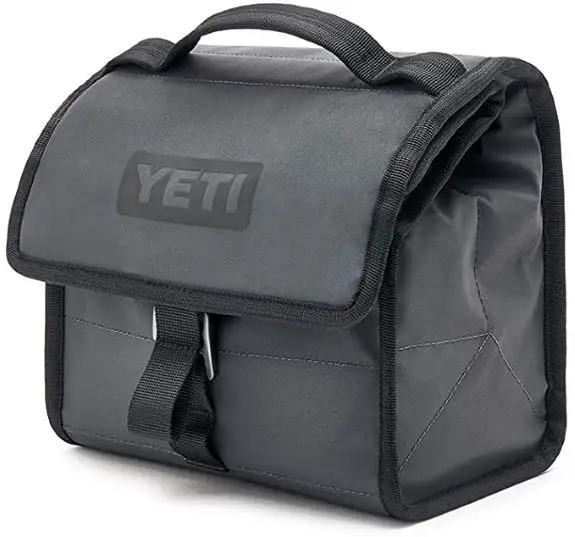 There will be no more soggy sandwiches or warm drinks for Dad on his duck hunting trips. The YETI day trip lunch bag uses cold cell flex insulation to provide excellent temperature control while allowing the bag to fold up small when not in use. Made from high-quality food-safe materials, he can even adjust the size of the lunch bag by sliding the closing hook through one of the side loops. This 8.75 x 5.75 x 8.75-inch lunch bag has a thermo-snap closure for guaranteed all-around insulation.
20. Rig'Em Right Hunting Blind Console for Ammo and Drink Storage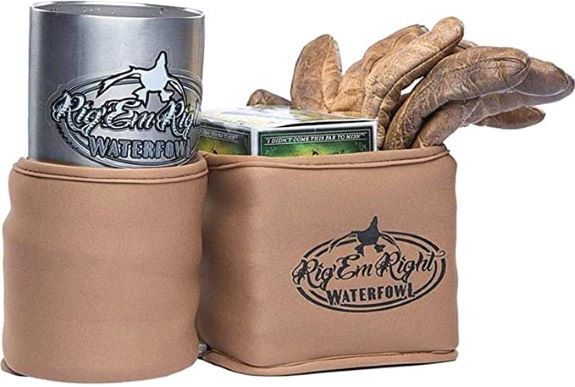 Take Dad's layout blind setup to the next level with the Rig'Em Right blind console. This two-pocket console snaps into any layout blind and is specially designed with a cup holder and an ammo pocket. With an ergonomic fold-flat design, he never needs to take it out of his blind, as it will compress when the blind is folded and bounce back when it's set up again. Made from 5mm neoprene, it holds up to heavy use, so his drink and essentials are never out of reach.
21. First Aid and Survival 35-in-1 Kit for Camping, Hunting, and Fishing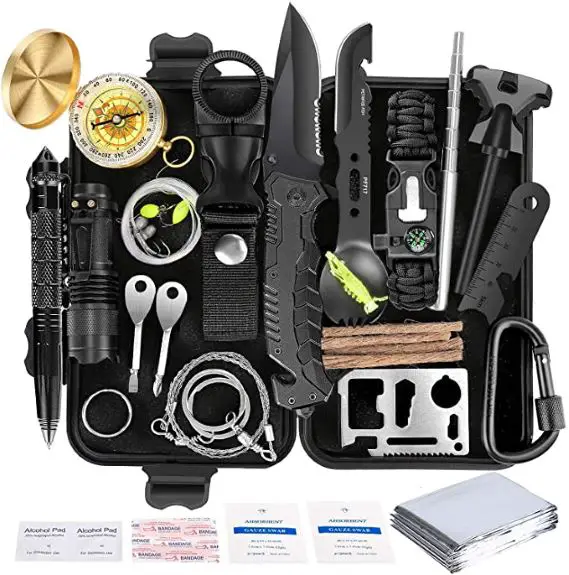 As every good outdoorsman knows, you have to come prepared whenever you're in the wilderness. So give your dad the tools he needs to survive this Father's Day. With 35 life-saving tools in a 6.6 x 4.3 x 1.9-inch package, this first aid and survival kit is convenient for any duck hunting adventure. Including a compass, survival multi-tool, paracord survival bracelet, flashlight, fire starter, and much more, a kit like this is always good to have on hand.
22. Walker's Razor Slim Electronic Muff
Hunting is loud, and hearing damage can happen quickly, so protect your dad's hearing with only the best electronic muffs from Walker's. Walker's Razor Slim Muff is a low-profile muff that doesn't compromise hearing protection. Specifically designed in the USA for all-day shooting, these muffs have a comfort-fit headband that makes them easy to wear for long periods. Using a sound-activated compression circuit, these electronic muffs compress sound into a safe decibel level you can control with volume control. So instead of blocking sound, they balance it.
23. Auscamotek 300D Durable Camo Netting for Duck Hunting Blinds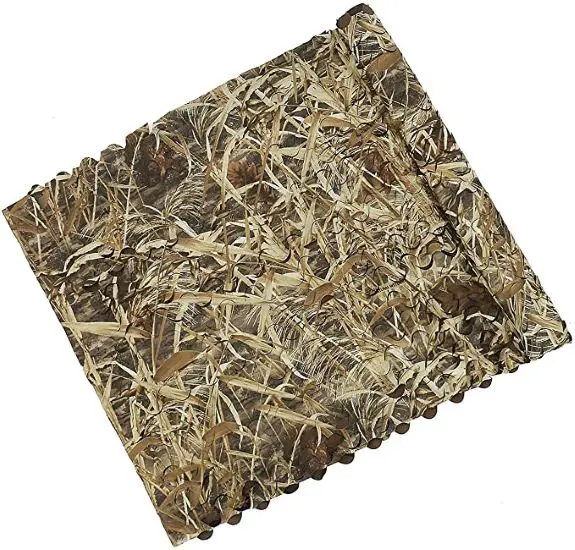 Is Dad a DIY hunter? Then he will love this camo duck blind netting. Made from 300D polyester oxford dry-reed grass printed fabric, this netting has no reflection for complete concealment, yet it's easy to maintain clear sight. It comes in a few sizes, starting at 5 x 10 feet, and can be cut to size or tied together for the perfect fit. Dad can use it to wrap tree stands, cover his kayak, or hang it up between some trees. No matter how he uses it, the ducks will never see him coming.
24. EDTREK Waterproof and Windproof Duck Hunting Beanie Hat
This waterfowl hunting hat is the beanie your dad never knew he needed. This reversible hat is warm and waterproof and keeps hunter's heads warm and dry, even in rain or snow. One side features the specially designed RT Max5 Waterfowl Camo pattern for the ultimate concealment in flooded timber, marshes, and open fields. In contrast, the black knit side has a neatly embroidered flying duck. Available in three sizes, you can choose one with a snug fit no matter what size head your dad has.
25. Hatchie Performance Back Seat Gun Sling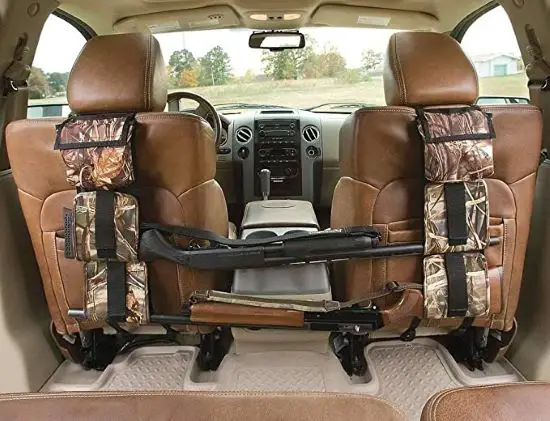 This backseat gun sling from Hatchie Bottom is the perfect gift for duck hunters on the go. Constructed from heavy-duty 3mm neoprene, it has two large cargo pockets for shells and all sorts of gear. The sling straps around the headrest and fastens to the bottom of the seat to securely hold two hunting rifles.
26. Duck Can Holder and Bottle Opener Set
Make Dad and all his hunting buddies laugh with this hilarious bottle opener and koozie set. This ducker hunting gift box has one blade style bottle opener and one drink koozie, both featuring the phrase "If it flies, it dies!" The koozie is made from quality foam to keep drinks colder longer, while the bottle opener is easy to use and durable. Both have a hunter-friendly camo pattern and come in an easily giftable box.
27. I'd Rather Be Hunting Novelty Socks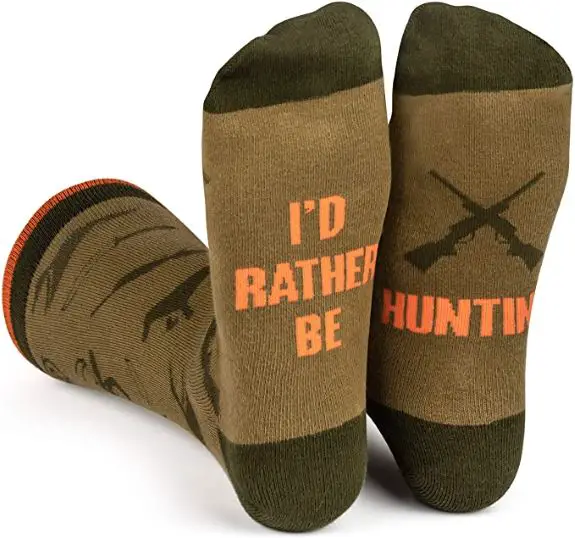 Help your dad remind everyone what he would rather be doing with these great novelty socks from Lavley. With the phrase "I'd rather be hunting" printed on the bottom, any time he puts his feet up is an opportunity for a laugh. The socks also feature a fun pattern of deer, ducks, dogs, crosshairs, rifles, and hunting knives on a drab green and safety orange background. One size fits most men's feet sizes 6-13.
From decoys to blinds, this gift guide has everything Dad needs to enjoy duck hunting season to the fullest. So this Father's Day, give the favorite father in your life a duck hunting gift he will love.