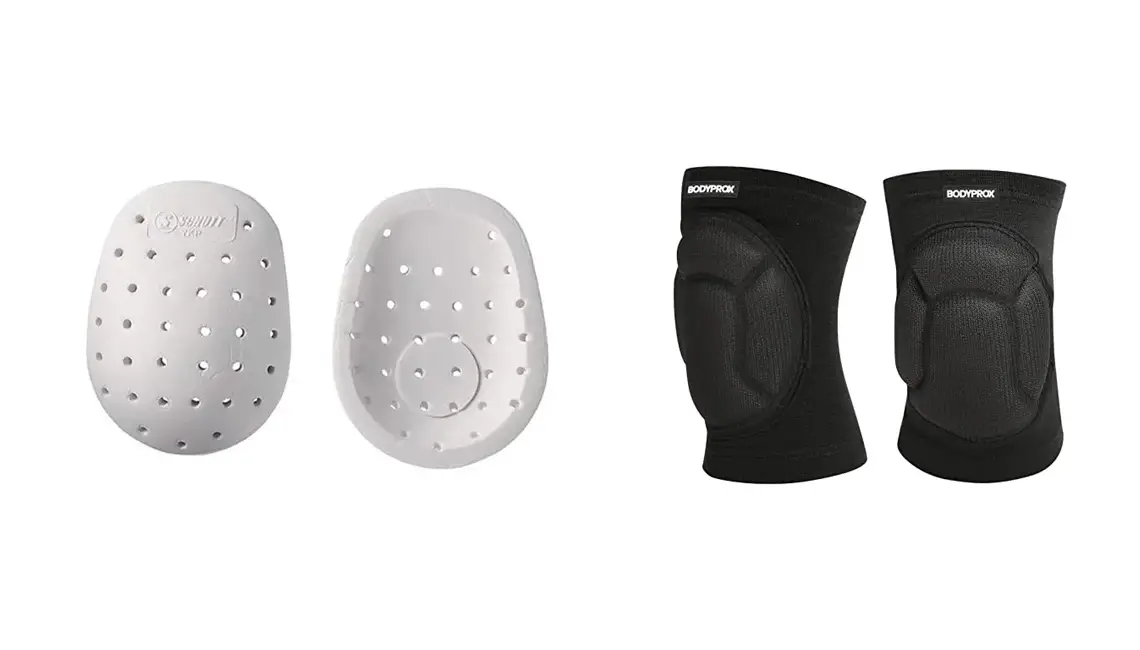 Did you know knee injuries are one of the most common types of injuries in football? Luckily, with a high-quality pair of football knee pads, you can protect yourself from injury and play your best for years to come. Learn more about football knee pads and find the best pair with this guide.
Find your football knee pads
How to choose football knee pads
Having the right protective gear is essential in full-contact sports like football. Whether you're a high school player, a college athlete, or an NFL enthusiast in a recreational league, it's important to find the right football gear to protect your knees.
Types of knee pads
There are several different types of knee pads typically worn by football players. The most common football knee pads are separate pads made from high-impact foam that slip into players' football girdles. These traditional pads can be vented or unvented for varying degrees of breathability and protection.
Today, many players opt for knee sleeves or integrated knee pads, both of which offer added mobility. Knee sleeves provide far less protection than traditional slip-in knee pads, but added compression assists with patella support. Knee pads can also be integrated into football pants along with hip, tail, and thigh pads.
Depending on what you're looking for in a pair of football knee pads, you may want traditional pads, knee sleeves, or football pants with integrated pads.
Protection
You want to ensure that your football knee pads offer enough protection to keep you safe while you play. Look for models with high-quality, impact-absorbing foam for the best overall protection.
Mobility
Football knee pads should help protect you from injury, not slow you down. Unnecessarily bulky pads can make it harder to move and run, so look for lower-profile pads made from lightweight, shock-absorbing materials.
Fit
Your football knee pads need to fit correctly to work effectively and not hinder movement. The pad itself should surround your kneecap with a snug yet comfortable fit. Many brands also have sizing charts you can use for reference.
Quality
Many brands offer football knee pads, but not all maintain the standards necessary for keeping you safe. By choosing protective gear from well-known and trusted sports retailers, you can have peace of mind that your knee pads will perform how you expect them to.
11 football knee pads for every player
Football knee pads are essential for every player on the field. With these great options, you can find a pair of high-quality knee pads that will protect your knees without sacrificing mobility.
1. Schutt VKP-SK Skill Position Knee Pad Set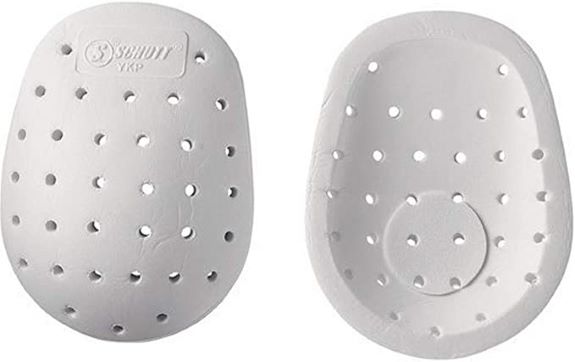 Best skill position football knee pads

Includes two knee pads

One size: 6.1" x 5" x 1.8"
If you're a skill position player looking for knee protection that won't impact your flexibility, Schutt VKP-SK knee pads may be right for you. These knee pads were designed with the varsity football player in mind and are vinyl dipped and air cushioned for comfortable yet complete protection. They also have a ventilated design for added breathability.
2. Champro Air Knee Pad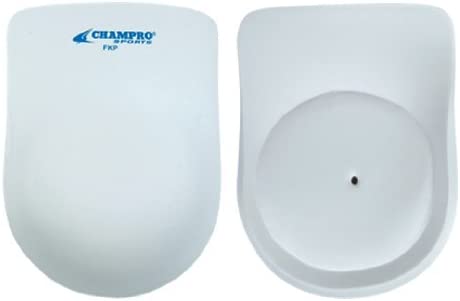 Best air football knee pads

Includes two knee pads

Two sizes: M & L
Complete your football equipment setup with Champro Air knee pads. These pads have air pockets for ultra-light cushioning against hard blows. They're contoured to fit most kneecaps and have a vinyl coating for added durability. They also can be inserted into traditional football pants, making them as easy to put on as your jersey.
3. Schutt Sports HD Football Knee Pads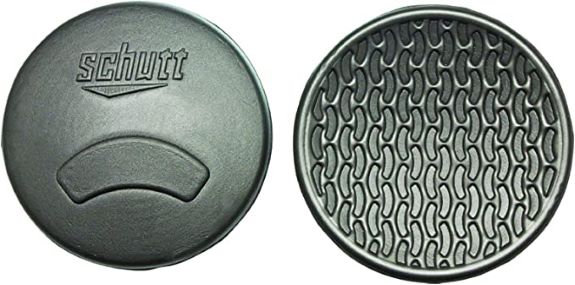 Best EVA football knee pads

Includes two knee pads

One size
Football players will love Schutt Sports HD football knee pads. These pads are made from durable high-density EVA foam to protect your patellas from hard hits. They also have quilted channels on the back of the pad which improve airflow to ensure a breathable and comfortable fit.
4. Douglas Football 4-Piece Thigh and Knee Pad Set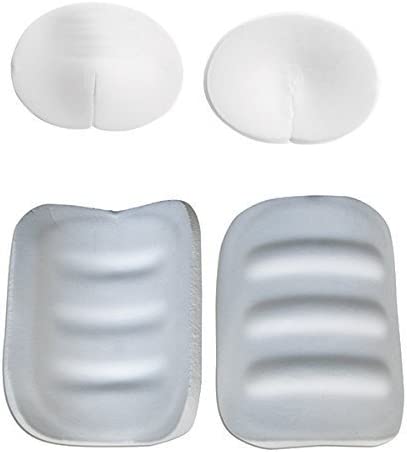 Best thigh and knee pad set

Includes two knee pads and two thigh pads

One size: 5" x 4" knee pads
Why stop at knee protection? This knee pad set from Douglas includes football thigh pads for staying even safer during the game. Both sets of pads are lightweight and made with vinyl double-dipped foam for added durability. The thigh pads measure 7 by 5 inches while the knee pads are 5 by 4 inches.
5. McDavid 6145 Football Knee Pad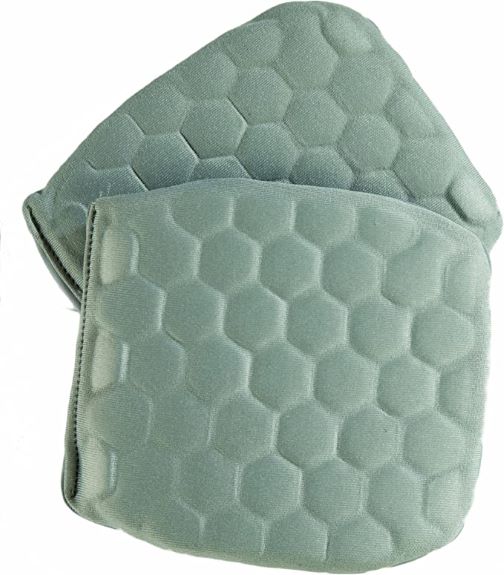 Best washable football knee pads

Includes two knee pads

One size: 3.9" x 3.9" x 1.8"
These lightweight McDavid 6145 football knee pads are ideal for youth football. With an innovative hex cushion design, the pads flex with your knees for plenty of mobility at football practice. In addition, they are machine washable and can be sewn into football and knee pockets for easy maintenance.
6. Schutt VKP Lightweight Varsity Football Knee Pads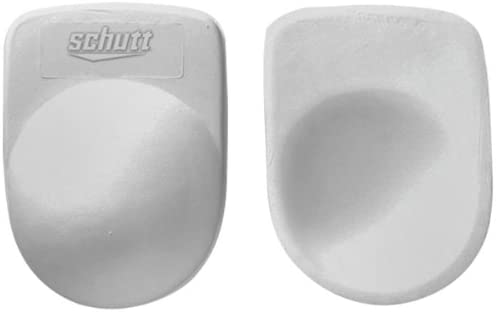 Best vinyl-dipped knee pads

Includes two knee pads

One size: 8.2" x 6" x 2.3"
If you're looking for a simple and effective set of football knee pads, these Schutt Varsity pads are an excellent choice. The vinyl-dipped knee pads offer plenty of impact protection while being lightweight and comfortable. They also have a slotted design, so they easily slide into football pants.
7. Adams KLF Low-Profile Football Knee Pads

Best low-profile football knee pads

Includes two knee pads

One size: 5" x 4"
Featuring all the protection you need without any bulk, the Adams KLF football knee pads are a great low-profile option. These protective knee pads are made from durable vinyl-dipped foam that measures 3/8 inches thick to absorb impact. They also slip easily into any standard pair of football pants.
8. BodyProX Protective Knee Pad Sleeves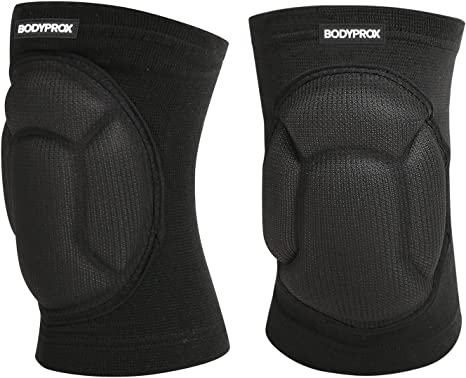 Best football knee sleeves

Includes two knee sleeves

Two sizes: S/M & L
The bestselling BodyProX knee pad sleeves are an excellent multi-sport knee-pad for football players looking for non-restrictive knee protection. These lightweight knee pads provide complete freedom of movement and include mild compression. The pads are made from high-density foam, and each pair consists of a left and right knee pad for ergonomic comfort.
9. Bucwild Sports Knee Pad Compression Sleeves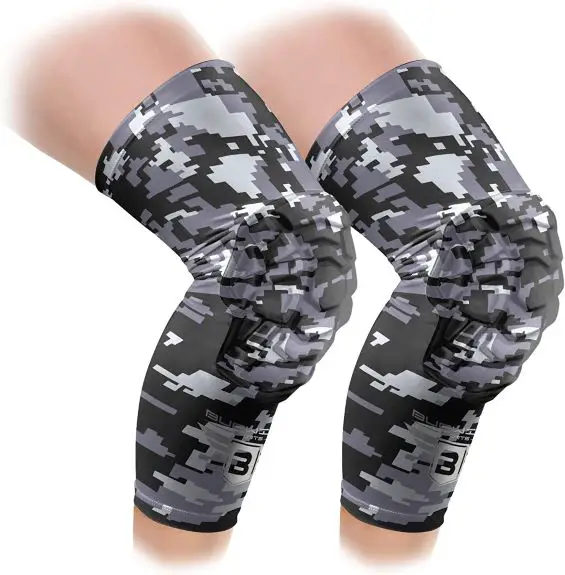 Best multi-sport knee sleeves for football

Includes two knee sleeves

Five sizes: XS, S, M, L, & XL
If you're looking for a protective knee sleeve for football, these Bucwild Sports knee pads are a great choice. They're made from 10mm high-density EVA foam to protect players' kneecaps and include added compression to improve circulation. Each sleeve features sweat-wicking breathable fabric for added comfort and comes in fun camo colors.
10. Cramer Thunder 7 Pad Football Girdle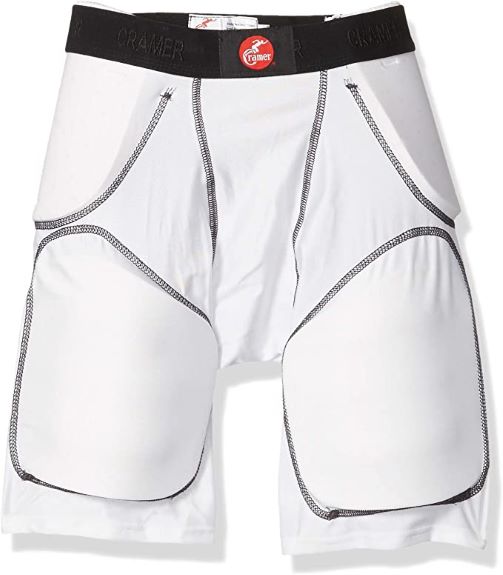 Best football girdle for knee protection

Includes one 7-pad football girdle

Three sizes: S, L, & 3X
This classic-style football girdle from Cramer combines compression fabric and closed-cell EVA foam padding for complete lower-body protection. The Cramer Thunder has hip, knee, tailbone, and thigh pads which are reinforced with high-impact interior plastic shells. The pants have a light elastic waistband and are made from nylon and spandex.
11. Under Armour Integrated Football Pants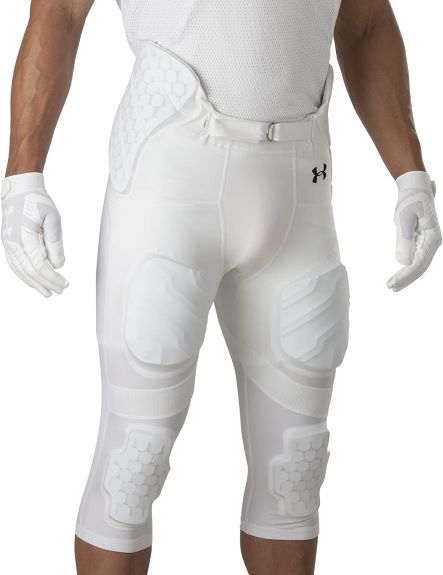 Best football pants for knee protection

Includes one pair of integrated football pants

Eight sizes: Youth S, M, L, & XL and adult S, M, L, & XL
These Under Armour integrated football pants offer the ultimate protection from sprains, dislocations, and other injuries. In addition, these football pants provide excellent lower body protection, featuring hard shell contours, thigh pads, and durable knee pads. They are also highly comfortable since they're made using moisture-wicking material with four-way stretch.
Whether you prefer classic slip-in knee pads or an updated option like knee sleeves or integrated football pants, it's important to use quality football knee pads to protect yourself from knee injuries.
Benefits of football knee pads
Football is incredibly physical, and wearing shock-absorbing football knee pads is essential for preventing injuries. Not only does wearing this protective gear improve confidence on the field, but doing so also ensures that players comply with league rules.
Prevent injuries
No football player is too tough to be immune to a knee injury. With high-quality knee pads, players can prevent pain and injuries such as:
Sprained knees

Torn cartilage

Patellofemoral pain or runner's knee
These injuries can lead to long-term complications that might require surgery or even take players out of the game for good.
Absorb shock
Your knees can withstand a lot, but repeated stress can cause pain and tears. Football knee pads are made from shock-absorbing foam, which reduces this impact. These pads also provide stability for keeping your joint correctly in place in a wide range of movements.
Improve confidence
Worrying about injuries can significantly impact athletic performance. A good pair of knee pads, along with other football protective gear, can help better assure players' confidence to perform at 100%.
Comply with league rules
Most football leagues require players to wear knee pads as part of their uniform from youth football to the NFL. By wearing knee pads, players can keep themselves safe while also avoiding penalties.
Football knee pads vs. knee pads for other sports
There are many different kinds of football knee pads. The more traditional slip-in pads are specially designed for football players to wear in designated pockets in their football pants or girdle. These knee pads are made exclusively for football.
However, classic football knee pads aren't the only option available to players today. Shock absorption technology has come a long way, and protective padding has gotten far less bulky over the years while still offering the same protection. Therefore, some multi-sport knee pads are also suitable for football.
For example, knee sleeves popular with softball players can also be worn in football, as can volleyball knee pads if they're durable enough.
Football knee pad FAQs
Learn more about football knee pads and how to wear them properly in the answers to these frequently asked questions.
What protective gear is used in football?
Most football players' protective equipment includes knee pads, hip pads, shoulder pads, a helmet, a mouthguard, gloves, and either a jockstrap or compression shorts. Elbow pads and sleeves are typically only worn by offensive linemen.
Are knee pads required in football?
Knee pads are required in nearly all levels of American football. In 2013, the NFL mandated the use of knee pads for all players in the league. Before 2013, knee pads were optional in the NFL, except from 1979 to 1994.
How do football knee pads attach?
Classic-style knee pads slip into football pants in the lowest slots. The rounded side should face down and the flatter side up to match the curvature of your leg. Knee sleeves and football pants with integrated pads are worn like regular clothing.
What is the difference between knee pads and knee braces?
Knee pads offer impact protection from hard hits, while knee braces stabilize your knee as you recover from an injury. Also, knee pads use shock-absorbing foam, while braces provide structured support with a more mechanical design.
Do football pads slow you down?
Yes, football pads do slow players down. However, the risks of not wearing adequate protective gear far outweigh this downside. Having a good fit and choosing a low-profile design can help you maintain your speed on the field.