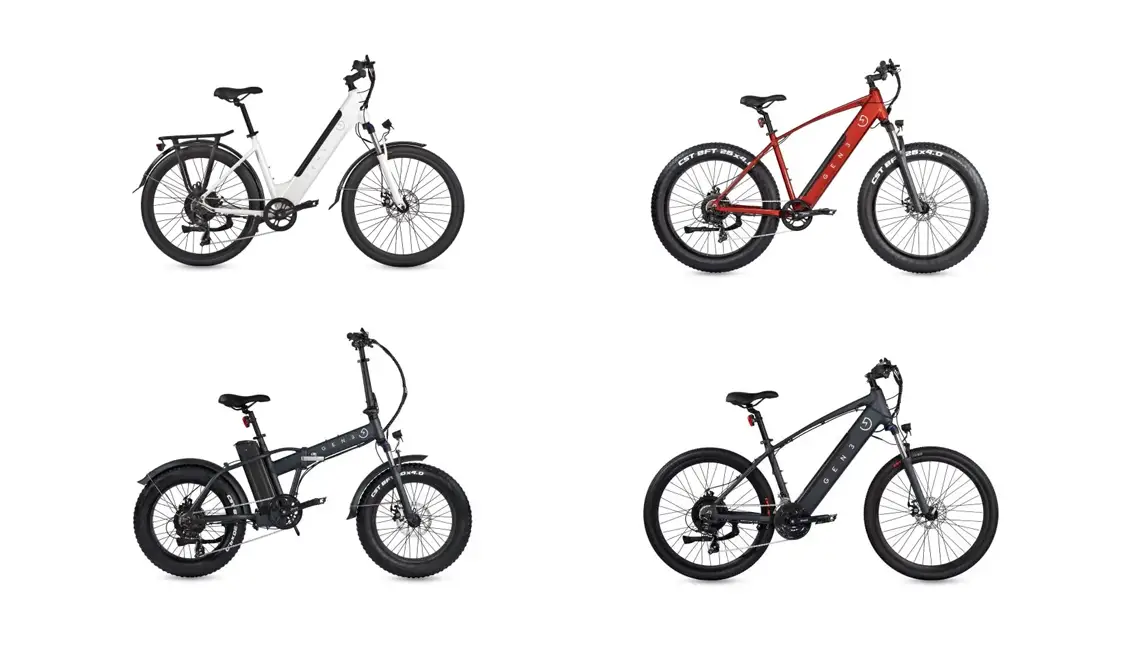 If you're looking for a new e-bike, look no further than GEN3's line of safe, reliable, and fun electric bicycles. Based in Bellevue, Washington, GEN3 believes in quality at every turn, so you can focus on enjoying the outdoors. Whether you want a more eco-friendly way to commute, love off-road mountain biking, or are looking for a more accessible workout, there's a GEN3 e-bike for you.
Find your GEN3 bike
There are several types of GEN3 e-bikes available, but to find the best fit for you, consider what type of activities you plan to use your bike for.
How to choose an electric bicycle
With so many new e-bike companies popping up, it can be hard to know which electric bike is right for you. Consider what you will be using your e-bike for and choose a trusted brand. You also want to compare the bikes' components, including their motors, batteries, and comfort features.
Purpose
Think about what type of rider you are. Do you want to ride your e-bike to work or on weekend adventures? Will you need to transport your e-bike often and need it to fold down to a smaller size?
For commuters, the best e-bikes have step-through frames and cargo options. Meanwhile, if you want to ride your bike up a mountain, you should look for all-terrain fat-tire e-bikes.
Safety
With all the power an e-bike battery offers, you want to choose a trusted brand that uses batteries that meet UL 2271 safety standards. This lithium battery safety standard for light electric vehicles minimizes the risk of battery malfunctions and is strictly followed by GEN3.
You also want an e-bike with anti-theft features. For example, lockable batteries and password-protected displays help prevent an unauthorized person from riding off with your bike.
Power
A powerful and reliable motor is a vital component of any e-bike. Look for a 500-watt rated motor (or higher) from an industry leader like Bafang for the best output. Also, the best e-bikes have both an adjustable pedal assist option and a throttle for power without pedaling. However, note that Class II e-bikes are legally capped at 20 miles per hour.
Battery
Nobody wants their battery to die halfway through a ride. So while a long battery life is undoubtedly an important feature, adequate battery indicators that warn you when your battery will die are just as essential. You also want the option to charge your e-bike with the battery attached or detached for the most flexibility.
With the GEN3 line of e-bikes, there are two ways to know how much battery you have left. The LED battery indicator shows what percentage of battery life you have left, while the control panel tells you how long your battery should last under current riding conditions.
Comfort and rideability
Consider all the additional components of an e-bike that impact your ride. From tires to suspension and everything in between, there's more to an e-bike than just a motor and a battery.
For example, a comfortable saddle will make a big difference if you ride for long periods, while a fork suspension will matter more if you often take your bike on bumpy trails. Think about what features you want to prioritize, depending on the type of rider you are, to find the best e-bike for you.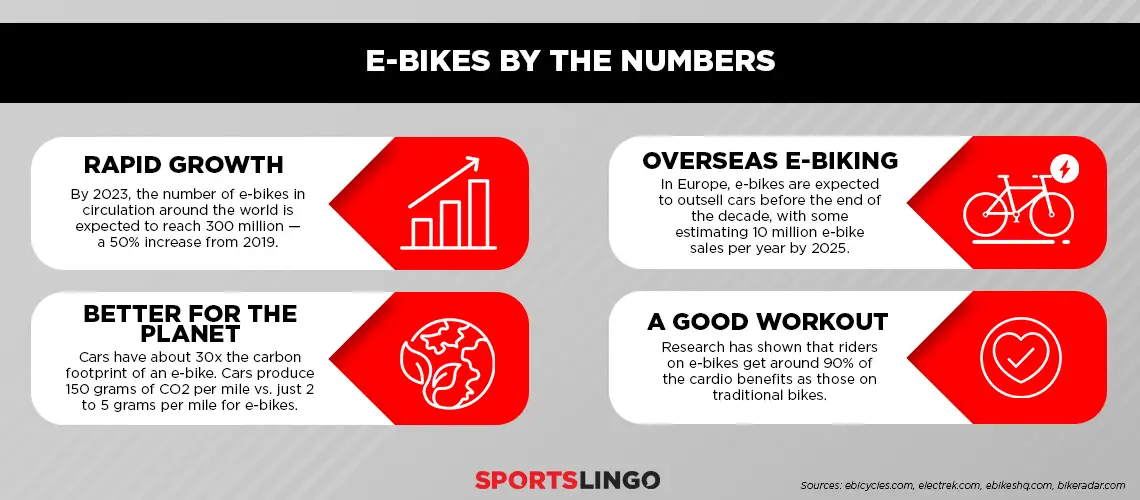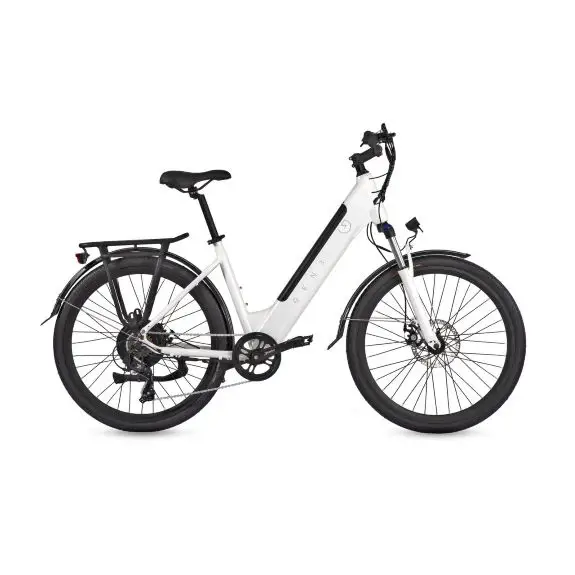 Best for commuting

Step-through e-bike

Upright seated position, memory foam saddle, and comfort grip handlebars for a relaxed riding experience

Up to a 40-mile range easily gets you to and from the office or around town

Puncture-resistant road tires with dependable traction offer a smooth, worry-free ride
The GEN3 Stride e-bike is the ideal urban commuter bike for use on paved trails and roads. With a step-through frame, a memory foam saddle, and soft grip handlebars, the Stride is a comfortable e-bike for easy city riding, even for riders with limited mobility. In addition, it has a built-in rear rack with a 55-pound payload that's perfect for personal belongings and groceries, so you can efficiently run errands on your new e-bike.
Powered by a 500-watt rated rear hub brushless Bafang motor, this Class II e-bike quickly reaches its maximum speed of 20 miles per hour using either pedal assist or the convenient thumb-operated throttle. With 900 watts of peak power, the Stride offers quick acceleration, and the Shimano Tourney seven-speed shifting system provides you with maximum control.
The integrated lithium-ion battery on the Stride has a 40-mile range. In addition, you can find real-time battery information on the control panel to easily gauge how long the bike will continue running under current conditions. While the battery is seamlessly integrated into the frame with an anti-theft locking mechanism, it's easily removable. You can choose to charge it separately or while attached to the frame.
Outfitted with CST Traveler Classic tires, the GEN3 Stride is ideal for paved city riding. These 26-inch by 1.75-inch rim tires feature Exceptional Puncture Safety technology to prevent flat tires. The bike also features GEN3 mechanical disc brakes for reliable stopping power, even in wet conditions. Adding to rider comfort, the Stride has an adjustable front suspension with 50mm of travel and an easy-to-use dial for traction, control, and softer bumps. It also has integrated fenders.
The GEN3 Stride e-bike is suitable for riders ranging from 5'0" to 6'5." As a comfortable, easy-to-ride commuter e-bike, it has a user-friendly control panel where you can adjust the bike's power settings and view vital statistics such as speed, trip time, and distance. The Stride also has a high-power LED front headlight and a battery-powered tail light for added safety and comfort. Finally, the walk assist feature on the Stride makes it even easier to move and store your e-bike.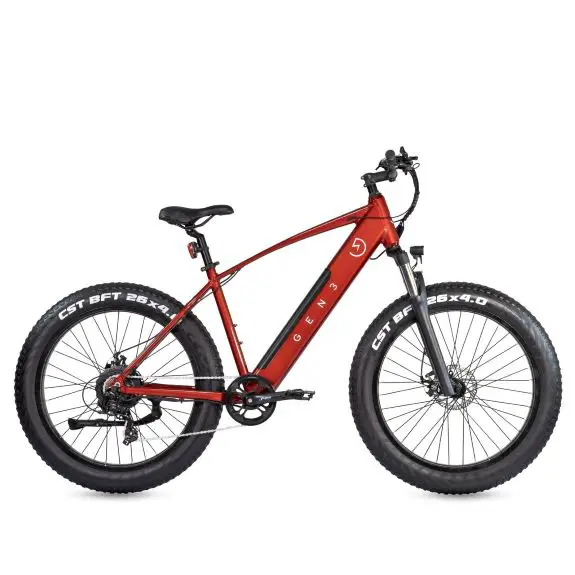 Best for adventure

Fat tire e-bike

4-inch knobby tires offer plenty of grip and a smooth ride on uneven surfaces

1000w peak power and fast acceleration help you conquer steep hills

Robust 100mm suspension cushions even the biggest bumps
Are you looking for an off-road e-bike that can handle whatever you throw at it? The Outcross is an all-terrain fat tire e-bike ready for the rigors of single-track mountain biking. This electric mountain bike can even conquer sand and snow, making it the best buy for adventurous riders.
With a 500-watt rated, 1000-watt peak Bafang motor, the Outcross offers plenty of power for even the steepest climbs. It has a 290rpm rating for fast acceleration and 80 newton meters of torque. As a Class II e-bike, it maxes out at 20 miles per hour. However, it can easily reach this speed with either pedal assist or using the thumb throttle for pedal-less power.
Powered by the GEN3 UL-certified rechargeable battery pack, the Outcross can travel as far as 35 miles on a single charge. You can estimate how much juice you have left based on rider weight, wind, hills, and pedal assist or throttle used. The removable battery sits flush in the bike's frame and can be recharged while attached or detached from the bike using the included charger.
Riding on rugged mountain trails is easy with Outcross's four-inch knobby tires. These tires from CST's Big Fat Tire series feature large knobs for digging in on climbs and tricky turns. Fat tires hold a lot of air, cushioning bumps on trails, curbs, and other uneven riding surfaces. Combined with a robust suspension with a whopping 100mm of travel, this bike offers stable off-road riding.
The Outcross e-bike is ideal for taller athletic riders with a frame that best suits people 5'10" to 6'6" and under 280 pounds. Whether exploring mountain trails or cruising down an unpaved country road, the GEN3 Outcross all-terrain e-bike makes the adventure even more fun.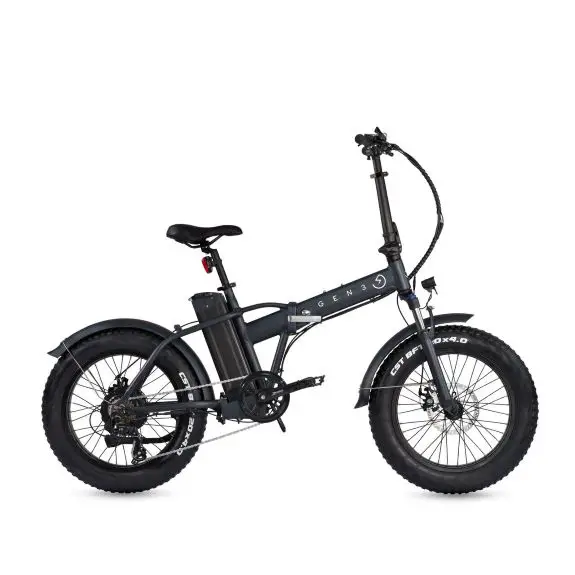 Best for travel

Folding e-bike

Adjustable to fit riders 4'10" to 6'2"

Easy to transport, weighing just 62lbs with 28 x 38 x 24-inch folding dimensions

Excellent suspension and stable fat tires for a better riding experience
Nothing is groovier than an e-bike you can take anywhere! The Gen 3 Groove is a peppy folding e-bike suitable for rides around town or on trails. The Groove folds in half in seconds, which is perfect for RV campers, riders without outdoor bike storage, or even train commuters.
Powered by a 500-watt rated rear hub motor with 1000 watts of peak power, the Groove performs beautifully on steep inclines. Performing even better than some 750-watt models, the Groove packs quite a punch for such a little e-bike with a max speed of 20 miles per hour. Part of what makes the Groove accelerate so quickly is that the throttle is not linked with the pedal assist, so it is possible to engage the thumb throttle to speed up after stopping or while going up hills. This foldable e-bike has five levels of pedal assist, with pedal assist level 1 equating to 10 miles per hour.
The Groove has an impressive 45 miles of range with a powerful 48-volt battery pack that slides behind the seat post. To charge the battery away from the bike, simply remove the quick-release seat. The bike also has an integrated front headlight and a battery-powered light for the back. You can attach this back light at your preferred seat height to make smoother adjustments after replacing the battery.
Not only do the 20-inch by 4-inch fat tires look great, they offer more stability as well. The 180mm disk brakes provide excellent stopping power in various conditions. Unusual for a folding e-bike, the Groove also has 50mm front suspension forks for improved shock absorption. The Groove uses a Shimano Tourney 7-speed derailleur with a guard.
The Groove has a total weight of 62 pounds and a 28 x 38 x 24-inch foldable size. This folding bike's adjustable frame makes it comfortable for a wide range of riders, from 4'10" up to 6'2". While the folding nature of this e-bike makes it much easier to move than fixed e-bikes, you can remove the battery to make travel even easier. So, the GEN3 Groove will take you there in style, no matter where you go.
Best for fitness

Hybrid e-bike

21-speed shifting for more resistance and control

All-terrain tires and suspension fork make it possible to ride on or off-road

Comfortable riding experience, even without assistance from the motor
Whether you want to ride your bike unassisted or want the power of an e-bike, the GEN3 Flex helps you get out in the sunshine and enjoy a day of bike riding. This sporty, fitness-oriented e-bike has 21-speed shifting for maximum control over your workout and a powerful 500-watt motor for when you want to take it easy.
The Bafang motor on GEN3 Flex is 500-watt rated with 1000w peak power. It's located on the rear hub and offers smooth and quiet acceleration, even on steep hills. However, unlike many other e-bike models, the Flex is an excellent bike for unassisted riding, with plenty of challenging gear options for more resistance. This hybrid design makes the Flex an ideal Class II commuter that can reach speeds up to 20 miles per hour.
The high-performance frame-integrated battery on the Flex can be charged either attached to or detached from the frame. The battery is fully charged in six hours using the included charging cable, and an LED charging status indicator lets you know exactly how much power is left. In addition, it has up to a 40-mile range between charges, and battery life is easily monitored on the control panel based on current riding conditions.
The Flex is not just an excellent hybrid bike for its assist options but for where it can take you. Fitted with 26-inch by 1.95-inch CST all-terrain tires, this GEN3 e-bike performs just as well on the trail as it does on the road. These puncture-resistant, fast-rolling tires offer a great riding experience, further aided by 100mm mountain bike suspension forks for an incredibly smooth ride.
Suitable for riders 5'6" to 6'2", the Flex is an excellent option for most riders. Offering all the necessary specs for a flexible riding experience in almost any scenario, this is the GEN3 e-bike for those who love the challenge of cycling but want the option to add power to their ride.
GEN3 e-bikes arrive 90% assembled. On the product page for each specific model, you can find an assembly video towards the bottom of the page that makes for easy and fast setup. Riders should also register their ride on the GEN3 website to activate the one-year limited warranty. With your new e-bike, you'll be off on a new adventure or enjoying an eco-friendly commute in no time.