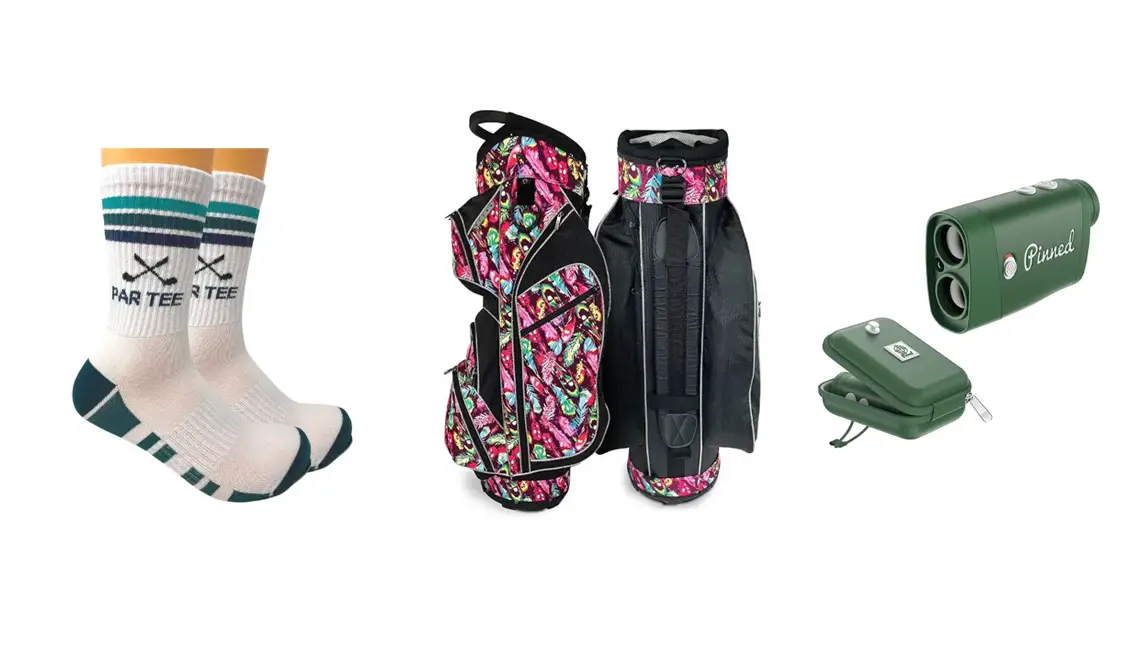 Need a gift that's sure to be a hole in one? Choose something which links to her favorite sport: golf. There are lots of great women's golf gift ideas to choose from, making it easy to find the perfect fit for her playing style and personality.
The best golf gifts for women
Ready to start shopping? Check out this selection of the best golf accessories, gear and apparel as well as personalized golf gifts that she'll love.
1. Taboo Fashions Lightweight Women's Golf Bag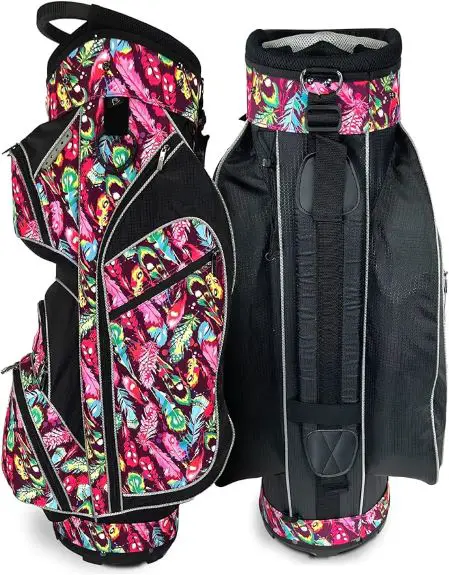 Insulated beverage compartment
Padded strap for comfortable carrying
Looking for a ladies' golf bag that has it all? This complete gear organizer has all the bells and whistles in one convenient design. It features plenty of storage space for clubs as well as various holders for her towel, tees, golf gloves and umbrella. There are seven zippered pockets for storing shoes and more, so there's no need for a separate golf shoe bag. In addition, it has a built-in cooler bag that keeps drink cans and tumblers at the optimal temperature.
This golf bag has an adjustable padded strap as well as an extra bottom handle, so it's easy to tote around the golf course. Available in a range of fun prints and colors, this bag can be coordinated with her other golf gear or personal style preferences.
2. Golf Ball and Tee Holder 2-Pack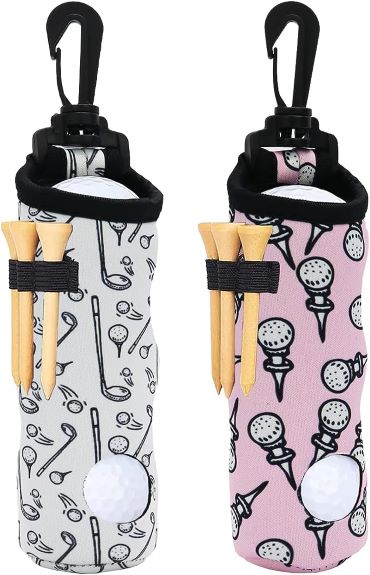 Two pouches for holding golf tees and balls
Swivel buckles clip onto bags or belt loops
Having a steady supply of golf balls and tees is a must when out on the golf course. That's why this two-pack of pouches is one of the best golf accessories for women. She can simply clip one of the pouches onto her golf bag or a belt loop using the swivel snap buckle to keep the essentials close at hand. Each pouch carries three balls and three tees. The balls can be retrieved through holes at the top and bottom, and tees are secured with stretchy loops on the exterior. Made from durable neoprene material, these golf ball holders come in several fabric print options to match her personal style.
3. Aulock Golf Towel and Brush Set
Includes absorbent microfiber towel, golf club brush and divot tool
Comes in several stylish colors
Help your golf-loving lady keep her gear in great shape with this golf club cleaning set. The convenient kit comes with several accessories for maintaining important golf equipment. It includes two soft and durable microfiber towels which can be used to gently clean and polish clubs without causing any scratches or damage. The microfiber material is also highly absorbent and quick-drying, which is convenient for wet days on the course.
The kit also features a golf club brush with a two-sided design. Softer bristles on one side help brush away dust and other light debris, while the stronger steel wire bristles on the reverse side help clean out grooves and remove stubborn stains. The durable divot tool is crafted from aluminum alloy and stainless steel and has a retractable fork and a convenient golf ball marker attached. All the elements in this set are conveniently sized for placing in a golf bag when out on the course.
4. Pinned Prism Slope Golf Rangefinder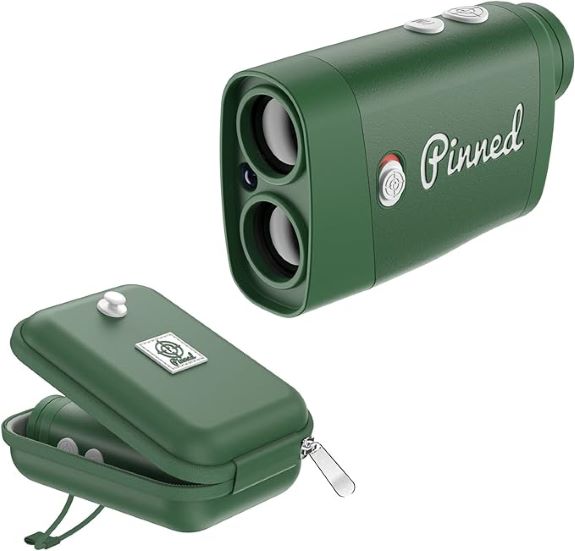 Highly accurate golf range finder with 7x magnification
Vibration technology sends a subtle alert when locked into the target
A rangefinder can help any golf lover improve their game. This Prism model from Pinned makes a great gift because it's both stylish and practical. The 1,000-yard laser technology captures the true distance between her and the hole, with slope mode that can be switched on or off to make it legal for tournaments. This golf distance measuring device has yard accuracy down to the decimal +/- 1 yard with 7x magnification. The vibration features means that she'll also feel a brief pulse when locked into her target, which will help boost her confidence on the course.
This device is water-resistant, comes in a convenient carrying case and features a built-in magnet for attaching to a golf cart or club. It has a USB-C charging port to eliminate the need to purchase and carry batteries. When fully charged, this rangefinder lasts for up to 60 rounds of golf. Plus, it comes in a variety of stylish, retro colors to coordinate with her other golf gear and accessories.
5. Super Fly Goods Novelty Women's Golf Socks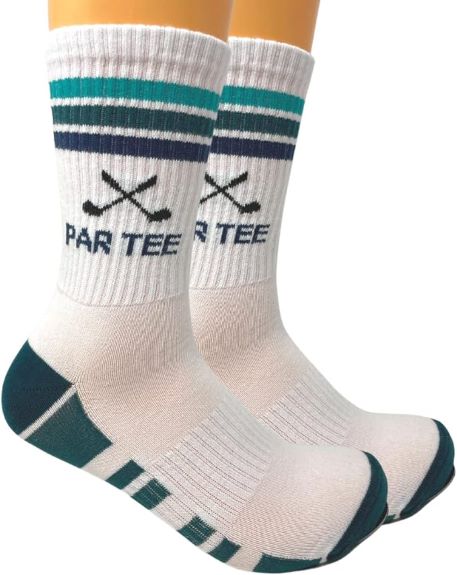 Soft, comfortable golf socks with a fun retro style
Moisture-wicking technology that keeps feet dry
These ladies golf socks bring an added dose of fun to any ensemble. Perfect for wearing on and off the course, these performance crew socks feature a clever "PAR TEE" message with an image of crossed clubs. The blue stripes around the ankle add a colorful retro style. This pair of socks is more than just a fashion statement, though. They also have light cushioning for added comfort and ventilation lanes for circulating air. The moisture-wicking technology dries rapidly and helps to pull perspiration away from the skin so her feet can stay dry and comfortable even in hot or wet conditions.
6. Personalized Golf Tees Gift Set
Set of 50 golf tees with a custom name or message
Quality tees made of strong birch wood
This set of custom golf tees makes a great surprise for any golf lover. She'll love that each of the 50 tees displays custom text selected just for her. There's room for up to 17 characters, which means you can likely fit her first and last name or a nickname. Other options include a fun title like "Golf Mom" or an inside joke that the two of you share. Every time she pulls one of these tees out on the golf course, she'll think of you.
Each of the tees in this set measures 2 3/4 inches long and is made from sturdy and strong birch wood that will hold up to her golf swing. Choose from all white tees or an assortment of light colors.
7. Glove It Lightweight Leather Ladies' Golf Glove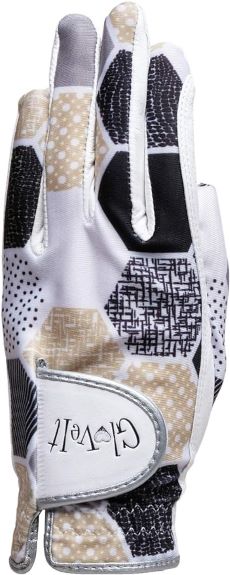 Stretchy Lycra fabric ensures a comfortable, snug fit
UV50 sun protection to help prevent skin damage
Help her achieve a better grip on her clubs with this Glove It women's golf glove. Made primarily from stretchy Lycra material, the glove has a second-skin feel that's never baggy or loose. Soft Cabretta leather lines the palm for maximum comfort and control through every swing. She'll also enjoy the UV50 sun protection and breathable design. This glove comes in a range of fun, colorful prints for left and right-hand designs.
8. Golf Goddess Stroke Counter Bracelet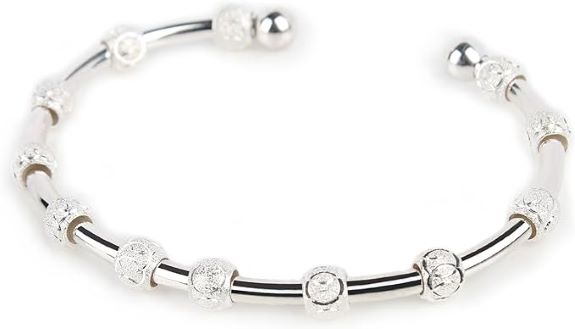 Sterling silver cuff with hand-etched beads
Stylish enough to wear on an off the golf course
Stroke counters are great accessories for this sport, but they're usually pretty sporty in their design. This beautiful stroke counter bracelet breaks the mold by being fashionable enough to wear as jewelry even when she's off the course. The cuff and hand-etched beads are plated with lovely sterling silver. The cuff can be squeezed or stretched gently to get the right fit. To keep track of her strokes, she can simply slide the beads along the cuff. This bracelet arrives in a decorative gift box, which is perfect for birthdays, holidays, anniversaries and more.
9. Adidas Women's Ruffled Golf Skort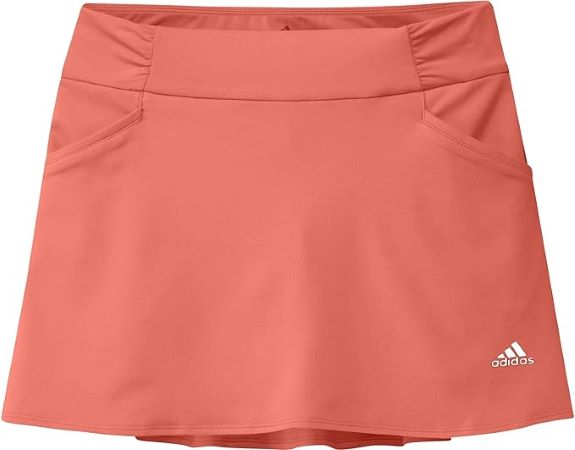 Soft, stretchy fabric with UPF 50+ protection
Inner short tights for a compression fit
If you're in search of styling golf clothing for women, be sure to check out this Adidas golf skort. Available in an array of cute colors, this skort has a smooth, stretchy feel that's comfortable on the course. It also features supportive compression tights underneath which help to prevent chafing. The built-in UV protection is another perk she'll love. This is a versatile piece that can be combined with a polo or pullover to create fashionable yet comfortable golf outfits.
10. Moss Boss Golf Practice Putting Mat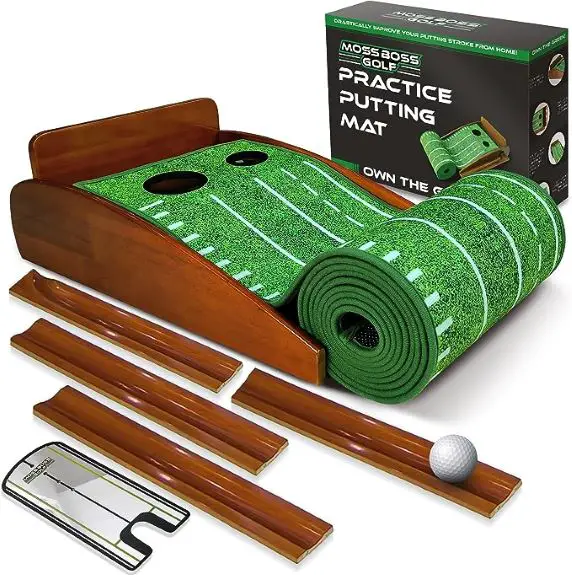 Includes putting mirror to help with improving technique
Magnetic ball return track sends ball back quickly
This indoor putting green has added features that make it a much more useful training tool compared to other options. The crystal velvet material, which mimics ideal green conditions, is mounted on a sturdy wooden base. She can use the built-in mirror to ensure that she has the right form and alignment with her putter. The mat also has two hole sizes to practice on along with printed tracks for perfecting her putt. This putting green is easy to set up on any flat surface, and it even has an automatic ball return system.
11. Callaway Ladies' Adjustable Golf Visor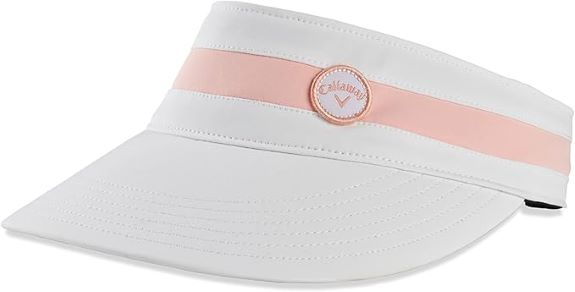 Cooling sweatband to keep dry in warm conditions
Adjustable hook-and-loop closure for a custom fit
For a female golfer, a visor is the perfect choice of headcover. Unlike a golf hat, it the visor style makes it easy to wear her hair up or down. Plus, it looks stylish and sleek with any golf outfit. This Callaway visor has a low profile designed with lady golfers in mind. It keeps the sun off of her face without being to bulky, and it's easy to tuck into a golf bag when not in use.
Made from performance fabric, this women's visor is durable and conveniently machine washable. It also features a cooling sweatband inside which helps to keep her dry when temperatures rise. The adjustable Velcro closure in the back ensures a snug yet comfortable fit with any hairstyle. Choose from a variety of stylish colors and prints for this high-quality golf visor, and consider including a set of hat clips to hold ball markers that can attach direct to the bill.
12. Play Nine Golf Card Game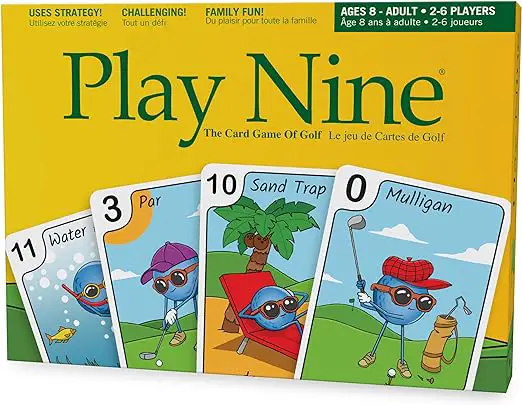 Family-friendly board game for ages 8 and up
Quick, simple game that's easy to learn
Looking for a fun way to celebrate a birthday, Christmas or another important occasion? Play Nine is a golf-themed card game that will give her yet another way to enjoy her favorite sport. The strategic matching card game doesn't require specialized golf knowledge, so even those who don't play can join in. Rated for kids, teens and adults, it's great for game night with families, couples or friends.
The simple game is easy to learn, and each round only takes about 15 to 20 minutes to play. The goal is to draw, flip and discard cards to shoot the lowest score. This set comes with everything you'll need, including a deck of 108 playing cards, score pad, golf pencil and instructions.
13. 19th Hole Sports Framed Golf Course Map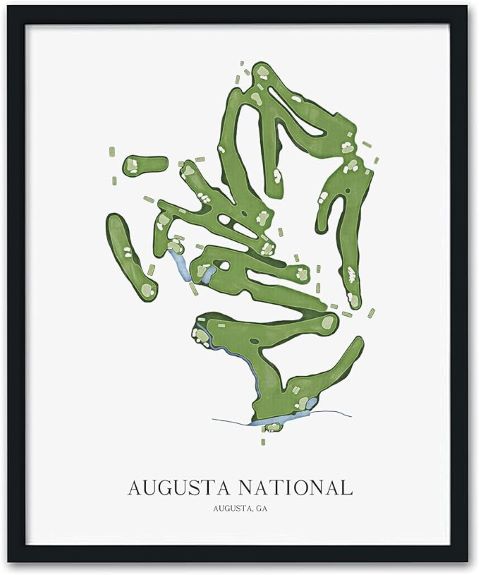 Modern art prints featuring famous golf courses
Solid wood frame and shatterproof artificial glass
If the person you're shopping for already has plenty of accessories and gear, consider this golf art print. Choose from an assortment of famous courses, like Augusta National, Pebble Beach and Torrey Pines, and select the size that works best for her space. Each print comes in a premium solid wood frame with shatterproof artificial glass to keep dust and moisture away. The included mounting accessories make it easy to display on a wall to create a distinctive decorative accent.
Finding the best golf gifts for her has never been easier. From golf gear and gadgets to apparel and artwork, there are so many great ways to recognize her love of the sport.
What is a good gift for a woman golfer?
If you're looking for the best golf gifts for women, it can help to determine whether you'd prefer something that's practical or just for fun. On the practical side, there are many types of golf accessories and gear that can help with her game and create a smoother playing experience on the golf course.
Some golf gifts, on the other hand, are more about celebrating a passion for the sport. For example, a piece of golf decor she can display at home isn't something she'll use when she's playing, but it could still bring her a lot of joy and serve as a reminder of your thoughtfulness.
Types of women's golf gifts
Some of the best golf gifts for women can be conveniently found on Amazon. Here are a few product categories to consider as you shop for the perfect present.
Golf gear
The essential equipment she uses on the course has a direct impact on her game. Maybe she needs a new bag for her clubs or her golf shoes are starting to wear out. Providing a gear upgrade can be a great way to surprise her with a gift that is sure to get a lot of use.
Golf accessories
Buying gear for someone can be tough because you need to know their personal preferences and, in some cases, measurements like shoe size. Golf accessories, on the other hand, are easier to buy for a golf lover. You can provide a supply of golf tees and balls, for example, or choose a golf gadget they can use on the course.
Golf apparel
Buying golf apparel is a great way to help her feel stylish and comfortable while she's playing. Options like golf jackets, pants and hats are useful in various weather conditions. You can also find lightweight golf shirts, shorts or skorts for warmer days.
Golf-themed surprises
Your gift doesn't have to be all about improving her golf game. Options like golf jewelry and decorative wall art could be perfect golf gifts for a lady in your life. Golf decor is another fun option for recognizing her love of the sport.
Last update on 2023-11-10 / Affiliate links / Images from Amazon Product Advertising API