Sick of the same old burgers and hot dogs at every tailgate party? Expand your options for hot meals on the go with a portable solar cooker from GoSun. By harnessing the power of the sun, you can make tasty meals that will go down in tailgate history.
Find the right GoSun solar cooker
From small solar stoves that you can bring anywhere to bigger ones that can feed a party of hungry tailgaters, GoSun offers a wide selection of options for fuel-free cooking.
Advantages of using a solar oven
Cooking with solar energy is an exciting way to make delicious meals anywhere. You can use your solar cooker without worrying about running out of fuel or hurting the environment. Plus, cooking solar meals together is fun for the whole family!
No need for fuel
Nothing is worse than running out of propane in the middle of your cookout or tailgate. Instead, solar cookers harness the infinite power of the sun to heat food. You don't even need full sun to power them. As long as you can see a shadow, a high-quality solar cooker will work.
Cook anywhere
Traditional grilling methods require either messy charcoal or combustible propane. Not to mention that a grill takes a long time to cool down and clean.
Solar cookers are much cleaner and safer to transport, making them ideal for tailgate parties and camping. They also tend to be lighter and pack up smaller, so you can bring them anywhere you want to cook outdoors.
Environmentally friendly
Cooking with solar power is a clean and renewable way to make hot meals. Rather than burning fossil fuels to create heat, solar cookers concentrate the power of the sun by generating and trapping heat to cook your food. This results in food that is healthier for you and better for the planet.
Rewarding and fun
Although solar cooking is slowly becoming more mainstream, it's still a unique way of heating meals. A delicious dish made in a solar cooker has a wow factor that will impress any party guest. It's also a great way to get kids involved in sustainable cooking. Whether you're waiting in anticipation for your first meal to be ready or trying out a new recipe, solar cookers bring an exciting element to outdoor cooking.
How to choose a portable solar oven
Finding the right GoSun portable solar cooker for your next tailgate party is easy! While all of their innovative models heat food using solar energy, each is designed to fit specific needs based on party size, portability needs, and meal types.
Party size
Most solar-powered cookers have a limited volume of what they can cook. To find the right-sized solar cooker to fit your needs, consider how many people are at your party and how large of a dish you need to feed them.
GoSun stoves come in a range of sizes. The smallest model is the one-meal GoSun Go. Meanwhile, the Sport can cook two or three meals per load, and the largest cooker, the Fusion, feeds up to six.
Portability
The most remarkable thing about solar energy cooking is the ability to make meals just about anywhere. However, to benefit from this boundless heat source, you need to transport your solar cooker. Not only should you consider the size and weight, but how far you will need to travel with it. For tailgating and car camping, size matters much less than if you plan on carrying your solar cooker with you on a trail.
It's to be expected that the Fusion, the largest GoSun portable solar cooker, weighs the most, coming in at 14 pounds. However, it's still highly mobile, especially when you add the rugged and convenient carry case. For ultra-light solar cooking in the backcountry, the 2-pound GoSun Go is tough to beat.
What it can cook
You can make almost anything in a solar cooker! However, you want to ensure that the solar oven you choose can reach the proper cooking temperature for food safety. Also, some designs are better suited for boiling water, while others with a larger capacity are better for entire meals.
For tailgate parties and family meals, the GoSun Fusion is the biggest and best solar cooker since it has the capacity for larger dishes. In addition, you can expand your meal options with a set of Fusion silicone baking pans which allow you to make tasty baked goods or prepare multiple dishes within the same cooking tube.
Where to buy GoSun portable solar cookers
GoSun solar cookers are available on the company's website, GoSun.co, and Amazon. Checking both ensures you get the best price, and there are additional benefits to each option. On the company website, you can find a wealth of information about solar cooking, including recipes and a live chat option. However, buying on Amazon allows you to use your Prime benefits or Amazon gift cards.
No matter where you choose to purchase your GoSun solar oven, be sure it's from an authorized dealer to benefit from the one-year warranty and money-back guarantee.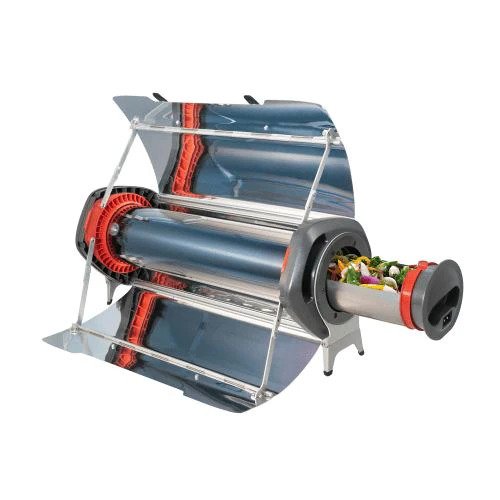 Best for bulk

145-oz capacity feeds 4-6

Weight: 14 lbs

Cook time: 60 minutes

Hybrid solar or electric cooker for cooking day or night
As the world's first hybrid solar and electric oven, the GoSun Fusion allows you to cook for up to six people, rain or shine, day or night. An exciting addition to any tailgate party, you can cook practically anything in the Fusion, such as these game day-ready super solar chicken wings.
The Fusion uses a patented solar evacuated glass tube for efficient insulation, which the company has perfected from their now-discontinued GoSun Grill model. Using two parabolic reflectors, this GoSun solar cooker triples sunlight concentration in the cooking chamber to reach temperatures upwards of 550 degrees Fahrenheit.
The silicone dampener at the end of Fusion's vacuum tube offers durability even in the harshest conditions. Weighing only 14 pounds, you can carry it with one hand or add on the GoSun Fusion carry case to protect your solar cooker and keep all your barbeque accessories in one place.
Of course, the Fusion cooks solar meals great in full sunlight. However, it also can be powered using a 12V plug, standard in all cars, trucks, boats, and RVs. While cooking is slightly slower when powered by electricity, it uses one-tenth the power of traditional electric ovens, making it suitable for use on the go. You can even choose to power the Fusion using the GoSun Power 144 power bank, which you can recharge via an attached solar panel. Keep in mind that the plug is tight for safety reasons and needs two hands to engage.
To use the GoSun Fusion portable solar cooker, you first want to find a flat, level surface and remove the closure straps. Then, fill the three-liter stainless steel tray with whatever tasty meal you desire. Finally, open up the tilted clamshell reflectors, angle them towards the sun, let the Fusion work its magic, and enjoy! Never again will your tailgate festivities end because you've run out of propane or charcoal for firing up the grill.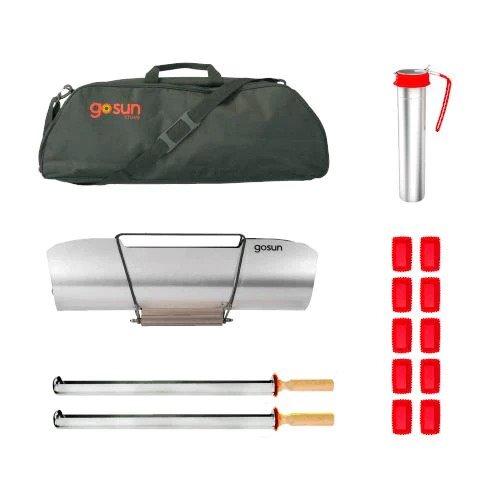 Best for speed

39-oz capacity feeds 2-3

Weight: 7 lbs

Cook time: 20 minutes

Versatile cooker for meals, snacks, and drinks
Can't wait for your pre-game snacks? With the GoSun Sport solar cooker, you don't have to! This piping hot solar cooker can cook meals in just twenty minutes, even on a cloudy day. So long as you can see a shadow, you'll be baking, steaming, roasting, and sautéing away while your neighbors fight over a bag of chips.
Using an expertly engineered vacuum tube that absorbs light and holds heat even in harsh conditions, the GoSun Sport fold-out solar oven makes hot and juicy meals everyone will enjoy. You can even try out a brand new dish such as these solar oven gochujang pineapple satays to really impress the crowd.
To use your GoSun Sport, first prepare your dish in the cooking tray. Then, set up the GoSun Sport on a flat surface. The carry handles cleverly fold out to become the legs of the cooker, and the clamshell reflectors are easy to position to catch partial or full sun.
While this GoSun portable solar cooker is excellent on its own, this pro pack includes everything you need to join the solar cooking revolution. Besides the fast and innovative solar oven, the GoSun Sport Pro Pack includes silicone baking cups for yummy baked goods and a boiling accessory for hot beverages on the go.
For even more versatility, the GoSun Sport Pro comes with a second cooking tray, so you can prepare a second dish while the first cooks and double your capacity. After the cooker cools, you can clean the tube with dish soap and water and store everything in the rugged storage bag.
Best for off-grid

13.5-oz capacity feeds 1

Weight: 2 lbs

Cook time: 20-45 minutes

Ultralight solar cooker for hot drinks and meals on the go
Sure, the GoSun Go may be a bit small for cooking meals for large groups, but for such a tiny solar stove, it packs a real punch. This two-pound portable solar cooker from GoSun should be at the top of any backpacker or outdoor enthusiast's wish list. Fitting in any bag and cooking a meal for one in 20 minutes, you can quickly rehydrate meals for tasty trail eating.
However, don't be fooled. The GoSun Go isn't just for survivalists. Great for boiling water and keeping liquids hot for hours, consider this solar cooker for tailgate hot drinks such as coffee, tea, and hot chocolate. Using solar reflective energy, you can sterilize and boil water or even warm up with some solar cooker mulled wine.
Utilizing a simple zip-around design, the GoSun Go looks slightly different from the larger GoSun solar cookers. Instead of relying on a separate storage case, the reflective panels are fixed on the inside. Note that the stove is "on" anytime the reflectors face the sun, so be sure to close the stove when not in use.
To use, open the kickstand and unzip the stove completely. Then, engage the inside prop stick to lock the cooker open and into place. Finally, slide in the cooking tray filled with whatever you're making, and soon you will have a tasty treat. For boiling water, you want to use the prop stick to lock the cooker upwards, fill the tube with cold water, and cover it with the silicone lid.
With lightweight portability in mind, the GoSun Go Pro pack includes all the essentials. Four silicone baking pans allow you to make mess-free goodies and divide the tube into multiple dishes, while the GoSun solar dial helps you find the best light for cooking. Everything fits in the drawstring carrying bag for easy transport.
Tips for using a GoSun stove
Ready to get started with your GoSun portable solar cooker? Like any new cooking apparatus, you want to unpack all of the parts and clean the elements that will come in contact with your food. Then, set off on an adventure outside to try it out!
If you have a model with a silicone seal, you can rub a bit of cooking oil around the edge of the seal to create better contact with the cooking tube. Also, if the cooking tray is having issues sliding into the oven, feel free to squeeze in a bit to fit it to size.
Once your solar oven is prepped, you may want to line the tray with parchment paper or use the GoSun silicone baking trays to cut down on clean-up. Then, add your food and set a timer. In most conditions, cooking time will be similar to a traditional oven set to 350°F. You can use the free MyRadar app from the National Oceanic and Atmospheric Administration to better estimate cloud cover.
How do GoSun solar ovens work?
GoSun solar ovens are highly engineered to concentrate sunlight and convert it to solar heat. While the science behind how GoSun solar ovens work may be complicated, the basic premise isn't. First, the parabolic reflectors focus sunlight onto the cooking tube, which heats the chamber. Next, the insulating vacuum tube converts 80% of those sun rays to heat, which is efficiently trapped inside. Finally, the heat inside builds up to mimic an oven and cook your food.
For more information about your GoSun portable solar cooker, including tips for use and safety advice, read your user's manual.
What can I cook in my GoSun solar oven?
From cookies to veggies to flavorful entrees, the opportunities are endless for what you can cook with your GoSun portable solar cooker. Behaving like a cross between a crockpot and an oven, food cooks in its own juices for tasty results.
There's no need to preheat GoSun solar cookers, which helps to shorten cooking times. However, consider cutting food into smaller pieces for even cooking, and drain the liquid when cooking meat to allow it to brown.
For recipe ideas, check out the GoSun recipe blog or the GoSun Community Kitchen Facebook group. The number of solar cooking enthusiasts continues to grow, which means that there are always new and innovative recipe ideas being developed.