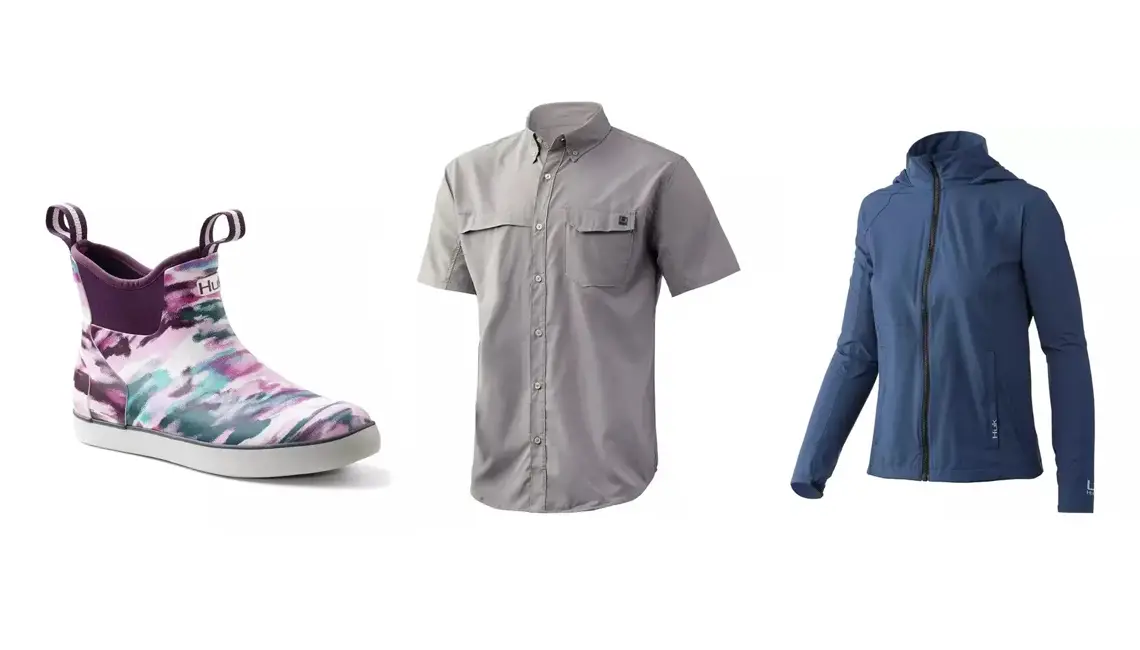 Huk performance fishing gear is a new name in fishing clothing but has already made a huge splash. Based in Charleston, South Carolina, Huk brings new life to fishing apparel with unique designs and fun colors that appeal to the next generation of fishermen.
With complete lines of Huk fishing rain gear, fishing boots, sun-blocking outerwear, and other new products, this brand offers everything you need to stay comfortable on the water.
Best Huk fishing gear for men
Best Huk fishing gear for women
What to look for in fishing apparel
Whether you're fishing in your local quarry or on the open sea, there are a few things to keep in mind when selecting appropriate attire. You want to be sure that your clothing dries quickly, offers adequate sun protection, is breathable, and is suitable for the weather.
Quick dry
There's a good chance that when you're fishing, you will get wet. Since nothing ruins a fishing day more than being damp and uncomfortable, it helps to wear clothing that dries quickly. Try to choose apparel made from performance quick dry fabrics.
Sun protection
You don't always get a lot of shade out on the water, and sunscreen doesn't last all day. Choosing clothing rated UPF 30+ can help reduce sun exposure and protect your skin from the harmful effects of UVA and UVB rays.
Breathability
Fishing can make you sweat, especially if your clothes don't breathe. Select clothing made from lightweight fabrics that have moisture-wicking properties when fishing in hot weather.
Weather conditions
While we cannot control the weather, we can prepare for it. For example, bring a rain jacket to keep you warm and dry in case it rains. Even if the forecast is clear, consider the temperature range for your fishing trip and bring layers accordingly.
How to buy fishing boots
First and foremost, like any footwear, you want to ensure that your fishing boots fit well and have a comfortable footbed.
Besides fitting well, your fishing boots should be entirely waterproof for dry feet. Look for rubber outsoles and thick, slip-resistant bottoms to prevent water from coming in and keep you safe.
Men's Huk fishing gear
When it comes to men's fishing clothes and accessories, Huk has you covered.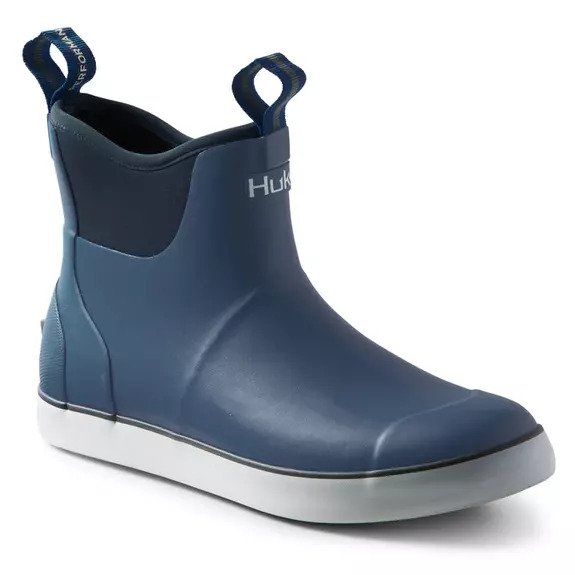 Best Huk men's fishing boots

Entirely waterproof due to heavy-duty rubber and neoprene construction

Available in men's sizes 7 to 14
Keep your feet dry and happy with a pair of Rogue Wave men's Huk fishing boots. These boots are entirely rubber and neoprene with an extra thick 8mm EVA footbed, so you will never get wet feet while fishing again. Featuring Huk's nonslip outsole tread pattern, these boots provide excellent grip on wet, slippery surfaces such as boats and docks. Taking them on and off is a breeze with commercial-grade pull straps. Available in various colors and prints, such as sargasso sea and mossy oak, there's a Rogue Wave boot for every angler.
Best Huk men's long sleeve fishing shirt

Made from sun blocking and stain-resistant material for high-performance fishing

Available in men's sizes small to 3X
Lure in the bass while protecting yourself from the sun in this performance long sleeve designed by South Florida's own KC Scott. This UPF 30+ protective bass fishing shirt uses advanced sun-blocking technology to block harmful UVA and UVB rays. Meanwhile, vented sides and moisture-wicking fabric keep you cool and dry even on the hottest days. Huk also understands that fishing can be a dirty sport, so this shirt has undergone a special stain release treatment to make it easier to wash.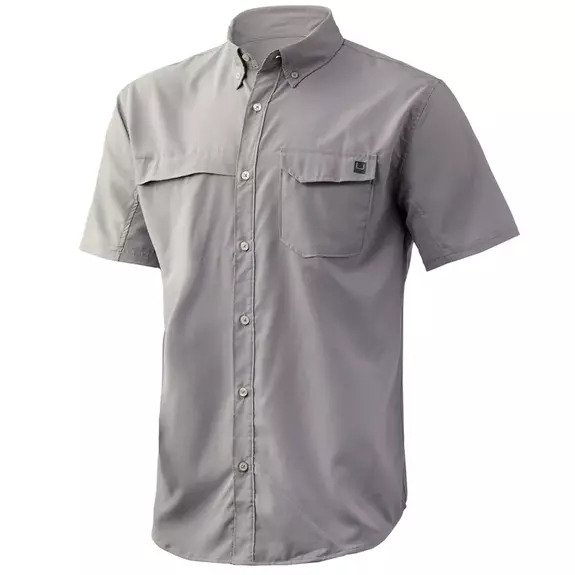 Best Huk men's short sleeve shirt

Classic style and high-performance fabric make this shirt perfect for everything from fishing to date night

Available in men's sizes small to 3X
When it comes to Huk fishing apparel, style never comes at the expense of performance. But that doesn't mean a fishing shirt can't look great too. This Huk Tide Point button-down shirt is designed to go from boat to boardroom. Made from lightweight, quick dry fabric, this shirt is moisture-wicking and features laser perforated underarms and back areas for a sweat-free day. It is also UPF 30+ protective and stretchy for ultimate comfort all day long.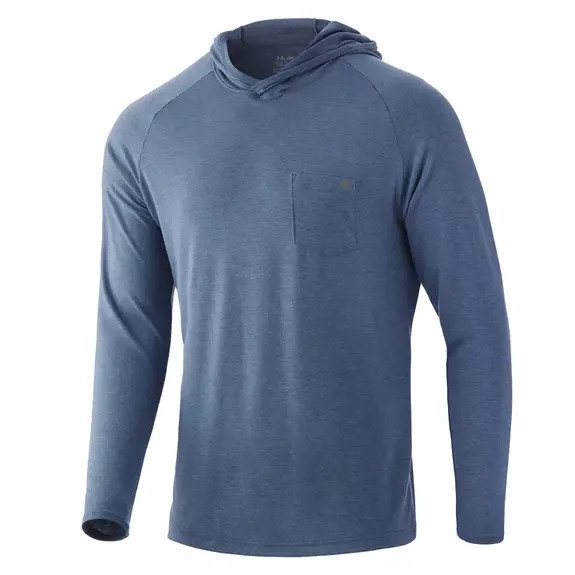 Best Huk men's hoodie

Made from eco-friendly material that is sun protective, moisture wicking, and comfortable

Available in men's sizes small to 3X
An essential for days on the water, the Huk Waypoint hoodie is just as good for the environment as it is for you. Huk helps keep plastic out of waterways by repurposing it to create a super soft sun protective material for their Waypoint line. This eco-friendly, durable fabric has a UPF 50+ rating and is water repellant and wind resistant. While the hood protects you from the sun, the cooling fibers help remove heat from your skin to keep you cool and dry. Plus, Waypoint hoodies are available in many colors, including running lakes titanium blue and desert flower.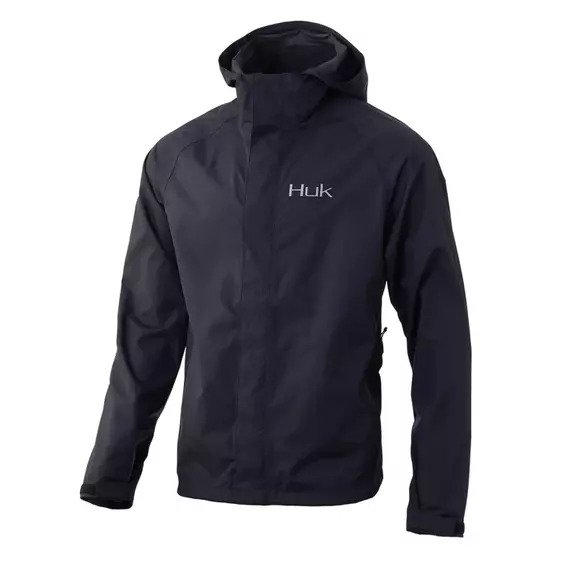 Best Huk men's rain jacket

Fully waterproof rain jacket with taped seams and an inner moisture-wicking layer

Available in men's sizes small to 3x
Huk deep sea fishing rain gear doesn't mess around when it comes to keeping you dry. As part of the Huk fishing rain gear collection, the Gunwale rain jacket has everything a serious angler needs to feel comfortable on stormy days. With fully taped seams, a storm flap, zippered hand pockets, and an adjustable hood, this Huk performance fishing rain gear helps you stay dry and protected from the wind so you can continue fishing. Additionally, it has a 100% nylon shell and a moisture-wicking inner layer for maximum dryness. Stash your Gunwale jacket in its packable pocket to store among your fishing rods and other gear.
Best Huk men's swim shorts for fishing

High-quality and comfortable quick dry swim shorts for every in-water adventure

Available in men's sizes small to 3X
Finding a pair of swim shorts that can withstand the rigors of an extended fishing trip can be challenging. Whether saltwater or fresh, these Huk Pursuit Volley swim shorts are up for the challenge. These quick-drying shorts are perfect for all-day fishing adventures with a comfortable elastic waistband, adjustable drawstrings, mesh lines, and pockets.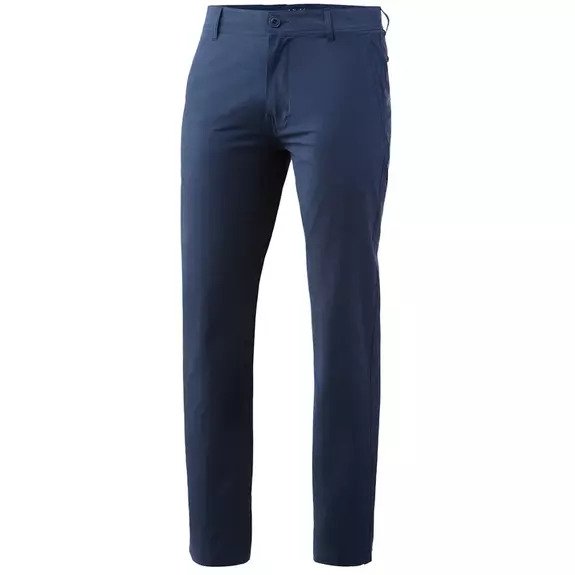 Best Huk fishing pants

Made from quick-dry recycled UPF 50+ fabric for all-day comfort

Available in men's sizes 28 to 42
Look and feel great with Huk's Waypoint pants. These super soft and ultra lightweight pants are made from recycled plastic bottles, so you can protect the waterways while staying cool. This durable fabric offers UPF 50+sun protection and dries quickly to keep you comfortable while out on the water. These performance fishing pants also look great on any angler thanks to a clean and timeless design.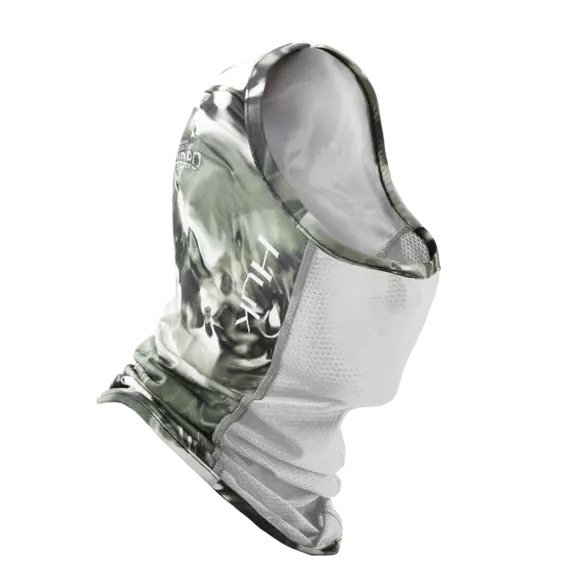 Best Huk gaiter for men

Ultra-breathable material
Every fisherman needs a great gaiter. This ultra-breathable neck gaiter helps protect your face from the sun while adding style to your fishing trip.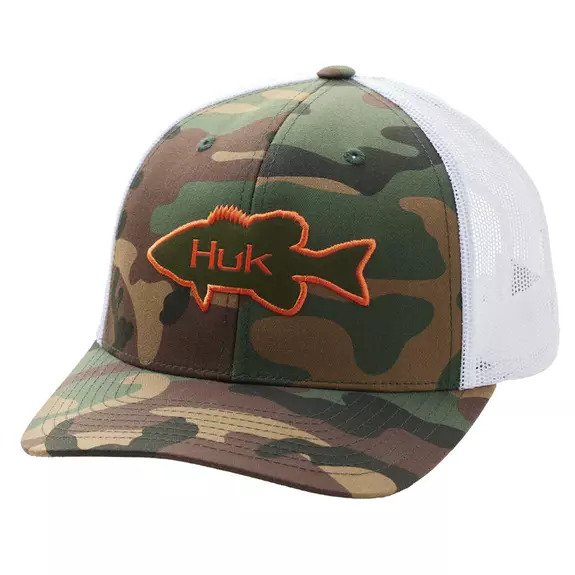 Best Huk fishing hat for men

Snapback closure and mesh panels
With an embroidered bass and Huk logo, this camo trucker cap offers a classic look with a performance in mind. Structured with durable buckram, this mid-profile cap has six panels and a snapback closure.
Women's Huk fishing gear
Ladies looking to set out on a fun fishing trip can gear up with this selection of Huk apparel for women.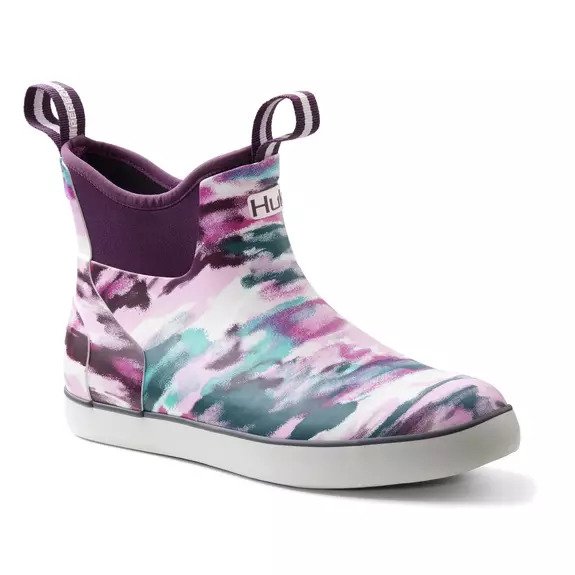 Best Huk women's fishing boots

Waterproof and slip-resistant boots for every fishing adventure

Available in women's sizes 5 to 11
Engineered for durability, these women's Huk fishing boots perform at the same level as the men's version but are designed to fit women's feet better. A full neoprene and rubber upper keep feet dry as a bone, while the GRIP-X outsoles prevent you from slipping on wet surfaces. These Rogue Wave waterproof boots also have an 8mm EVA footbed for all-day comfort. So pull yourself up by the commercial-grade reinforced webbing pull straps and get fishing.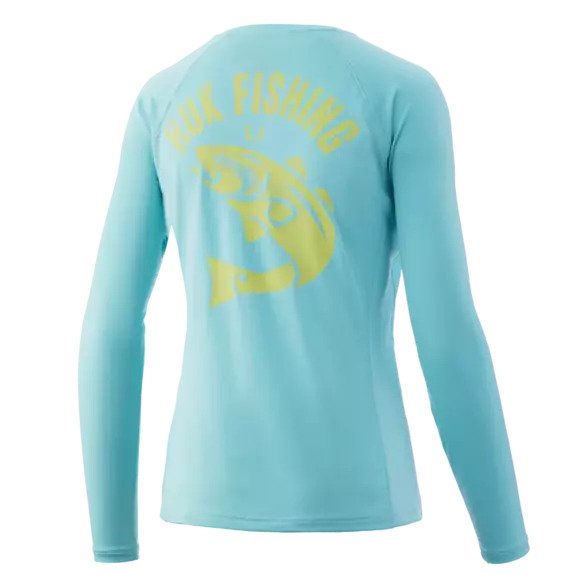 Best Huk women's long sleeve fishing shirt

UV protective and antimicrobial water shirt with a cool graphic

Available in women's sizes XS to XL
Who said performance shirts couldn't be stylish? Featuring a striking graphic by renowned marine artist K.C. Scott, this watersports shirt is a must-have for any lady angler. This long sleeve T by Huk also offers everything you could want in a fishing shirt: UPF sun blocking protection, breathability, and stain resistance. It is even antimicrobial to minimize odor. Just because you're a fisherwoman doesn't mean you have to smell like one.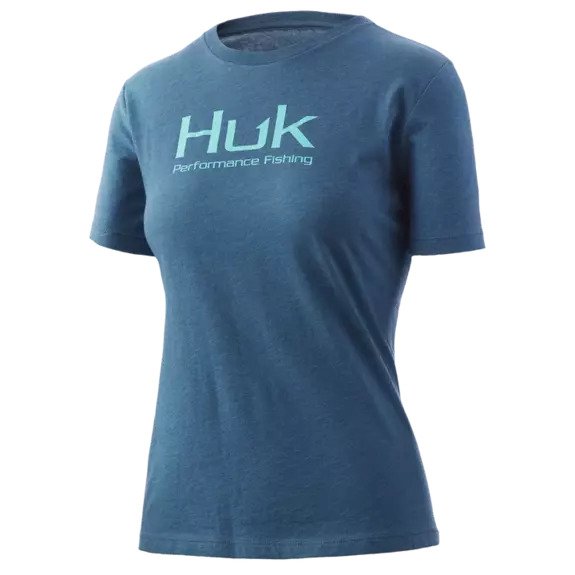 Best Huk women's short sleeve T-shirt for fishing

Classic tee with performance technology that's perfect for fishing or daily wear

Available in women's sizes XS to XL
Go back to basics and show your love of the sport with this classic outdoor tee from Huk performance fishing. Despite appearing like a regular cotton tee, this ladies' crew shirt utilizes convection cooling technology for maximum comfort on the hottest days. It also has UPF 30+ sun protection to block harmful UVA and UVB rays and comes in plenty of fun colors so you can have a new shirt for every day of your fishing trip.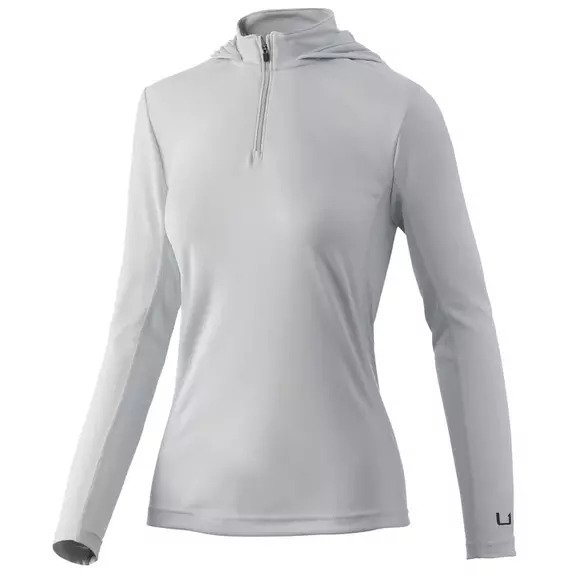 Best Huk women's hoodie for fishing

Complete sun protection with advanced cooling technology to keep you comfortable all day

Available in women's sizes XS to XL
Need complete coverage sun protection in hot weather? This women's hoodie is the best of both worlds, made using state-of-the-art UPF 50+ Huk Icon X fabric with Internal Cooling Element technology. This fabric is engineered to cause an endothermic reaction when it comes in contact with sweat or other moisture, allowing your body to cool down in minutes. The quarter zip neckline looks excellent and also helps with temperature adjustment.
Best Huk women's fishing jacket

Comfortable and breathable waterproof rain jacket for every fishing trip

Available in women's sizes XS to XL
Be prepared for anything on your fishing trips with the Huk Pursuit jacket. Waterproof yet breathable, this lightweight piece of Huk performance fishing rain gear is a must-have for every fishing season. It features four-way stretch material, which means a constrictive rain jacket will never again limit your freedom of movement. Additionally, the Pursuit has two hand warmer pockets for cold days and a vented back for added ventilation. It's also designed with a built-in hood for complete protection from the elements.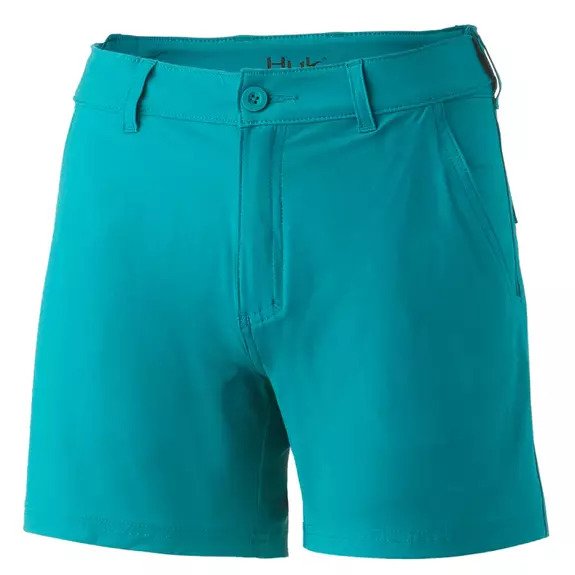 Best Huk women's fishing shorts

Quick dry and comfortable watersports shorts

Available in women's sizes XS to XL
Quick dry shorts are a must-have for every day you spend on the water. These classic shorts have plenty of pockets to hold all of your essentials and an adjustable waistband for the perfect fit. Huk Next Level shorts are comfortable enough for all-day wear and are made from lightweight, sun-blocking fabric. They also have a laser perforation in the rear yoke to help enhance the short's quick dry properties.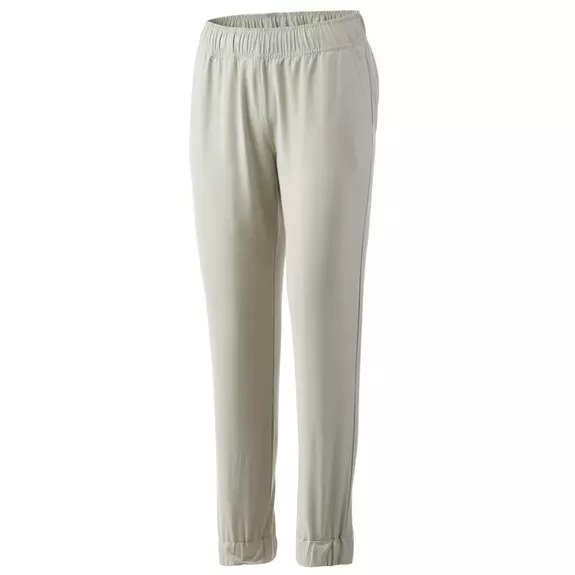 Best Huk fishing pants

Made from UPF 50+ fabric

Available in women's sizes XS to XL
Protect your skin while protecting waterways with the Huk Waypoint wading pant. These soft, lightweight fishing pants are made from recycled bottles which are processed into fibers and woven to create a durable UPF 50+ sun protective fabric. The Waypoint wading pants also dry fast with antimicrobial and moisture-wicking properties.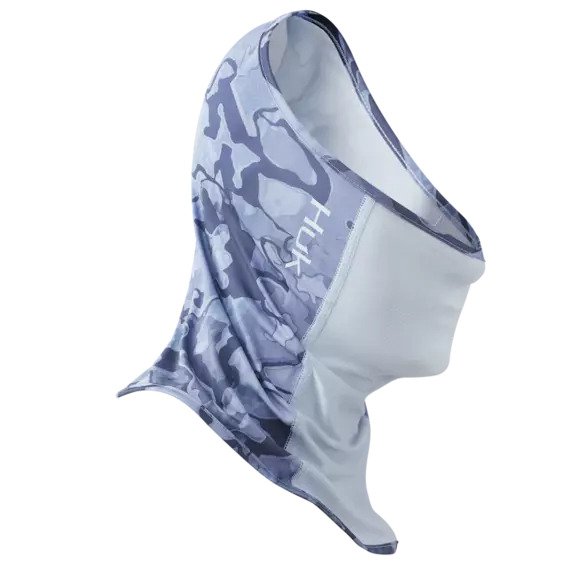 Best Huk gaiter for women

Made with breathable material
Taking inspiration from the water and combining it with camo, these Huk gaiters are stylish yet practical. Offering excellent sun protection and breathability, this gaiter is a must-have for every fishing trip.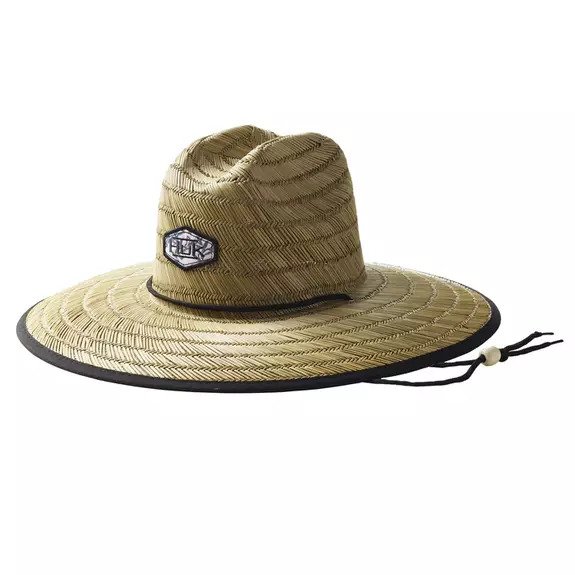 Best Huk fishing hat for women

Wide brim for sun protection and adjustable strap
If you have been fishing on a sweltering day, you know that sometimes a baseball cap doesn't quite cut it. This wide-brimmed straw hat offers extra sun protection and has an adjustable chin strap for a secure fit in windy conditions.
Whether you're after a new pair of men's or women's Huk fishing boots, Huk deep sea fishing rain gear, or an entire fishing wardrobe, Huk Performance Fishing has what you need for a great day on the water.