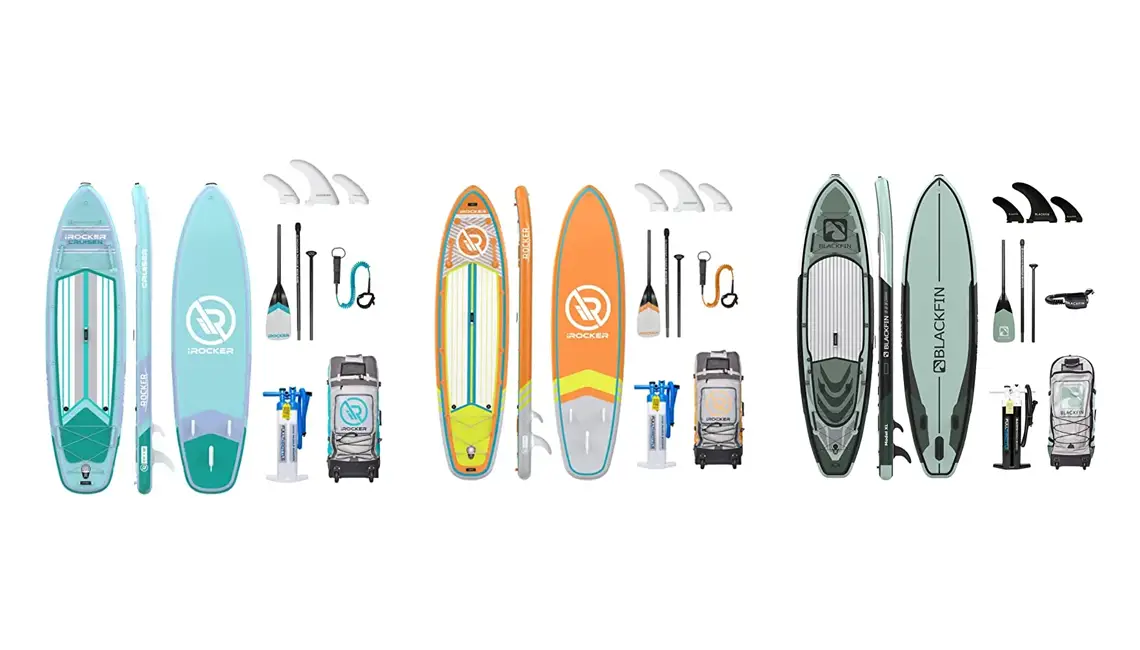 Get outside and on the water with an inflatable stand-up paddle board from iRocker. As one of the most popular SUP brands, iRocker offers a complete line of inflatable boards for every paddler. So whether you're a beginner, a SUP yogi, or love to fish, iRocker has a board for you.
Benefits of inflatable SUPs
Inflatable paddle boards have exploded in popularity, and it's easy to see why! Traditional rigid boards still dominate the racing game, but an inflatable SUP is a better choice for most paddlers because they offer more stability, comfort, and convenience.
Stability
Despite their lightweight design, inflatable SUP boards have a larger volume than hard boards. This makes them far more stable in calm waters, with more advanced models performing well even in choppy waves. In addition, modern multi-layer designs minimize the risk of deflation, so the board always stays at the optimal rigidity for balance.
Versatility
Beginners and advanced riders alike love how versatile inflatable boards can be. People new to SUP find that it's easier to balance on an inflatable SUP, while those who enjoy yoga and fishing love being able to incorporate their board into their hobby. For example, the iRocker Blackfin series allows you to mount a fishing rack and sand spear directly on your board. Inflatable SUPs are also suitable for air travel, so you can enjoy paddling around the world.
Comfort
No matter how stable your SUP is, falling at some point is inevitable. With an inflatable board, falling doesn't hurt as much as it might on a rigid board. While paddling, the softer deck reduces stress on your feet and joints as well. Using a large inflatable SUP for a family day out with the kids or your dog is also easier.
Convenience
If you've ever tried to store a hard epoxy SUP, then you know how much space they take up. Inflatable boards require far less storage space and are more portable than traditional boards. They're also much lighter, making them easier to transport and get into the water.
Durability
Believe it or not, inflatable SUPs are also more durable over time than hard boards. Of course, a sharp rock or nail could puncture the board, but even then, they're easy and inexpensive to repair. Conversely, dings on an epoxy board can be difficult and expensive to repair.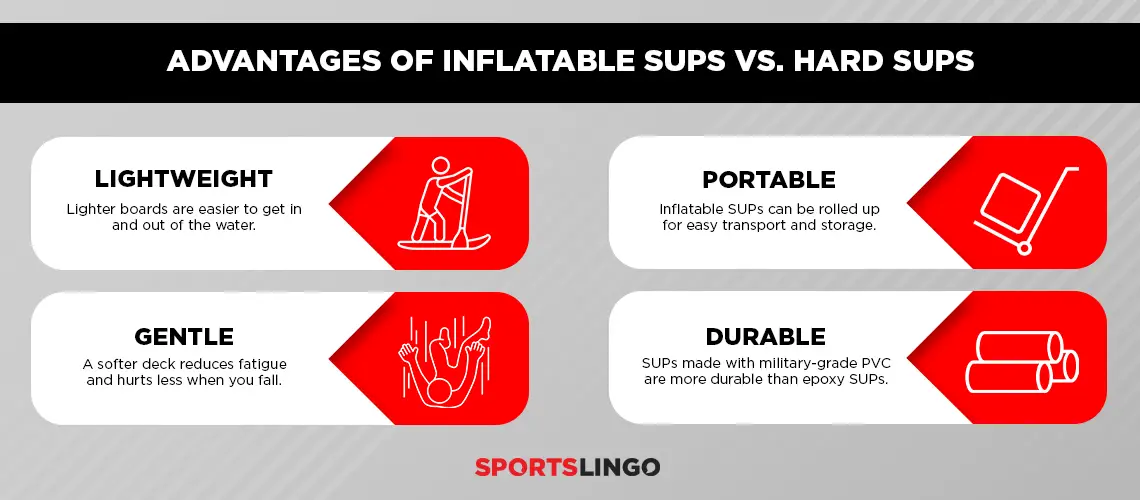 How to choose an inflatable stand-up paddle board
With so many excellent iRocker inflatable paddle board options, it can be hard to determine which is the right one for you. If you're in the market for a new board, consider these factors to find the best inflatable SUP to suit your needs.
Quality
You want to be sure to select a quality board that you can enjoy for at least a few seasons. Look for models with a double or triple layer, military-grade PVC design for the best rigidity and longevity. Also, consider the company's warranty and whether they include a repair kit. Brands that stand by their boards tend to offer better products.
Board size
The right board size directly correlates to your height and what you will use your board for. Typically, longer boards are better for taller paddlers. However, a longer board is also needed if you plan to bring cargo, passengers, or pets. On the other hand, smaller boards can be faster and more manageable for shorter riders.
Deck pads
A deck pad is a firm rubber padding that provides traction and comfort while using your board. At a minimum, you want to get a board with a standing area deck pad made of high-quality material. However, if you plan to paddle with your kids or dogs as passengers or practice yoga on your board, you will want to choose a board with an extended deck pad, such as the iRocker Cruiser.
Rigging
One of the coolest things about using a SUP is how every day out on the water is what you make of it. With a comprehensive rigging system, you can bring all your gear for a full-day adventure. Even the most basic stand-up paddle boards will have front bungee straps for attaching equipment, and many also feature a rear bungee. In addition, D-rings and mounts allow you to customize your board further.
Covert your iRocker SUP with the SUP to Kayak Conversion Kit
Fin system
Ideally, you want to choose a SUP with a configurable fin system that allows you to store the fins for travel easily. Also, adjusting the fins will enable you to optimize your board based on the conditions or your goals. A three-fin arrangement is more stable, or you can use just one fin for more speed. All iRocker models feature three configurable fins.
Inflation
Whether you use a hand pump or electric pump, it should be easy to inflate your SUP. Once inflated, your board should maintain its rigidity and not lose air. All iRocker SUP boards come with an easy-to-use hand pump and can be stored inflated for months without losing air.
Make inflating your iRocker SUP even easier with the 12V electric pump
Portability
Since one of the best things about iRocker inflatable paddle boards is their ability to go anywhere, you want to be sure to maximize your board's versatility by choosing an easy-to-pack model. Consider the board's overall weight, packability of the paddles, and carrying configuration. The best SUPs come with convenient backpack-style carry bags that allow you to bring your board anywhere.
Where to buy iRocker paddle boards
When purchasing an iRocker board, there are a couple of options to choose from: the company website or Amazon. You can guarantee that you're getting the best price by checking both.
iRocker website
Purchasing your SUP from the iRocker website gives you a better customer experience with interactive diagrams and videos describing each board. In addition, you can find the entire line of boards and contact customer service directly. They also offer sales and coupons periodically, so the price can sometimes be less than on Amazon.
Amazon
You can also buy iRocker boards on Amazon. The main upside of buying your board here is the option to use Amazon gift cards to pay for your SUP. Plus, it allows you to compare prices with the iRocker site to make sure you're getting the best deal.
7 best SUP boards from iRocker
Ready to get out on the water? Check out these top inflatable SUP models from iRocker to find the best fit for your unique needs and experience level.
1. iRocker All-Around Inflatable Standup Paddle Board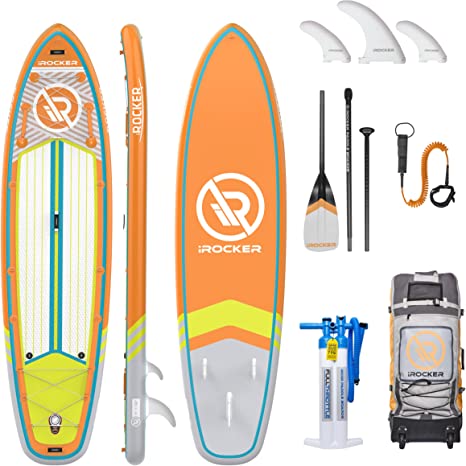 Best for: All-round use

Skill level: Beginner to advanced

SUP type: Triple-layer drop-stitch inflatable SUP

Paddles: Full carbon matte and collapsible

Rigging: Dual bungee, four multi-use mounts, and 20 D-rings

Size: 11'0"L x 32"W x 6"T

Weight capacity: 435 lbs
Paddlers of all skill levels will love the high-quality All-Around SUP from iRocker. This triple-layer inflatable kayak has everything that most SUP paddlers could want from their boards, without any unnecessary features. Taller riders or those seeking a little extra balance should select the iRocker All-Around 11. However, the iRocker All-Around 10 is a great shorter board for smaller solo riders looking for more maneuverability.
The All-Around is a great board that comes with a full carbon fiber paddle for better performance. This upgraded paddle is lightweight, floatable, and incredibly sturdy. Plus, it breaks down to a minuscule 35". Other noteworthy included accessories are an iRocker inflatable SUP repair kit, a dual chamber hand pump, and a convenient rolling carry bag that is also a backpack.
As one of the best-selling iSUPs available, the iRocker All-Around earns high praise in paddle board reviews. These SUP reviews highlight how the All-Around actually performs better in speed and tracking than other specially made boards. It also comes in a stylish range of colors, including aqua, orange, and teal. Overall, the iRocker All-Around is the perfect SUP choice for most paddlers.
2. iRocker Blackfin Model XL Inflatable Standup Paddle Board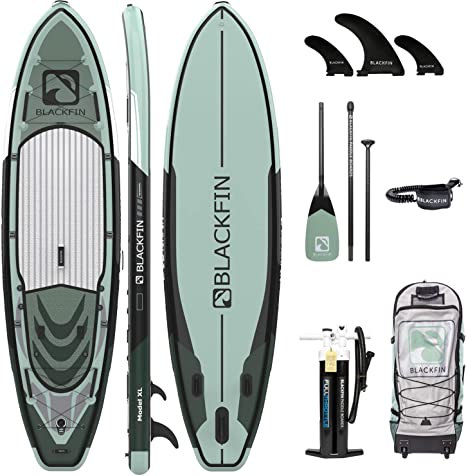 Best for: Fishing and touring

Skill level: Intermediate to advanced

SUP type: Triple-layer inflatable adventure SUP

Paddles: Three-piece carbon matte with nylon blade

Rigging: Dual bungee, eight action mounts, and 20 D-rings

Size: 11'6"L x 34"W x 6"T

Weight capacity: 485 lbs
From iRocker's elite Blackfin line comes the Blackfin Model XL SUP. A larger version of the Blackfin Model X, the XL is an incredibly durable stand-up paddleboard perfect for all-day adventures and fishing. Recommended for riders 5'8" and taller, this board is plenty large for multiple riders or for bringing along your furry friends. Despite its spacious design, this SUP is easily transportable in its purpose-built wheeled backpack.
The Blackfin Model XL offers excellent stability and maneuverability in any water conditions. Gliding through the water with minimal drag, this SUP board is fast and fun for touring. It also has a triple-layer military-grade PVC design with a carbon rail for added rigidity.
Packing gear on the Blackfin XL is exceptionally convenient, with eight multi-purpose action mounts and 20 D-rings. Compatible with the Blackfin fishing rack and sand spear attachments, it's optimized for fishing trips. With these add-ons, you can easily store fishing rods, buckets, and coolers on your board and anchor them to a sandbar. Also great for kayakers, you can use two kayak conversion kits to transform the board into a two-person kayak.
This product may be out of stock — click below for a comparable option.
3. iRocker Nautical Inflatable Standup Paddle Board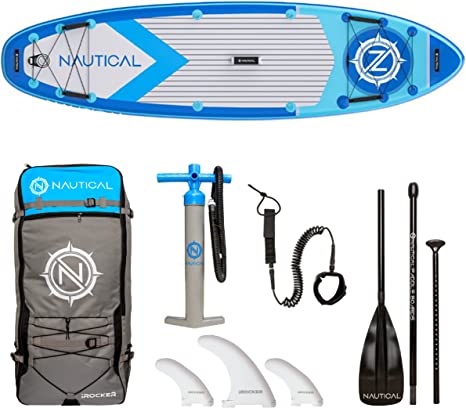 Best for: Value

Skill level: Beginner to intermediate

SUP type: Double-layer inflatable SUP

Paddles: Three-piece fiberglass with nylon blade

Rigging: Dual bungee, one action mount, and four D-rings

Size: 10'6"L x 32"W x 6"T

Weight capacity: 240 lbs
Are you interested in SUP but not looking to make a huge investment? The iRocker Nautical line of inflatable paddle boards offers everything a beginner could want in a board at a budget-friendly price. The rigging systems are simple yet versatile, allowing you to secure an iRocker kayak seat or store your belongings easily.
As a lighter-weight board, it's easier to bring the iRocker Nautical with you on the go. In addition, it has a premium travel backpack for easy transport, and an optional roller tray makes travel even more accessible. However, the Nautical's lightweight nature reduces the board's maximum weight limit, so heavier paddlers or people who wish to bring along gear or their dog may want to consider a different iRocker model.
As a budget SUP, the paddle is made from less expensive fiberglass, but iRocker has maintained the same shape as their pricier models. The board construction also utilizes many of the same build techniques, and like all iRocker boards, the Nautical comes with a 90-day no questions asked return policy. For a value board, it's hard to beat the Nautical.
This product may be out of stock — click below for a comparable option.
4. iRocker Cruiser Inflatable Standup Paddle Board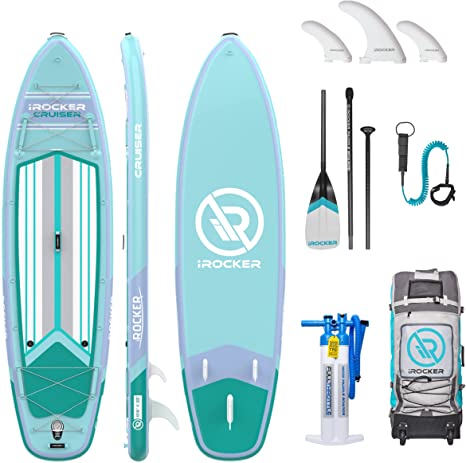 Best for: Stability and yoga

Skill level: Beginner to intermediate

SUP type: Triple-layer extra wide inflatable SUP

Paddles: Three-piece carbon matte with nylon blade

Rigging: Dual bungee, four multi-use mounts, and 20 D-rings

Size: 10'6"L x 33"W x 6"T

Weight capacity: 400 lbs
Perhaps the steadiest iSUP available, the iRocker Cruiser 10'6 is an ideal board for on-board yoga or shaky beginners. You'll have stability for your on-board yoga practice with an extra-wide base, a broad tail, and a comfortable EVA deck pad. The added padding is not only great for yogis, but comfortably accommodates riders who prefer paddling on their knees as well.
The same features that make the Cruiser suitable for yoga also make it an excellent board for families. The extra width gives more room for kids and pets, while the added stability reduces the risk of falling off. The Cruiser is also the most popular iRocker SUP for beginners. You can leisurely paddle on a calm lake or river for a pleasant, casual ride.
The iRocker Cruiser comes with a lightweight and durable carbon matte paddle, a triple-action hand pump, and a handy repair kit. Storage and transport are easy with an upgraded wheeled backpack with separate pockets for the pump and your personal belongings. This board comes in seven great color combinations, so there's a Cruiser to fit every style.
This product may be out of stock — click below for a comparable option.
5. iRocker Sport Inflatable Standup Paddle Board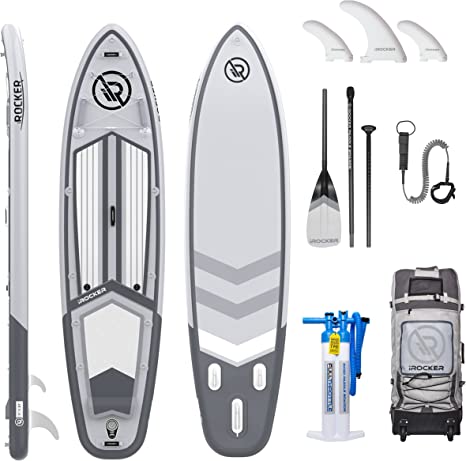 Best for: Racing

Skill level: Advanced

SUP type: Triple-layer inflatable speed SUP

Paddles: Three-piece carbon matte with nylon blade

Rigging: Front bungee, four multi-use mounts, and 20 D-rings

Size: 11'0"L x 31"W x 6"T

Weight capacity: 385 lbs
Just try and keep up with the iRocker Sport 11. This speedy SUP is fast and agile even in choppy conditions. Ideal for experienced SUP paddlers, this board has a narrow tail designed to reduce drag and an added kick pad for better stability. These features also make the iRocker Sport a good option for active kids and small adults.
Despite having a need for speed, the Sport model still has many of the versatile features riders love about iRocker SUPs. It has a large front cargo area, plenty of D-rings for attaching gear, and four action mounts. You can even attach an iRocker kayak seat to the mounts for a fun, adventure-filled day.
Missing from the iRocker Sport is a rear cargo area. Instead, the board features a raised kick pad for added control. This is great in surf conditions as you always know where the back of the board is and can pivot quickly. As with all iRocker models, the Sport uses three flip-lock fins that attach to the board. Paddlers may use all three for added stability or attach only the center fin for maximum speed.
This product may be out of stock — click below for a comparable option.
6. iRocker Nautical Kids Inflatable Standup Paddle Board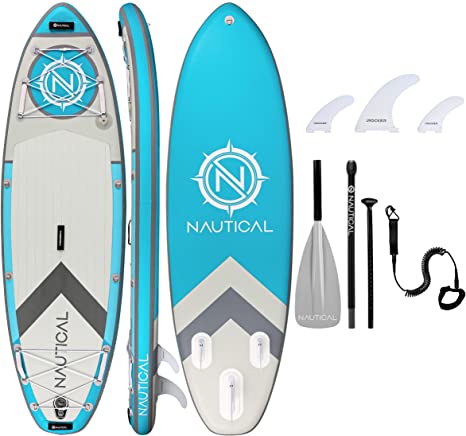 Best for: Young paddlers

Skill level: Beginner

SUP type: Double-layer inflatable kid's SUP

Paddles: Three-piece fiberglass with nylon blade

Rigging: Dual bungee, one action mount, and 18 D-rings

Size: 9'0"L x 32"W x 6"T

Weight capacity: 220 lbs
Stand-up paddle boarding is fun for the whole family! But, if your little one enjoys tagging along on your board, perhaps it's time for them to have their very own. The iRocker Nautical Kids is a scaled-down version of the adult Nautical model specifically designed for smaller riders.
While the Nautical Kids is small enough to be manageable for kids, it's still spacious enough for another lightweight passenger, either a dog or another child. Front and rear bungees make it easy to store personal belongings, while the 18 D-rings and single-action mount allow them to bring along additional accessories and supplies.
Unlike other brands, iRocker has designed this kid's board with the same quality and attention to detail as they do all their products. As a result, the Nautical Kids SUP has great safety features, excellent stability, and adjustable maneuverability. This is a great first SUP board for any adventurous child.
7. iRocker Blackfin CX Ultra Inflatable Standup Paddle Board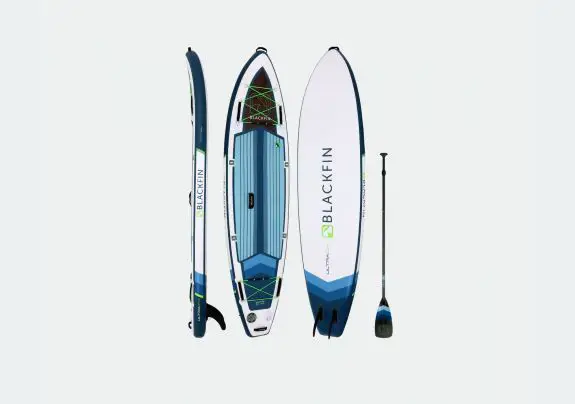 Best for: Travel

Skill level: Beginner to advanced

SUP type: Cross-thread drop-stitch inflatable SUP

Paddles: Carbon fiber with nylon blade

Rigging: Dual bungee and three action mounts

Size: 10'6" L x 32.5" W x 6" T

Weight capacity: 320 lbs
From the brand new iRocker Ultra line comes the incredible Blackfin CX Ultra. This highly innovative board offers excellent performance while packing up even smaller than less sturdy boards. Unlike other iSUPs, it features cross-thread drop-stitch construction that delivers excellent rigidity when inflated yet allows you to fold the board in half lengthwise for more compact storage.
Once the board is folded up, you can store it in the compact backpack. Ergonomically designed to let you carry your board further in comfort, it has padded straps and plenty of extra storage for personal items. Even the carbon fiber paddles break down into five pieces, so the entire set fits into half the space of a traditional iSUP.
Another noteworthy difference between the CX Ultra and other iRocker boards is the tethered twin fin setup. Rather than using the standard three-blade design, this SUP has two longer fins for better tracking and stability. Also, the new tether system reduces the chance of losing a fin. Representing the future of iSUPs, the Blackfin CX Ultra offers the same level of performance as other high-end boards but in a much more manageable size.
Ready to upgrade your board or try SUP for the first time? With iRocker inflatable paddle boards, beginner and advanced riders alike can enjoy spending time on the water.