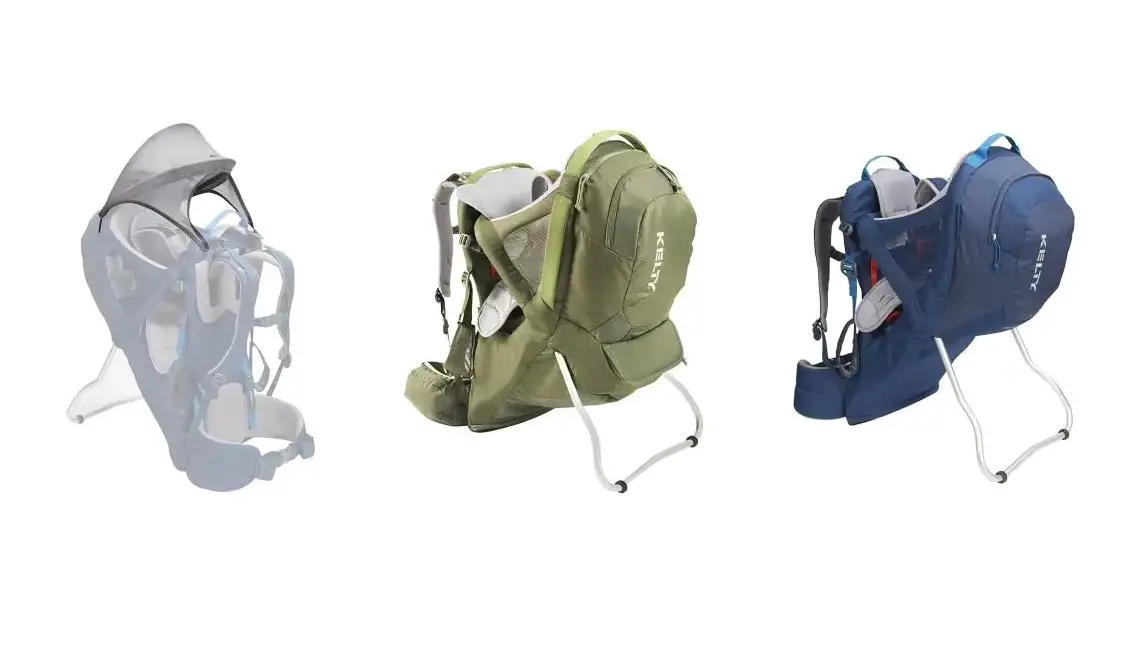 Ready to get outdoors with your little one in tow? Unlike strollers, hiking child carriers are specially designed for carrying kids safely and comfortably on the trail. Learn more about the best kids carriers from Kelty and enjoy a day of adventure with the entire family.
Find your Kelty kid carrier
Consider what types of outdoor activities you have planned when choosing a Kelty kids backpack carrier:
How to choose a child carrier pack
When it comes to your most precious cargo, you want to be sure you're choosing the best quality carriers. To find the right carrier pack for you and your little one, consider the safety features, the weight of your child, your size and comfort needs, and the pack's available storage space.
Safety first
The most important thing to look for when selecting any product for small children is safety. First, you want to choose a pack with a sturdy and lightweight aluminum frame. These tubular aluminum frames provide the structure and support necessary to securely carry your child's weight on your hips.
Branching out from the frame, you want to look for a kid carrier with a stable and easy-to-use kickstand. This kickstand needs to be secure, as it provides the base for loading and unloading your child from the carrier. You should also ensure that the kickstand easily extends and retracts without pinching fingers and that the bag has sturdy grab handles to assist with putting on and taking off the carrier.
A child harness is necessary for safely fastening your child in the kid carrier. Look for a carrier with a five-point harness and an adjustable child seat for the most secure fit. Also, child stirrups that elevate little feet are needed for comfort and to ensure leg circulation.
Child size
There is a window of time when kids are the right size for outdoor child carriers. They must be able to sit upright on their own and should weigh at least 16 pounds. Most kids begin to be eligible for child carriers around six months old.
A full-sized child carrier is too advanced for babies younger than six months old or under 16 pounds. Instead of a baby backpack, it's best to use a frameless infant carrier to hold your baby in front of you while you walk or hike.
Backpack carriers also have an upper child weight limit. Typically, this max weight is around 40 pounds. However, you shouldn't carry more than a maximum weight load of 48 pounds for your safety. This max weight load includes the pack itself, your child, and any additional gear packed in the carrier.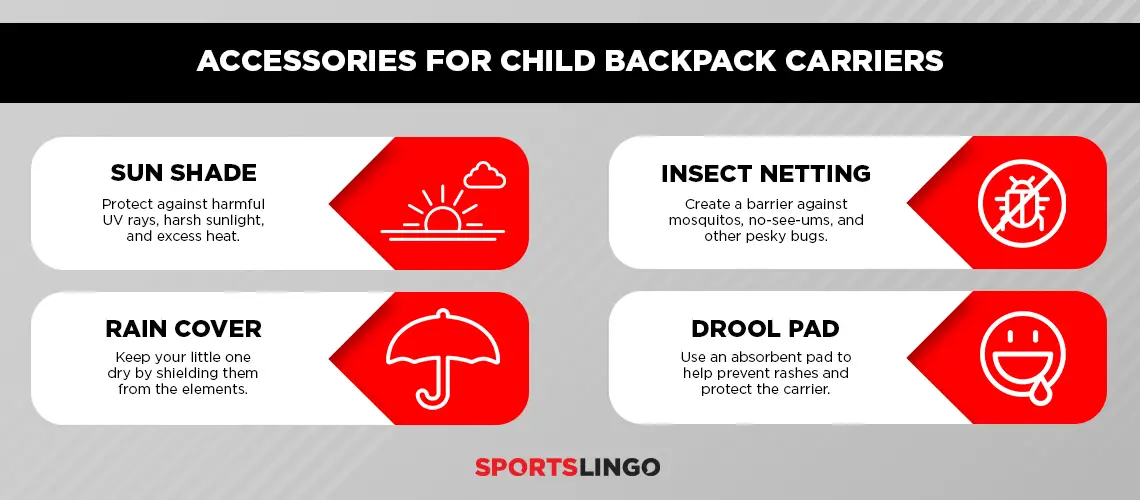 Parent comfort
Hiking is hard enough without a wiggly toddler on your back. Fortunately, you can make things a little easier with a child carrier built for parent comfort. Luckily, most carrier packs are unisex to fit men and women, so both moms and dads can take on carrying duty.
That said, check that the adjustable suspension system and torso length range suit each parent. The child carrier's suspension system is what distributes your child's weight to carry safely. Ideally, you should be able to partially adjust the suspension while the pack is on your back for the best fit.
Another essential feature is a comfortable waist belt, which should sit on your hip bones to support the weight. The hip belt and shoulder straps should also be padded and adjustable for a custom fit. Finally, a breathable back panel helps improve ventilation and improve overall comfort.
Storage space
Every parent knows that where there are kids, there's a lot of stuff. So chances are, you will want to carry far more than just your child in your carrier pack. The attached daypack on your kid's carrier should be spacious enough to take all your daily essentials, such as toys, extra layers, and diapers, and have multiple zippered pockets for organization.
Since you're carrying a child on your back, you will want to reduce the times you need to take the carrier pack on and off. That's where easy-access hip belt pockets come in. The best child carriers have spacious hip pockets with space to keep your phone, a water bottle, and a few snacks within reach.
Bonus features
Additional accessories can improve the experience of using a child carrier for you and your kid. For example, sunshades are important for protecting your little one from the sun's rays. Similarly, a rain cover can keep them dry and comfortable in inclement weather. Other toddler-friendly features include removable drool pads, bug netting, and hydration reservoirs.
Kelty child carriers for every family adventure
From tents to sleeping bags, trusted outdoor brand Kelty has everything your family needs to get outside. The Kelty Journey PerfectFit line of child carriers makes adventuring even easier for families with young kids. With three models to choose from, each with more features than the last, there's a Kelty child carrier for every hiking trip with your toddler.
All Journey PerfectFit child carriers measure approximately 28 x 15.5 x 22 inches and have a maximum load weight of 48.5 pounds. They have a torso fit range of 15.5 to 21 inches, making them comfortable for most moms and dads, and they can carry children between 16 to 40 pounds.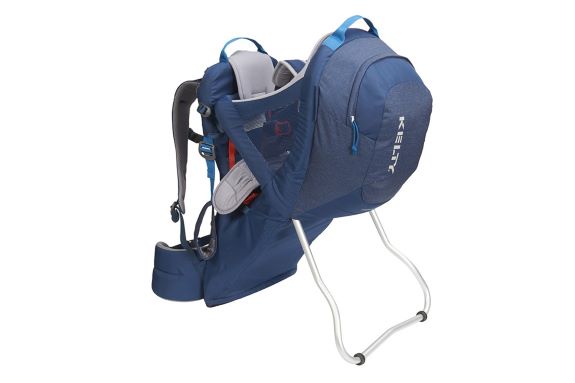 Best for short hikes

Volume: 17 L

Weight:  6 lbs 6 oz

Two exterior pockets

Simple, lightweight kid carrier for minimalist hiking
The original Kelty Journey PerfectFit child carrier has everything you need to take your toddler on a day hike or walk in the park. With plenty of space to store the essentials in the attached day pack and two exterior pockets, this Journey PerfectFit model is great for shorter hikes or when you have a second set of hands to carry additional gear.
With safety always at the forefront, the Kelty Journey PerfectFit uses a five-point harness for securing your little one on your back. The child seat is wide and spacious, with adjustable stirrups for the most natural sitting position and a comfortable ride. It's also easy to take the pack off and on safely. Then, extend the wide, stable kickstand and maneuver with the large grab handles.
Equipped with Kelty's PerfectFit suspension system, this kid carrier allows for quick and easy fit adjustments on the go. Meanwhile, the padded aluminum roll cage provides a sturdy yet lightweight structure for painless weight distribution. There is also a conveniently located mesh hip belt pocket for keeping snacks close at hand. This streamlined model kid carrier doesn't come with a sunshade, but one is available as an optional accessory.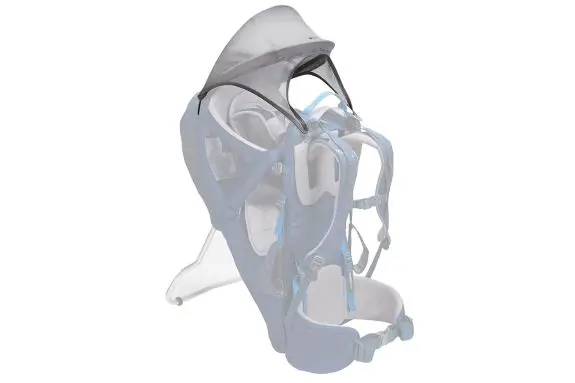 While the Kelty Journey PerfectFit doesn't come with a sunshade, the brand has one available to fit this model. An essential for sunny days, the Journey sunshade protects your kid from the elements. Weighing only 5 ounces and available at an affordable price, the sunshade is a must-have add-on.
If you decide to forgo the sunshade, be sure your kid wears a sun hat and plenty of sunscreen on sunny days.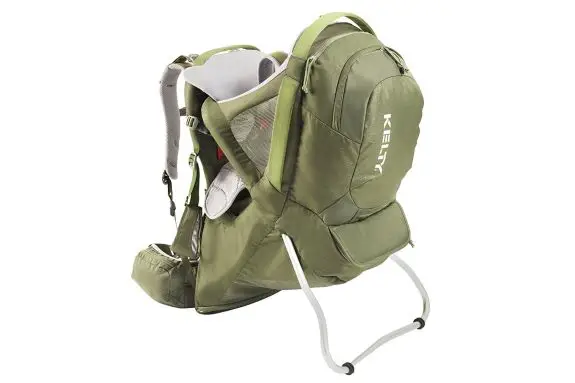 Best for medium-length hikes

Volume: 26 L

Weight:  6 lbs 6 oz

Sunshade included

Four exterior pockets
As the Goldilocks child carrier by Kelty, the Journey PerfectFit Signature has additional features not included in the basic version while still remaining relatively lightweight. Additionally, the Signature includes plenty of room for snacks, toys, and clothing, and it features more pockets and additional packing space under the child's seat.
Safely securing your little one is simple with the five-point safety harness and adjustable child seat. This wide seat base, combined with foot stirrups, makes longer walks more comfortable for kids. Plus, the folding frame design features an integrated kickstand and multiple grab handles, making it easy to set the carrier pack down.
Switching off between parents is also easy with Kelty's PerfectFit torso adjustment system. The hip belt features pockets that are handy for storing water bottles and trail essentials while distributing the pack's weight to the wearer's hips. The Kelty Journey Signature has an integrated sunshade and removable drool pad, so you and your kiddo are ready for anything.
Best for long hikes

Volume: 26 L

Weight:  7 lbs 4 oz

Hydration compatible

Sunshade included

Seven exterior pockets
Want to take your toddler on full-day hikes or need a little more storage space? The Kelty Journey PerfectFit Elite is the ultimate child carrier for any outdoor family adventure. With all the safety features you can expect from Kelty kids backpack carriers, the Journey PerfectFit Elite has a five-point child harness and a padded aluminum roll cage.
The hydration reservoir sleeve fits a standard hydration bladder for thirsty hikers of all ages. The pack also features an integrated sunshade, so you never have to worry about forgetting the sunscreen. Like other Kelty Journey models, the Elite features the Kelty PerfectFit suspension system for quick and precise fit adjustment.
The Elite has a large zippered pocket with plenty of internal organization pockets that stretch to accommodate everything you need. Under the broad seat base is another large storage pocket, and the carrier pack even has a zippered dirty compartment that wipes clean for unexpected messes. With so much storage, the Kelty Journey PerfectFit Elite is a stroller for your back.
From the basic Journey PerfectFit model to the Elite with all the bells and whistles, there's a Kelty kids backpack carrier for your young family. So share your love of the backcountry with your kids early on with a Kelty kid's backpack carrier.
How to fit your Kelty Journey PerfectFit child carrier
Proper fit for both child and parent is essential when using a hiking carrier. Follow these instructions to customize the fit for your Kelty kids backpack carrier.
1. Adjust the torso size and hip belt: Start by adjusting the pack to your torso size to find the perfect parent fit. Next, loosen all of the straps and put the pack on. Clip the hip belt directly over your hipbones and tighten the straps until they fit snugly.
2. Set the strap lengths: Next, adjust the shoulder straps by pulling them down. Pull the Kelty PerfectFit adjustment straps down and forward to change the torso length until the top of the straps wrap over your shoulders by around 2 inches. Snug the load lifter straps at the top of the pack. Finally, secure the sternum strap for a perfect fit.
3. Customize child seat settings: Now that your pack is fitted to you, it's time to adjust the cockpit for a safe and comfortable ride for your child. First, pop out the kickstand at the bottom of the pack and use the large grab handles to lower the kid carrier onto level ground. Under the seat, you will find orange straps labeled "tighten before use." Pull these straps to tighten the frame and tuck them away. Then tighten the belts on the side of the frame.
Next, adjust the child's seat height so that your kid's chin is level with the drool pad. To move the seat up, pull the seat handle up until you reach the correct height. To adjust the seat downwards, lift the orange buckle behind the seat to unlock its position and push the chair down to the desired height.
4. Set your child in the seat: Once the seat is ready, loosen and unbuckle the straps and place your child in the seat. Both legs should go through the leg holes and under the waist belt. Then, position the shoulder harness over your child's shoulders and clip the orange buckles. Tighten by pulling up the webbing loop until the straps are secure. The straps should fit snugly but allow a finger to fit in between.
Then, adjust the waist belt by pulling the straps forward until it fits snugly yet comfortably. Finally, place each of your child's feet into the stirrups so that their knees are slightly bent in a natural position. This position ensures a comfortable ride and helps with circulation.
5. Put on the pack: Now that the Kelty kids backpack carrier fits both parent and child perfectly, carefully lift the child carrier by the grab handles and put it on. Then, simply fold in the kickstand and you're ready for an adventure together.
Can you use a baby carrier for hiking?
For young babies under six months, a soft, sling-style baby carrier is recommended for walks and mild hikes. Otherwise, parents should look for a designated outdoor child carrier for safe and comfortable hiking for both child and parent.
At what age can you use a hiking carrier?
Most child hiking carriers are designed to fit children between six months to four years old. Babies need to easily sit upright on their own to ride in a kid carrier and fit within the specified weight limits of the carrier.
How do you carry a toddler on a hike?
A framed child carrier backpack is best to carry older babies and toddlers on hikes. With many safety features for both parent and child, these carriers ensure everyone has an enjoyable day outside.
If you're ready to take off on a family-friendly adventure, use these tips to find the right Kelty kids backpack carrier and get a comfortable fit for you and your child.