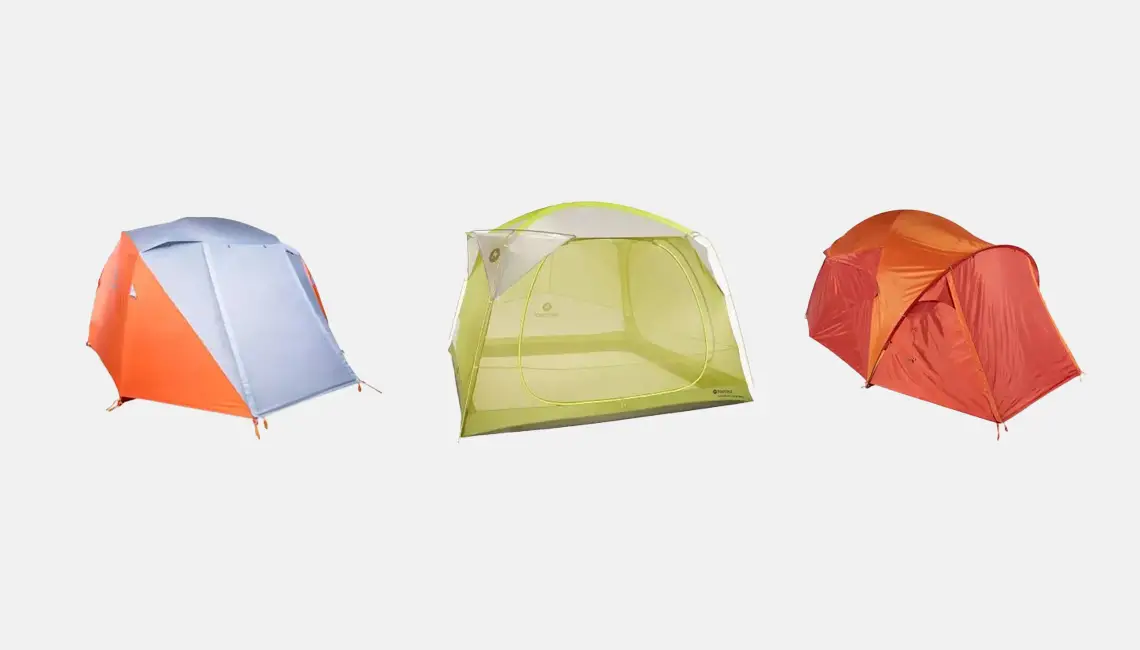 Nothing beats spending time with your family in the great outdoors — except having the necessary space to avoid driving each other crazy. So before you embark on your next big camping trip, ensure you're prepared with a roomy 6-person tent. After all, it's called camping, not cramping.
Find the right Marmot tent
No matter what type of camping trip you have in mind, there are plenty of great Marmot camping tents from which to choose.
How to choose a camping tent
Unless you're the next Bear Grylls, you probably want a comfortable, weatherproof tent when you go camping. However, finding the right tent to fit a whole family is not always easy. Luckily, you can find the best Marmot camping tents to fit your needs by considering its size, gear storage capabilities, portability, ease of setup, and the weather you'll be encountering.
Size
When looking at Marmot tents, 6-person tents, 4-person tents, and several other sizes are available. But how do you know which size is right for you?
First, it helps to understand how tent sizing is determined. Marmot camping tents that are classified as six-person tents are designed for six average-sized adults to fit lying down inside their sleeping bags.
You might be wondering then, what about gear? While it's true that a 6p tent should be large enough for six sleeping adults, it doesn't mean it's roomy enough for all those people and their gear. Rather, a six-person tent is best suited for three to four adults or two adults and two to three children. That way, everyone has enough space to spread out, store their belongings, and have enough headroom to avoid feeling claustrophobic.
Gear storage
Tents tend to get cluttered quickly, especially when shared between three or more people. Therefore, gear storage is an important consideration when choosing a tent. Look for a tent with plenty of interior pockets spread out around the tent. That way, everyone can conveniently store their small belongings near their sleeping bags, such as phones and glasses.
Nobody likes the guy who wears his shoes inside the tent. That's why vestibules are another essential feature for gear storage. Vestibules allow you to store dirty camping gear away from where you sleep, keeping the tent clean and freeing up space inside.
Weather conditions
Don't let a little rain ruin your family camping trip! At a minimum, your tent should have a full-coverage fly for weatherproofing. This rainfly should be durable and easy to affix to your tent in a downpour. The floor fabric also matters. To avoid soaked sleeping bags, you want a tent with a durable, waterproof floor.
Also, consider if you need a 3-season or 4-season tent. While most family car camping trips take place in the warmer months, more adventurous families may decide to brave the elements for a cold weather trip. In most cases, a three-season tent is the way to go, but for winter camping trips in snowy conditions, you can be better prepared with a four-season model.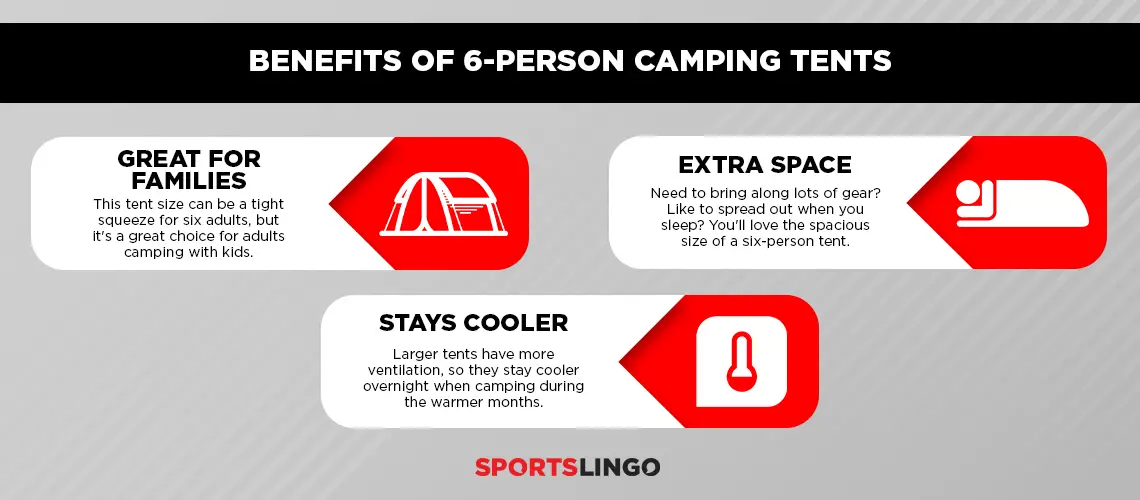 Portability
If a Marmot tent's 6-person tent is suitable for your group, chances are you're car camping. But that doesn't mean packed size and weight don't matter. Even when you can pull up right next to your site, a smaller, lighter-weight tent is easier to transport and set up. This matters even more if you will be traveling further with your tent. For short distances, a traditional 6-person tent should still suffice. However, consider a backpacking tent for longer journeys.
Setup
Nothing causes marriage strife like trying to set up a complicated tent with your kids running around the campsite. Avoid these conflicts with an easy-pitch family tent. Look for a tent model with a straightforward construction, such as a traditional cross pole design. Also, look for accessible setup features like color-coded poles and clips.
While a single person should ideally be able to set up Marmot tents, 6-person models can be a bit more challenging to set up alone because of the size. The process to take down your tent should also be straightforward. Look for a tent with a forgiving storage bag that won't make it feel like you're trying to close an overstuffed suitcase.
Quality
Your tent is your home away from home, so you want to feel confident that it will protect you from the elements. Choose a tent made from durable, weatherproof fabric with heavy-duty poles. Also, pay close attention to the little things. For example, without sturdy stakes, your tent could blow away. And sticky zippers could be a warning that they might fail, allowing critters into your bed.
Luckily, Marmot makes high-quality tents to protect you from the elements every time your family goes camping. Compared to other trusted outdoor brands, such as Nemo, Eureka, REI, and Big Agnes, Marmot tents rank among the very best and are highly rated by experienced and beginner campers alike.
Marmot's six-person camping tents
Are you looking for the best 6-person tent for your next camping adventure? From the best-selling Limestone to the luxurious Torreya, these five great tents from Marmot are perfect for making memories that will last a lifetime.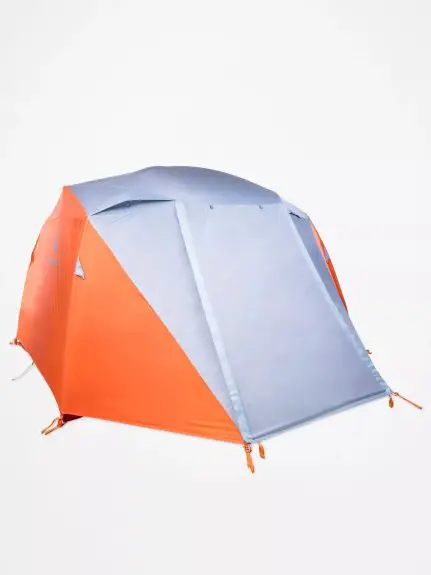 Best for: Budget

Floor area: 82.9 square feet

Simple cross pole design, two-person setup recommended

Double-zippered front vestibule with second back entrance vestibule

Quad-zippered front door allows you to create a double entry or divide the tent into two rooms
The Marmot Limestone 6p tent has everything your family needs for an epic car camping vacation at an affordable price. Despite being Marmot's best budget option for a freestanding six-person tent, the Limestone is incredibly well built and reliable.
Made from high-quality, 100% polyester taffeta with a seam-taped catenary-cut floor, it keeps out the elements, even if Mother Nature isn't cooperating. The DAC DA17 easy pitch poles are pre-bent, creating vertical walls for plenty of headroom. They are also color-coded, making setup for the Limestone a snap. Gear pockets cleverly located around the tent make organizing multiple campers' gear more convenient.
Meanwhile, the double vestibule design is highly customizable, allowing additional gear storage and flexible space. The double-zippered front vestibule can be used for storing shoes and other outdoor gear, or you can roll up the front panel for better ventilation. You could even pull out this front panel and secure it with a hiking pole for a lovely little veranda.
The convertible double door is the feature that truly makes this Marmot six-person tent stand out. Utilizing a quad zipper design, you can create a double entrance or use it to set up a divider across the middle of the tent, essentially creating two rooms. The tent also has a removable vented fly you can leave off to enjoy beautiful starry nights.
Packing up this three-season tent is also a breeze. With a packed weight of 17 pounds 3 ounces, the Limestone six-person tent packs down to 26 by 10 inches, making it easy to store in your car and carry to your campground. The Limestone 6p comes in two striking colors, Orange Spice and Green Shadow, and can be purchased on both the Marmot website and Amazon. It also pairs well with the Marmot Limestone Lanai (see #4 below).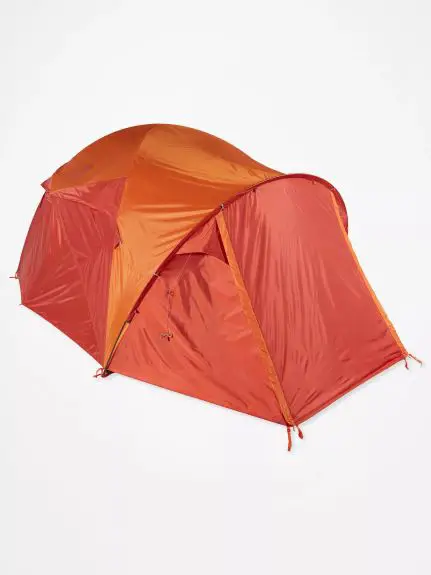 Best for: Spaciousness

Floor area: 96.9 square feet

Color-coded cross pole design, two-person setup recommended

Roomy front vestibule utilizes a separate pole, and second back entrance vestibule area is great for muddy shoes

An additional halo pole adds extra headroom and space
Never feel claustrophobic in your family camping tent again with the Marmot Halo 6-person tent. This expertly engineered tent offers a maximum height of 6' 4", so even the largest members of your family can stand up inside with ease. Utilizing a unique dome tent design, the Marmot Halo has an innovative pole structure that pulls away the tent walls to offer the most headroom possible.
All the materials used in the Halo are incredibly durable, with a polyester taffeta canopy, ripstop fly, and shockingly dirt-resistant floor. In addition, the five poles are made from a DAC DA17 pole material that allows them to slide easily through the pole guides. Setup is also made easier with color-coded poles, holes, and clips.
Storing gear is simple with the Halo's eight strategically placed pockets, headlamp hanger, and well-designed vestibules. The large front vestibule can easily fit a small table for cooking or playing cards along with two camp chairs. It also features a massive double door and a smaller side door for easy access from all sides.
No matter the weather, the Halo has you covered with a vented full-coverage fly. This fly is cleverly designed to offer complete protection from stormy weather without sacrificing air circulation, a feature that's especially important when you have multiple people sharing Marmot camping tents.
An ideal car camping tent for families big and small, the Marmot Halo weighs 20 pounds 9 ounces and packs up to 26.8 by 10.2 inches. It's available in a striking Tangelo/Rusted Orange color that's easy to spot anywhere in your campground.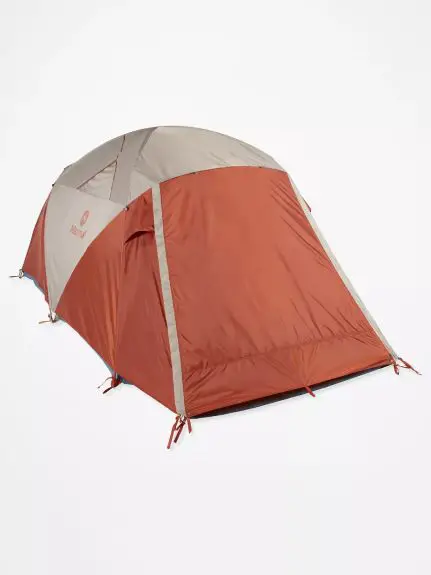 Best for: Quality

Floor area: 96.9 square feet

Color-coded cross pole design, two-person setup recommended

Front vestibule converts into a spacious awning, and rear vestibule is great for camping gear storage

Tons of interior space and clever storage solutions make for the ultimate family camping tent
Even your most camping-opposed family member is sure to love the Marmot Torreya. This high-end glamping tent has everything your family needs to feel at home in the great outdoors. With endless premium details such as beer pockets, an attached entry floor, and translucent privacy panels, you'll already be planning the next camping trip on the car ride home.
The Torreya's construction is everything one should expect in a premium tent. Whether it's cold, hot, wet, or dry, your family is protected from the elements. The polyester ripstop fly has four vents you can prop open, and the tent itself has two large, zippered vents for even more airflow. In addition, both the stakes and poles are highly durable, keeping the Torreya stable and secure.
Featuring a whopping 19 pockets, 32 gear loops, a lampshade pocket, and two vestibules, you never run out of space to put things. The front vestibule has room for two chairs and a small table, or you can use the included awning poles for a larger covered area. The back vestibule offers an additional entrance to the tent and a great place to store muddy boots.
The sheer size of the Torreya puts this tent in a league of its own. With a peak height of 6' 8," only the tallest campers would ever need to duck inside. In addition, it has an asymmetrical design allowing for a taller than expected entryway with massive dual doors. Marmot also knocks it out of the park with attention to little details, such as ergonomic zippers. Many experienced campers prefer this model to the similarly sized The North Face Wawona tent.
For such a large tent, the Torreya is surprisingly easy to pack. The tent and accessories fit easily inside the heavy-duty, duffle-style carry case. It weighs over 22 pounds packed, but for car camping trips, this matters less. The Torreya comes in a stylish Picante and Cascade Blue color combination and, like all Marmot products, is covered under their limited lifetime warranty.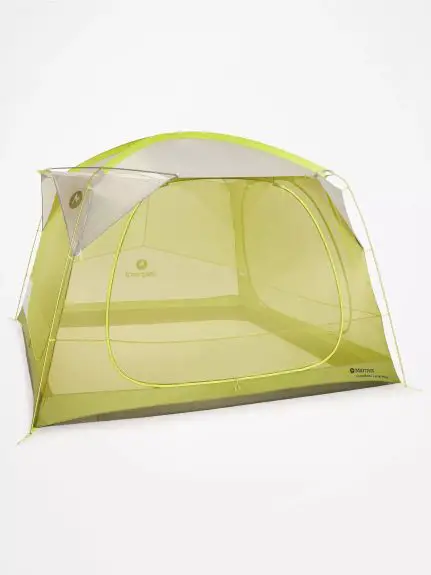 Best for: Day use

Floor area: 109.8 square feet

Freestanding shelter for protection from sun and bugs

Three large zippered doors and vertical walls

Great for use over a standard picnic table or for hanging laundry
Complete your family camping base camp with the Marmot Limestone Lanai Plus. This portable lanai easily fits over a classic picnic table for bug-free meals as a great outdoor meeting space for any function. Made from polyester taffeta, it has a pole sleeve-clip combo for easy setup and guy-line attachment points to keep it stable in windy conditions.
Not just for camping, the Marmot Limestone Lanai Plus is perfect for beach days with large groups. Offering protection from the sun and bugs, this lanai makes long days outdoors more pleasant for everyone. The Marmot Limestone Lanai also has a spacious 110-square-foot floor area and a laundry line to hang gear or clothing in a spot that's conveniently protected from the elements.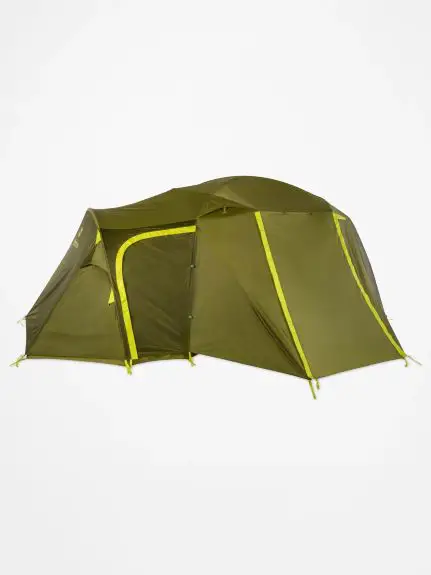 Best for: Larger families

Floor area: 130.2 square feet

Color-coded cross pole design, two-person setup necessary due to size

Two vestibules and entryways offer plenty of space for gear

Space for the entire family with a built-in room divider
The big brother of the Limestone 6-person tent, the Limestone 8-person tent provides even more space for large groups or families. With the same high-quality construction as the smaller model, this tent offers a few added features to accommodate more people.
With a height of 6' 5" and tons of floor space, you can easily fit six or more people in this massive Marmot tent. Pre-bent poles keep the walls vertical, and a removable wall allows you to customize the space. This optional spare room is perfect for using as a kids' bedroom or for gear storage.
The back panel of the Limestone 8p is translucent for privacy but still allows in plenty of light. High-quality stakes and guy lines help keep this large tent stable even in windy conditions, and the main fly can quickly connect to the tent in case of a surprise downpour. When you need as much space as possible, you can't go wrong with the Marmot Limestone 8-person tent, which also pairs up perfectly with the Marmot Limestone Lanai.
Care tips for Marmot camping tents
There are some key steps you should follow to make sure you protect the integrity of your Marmot tents, 6-person models included. With proper care, Marmot camping tents can last for many years to come and see you through a number of camping trips with friends and family.
Go slow:

Don't rush through setup, which can be hard on your tent poles. Avoid tugging on zippers, too.

Avoid prolonged sun exposure:

Try to set your tent up in a shady area since extended exposure to UV rays can be rough on the fabric.

Use a footprint:

You can use a ground cloth called a footprint under Marmot camping tents to protect against abrasion.

Set up a lanai:

Products like the Marmot Limestone Lanai give you extra space for shoes and other items which could potentially damage your Marmot camping tent's material.

Keep it dry:

Always make sure your tent is fully dry before you store it away after each camping trip.
Whether you're going on a car camping trip with your family or need a massive tent for a trip with your buddies, Marmot 6-person tents will keep you comfortable in the great outdoors.