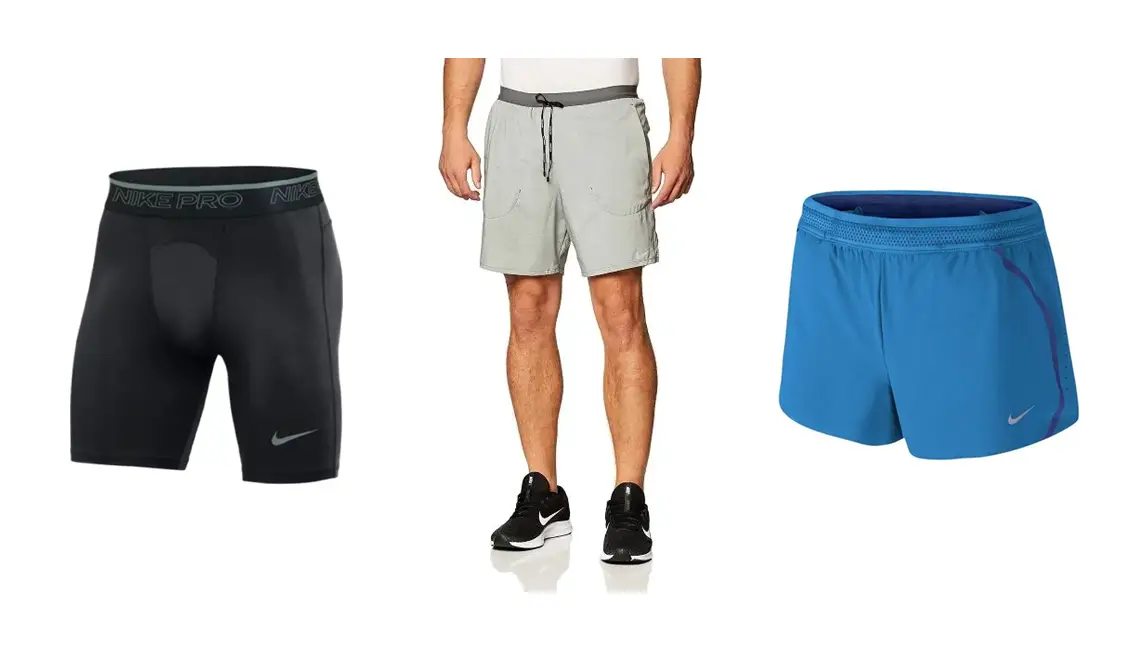 As a runner, you deserve to wear shorts that work as hard as you do. So whether you're a sprinter, a marathoner, or training for a family fun run, you can cross the finish line in style with a new pair of Nike running shorts.
Find your Nike running shorts
No matter what kind of runner you are, you can find the best pair of Nike running shorts here.
Nike running shorts for men
Nike running shorts for women
How to choose a pair of running shorts
Shopping for sportswear can be challenging. Whether you need new pair of running shoes, a sports bra, or an athletic T-shirt, there are different factors you should consider.
If you're looking for a new pair of running shorts, check out this guide to help you decide.
Type
Depending on the running that you do, there are different types of running shorts.
Track running:

Track & field runners need lightweight shorts that can offer complete freedom of movement. Typically, track shorts are shorter than ones worn by other runners.

Trail running:

Trail runners need their shorts to withstand the demands of more rugged conditions. These shorts are more durable and often feature pockets for carrying small items. Leggings are also popular with trail runners.

Road running:

Versatility is key when looking for road running shorts. Road runners should look for quick-drying, high-performance shorts that are just as comfortable on mile 10 as they are on mile one.
Length
Running shorts come with different inseams. Finding the right short length depends on personal preference and the type of running that you do.
3-inch inseam:

Short running shorts are most popular with competitive runners since they offer the best range of movement and ventilation. Since they're not constrictive, 3-inch shorts are suitable for any type of performance running, from sprints to marathons.

5-inch inseam:

Medium-length running shorts are a great in-between option for runners who want the modesty and durability of longer shorts but are still looking for quality performance. Thanks to its versatility, this length is the most popular with runners of all levels.

7-inch inseam:

Long running shorts are great for training and off-road conditions. Since they cover more of your leg, you have more protection from trail hazards like pricker bushes. These longer shorts are also more likely to have pockets so that they can be worn as everyday shorts as well.
Lining
Most running shorts feature an inner lining to keep you secure and prevent chafing. These linings make the shorts more breathable by wicking away sweat and moisture. Running shorts with linings are meant to be worn without underwear since the lining holds everything in place.
There are also unlined running shorts designed to be worn with compression shorts underneath. These tight running shorts also reduce chafing and can help improve blood flow. If you would rather have just one layer, you can wear compression shorts for running.
Fit
Well-fitting running shorts can significantly impact your performance. The lining of your running shorts should sit snugly against your skin and feel secure. The outer layer of the shorts should be loose and offer a full range of motion. If you're wearing compression shorts, they should be tight — but not so tight that they cause discomfort.
If you are plus size, there are also big & tall running shorts available to help you find the right fit.
5 Nike running shorts for men
Short and long, lined and unlined, Nike offers a fantastic range of men's running shorts.
Nike Dri-Fit Run Division Men's Pinnacle Short 3″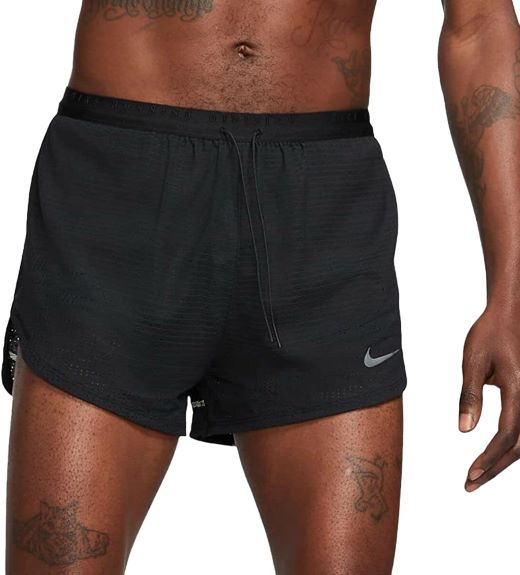 Best Nike performance running shorts

3-in-1 running shorts with compression tights

Available in sizes S to XXL
If you're looking for the ultimate performance running shorts, the Nike Dri-Fit Run Division Pinnacle is an excellent option. These shorts are made from a moisture-wicking and flexible material for a high-performance fit. In addition, reflective details help increase visibility for night or low-light running.
These running shorts offer three-in-one versatility with separate internal tights, which allow you to wear each piece together or separately. They also have a low-profile waistband, drawstring closure for a customized fit, and pockets for small essentials.
Nike Men's Flex Dri-Fit Stride 7″ 2-in-1 Shorts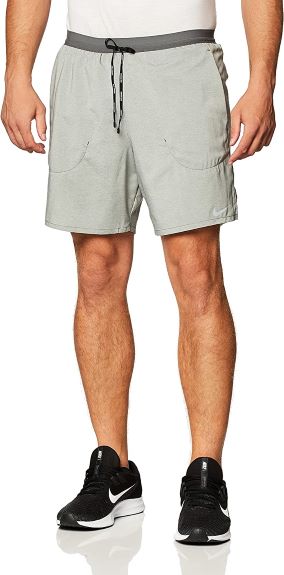 Best Nike trail running shorts

Brief-lined long running shorts

Available in sizes S to XL
Trail runners will love the Nike Flex Stride shorts. These 7-inch running shorts are lightweight and specially designed for maximum ventilation where you need it most. They have a zipper pocket at the back for your cell phone and side pockets for other small items you may need to bring along on the trail. Plus, the waistband has a dual-function draw cord that allows you to wear it inside or out of the shorts.
The Flex Stride shorts great for runners as well as the environment. The all-new fabric is made from at least 50% recycled plastic bottles and offers enhanced breathability for a comfortable and sustainable run.
Nike Men's Pro Training Compression Shorts
Best Nike compression running shorts

Compression training shorts

Available in sizes S to XXL
Whether you're looking for compression shorts to wear under a pair of unlined running shorts or need chafe-free training shorts, check out these Nike Pro Training compression shorts. The Pro Training shorts are available in many colors and feature an easy pull-on design.
Featuring Nike's Dri-Fit technology, these shorts effectively move sweat away from your skin to keep you dry and comfortable. They also have mesh at the inseam and a double-layer mesh gusset for added airflow where you need it most.
Nike Men's Dry Training Shorts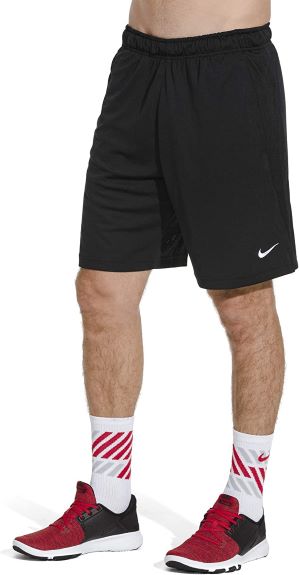 Best Nike training shorts for running

Versatile athletic short with a long inseam

Available in sizes S to 4XL with tall options
The bestselling Nike Dry training shorts are all-sport shorts that are great for running. With Dri-Fit sweat management technology and motion vents, these shorts keep you cool and dry during every training session. Instead of sweat gathering on your skin, the fabric moves it away to the surface, where it can evaporate more quickly.
Men who prefer longer shorts for running will appreciate the 9-inch inseam, which hits just above the knee. These shorts also have stabilized pockets that keep items in place while you move and are available in dozens of color options.
Nike Challenger Dri-Fit Shorts 5″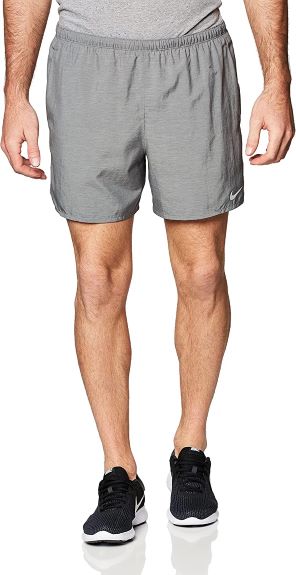 Best Nike brief-lined running shorts

Medium-length performance running shorts

Available in sizes S to XXL
If you're looking for a pair of running shorts that offer excellent support and freedom of movement, the Nike Challenger may be right for you. These brief-lined running shorts prevent chafing, while the Dri-Fit fabric keeps you dry and comfortable. They also have mesh on the lower side panel for extra ventilation.
These Challenger Dri-Fit shorts also have multiple pockets, including two on-seam pockets and a hidden pocket along the back for your phone. These shorts are made from at least 75% recycled material, making them a great sustainable option.
5 Nike running shorts for women
From bestsellers to new arrivals, here you can find the best women's running shorts by Nike.
Nike Air Tempo 3″ Women's Running Shorts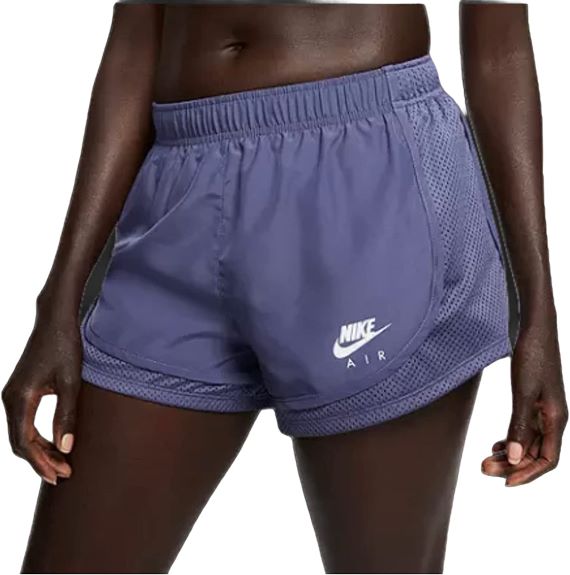 Best Nike performance running shorts

High performance with a short inseam

Available in sizes XS to M
Run with confidence with the iconic Nike Air Tempo running shorts. These running shorts are a part of Nike's high-performance Race collection and are made from lightweight and breathable fabric that keeps you cool and comfortable all the way to the finish line.
The Nike Air Tempo shorts have notched sides and mesh panels for added airflow and feature Dri-Fit technology for sweat evaporation. Plus, this fabric is made using at least 75% recycled materials. These shorts have two drop-in pockets for storing small items and a reflective swoosh graphic on each leg.
Nike Women's Dri-Fit Epic Luxe Trail Running Shorts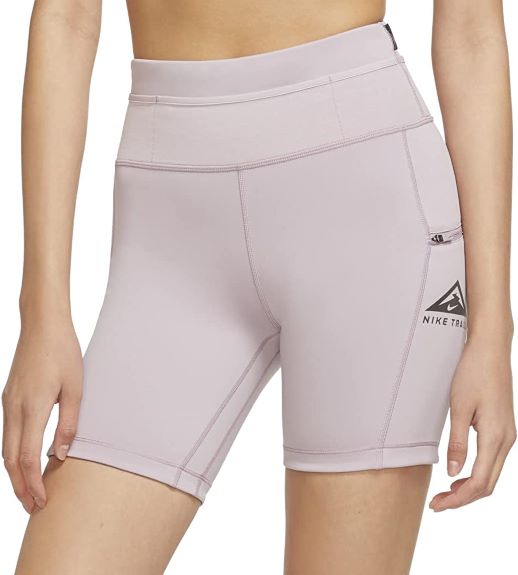 Best Nike trail running shorts

Tight running shorts with pockets

Available in sizes S to L
Trail runners everywhere will love the Nike Epic Luxe trail running shorts. These legging shorts have a comfortable and flexible fit with a stretchy knit fabric made with Dri-Fit technology. Great for layering or wearing on their own, they have a silicone gripper at the leg for keeping the shorts securely in place.
These shorts are designed with trail runners in mind. Nike has included eight pockets for storing everything you need on long trail runs: two large side pockets can hold a cell phone and six drop-in pockets along the waistband hold smaller items.
Nike Pro 365 Women's 5″ Training Short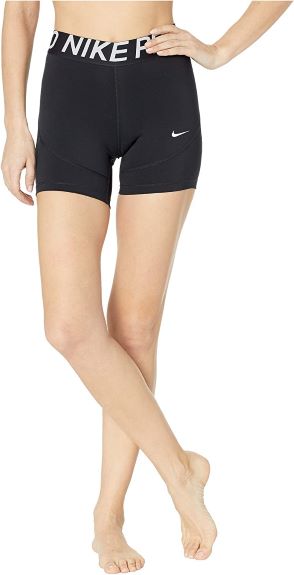 Best Nike compression running shorts

Tight-fitting shorts for minimizing chafing

Available in sizes XXS to XL
Train year-round with the Nike Pro 365 running shorts. These tight stretch shorts offer excellent support for long runs and workouts and can be worn on their own or under a pair of loose running shorts. In addition, the body-hugging Dri-Fit fabric wicks away moisture and sits flat for more comfortable layering.
The Nike Pro 365 shorts are popular with runners and volleyball players for their supportive and flexible fit. The mid-rise design features a wide elastic waistband for plenty of support, while the seams are strategically placed to minimize distractions.
Nike Tempo Women's Dri-Fit Running Shorts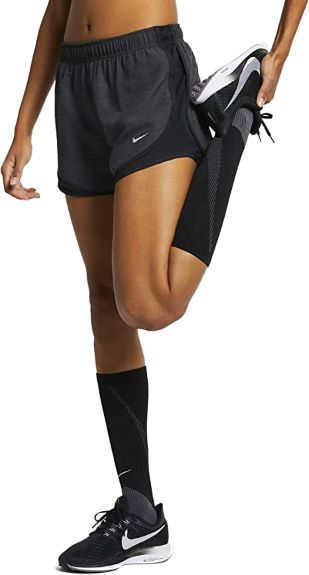 Best Nike training shorts for running

Classic-style running shorts

Available in sizes S to 3X
The Nike Tempo original track shorts are classic running shorts perfect for training and racing alike. These shorts have a standard, relaxed fit and are made from smooth, lightweight fabric. They also feature curved side panels made from breathable mesh for added ventilation.
Fit adjustments with the Nike Tempo shorts are easy with an elastic waistband and internal draw cord. These shorts also have a drop-in pocket where you can store a debit card or car key.
Nike Aeroswift Women's Running Shorts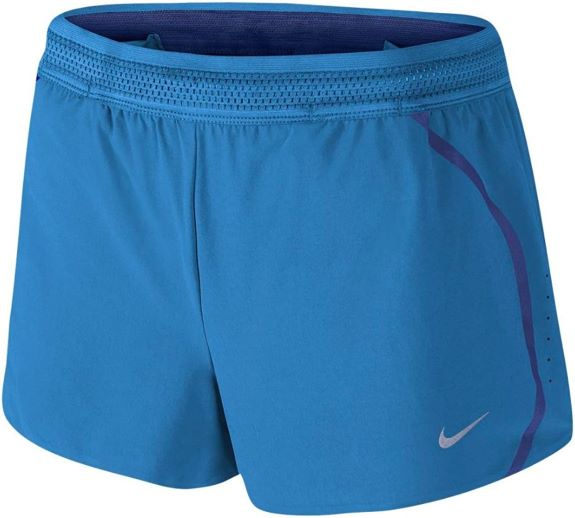 Best Nike brief-lined running shorts

Lightweight performance running shorts

Available in sizes XS to XL
If you have a need for speed, check out the Nike Aeroswift running shorts. These shorts have a slim fit and smooth feel that help you move as freely as possible. With these shorts, Nike has trimmed the bulk to offer plenty of coverage but with the lowest profile possible. Plus, a built-in brief liner helps cut down on rubbing.
The Aeroswift shorts are made from ultra-lightweight, moisture-wicking fabric that keeps you dry and moving freely in every stride. The fly-vent waistband is also ventilated, a draw cord allows you to adjust the fit, and the small drop-in pocket is perfect for small essentials.
Should running shorts be tight or loose?
Running short tightness is ultimately a personal decision. Looser shorts are easier to run in because they offer freedom of movement but tend to chafe. Therefore, many looser styles have built-in briefs to prevent chafing.
What length shorts are best for running?
The length of your running shorts depends on what type of running you do. Typically, sprinters prefer shorter-length shorts, while trail runners and casual runners prefer longer 5-inch or 7-inch shorts.
Do you wear underwear with running shorts?
Running shorts are usually made to be worn without underwear. If you wear compression running shorts or shorts with a built-in liner, wearing underwear can be uncomfortable and lead to chafing.