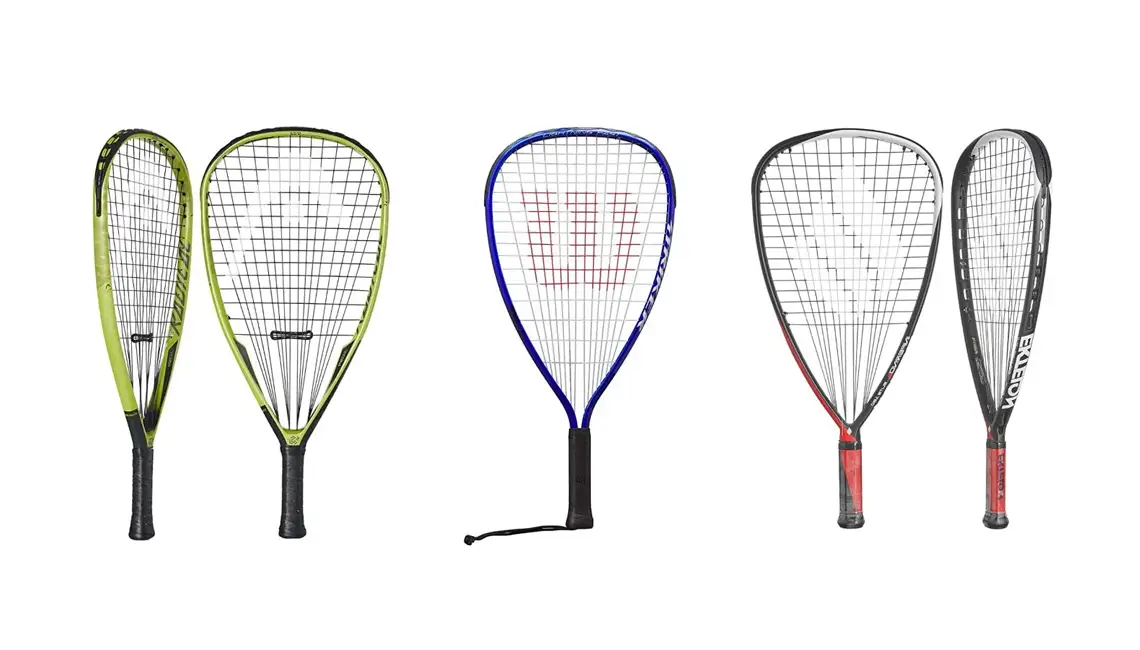 Want to play one of the best racquet sports? Make sure you have the right racquetball racket to accommodate your experience level and playing style.
How do I choose a racquetball racquet?
To find the right racquet, you'll need to consider a variety of important features, including:
Head shape
The head shape refers to the strung part of the racket. With racquetball rackets, head shape is categorized as teardrop or quad.
Teardrop rackets have a rounded triangular shape. Because the strung part has a slightly smaller surface area, they allow for a faster swing speed. This style of racket is preferred by many intermediate and advanced players who want the potential for added precision and power.
Quad rackets, on the other hand, have a boxy, square-like head shape that tapers down slightly toward the handle. The surface area of the strung part of the racket creates a larger "sweet spot" to hit the ball with, which makes it a better fit for beginners.
Balance
Another feature to consider is how the racket is balanced. Head-heavy rackets are balanced toward the head side, which makes them capable of delivering more powerful hits. Head-light rackets are balanced toward the handle side. This makes them a bit easier to maneuver. For a good combination of both features, choose an even balanced racket.
Grip Size
It's important to choose the grip size that works best for you based on what feels most comfortable for your hand size. The most common racket grip size is about 3 5/8" in circumference. This size offers a little more power since it's easier to snap the wrist for a strong hit. Larger grip sizes are typically either 3 7/8" or 3 15/16" in circumference. This size provides slightly more control, with the racket less likely to twist and turn.
What size racquet do I need for racquetball?
There aren't specific men's or women's racquetball racquets. Instead, players choose the weight that feels most comfortable based on their own abilities and playing style:
Light weight (150 to 165 grams): More maneuverability and a faster swing
Medium weight (170 to 185 grams): A nice balance of power and control
Heavy weight (185 grams or more): More control and stability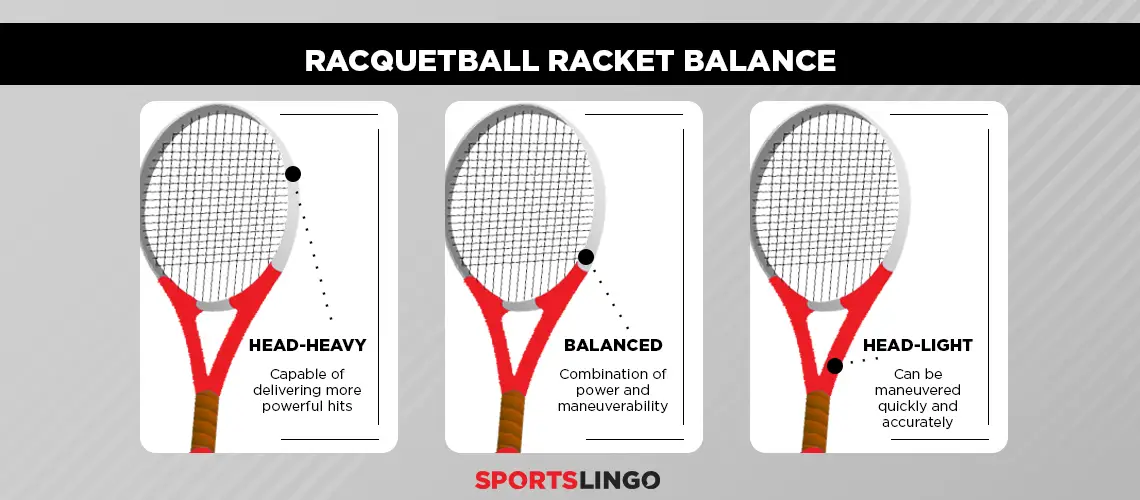 What is the difference between a tennis racket and a racquetball racket?
Many people looking to get into the sport have the same questions: Can you play racquetball with a tennis racket? After all, tennis rackets are generally easier to come by, and lots of sports enthusiasts already have one.
Unfortunately, a tennis racket isn't recommended for playing racquetball. Although the handles are fairly similar for the rackets in both sports, tennis rackets have a much larger size and a more rounded head shape compared to those used in racquetball.
Badminton vs. racquetball rackets
Badminton rackets aren't recommended for racquetball. In badminton, the strung part of the rackets are smaller and more rounded in head shape compared to racquetball rackets. Furthermore, badminton rackets have a much longer handle.
Pickleball vs. racquetball rackets
The racket differences are most notable when comparing racquetball and pickleball. That's because pickleball doesn't actually involve the use of a racket at all. Instead, players use paddles to hit the ball back and forth.
1. Wilson Striker Racquetball Racquet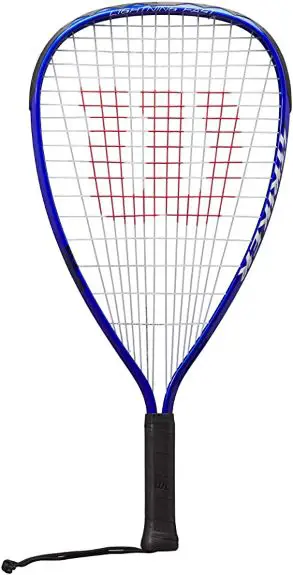 If you want to maximize power on your swings, the best-selling Wilson Striker is an excellent fit. With an aluminum alloy frame, it holds strong when making big hits at high velocities. This racket also features a V-Matrix Beam Design which helps with added stability during your most powerful shots.
Grip size: 3 5/8"

Lightweight aluminum alloy frame for added power and strength

V-Matrix Beam Design helps stabilize the racquet for improved precision
2. Gearbox Sports GB-125 Racquetball Racket

A great racquet for beginner and intermediate players, the Gearbox Sports GB-125 offers a quad head shape. The super-light graphite construction makes this racquetball racquet easy to maneuver while maintaining durability. The graphite material also helps maintain stiffness for more power in every swing. The sweet spot features a denser string pattern to help improve ball control, and the rubber damper system can be customized to increase or decrease vibration.
Grip size: 3 5/8"

Lightweight graphite frame for added power and durability

Adjustable rubber damper system for vibration control
3. ProKennex Momentum 175 Racquetball Racquet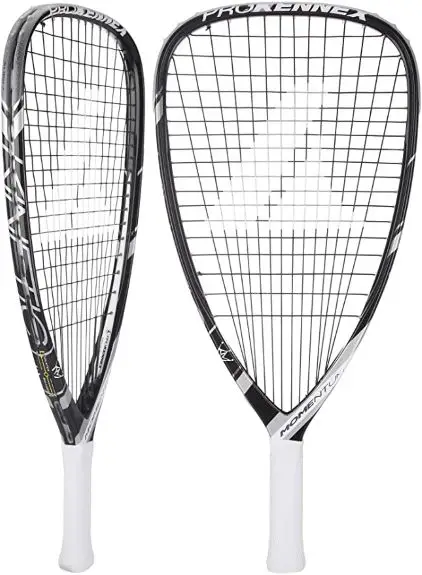 The ProKennex Momentum is designed to maximize power. Its large teardrop head shape is combined with a head light balance to make it easier to swing quickly and accurately. The brand's kinetic technology makes long playing sessions more comfortable by absorbing vibrations and damping shock. This racket can propel your playing abilities on the court with smooth power and comfortable control.
Grip size: 3 5/8"

Head light balance for fast, precise swings

Kinetic technology minimizes vibrations and shock
4. ProKennex 2015 FCB 165 Racquetball Racquet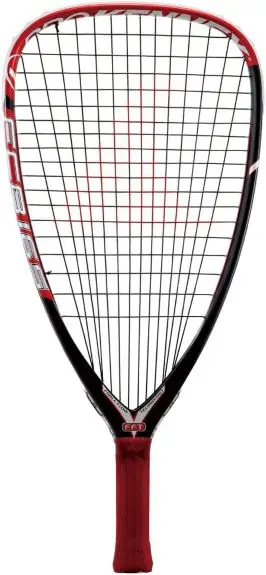 Intermediate and advanced players appreciate the unique combination of power and maneuverability that this ProKennex racket has to offer. The racket has a lightweight design that assists in rapid swings during fast rallies. The brand's Force Flow Technology also comes in handy by helping the frame remain stiff for more power generation than would be expected with such a lightweight racquetball racket.
Grip size: 3 5/8"

Even balance and low swing weight helps with faster swings

Force Flow Technology helps maintain frame stiffness for maximum power
5. Dunlop Biomimetic Ultimate Racquetball Racquet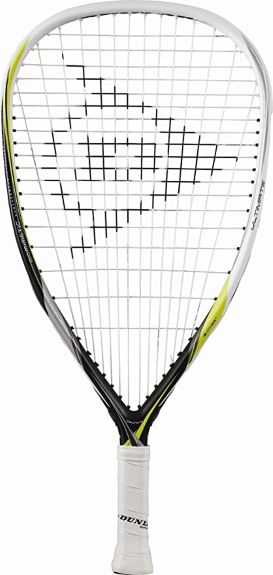 The Dunlop Biomimetic racket taps into the power of nature to give you better performance on the racquetball court. The racket's Aeroskin CX technology is made to resemble the micro surface texturing of shark skin. This feature reduces drag to help your swings glide smoothly through the air. The frame minimizes shock with a unique BioFibre material extracted from plant stem skin. The strings hold up especially well thanks to grommets designed to resist abrasion and friction.
Grip size: 3 5/8"

Aeroskin CX technology reduces drag by 35%

BioFibre material reduces shock upon ball impact by 18%
6. Ektelon Inferno Elite 160 Racquetball Racquet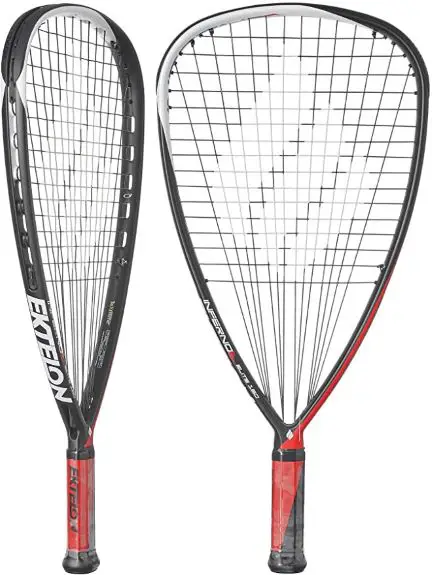 Looking for a lightweight racket with a large sweet spot? The Ektelon Inferno Elite 160 offers all that and more. This teardrop head racquetball racket offers plenty of surface area for striking the ball, which is helpful for beginners. The head-heavy balance ensures great stability while adding a bit of power to your swing. It's also made with TeXtreme X Twaron material in the lower portion of the racquet to help maintain the shape over time.
Grip size: 3 5/8"

TeXtreme X Twaron reinforced frame

O3-engineered racquet with a spacious sweet spot
7. HEAD MX Fire Head Light Racquetball Racket

The HEAD MX Fire racquet was designed with beginners in mind. With a head-light balance and a heavier overall weight, it's easy to maneuver for accurate hits while maintaining a stable feel for better control. This racquet also features Damp Plus, which helps absorb impact vibration in the head so you won't feel it in the handle.
Grip size: 3 5/8"

Damp Plus absorbs impact vibrations

Heavier feel ensures swing stability for beginners
8. HEAD MX Cyclone Racquetball Racquet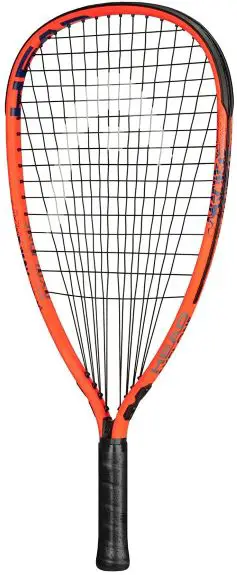 Another great option for beginners, the HEAD MX Cyclone racquet offers exceptional durability thanks to a sturdy alloy frame. It also features HEAD's Metallix Technology, which helps to stabilize the head. In addition, the Dynamic PowerZone String Pattern delivers more control every time you come in contact with the ball.
Grip size: 3 5/8"

Metallix Technology provides excellent stability

Dynamic PowerZone String Pattern helps with ball control
9. HEAD Graphene 360+ Radical 180 Racquetball Racquet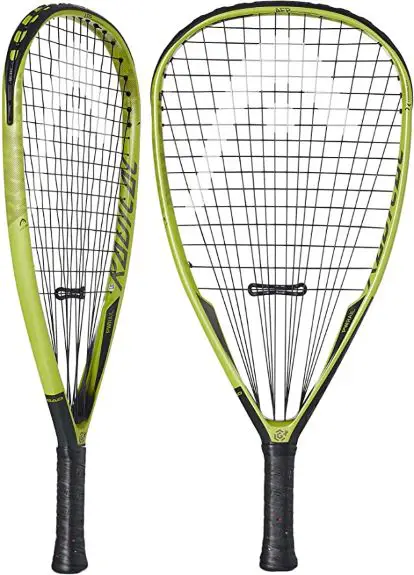 The HEAD Radical 180 is a top pick for many players who like medium-weight racquets. With Graphene 360+ technology and innovative spiralfibers, this racquet provides optimized energy transfer and enhanced flex. The head-light balance offers maximum maneuverability for quick, clean hits every time.
Grip size: 3 5/8"

Graphene 360+ technology helps with energy transfer for more power

Head-light balance aids in faster swings
10. HEAD Innegra Laser 180 Club Racquetball Racket

The HEAD Innegra is a medium-weight racquet that offers a great balance of power and stability. The frame's durable hybrid-composite structure helps with shock absorption for less vibration in the handle and stabilizes the racket upon impact. The throat of the racquet features unique channels that allow for longer main strings, which helps with stronger swings.
Grip size: 3 5/8"

Hybrid-composite frame absorbs shock and improves stability

Throat channels lengthen main strings for increased power
11. E-Force Bedlam 170 Lite Racquetball Racquet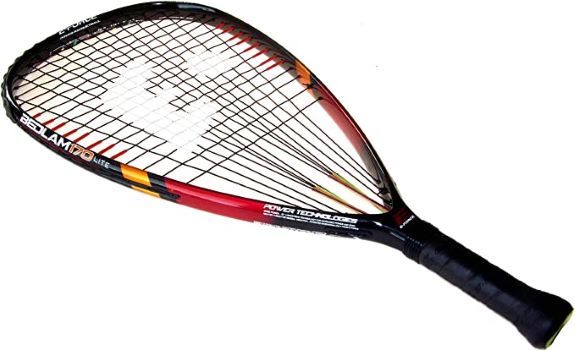 The Bedlam 170 Lite is one of E-Force's best-selling frames, and for good reason. It's a high-quality performance racquet that's popular with competitive players. The graphite frame features a Total Carbon Head which is lightweight yet stiff, which helps with speedy swings and efficient power transfer to the ball. It also features 22" LongString Technology, which extends the main string all the way through the length of the handle for a major boost in power.
Grip size: 3 5/8"

Lightweight graphite frame with Total Carbon Head

22" LongString Technology increases power by at least 38%
Other Racquetball Accessories
For new racquetball players, FAQs often involve what types of equipment is necessary for the game. While a ball and a racket are the only true must-have racquetball accessories, you may want to consider these additional options:
Racquetball gloves: Some players wear gloves for better grip and control and/or to help prevent blisters.
Eye guards: Many players wear special glasses or goggles to protect against balls that can fly at rates up to 100 miles per hour.
Racquet bag: A bag keeps your racquet protected when not in use and allows for easier transport.
Racquetball shoes: A rubber outsole provides enhanced stability and traction on indoor courts.
When it's time to get a new racquet, make sure you consider which features are best suited to your playing style and experience level. With plenty of great options available from brands like Ektelon, Wilson, Dunlop, HEAD, and E-Force, there's a great fit for every player.