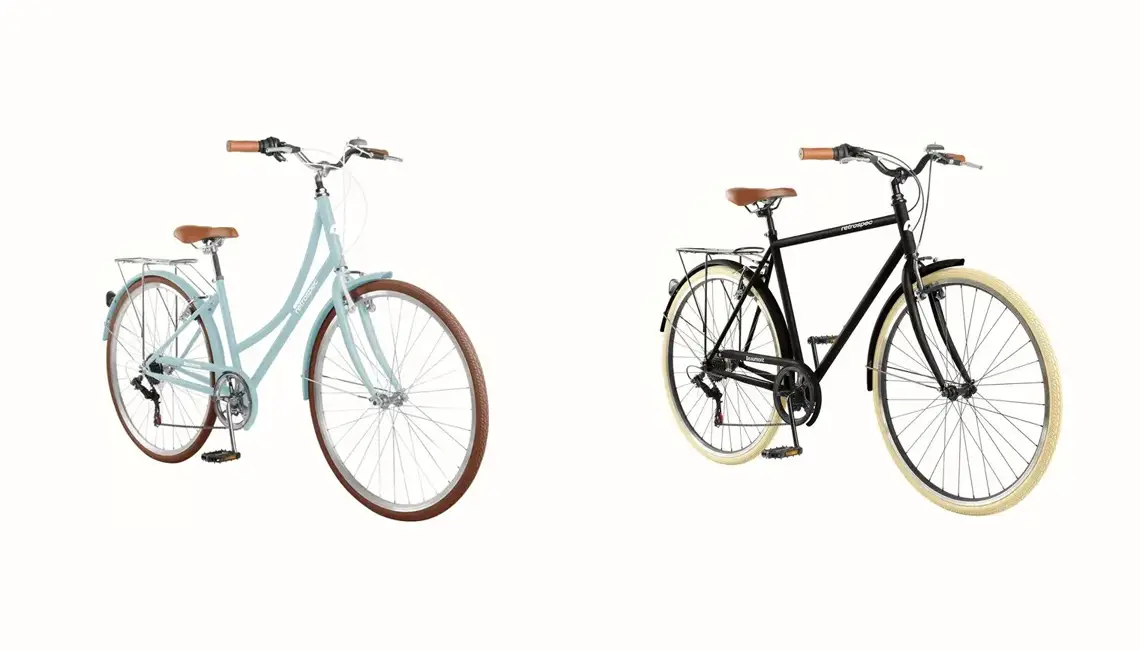 If you're looking for the best bike for every member of your family, check out these fantastic options from Retrospec. This California-based company believes in making the outdoors accessible for everyone, with a wide range of high-quality kids' and adult bikes at affordable prices. So whether you're a commuter, a casual rider, or an adventure seeker, there's a Retrospec bike for you.
Find your Retrospec bike
Choosing the right type of bicycle
There are many types of bikes available for every kind of cyclist. This guide can help you find the right one to fit your bike riding needs.
Commuter bikes
As the name may suggest, commuter bikes are ideal for getting to and from work. Also called city bikes, they strike a balance between comfort and utility that makes them suitable for longer journeys. There are many styles of commuter bikes, but most have ergonomic seats and minimal gearing and are designed for cyclists to ride upright. In addition, commuter bikes typically have cargo capacity for hauling gear or groceries.
Cruiser bikes
Beach cruisers are possibly the most stylish type of bicycle. These bikes maximize comfort and are perfect for cruising around your neighborhood or while on vacation. Cruiser bikes have swooped handlebars and a relaxed seating position for fun rides on flat pavement.
Road bikes
While there are many kinds of road bikes, each designed for different terrains and distances, all are optimized for on-road riding. With drop bar handlebars for an aerodynamic riding position, road bikes are ideal for fitness cycling and racing. These bikes have skinny tires and are typically faster than other types of bicycles.
Mountain bikes
With a mountain bike, you can conquer bumpy trails and steep inclines. These bikes have durable frames, wide knobby tires that offer grip on wet or rocky ground, and a suspension system to absorb the impact of rough terrain. Mountain bikes are also gear bikes, allowing riders to climb hills efficiently. While this type of bicycle is engineered for adventure, mountain bikes are also great for any non-paved trail riding.
Electric bikes
E-bikes are a great option for cyclists looking to go further faster. With integrated battery-powered motors, electric bicycles give riders a boost — either with pedal assist or with a throttle — that helps them cruise up inclines and use less energy on longer trips.
Fixie bikes
Fixed-gear bicycles, also known as fixie bikes, are an excellent option for cyclists looking for a straightforward ride. Because this style of bicycle eliminates the need to shift through multiple gears, riders have fewer distractions. Fixies don't have a freewheel, meaning you must pedal constantly. However, their stripped-down design makes these bikes incredibly reliable and easy to maintain.
Folding bikes
A folding bike is a great choice if you need a bike that can go practically anywhere. These bikes feature a folding frame that allows you to pack them up for storage or transport. Folding bikes are great if you want to travel with your bike, whether on vacation or when taking a commuter train. They're also convenient to store in your home or office.
Youth bikes
The main difference between an adult bike and a children's bike is the size. Kids' bikes are smaller to make them comfortable for young riders and have additional child-friendly features. They also have wider wheels, an upright seating position, and are lighter weight. Depending on the intended age of the rider, there are different options for kids' bikes, such as balance bikes and bikes with training wheels.
The best bicycles from Retrospec
Whether you're looking to cruise around your neighborhood, commute to the office, or get in shape, there's a Retrospec bike suited to your interests.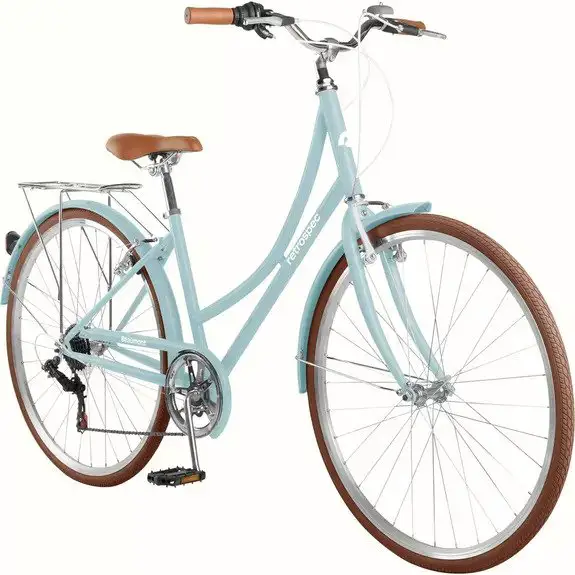 Best step-thru commuting cruiser

Rider height ranges:

Performs best on pavement with some hills
From riding by the beach to short daily commutes, this Beaumont city bike is perfect for getting around town. The Euro-style bicycle has a step-through frame, making it easy to get on and off. The Retrospec Beaumont 7 step-through comes with a handy rear rack, and a compatible front basket is available for purchase. Full-wrap front and back fenders look great and prevent splashing so you can ride your Beaumont rain or shine. This bike also features Shimano seven-speed shifting for precision you can count on.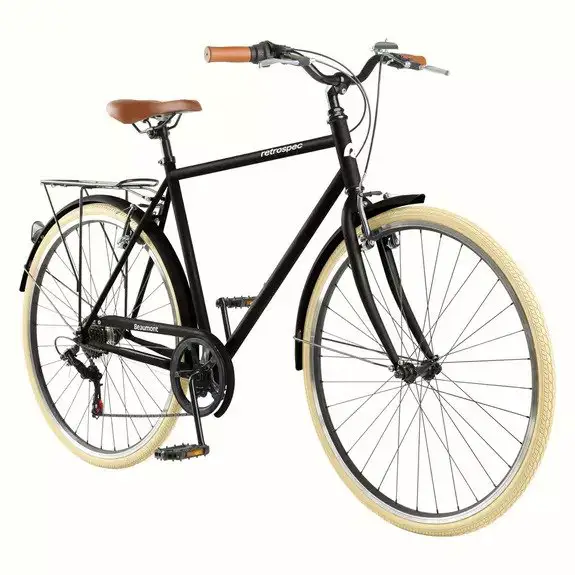 Best classic city cruiser

Rider height ranges:

Small: 5'2" – 5'5"

Medium: 5'6" – 5'8"

Large: 5'9" – 6'0"

Performs best on pavement with some hills
The Beaumont city bike is an ideal no-nonsense bicycle for running errands or cruising around town. This bike features a classic European design, a smooth-functioning 7-speed drivetrain, and a Shimano Tourney 7S derailleur. Like the step-thru Beaumont, this bicycle also has a sturdy rear rack that's ready for hauling and an optional wicker basket to help you bring along even more.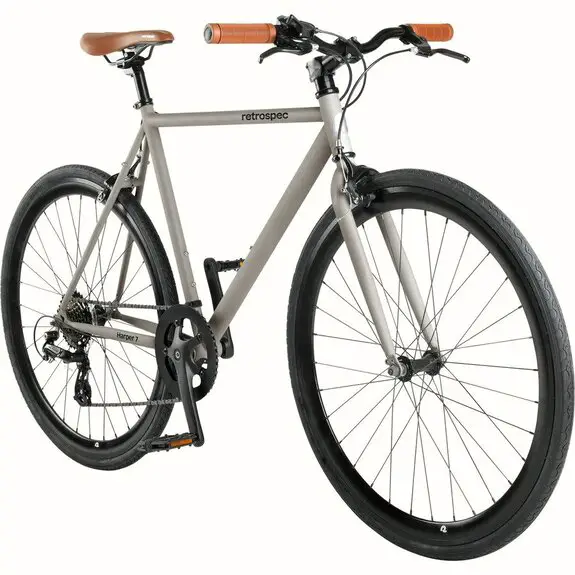 Best commuter hybrid

Rider height ranges:

X-Small: 4'9" – 5'1"

Small: 5'2" – 5'5"

Medium: 5'6" – 5'8"

Large: 5'9" – 5'11"

X-Large: 6'0"+

Performs best on pavement with some hills
Whether you're on the taller or shorter side, the Retrospec Harper commuter bike offers the perfect fit. This 7-speed commuter is available in five sizes to accommodate all riders. An upgraded gear version of the Harper Plus Fixie, which has a flip-flop hub, this bike has easy thumb shifters. With a solid frame and commuter tires, the Harper will have you riding comfortably all over town.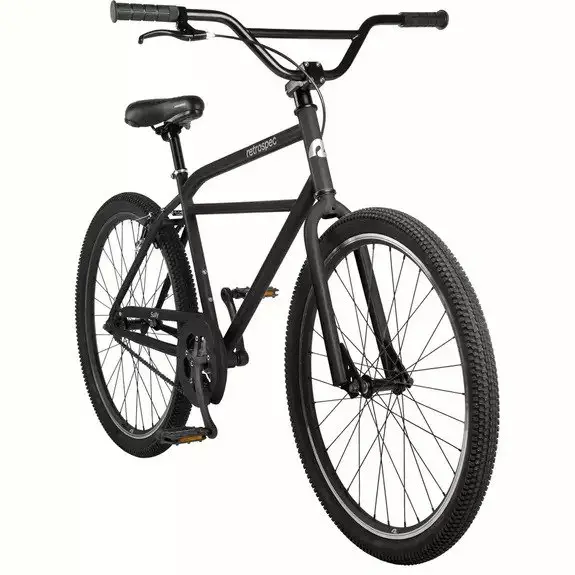 Best BMX-style city bike

Rider height ranges:

Performs best on flat pavement with no hills
If you're looking for a commuter bike with an edgy style, then the Sully Klunker is for you. This bike's nostalgic design borrows from mountain bike and BMX culture, with knobby tires, moto handlebars, and gritty detailing. The single-speed Sully Klunker looks fantastic and offers a comfortable ride for all your commuting and city riding needs.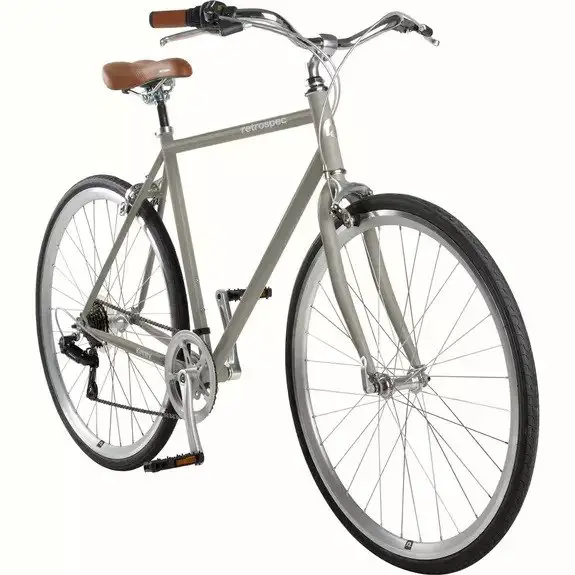 Best classic commuter

Rider height ranges:

Small: 5'2" – 5'5"

Medium: 5'6" – 5'8"

Large: 5'9" – 6'0"

Performs best on pavement with some hills
The Retrospec Kinney is a classic yet stylish seven-speed commuter offering everything you need for a comfortable ride. This bicycle sports smooth shifting with a precision Shimano seven-speed Revoshifter and a double-diamond steel frame with two water bottle braze-ons. Lightweight and low-maintenance, you will enjoy riding your Kinney for years to come.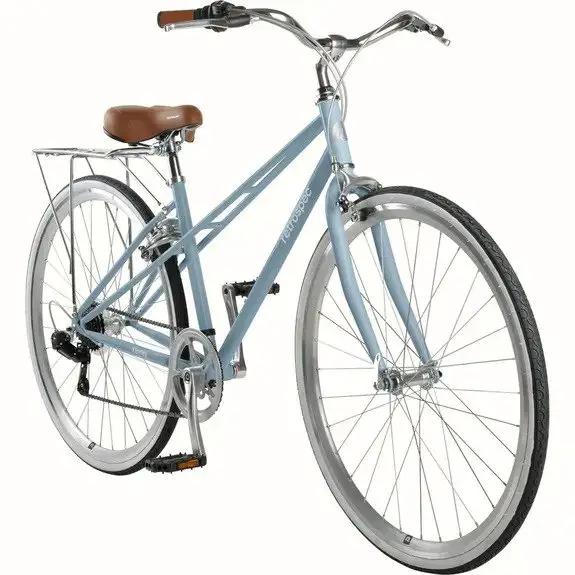 Best mixte commuter

Rider height ranges:

Performs best on pavement with some hills
The best-selling Kinney Mixte offers all the same impressive features as the original but with a sloping double-top tube. This design is halfway between a traditional straight frame and a step-through, providing extra standover height while maintaining lateral stiffness. As a result, the Kinney Mixte is a stylish 7-speed commuter perfect for hauling groceries, commuting, or casual riding.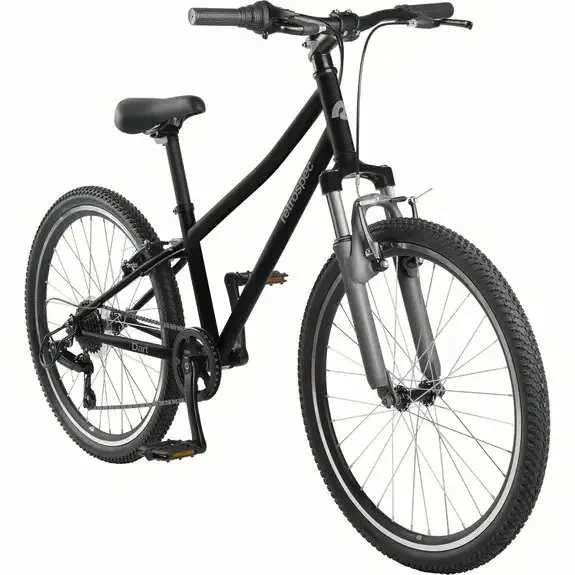 Best kids' bike

Rider height ranges:

One size: Ages 8–11 (4'0" – 5'0")

Performs best outdoors
Safety is number one when it comes to kids' bikes. The Retrospec Dart is built to withstand bumpy trails, neighborhood speed bumps, and slick paths. With the Dart, kids have better handling and control for a safer and more confident ride.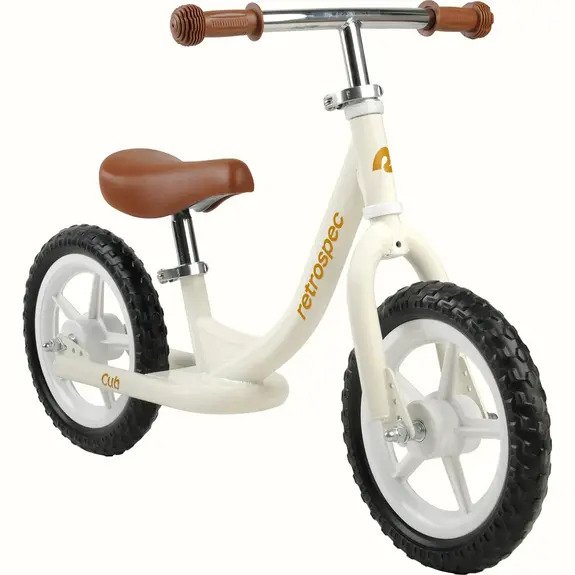 Best toddler bike

Rider height ranges:

Performs best indoors and outdoors
Spark a love of cycling in your little one with the best-selling Retrospec Cub balance bike. This durable toddler bike is perfect for kids two to three years old to help develop balance and coordination. With non-slip airless tires and an adjustable step-through frame, this bike is well-designed to handle toddler energy and growth spurts.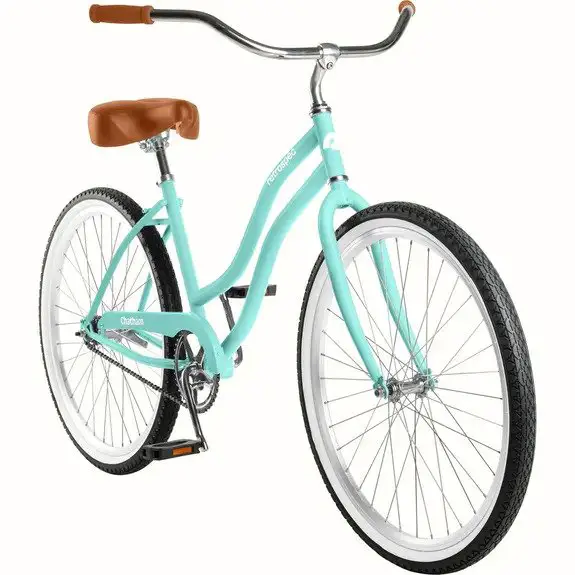 Best beach cruiser

Rider height ranges:

Performs best on flat pavement with no hills
Cruise around in style with the Retrospec Chatham beach cruiser. This classic casual bike comes in many fun, vintage-inspired colors, such as violet and seafoam. The single-speed bike has an easy on and off step-thru frame and a simplified design that makes assembly a breeze. Wide, shock-absorbing tires with double-walled aluminum rims and coaster brakes enhance the comfort of this beach cruiser for the ultimate smooth ride.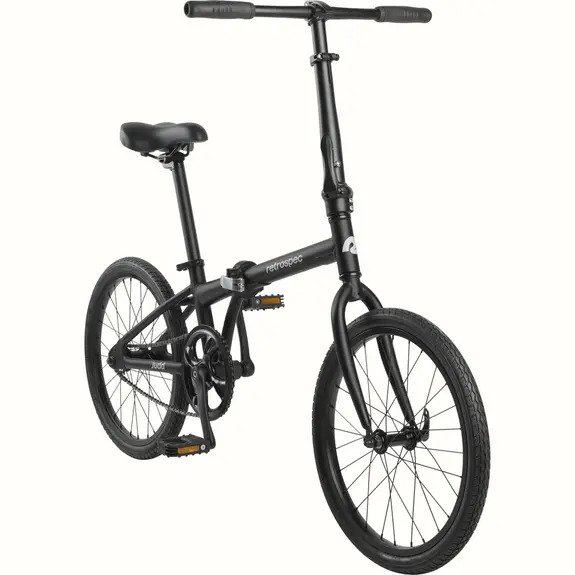 Best folding bike

Rider height ranges:

Performs best on flat pavement with no hills
The Judd is the Retrospec folding bike that you can take anywhere. With a lightweight aluminum frame, this single-speed bike collapses down to 32 by 30 by 10 inches, so you can easily take it on a train, pack it in the trunk of your car, or store it in your home or office. In addition, this Retrospec folding bike has grooved commuter tires and a smooth coaster brake system ideal for cruising around town.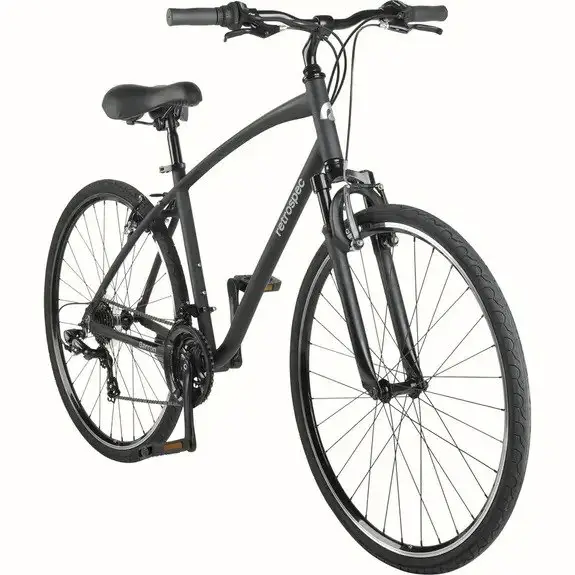 Best all-rounder hybrid

Rider height ranges:

Small: 5'5" – 5'8"

Medium: 5'9" – 5'11"

Large: 6'0"– 6'2"

X-Large: 6'3"+

Performs best on pavement and hilly terrain
You can go practically anywhere with the Retrospec Barron hybrid. This 21-speed bike blends comfort with speed and features a lightweight frame and a shock-absorbing suspension fork to help you tackle hills. In addition, the Barron's hybrid tires provide solid traction and smooth rolling. Meanwhile, the ergonomic saddle and upright riding position make longer trips more comfortable.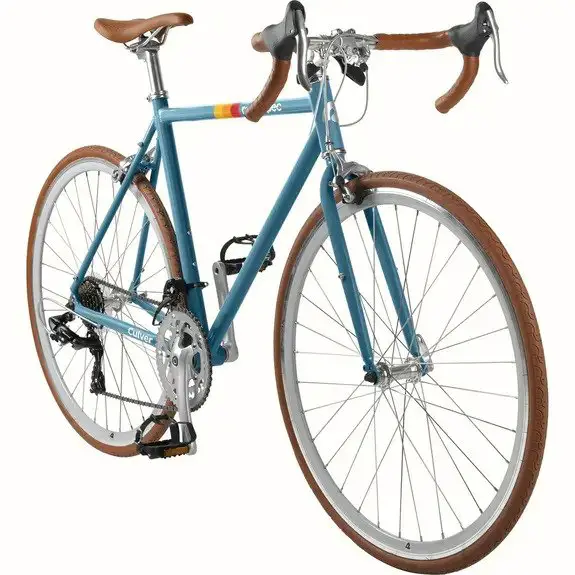 Best road bike

Rider height ranges:

X-Small: 4'9" – 5'1"

Small: 5'2" – 5'5"

Medium: 5'6" – 5'8"

Large: 5'9" – 5'11"

Performs best on pavement and hilly terrain
Serious riders will love the Retrospec Culver road bike. This aerodynamic road bike has a classic vintage look with drop anatomic handlebars and easy-to-use thumb shifters. It has a lightweight 6061 frame and pedal straps to keep your feet secure while you soar down roads and up hills. The Culver also has high-pressure road tires that offer excellent traction, while the threadless steering system provides precision and is easy to maintain.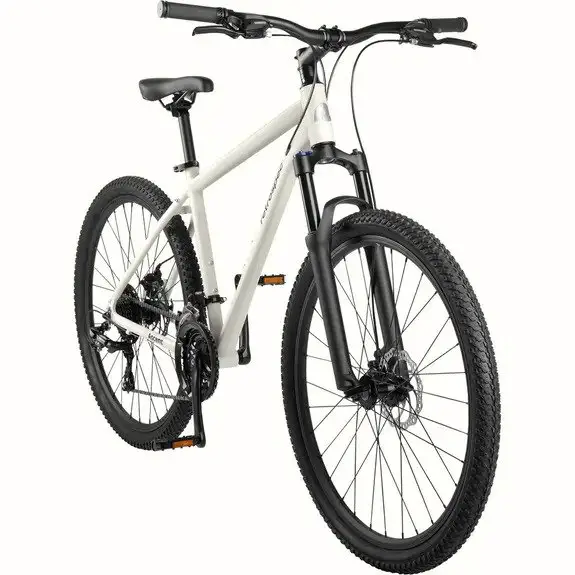 Best mountain bike

Rider height ranges:

Small: 5'5" – 5'8"

Medium: 5'9" – 5'11"

Large: 6'0" – 6'2"

Performs best on gravel and mountainous terrain
Climb mountains with confidence with the Retrospec Ascent. This 21-speed mountain bike features a Shimano EZFire shifter for quick and easy gear shifting, while the all-weather mechanical disk brakes are smooth and responsive. Additionally, the Ascent's specially designed mountain tires provide reliable grip and traction, and the shock-absorbing suspensions allow you to ride in comfort.
From toddlers to grandparents, Retrospec has a bicycle for every member of the family. All of their bikes come 85% assembled, so you or your local bike shop can get you up and riding in no time.
How do I choose a bike for my height?
While Retrospec includes a handy reference for suggested height ranges for their bikes, your inseam is the primary factor to consider when choosing the right size bike. To measure your inseam, stand with your feet 6" to 8" apart and use a tape measure to measure from the bottom of your foot to the top inside of your leg. Then, use this measurement to compare with the standover height of the bike. There should be about an inch of space between the top tube and your body.
What should I be looking for when buying a bike?
While shopping for a bike, your main priorities are a sturdy yet lightweight frame, reliable wheels, and rider-friendly contact points. A quality braking and shifting system should also be high on the list for a smooth and safe ride. If you're looking for a mountain bike or will be riding on rough terrain, you also want a bike with decent suspension.