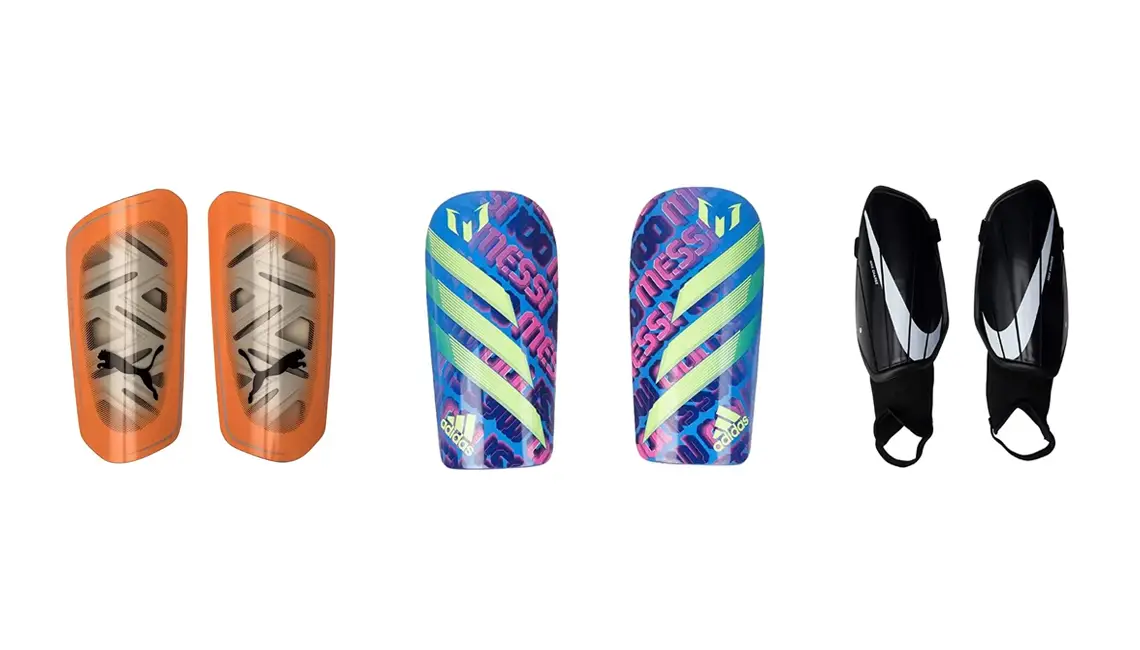 Shin guards are an essential piece of protective soccer equipment, but they don't need to be boring! With fun and trendy designs that any soccer player will love, these high-quality soccer shin guards will keep you safe and stylish while playing your favorite sport.
How to choose soccer shin guards
With so many styles and sizes available, it can be hard to know where to start on your search for the perfect shin guards. Be sure to consider what type of shin guards you prefer as well as the level of comfort and protection.
Types of shin guards
There are two main types of shin guards used in soccer, both of which are specially designed to fulfill different players' needs. The most common type is ankle shin guards. These traditional soccer shin guards have a hard shell to prevent shin injuries and include padded ankle protection. Great for intermediate and youth soccer players, these shin guards feature Velcro straps to keep them in place.
On the other hand, you have slip-in shin guards that utilize a light shield attached to a compression sleeve for a wide range of mobility. These slip-in guards are worn under the sock and are better suited for advanced players.
Less common but gaining in popularity are sleeve-style shin guards. These low-profile shin guards are integrated with a compression sleeve that holds them in place and use advanced technology that hardens on impact to offer protection. However, not all sleeve shin guards are regulation approved, so be sure to check the requirements before you buy.
Comfort and fit
Your soccer shin guards should fit so well that you don't even notice them while you're playing. Therefore, the best shin guards are those that fit snugly without being too tight. Try on a few different models and mimic your in-game movements, such as kicking, running, and jumping to ensure the shin guards stay put. Also, look for cushioned and breathable designs that you can wear for long periods without discomfort.
Protection
Of course, you want your shin guards to be comfortable, but remember their essential role as protective gear. Look for shin guards with a hard, durable front plate that absorbs impact. Also, many shin guards have added ankle protection, which is highly recommended for youth players as they provide added cushion to help prevent injuries.
How do you wear shin guards for soccer?
Putting on soccer shin guards is simple once you know what you're doing. First, slide the shin guard onto your leg, past your ankle, and onto your shin. Then, center the shin guard onto your shin so that it's protecting the area between the top of your ankle to just below the knee. Once it's in place, fasten the straps so they're snug and secure but not so tight that they restrict circulation. Finally, roll your soccer socks up and over the shin guards to fully cover them for added security and protection.
How should shin guards fit for soccer?
A well-fitting shin guard should start right above your ankle and extend to approximately two inches below the knee. Make sure that when centered, the hard part is covering the entirety of your shin. If you have ankle guards, they should sit comfortably and protect your ankles. Soccer shin guards should be snug so they won't move while you play, but not so tight that they impede your mobility.
What size soccer shin guards do I need?
Finding the right size shin guards is as easy as finding the distance from the top of your ankle to two inches below your knee. First, measure this part of your leg so you can compare it with manufacturer size charts and have a base reference for shopping. Then, try on the shin guards to ensure they're comfortable enough to move in.
1. Adidas Unisex Adult Messi Club Shin Guards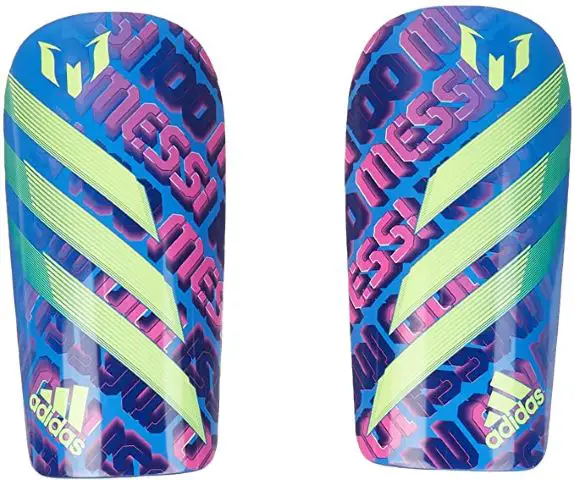 Channel your inner Messi with these special edition Adidas shin guards. These slip-in shin guards feature colorful Messi graphics and are designed for soccer players who want more freedom and agility on the field. Made from incredibly lightweight polypropylene, they're low-profile, tucking easily into your socks. With a hard shield and EVA padding, these shin pads absorb impact to reduce injuries.
Slip-in style shin guards

Unique blue, yellow, pink, and white Messi graphics

Made from 95% polypropylene and 5% thermoplastic gum

EVA padding

Available in adult sizes small, medium, and large
2. Nike Adult Charge 2.0 Soccer Shin Guards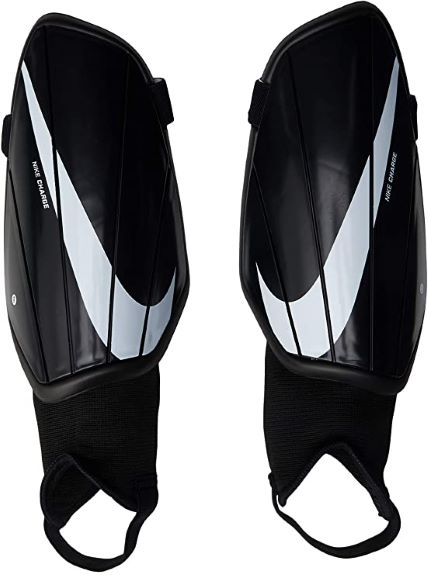 Charge across the field with style with the Nike Charge 2.0 shin guards. These striking shin guards proudly display the white Nike swoosh on a striped black background to easily coordinate with any black/white soccer cleats. The hard shell provides low-profile coverage, while the foam backing is incredibly comfortable. With a pull-on stirrup design, they stay in place during play so you can keep your head in the game.
Ankle shin guards

Striking black/white Nike swoosh design

Made from 43% polypropylene, 33% EVA, and 7% rubber

Available in adult sizes small, medium, and large
3. G-Form Pro-S Elite Shin Guards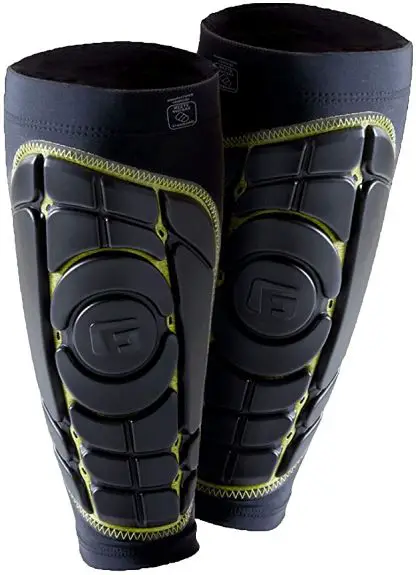 With over 2,000 positive ratings on Amazon, the G-Form Pro-S Elite shin guards are a trendy choice for their unique design. Unlike more traditional slip-in or ankle shin guards, the G-Form Pro-S Elite is the world's first NOCSAE-approved sleeve style shin guard. Instead of a hard shell, they use SmartFlex pads that harden on impact for maximum flexibility and performance. In addition, they are lightweight, breathable, and even machine washable.
Revolutionary sleeve-style shin guards that harden on impact

Lightweight, flexible, and machine washable

Made from moisture-wicking UPF 50+ compression fabric

Available in adult sizes small, medium, large, and XL
4. Adidas Unisex Shin Guards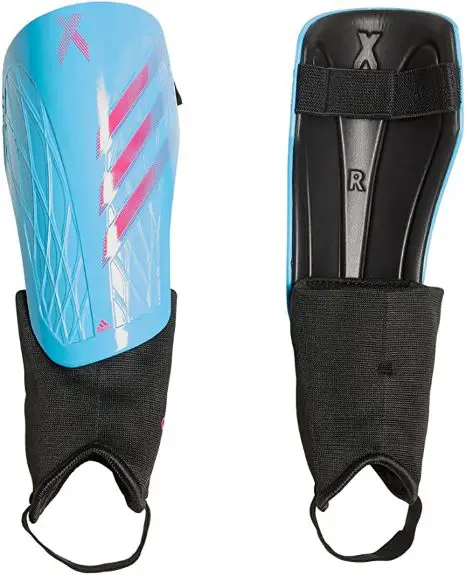 Another excellent choice from one of the best soccer gear companies, these Adidas unisex ankle shin guards are a classic leg guard with a modern look. With EVA-backed hard shields that absorb impact wonderfully and attached ankle guards, they provide an excellent level of protection that's perfect for high school and intermediate soccer players. In addition, they're available in a few fun designs and color combinations, including sky rush/team shock pink and solar red/solar yellow.
Ankle shin guards

Multiple fun Adidas stripe designs and colors

Made from 100% polypropylene with ankle guards for added protection

Adjustable hook-and-loop straps make them easy to put on and take off

Available in adult sizes small, medium, and large
5. Puma Ultra Flex Sleeve Shin Guards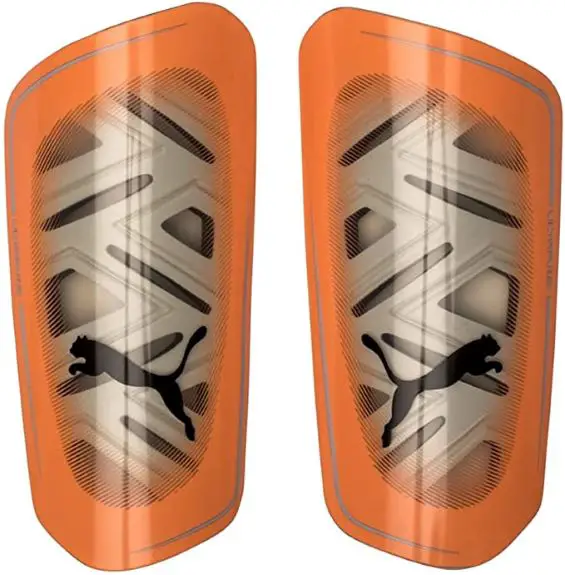 The Ultra Flex Sleeve shin guards from Puma are stylish yet straightforward slip-in guards. Made with an impact-resistant and flexible TPU softshell and perforated CMEVA foam backing, they absorb shock while featuring a lightweight fit for added comfort. Designed to be worn under soccer socks, they also include an additional nylon and spandex compression sleeve for an even more secure fit. With an iconic orange look, consider buying with coordinating Puma sporting goods like their orange soccer balls.
Slip-in style shin guards

Iconic orange Puma design

Made from high-impact resistant TPU shell and CMEVA padding

Includes nylon and spandex compression sleeves with slip pockets

Available in adult sizes XS, small, medium, and large
6. Nike Mercurial Lite Shin Guards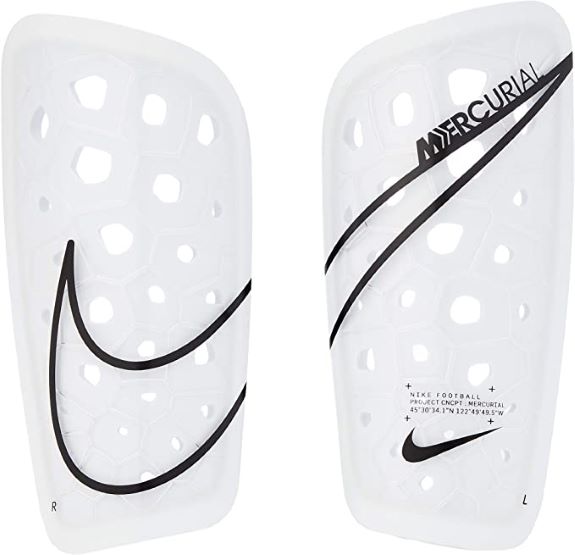 Are you looking for the most lightweight and breathable slip-in soccer shin guards imaginable? Then Nike Mercurial Lite shin guards are perfect for you. Instead of foam padding, these ultra-tough shin guards use a patented webbing design that locks into your sock fibers to keep you safe but doesn't interfere with gameplay. Plus, the included Nike Guard Lock sleeves are breathable and stay put while you're in action.
Slip-in style shin guards

Chose from black/green, black/white, and black/black/white

Made from 69% K-resin and 31% EVA

Sleeve is 65% polyester, 19% rubber, and 16% spandex

Available in adult sizes small, medium, and large
7. Adidas Tiro Match Shin Guards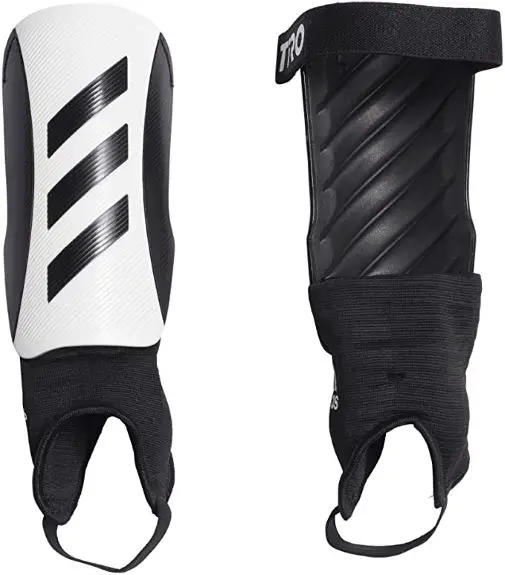 From the super-popular Adidas Tiro line, the Tiro Match shin guards are anatomical ankle shin guards that offer superior performance and style. With EVA-backed, hard-shelled, and attached ankles guards, you can play with complete confidence about your safety. A secure single strap hook-and-loop closure keeps these shin guards comfortably in place. They are also available as youth soccer shin guards so that you can get a pair for every soccer player in your family.
Ankle shin guards with attached ankle guards

Classic Adidas stripe design that looks great

Made from 95% polypropylene and 5% thermoplastic gum

Available in adult sizes XS, small, medium, large, and XL as well as youth sizes small, medium, and large
8. Vizari Blaze Shin Guards

The Vizari Blaze shin guards are the perfect balance of flair and function with a unique flame graphic on an anatomically grooved synthetic shell. In addition, these soccer shin guards have an easy-to-use, front-closing strap system and ankle protection. Available in both youth and adult sizes, these kids' soccer shin guards run XXS through small, with adults fitting the medium and large sizes.
Ankle shin guards

Fun design with yellow flames on a blue background

Made with a hard synthetic shell and comfortable padding

Padded ankle protection and a front closing strap system for added security

Available in sizes XXS, XS, small, medium, and large
9. Bodyprox Soccer Shin Guard Sleeves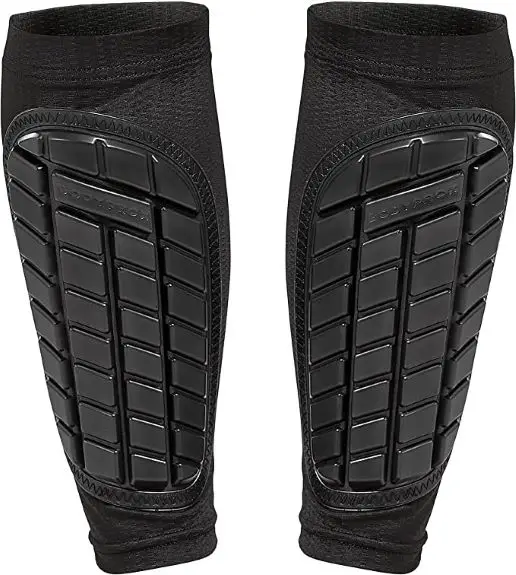 Sleeve-style shin guards are rapidly gaining in popularity, and this option from Bodyprox is a great alternative to the pricier ones from G-Form. These sleek and modern shin guards are incredibly lightweight and flexible so that you can focus on the soccer ball. Impact-absorbing and abrasion-proof, these shin guard sleeves still provide a high level of protection even with their less bulky design. The Bodyprox soccer shin guard sleeves are also waterproof and machine washable.
Sleeve-style shin guards designed for low-profile protection

Highly flexible for maximum agility, but hardens on impact

Machine washable, comfortable, and breathable

Available in adult sizes XS, small, medium, large, and XL
10. Rawxy Flexible Soccer Shin Guards with Ankle Protection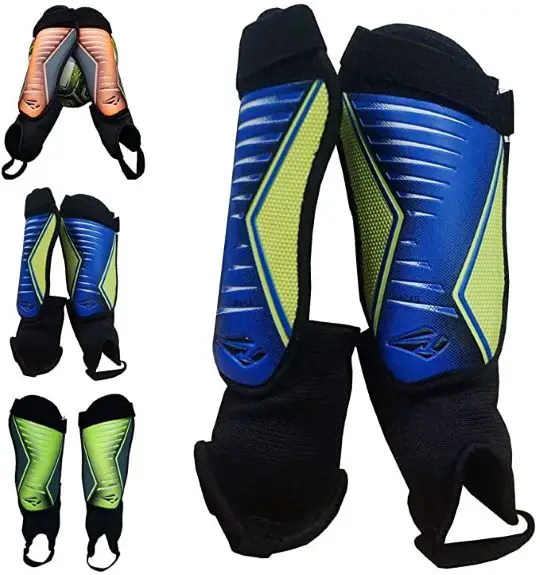 Featuring comprehensive shin protection, these Rawxy flexible shin guards have three layers of protective foam and rigid plates that absorb impact to keep you safe. Made with an HDPE shell and 3D foam padding, they're lightweight and breathable. The front Velcro closure keeps them comfortably in place, while the reinforced ankle guards use extra cushioning to keep your ankles safe. In addition, the Rawxy Flexible shin guards come with a 100% money-back guarantee.
Ankle shin guards

Three fun neon colors and designs

Tri-layer protection with 3D foam exterior, middle HDPE plate, and comfortable soft foam lining

Available in adult sizes small/medium, large, and XL
11. Adidas Predator 20 League Shin Guards
The Adidas Predator 20 League shin guards provide a fierce defense against shin injury with a striking black and red look and an advanced engineered design. With a soft synthetic lining and an EVA backing for optimal comfort, these shin guards help any intermediate to advanced soccer player perform at the top of their game. Plus, included compression sleeves helps keep the shin guards in place.
Slip-in style shin guards

Striking black and active red Predator design

Made from 83% ethylene vinyl acetate, 15% polyester, and 2% natural rubber

Soft synthetic lining and EVA padding for added comfort

Included compression sleeves help keep the shin guards securely in place

Available in adult sizes XS, small, medium, large, and XL
12. Carbon Fiber Soccer Shin Guards with Slip-in Sleeves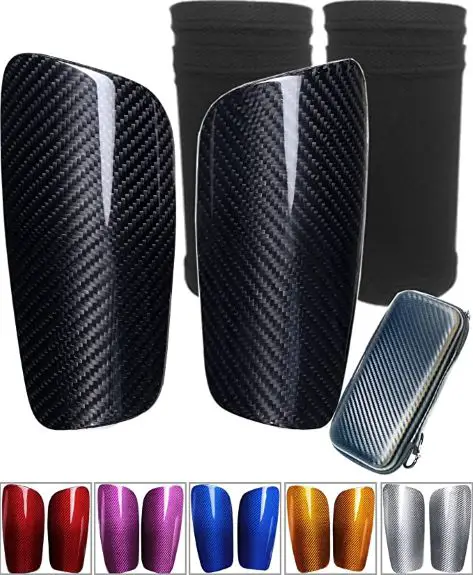 Made from genuine carbon fiber, these shin guards offer unparalleled performance for a lightweight slip-in guard. Weighing only 36 to 41 grams depending on the size, these carbon shin guards are available in over a dozen bright, fun colors to match any soccer jersey. They even come in a convenient carry case for soccer players on the go.
Slip-in style shin guards

14 bright colors to choose from

Made from 100% carbon fiber

Features 3mm of comfortable EVA padding

Available in adult sizes small, medium, and large
13. Gonex Soccer Shin Guards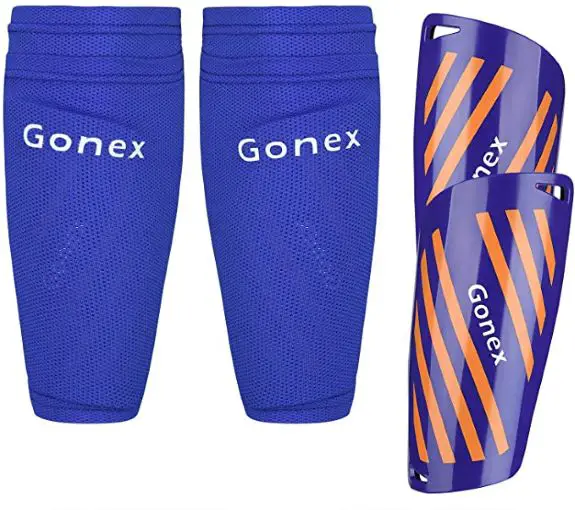 Shield your legs in style with the Gonex slip-in soccer shin guards. Made from lightweight PP, these shin guards have withstood rigorous pressure testing to guarantee protection from heavy impact. Inside, the comfortable, gridded EVA padding distributes impact effectively. Breathable and moisture-wicking, these shin guards easily compete with top brands to offer excellent performance and a trendy look at an affordable price.
Slip-in style shin guards

Designs such as soccer balls and stripes are fun and flashy

Made with a hard shell and gridded EVA padding

Includes breathable compression sleeves to hold the guards in place

Available in adult sizes small, medium, large, and XL
Protecting yourself on the soccer field has never been easier or more fun. With any of these trendy soccer shin guards available on Amazon, you can stay safe in style.