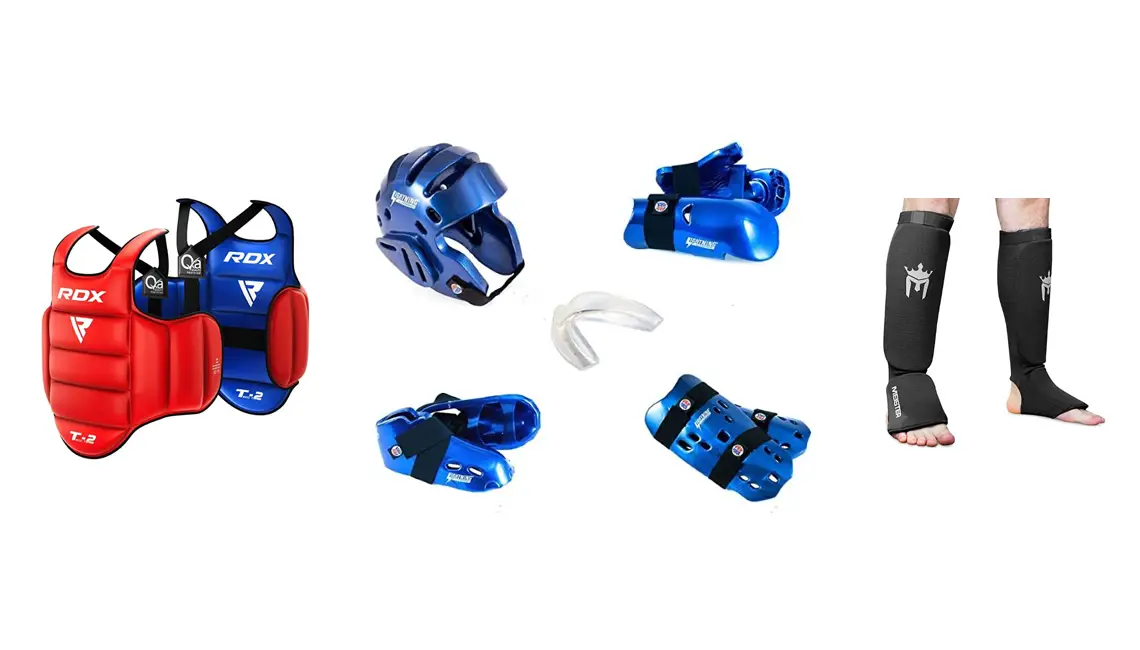 Are you new to Taekwondo (TKD)and need martial arts sparring gear? Before you get started, make sure you have the right gear to practice Taekwondo and other martial arts practices safely.
What gear do you need for sparring?
Stay safe and have fun with a complete set of Taekwondo sparring gear. A full set includes headgear, a mouthguard, a body protector, shin guards, foot protectors, forearm guards, sparring gloves, and a groin guard.
Headgear
Protect your head and face with a Taekwondo sparring head guard. This vinyl or dipped foam helmet prevents cuts and scrapes while providing some cushion against head blows. Typically, Taekwondo headgear will feature a face shield and fasten with a chin strap.
Mouthguard
You will need a mouthguard to protect your teeth, jaw, and neck while sparring. While it's unnecessary to purchase a mouthguard explicitly designed for Taekwondo, choose one that provides enough protection for full contact sports such as martial arts.
Body protector
A body protector, or Hogu, is an essential piece of Taekwondo sparring equipment. Since most scoring in Taekwondo happens in this area, these chest guards soften the blow from hits. Many body protectors are red/blue reversible for competition.
Shin guards
Another area that needs protection during Taekwondo is your shins. Made from dense foam, this piece of protective gear disperses impact to protect your shins. In addition, some models of Taekwondo shin pads feature instep guards to replace foot protectors.
Foot protectors
Unless you have instep shin guards, you will need foot guards to prevent bruising or breakage to your feet. This type of footgear is made of thick foam for impact absorption.
Forearm guards
Just like how shin guards protect your shins, forearm guards protect your forearms! This type of Taekwondo gear can be made from various materials, such as padded foam or leather. It's your preference, but be sure to choose ones approved by World Taekwondo (WT).
Sparring gloves
Sparring gloves are an essential part of your Taekwondo uniform, providing maximum protection for both the fighter and opponent. These specially designed mitts also help you score points more precisely.
Groin guard
To prevent severe pain in the event of an accidental kick to the groin area, you need a Taekwondo groin guard. Males will obviously want a groin guard for TKD, but women's groin guards are also necessary.
How to choose Taekwondo sparring gear
You want your Taekwondo equipment to keep you safe, so choose sparring gear made from high-quality materials that fit well.
Material
Most pieces of protective sparring gear for Taekwondo are made from dipped foam or a similar material. Choose pieces from reputable brands to ensure that your sparring gear will last longer and keep you safe.
Size
Ill-fitting sparring gear is not just uncomfortable — it can increase the risk of injury and prevent you from scoring points as easily. Make sure your protective equipment is not so tight that it prevents movement and not so loose that it gets in the way or no longer keeps you safe.
World Taekwondo approval
If you plan to use your Taekwondo sparring gear in competition, it's important to purchase World Taekwondo-approved equipment. Abbreviated to WT, the organization was known as the World Taekwondo Federation (WTF) until 2017.
How is Taekwondo sparring gear measured?
Every Taekwondo equipment manufacturer will have slightly different sizing guides. To find the best fit for you, be sure to measure correctly.
Headgear

: Measure by wrapping the tape measure around your head at your forehead and 2.5 inches above your ears.

Sparring gloves

: Measure the length across your knuckles by putting your hand flat on the measuring tape.

Footgear

: Use your shoe size.

Shin guards

and

shin insteps

: Measure from the bottom of the knee to the ankle.

Forearm guards

: Measure from the edge of the elbow to the wrist.
What is the difference between Taekwondo sparring gear and other martial arts training gear?
Every martial arts practice requires slightly different equipment. For example, Muay Thai, kickboxing, and MMA gloves tend to be bigger and more padded than those used for Taekwondo. However, some sparring equipment for other martial arts, such as kung fu, jiu-jitsu, judo, BJJ, Hapkido, karate, and kendo, may also be suitable for Taekwondo.
Sparring gear sets
For everything you need to start Taekwondo sparring, check out these sparring gear sets.
Pine Tree Complete Vinyl Taekwondo and Karate Sparring Gear Set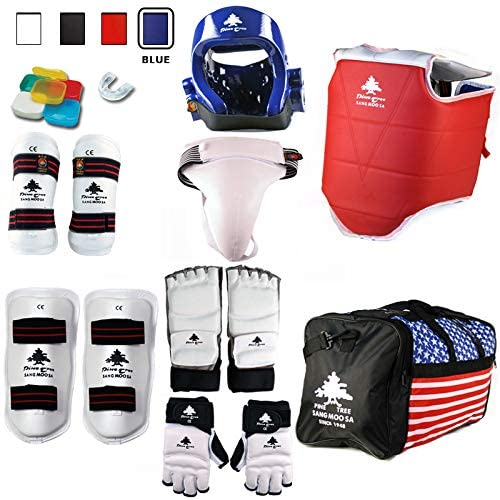 The Pine Tree Complete Karate Taekwondo sparring gear set has 14 essential items to keep you safe while enjoying TKD. With comfortable padding and non-slip Velcro straps, you can train up to a black belt.
Headgear

with

mouthguard

and case: This dipped foam

head guard

keeps your head safe, and air release canals protect your ears. Its open-face design is comfortable and makes it easy to see while sparring. In addition, the

mouthguard

can be kept clean and sanitary in its included case.

Vinyl

shin instep

and

forearm guards

: Made from high-impact dispersing foam, these vinyl-covered guards protect your forearms, shins, and feet. They have a comfortable contoured fit and durable non-slip Velcro straps to keep them secure.

Reversible solid

chest guard

: This

chest guard

safely protects your chest and abdomen from blows with soft, comfortable padding. Red on one side and blue on the other, this

chest guard

is easily adjustable using the secure back tie.

Vinyl groin protector: Keep your groin area safe with this easy-to-wear

groin guard

. You can feel secure with a hard plastic inner shell, a durable vinyl cover, an elastic waistband, and support straps.

Stars and stripes

gear bag

: Keep everything organized with this convenient

gear bag

. With multiple zipper compartments and carry straps, you can easily tote your

sparring gear

to trainings and competitions.
ProForce Lightning 8-Piece Deluxe Taekwondo Gear Set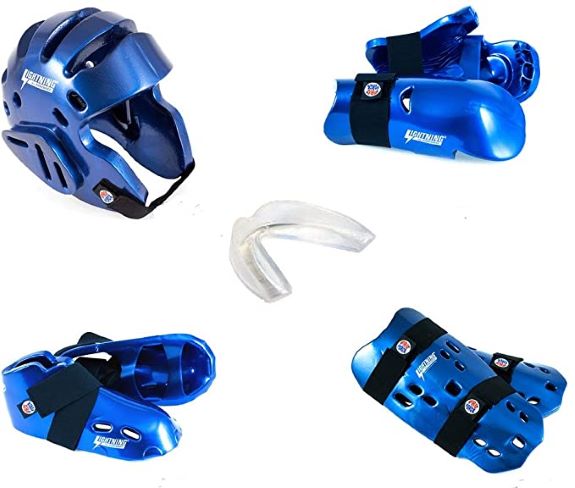 Check out the ProForce Lightning Deluxe Gear set to start your protective gear collection. The eight-piece sparring gear set includes all the essentials besides groin protection and a chest guard. This martial arts Taekwondo equipment set is excellent for any TKD enthusiast.
Headgear

: This dipped foam

head guard

includes ear vents and offers complete and comfortable protection. A Velcro chinstrap keeps this

headgear

in place so you can spar confidently.

Shin guards

: These classic-style

shin guards

are made from protective foam to prevent injury to your legs and shins.

Footgear

: This set utilizes separate foot protection for freer movement and greater versatility. The

feet guards

strap on easily to prevent injury to the top of your feet.

Forearm guards

: Made from the same great protective foam like the rest of this set, these

forearm guards

protect your arms from cuts, scratches, and impact injuries.

Mouthguard

: The included mouthpiece has a simple design that offers excellent protection against mouth injuries.
Head guards
adidas Deluxe Headgear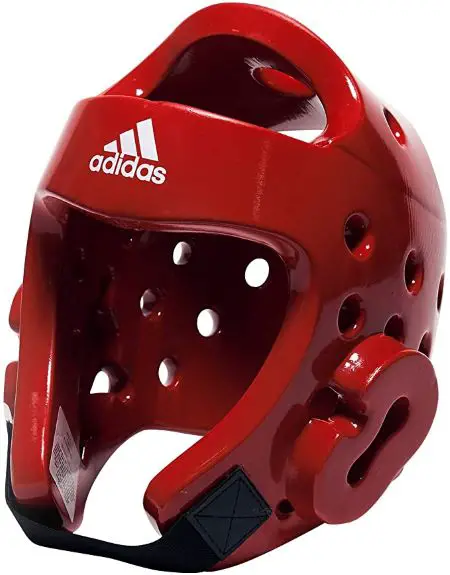 Recognized by World Taekwondo, this ultralightweight sparring headgear from Adidas molds to your head for the most comfortable sparring session possible.
Protective foam padding to absorb high impacts

Lightweight yet durable with unique cutouts to reduce uncomfortable neck pressure

Ear release canals and air holes to protect your ears and provide ventilation

Velcro closure for a secure fit
Sanjoin Synthetic Leather Sparring Headgear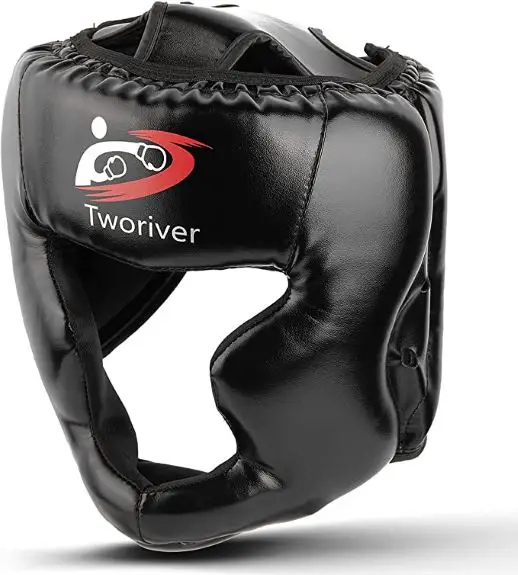 This martial arts sparring headgear from Sanjoin is a best seller for a good reason. At an affordable price, the head guard provides enough protection for any full-contact martial arts sparring practice while still being soft, lightweight, and sweat resistant.
Excellent shock absorption with double density cheek and face protection

Made from Impact-Dura Shock foam with gel tech integrated padding

Hook-and-loop closure is secure and comfortable

Adjustable size to fit most adults
Mouthguards
SAFEJAWZ Slim Fit Mouthguard with Case for All Contact Sports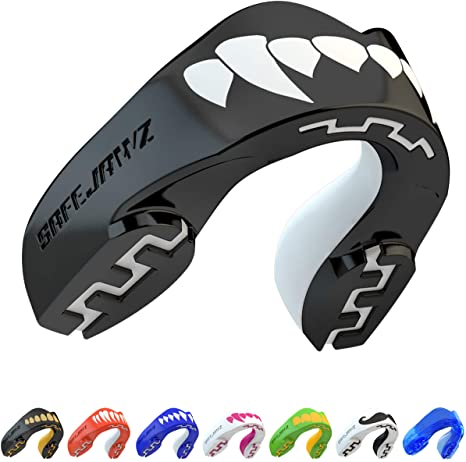 Founded by athletes, SAFEJAWZ has revolutionized the world of sports mouthguards with a mouthguard that people actually want to wear. With a fun fang design and a dozen colors, the SAFEJAWZ slim-fit mouthguard is excellent for any contact sport, including Taekwondo, boxing, MMA, and hockey.
Fluid fit technology means the

mouthguard

fills the contours of your teeth for the perfect fit.

ReModel tech allows for multiple fitting attempts

JawSecure pre-formed base protects your jaw from biting impact

Ultra-slim gum shields prevent gagging and provide minimum interference

Includes storage case
Beast Gear Sports Mouthguard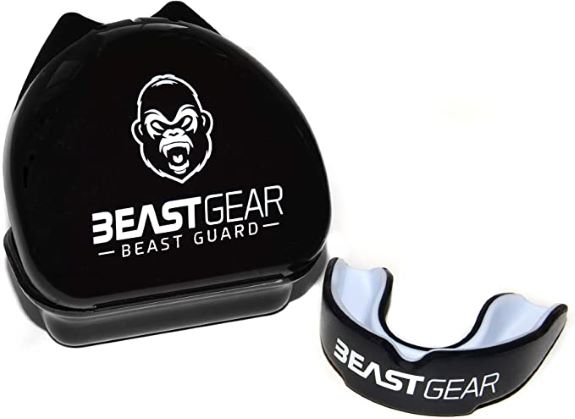 Offering protection from impacts and hits, the Beast Guard sports mouthguard is safe and durable enough for high-contact sports such as boxing, MMA, rugby, and Taekwondo. This mouthguard utilizes the best materials, tools, and service for trusted protection you can count on.
Inner layer molds perfectly to the shape of your teeth for a truly custom fit

Impact-resistant outer layer protects your teeth even in high-contact activities

Bite lock design keeps the

mouthguard

in place whenever your teeth are clenched

Suitable for athletes with braces or sensitive teeth

Includes storage case
Chest guards
RDX Reversible Chest Guard and Body Protector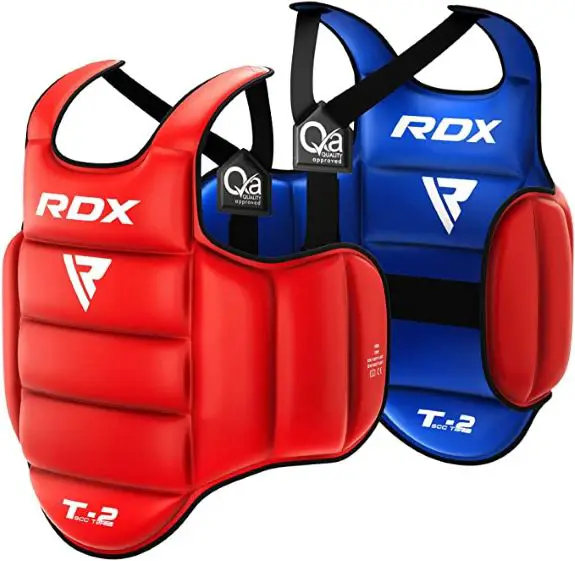 The RDX reversible body protector is a high-tech chest guard that's great for beginners as well as experienced combat sport athletes. CE certified and SATRA approved, this body protector allows you to practice martial arts such as Taekwondo without concern about injuries to the center region of your body.
Made from Maya hide leather for a tear-resistant and durable design

Multiple layers of padding help diffuse strike impact

Reversible design for easy distinguishing between teams

Hook-and-loop closure makes it easy to put on and take off

Elasticized shoulder straps for improved comfort and maximum impact diffusion
Wesing WTF Approved Reversible Taekwondo Chest Protector
With a classic Hogu design, the Wesing Taekwondo chest guard is a well-designed body protector at an affordable price. Approved by the World Taekwondo Federation (now known as just World Taekwondo), it can be used in international competition or as comfortable protection while sparring. Also, this unisex body protector's sizing is weight-based for easy ordering.
Constructed from durable PU leather formed by a wet process

XPE sponge wrap foam inner for excellent shock absorption

Classic lace-style back strap closure is non-slip and secure

Red and blue reversible
Shin guards
Meister Elastic Cloth Shin & Instep Padded Guards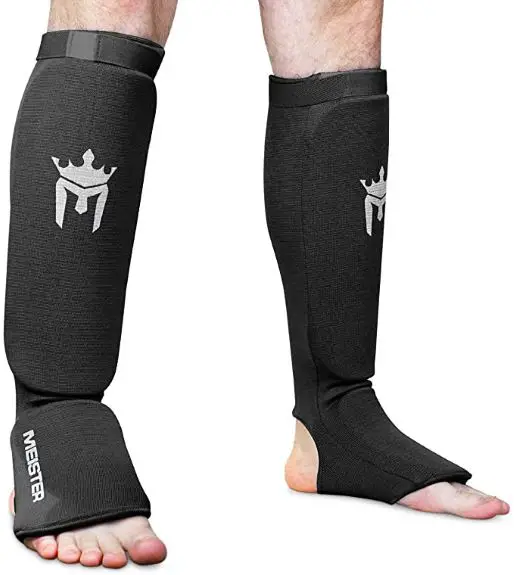 Flexible enough for Taekwondo yet strong enough for Muay Thai, the Meister Elastic Shin & Instep Guards offer a seamless fit for martial arts training. The ideally positioned shin and instep pads mold to your legs and feet, while the open heel and toe boxes keep your feet on the mat for traction. With both feet and shin protection, there is no need for separate foot guards with this model.
The full elasticated sleeve design is comfortable and stays put

Easy to put on, the hook-and-loop strap tightly secures the tops of the guards

Flexible padding helps you maintain leg form

Lightweight and breathable
Combat Sports Washable Elastic Cloth Shin & Instep Padded Guards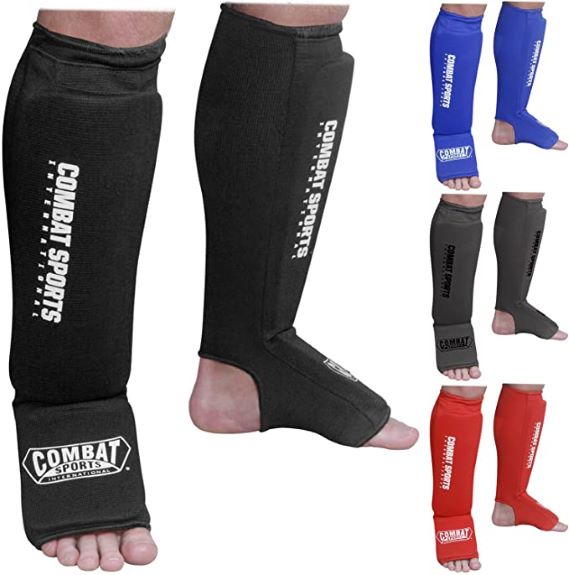 Say goodbye to stinky shin guards! With the Combat Sports washable shin and instep guards, you can easily wash off sweat, dirt, and odor after every practice. Offering comprehensive protection, these foam pads remain secure during heavy action. They also provide excellent foot protection, so additional foot protectors aren't necessary.
Completely washable with specially designed Velcro pocket for removing the foam pads

Comfortable compression sleeve design hugs the legs and feet firmly

Lightweight for optimal mobility and performance

Slides on and off easily

Available in black, grey, blue, and red
Forearm guards
Wesing Taekwondo Arm Guard Forearm Protectors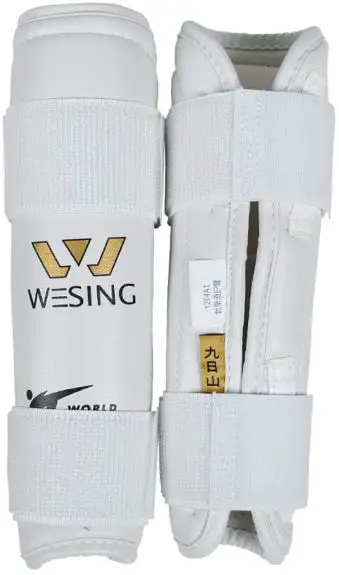 Whether you're sparring or competing, these Wesing Taekwondo arm protectors can reduce the impact on your forearms and keep you safe from cuts and scratches. You can use these WTF-approved forearm guards in official competition, yet they still come at an affordable price point that's great for beginners.
Made from high-quality PU leather with a constructed polyurethane molding

Utilizes two elastic straps and Velcro closure for a secure and adjustable fit

Ergonomic protection with a wide top and narrow bottom

Available in sizes small through XL
ProForce Forearm Guard

Your forearms can take a beating while sparring, so you want them to have the proper protection to cushion the blows. That's why these ProForce forearm guards have thick padding extending from wrist to elbow. These forearm guards easily absorb the impacts of blocks while keeping you comfortable and mobile with a stretchy sleeve holding them in place.
Complete forearm protection from wrist to elbow

Thick 1/2-inch padding absorbs impact

Curved joint for better flexibility

Comfortable compression sleeve keeps each guard securely in place

Available in child and adult sizes
Sparring gloves
Xinluying Punch Bag Taekwondo Karate Gloves for Sparring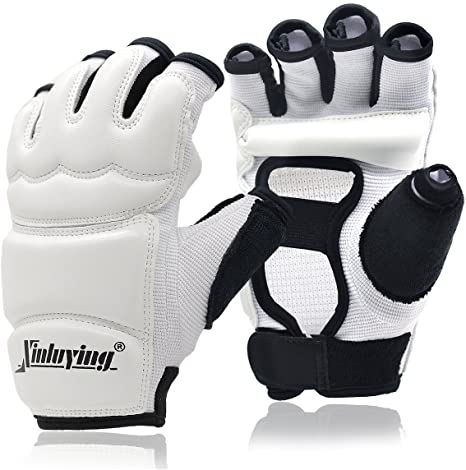 The Xinluying sparring gloves are perfect for Taekwondo sparring and competition to enhance your hand grip for a powerful punch. Lighter weight and less bulky than MMA gloves, these gloves have plenty of hand protection for Taekwondo from the EVA padded knuckle pad, finger pad, side joint, and dorsal joints. They also come in a wide range of sizes to fit any martial artist.
Made from synthetic PU leather and Lycra for comfort and durability

EVA pads line the entire back of the hands and fingers for dispersing shock impact

Breathable hollow palm with cylindrical hold bar enhances grip while reducing slippage

Elastic mesh between the fingers and on the thumb further absorbs sweat

Comfortable wrist Velcro is adjustable for a custom fit
Liberlupus Sparring and Boxing Gloves for Martial Arts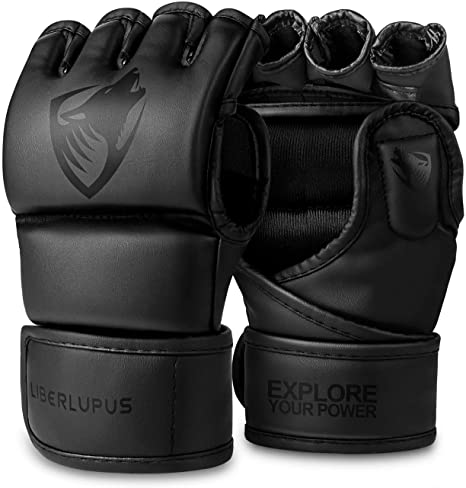 Check out the best-selling Liberlupus MMA and Taekwondo gloves for a heavy-duty martial arts sparring glove. With reinforced impact padding for maximum shock absorption, these boxing gloves are ideal for daily combat training. In addition, they are incredibly durable and easy to clean with a 30-day no-hassle return policy and a 12-month replacement warranty.
Constructed from 0.8mm synthetic leather for hard-wearing durability

Thick 10mm EVA padding offers efficient shock absorption

Crosscut back design for improved wrist flexibility and enhanced grip

Engineered for enhanced airflow for drier palms
Groin guards
RDX Groin Protector for Taekwondo and Martial Arts Training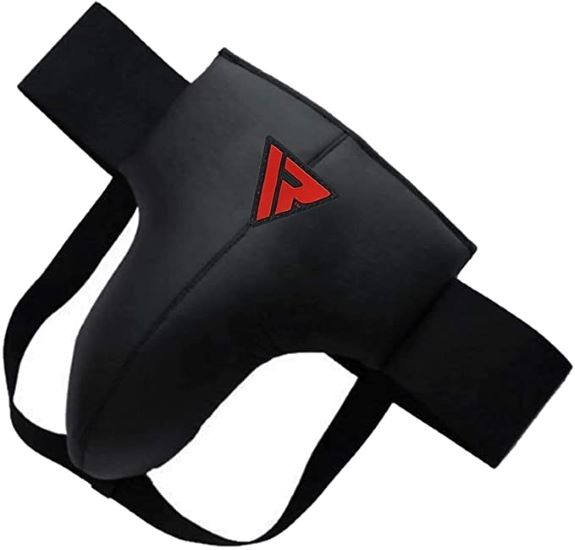 The RDX groin protector offers superior protection for a wide range of contact sports. Supremo foam technology provides a traction-free secure fit, so it always stays in the correct position to protect your groin best. With an optional cup compartment, you can even customize it for the level of protection you need.
Handcrafted from Maya hide leather for CE certified durability

Supremo Foam displaces shock on impact guarding your groin and kidneys

Double layered closed-cell foam combined with a hard plastic cup diverts hits to the region

The handy cup compartment allows you to add an additional cup when needed

Ergonomically designed for the best fit and maximum mobility
Shock Doctor Adult Compression Short with Bio-Flex Protective Cup
Revolutionizing the jockstrap, the Shock Doctor compression short with a bio-flex cup is a comfortable and highly protective alternative to a traditional groin protector. Great for any contact sports athletes, these shorts comfortably position the cup more naturally. Besides offering all the benefits of a strap, the shorts apply compression to your muscles for a flexible fit.
Machine washable and easy to put on

Bio-Flex cup is vented for airflow and offers maximum protection where you need it most

Positions the lower third of the cup in a more natural position for a broader range of motion

The shorts are made from moisture-wicking compression fabric
Whether you purchase a complete set of Taekwondo sparring gear or piece together your own, the right equipment will enable you to start sparring with courtesy, integrity, perseverance, self-control, and indomitable spirit.