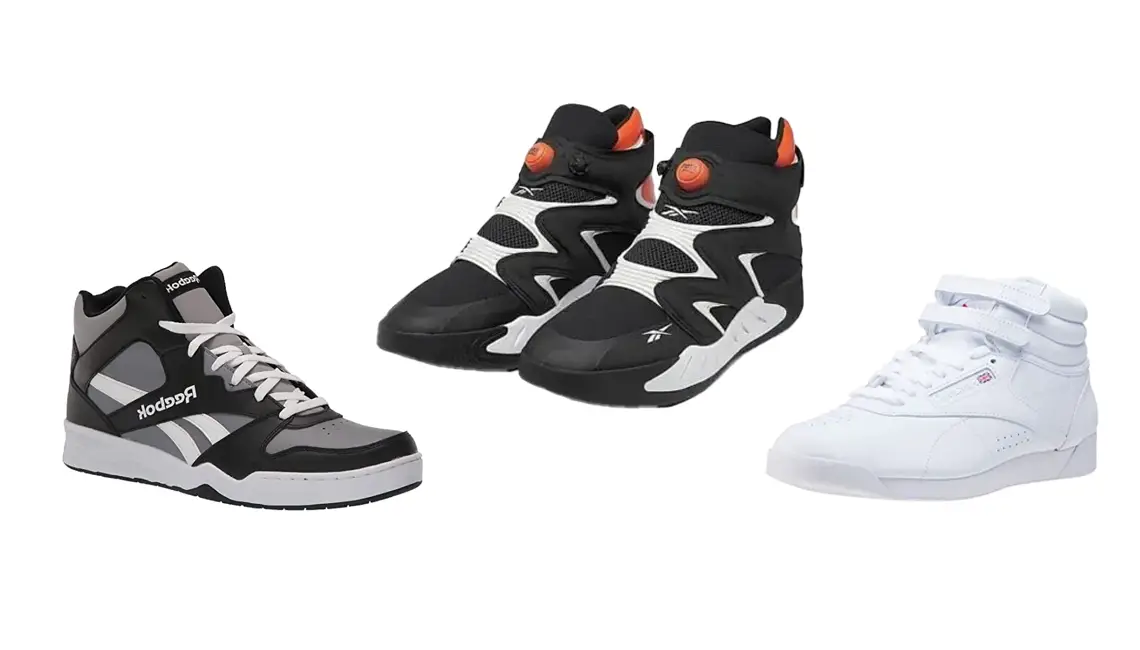 Back before Allen Iverson repped Reebok in the '90s, catapulting the brand to legendary status, the brand had already experienced an entire decade of basketball shoes and high top greatness. After finding success in the early part of the decade with their athletic shoes, the Boston-based company decided to try its hand at basketball by recruiting local Celtics players Danny Ainge and Dennis Johnson to wear their new 5600 hoops model.
Reebok's influence on the history of basketball doesn't stop there. The still trendy Reebok Freestyle was popularized by '80s Laker Girls, who introduced cheerleading to the NBA just years before. Then, of course, the release of the Reebok Pump in 1989 solidified the brand's spot as a true trendsetter in old-school high-top basketball shoes and athletic wear as fashion. I mean, who could forget Dee Brown's Pump Dunk?
Reebok high tops: '80s styles through the decade
When it comes to '80s-style high tops, Reebok offers some of the most iconic shoes available. Check out some of the most famous Reebok high tops in order of their release year:
How to choose '80s Reebok high tops
Reebok high-top sneakers are all about combining style and comfort. While any high top shoes from the Classic Reebok line are guaranteed to pull together your '80s look or complete your Stranger Things costume, they are also excellent everyday shoes that consistently perform on and off the court.
Style
Retro Reebok shoes are every sneakerhead's dream. Whether you go for a tried and true classic such as the Reebok Freestyle or a limited-release high top with '80s retro vibes, you will surely hear plenty of "nice kicks" compliments. So choose a sneaker that not only matches your wardrobe, but also expresses your personality.
Comfort
Reebok sneakers are notoriously comfortable. With soft yet durable leather uppers and shock-absorbing midsoles, you can play all day without pain. Besides looking fresh and fun, the added bonus of '80s-style high tops is that they secure your ankle with straps or laces. Gone are the days of wearing uncomfortable shoes to keep up with the latest styles. The '80s are back, and they've brought their super comfy basketball shoes along for the ride.
Size
For the best fit, you need the right size for your Reebok high tops '80s styles. Luckily, all of their models come in half sizes, and most people find that Reebok shoes fit true to size. However, for a second opinion, check reviews to learn if a particular model runs small or large so you can order the correct size the first time.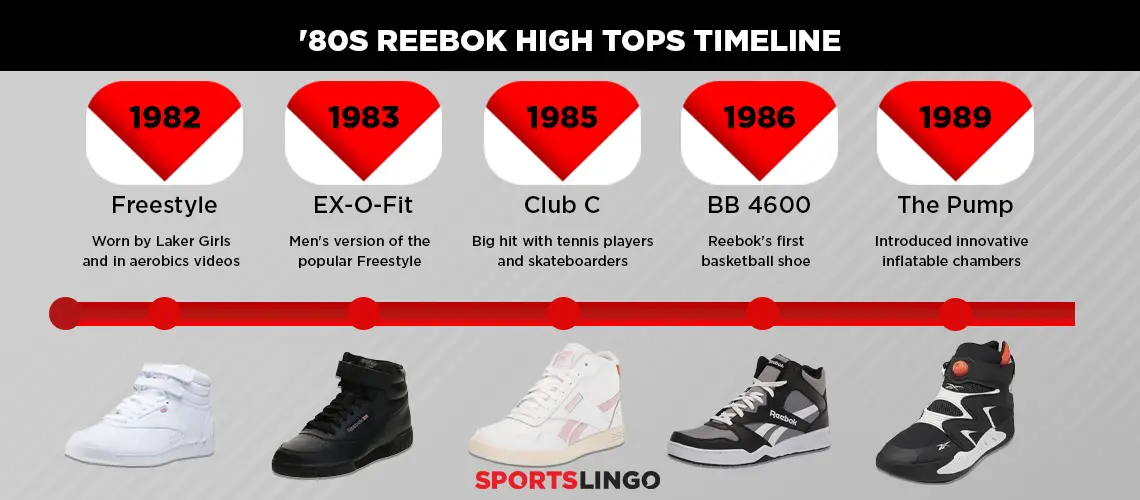 Where to buy old-school Reebok high tops
If this was still 1989 and you wanted to get your hands on a new pair of Reebok high tops, your only choice would be to head down to the mall. Sure, maybe you could also grab a hot pretzel or an Orange Julius, but you would also lose half your day. Plus, stores back then also had to stock other brands like Adidas, Puma, and Nike, so the options were often limited. Luckily, you can now conveniently order your sneakers online from Reebok's website and Amazon, both of which offer a vast selection of these stylish kicks.
Reebok.com
For the best customer experience, check out the Reebok website for all your '80s high top needs. Not only will you find limited-release models sure to make your buddies jealous, but every shoe they offer has a "How to Style" section with curated Instagram photos of people rocking that pair of Reeboks.
Not sure of your size? The review section has a sliding scale for size and width to help you find the best fit. You can also pay with Affirm, Klarna, or Afterpay and enjoy free shipping on orders over $75.
Amazon
Another great place to find '80s Reebok high tops is Amazon. Buying your Reeboks on Amazon allows you to pay using Amazon gift cards, and you can benefit from Amazon Prime shipping if you're a member. Occasionally, you can find different color and size options available in the Reebok Amazon store, so if you can't find what you're looking for on the brand's official website, Amazon may have you covered.
1980s Reebok high tops through the years
Did you know that you can still rock the same great vintage Reebok high tops as you could back in the day? Part buying guide, part history of basketball shoes, here you can find everything you need to know about these iconic shoes. So strap in and prepare to look totally rad on or off the court.
Channel your inner '80s Laker Girl with the Women's Freestyle Hi-Top Sneaker from Reebok. Popularized by fitness legend Denise Austin, Reebok Freestyles are classic '80s-style high tops that look just as fresh as they did in 1982. While the Freestyle high tops are ideal for aerobics, with Jane Fonda sporting them in her workout videos and the 1989 Step Reebok workout routine featuring these kicks in a starring role, they also made a splash in the world of basketball, cheerleading and even bodybuilding.
Little has changed about the "fifty-four elevens" — except a bit of inflation. Back in the day, the retail price of these classic shoes was $49.99, and with New York City sales tax, the total came to $54.11, popularizing the nickname. An authentic piece of wearable '80s nostalgia, Mick Jagger wore them in the "Dancing in the Street" music video back in 1985. That same year, Cybill Shepherd wore them to the Emmy Awards, and the next, Whoopi Goldberg wore them to the Golden Globes.
The F/S-hi features a leather upper with a mid-cut design and ankle strap supports. In addition, they have die-cut EVA midsole cushions that absorb shock and a padded foam sock liner for superior comfort. For maximum late '80s Los Angeles Laker Girl vibes, choose the all-white version.
Debuted in 1982

Popularized by the Laker Girls and aerobics videos

Women's sizes 5-12 with half sizes available

Available in black, white, red, and orange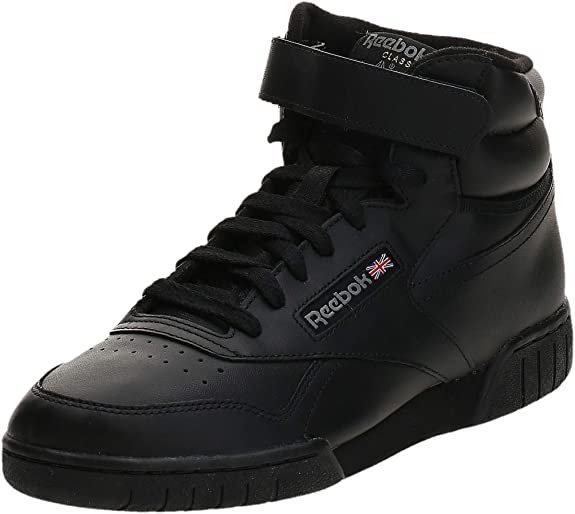 Reebok's answer to the Women's Freestyle craze, the EX-O-FIT, was released the following year, 1983. While men still wore the Freestyle, Reebok needed a male equivalent of their massively popular shoe to better tap into the growing fitness market. Essentially a masculinized version of the Freestyle, the EX-O-FIT features a single Velcro strap rather than two and a slightly less contoured design for a more unisex look.
The EX-O-FIT matches practically any look or outfit with minimal styling in white or black leather. Instead, the focus is on this athletic shoe's fit, feel, and performance. The single strap not only serves retro looks, but is also extremely practical, locking in place for ankle support. The highly abrasion-resistant outsole gives these sneakers excellent grip and durability, while the EVA midsole provides cushion and absorbs shock. Get back to basics with the EX-O-FIT, a genuinely iconic Reebok classic high top.
Debuted in 1983

Reebok's answer to the best-selling Women's Freestyle

Men's sizes 3-15 with half sizes available

Available in black and white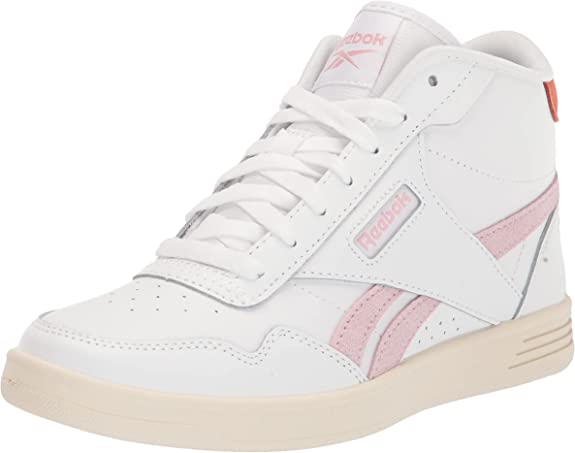 It seems like no sport went untouched during Reebok's explosion of growth in the 1980s. For those unfamiliar with the Reebok Club C, it was the tennis shoe that took the company from commanding less than 8% of tennis footwear sales in 1984 to 22% only a year after its launch. Like the Freestyle, Club C Reebok high tops started as shoes specially designed for female athletes, and the classic low-top model still offers the style and performance tennis players need on the court.
Moving off the tennis court, the Club C line found an unlikely following in Californian skateboard culture in the 90s. As styles changed and popular culture shifted, so did the Club C as it moved from performance-only to fashion. However, these Club C High Tops are not your grandma's tennis shoes, nor are they the loosely laced skateboard shoes of the '90s.
With these Reebok high tops, '80s design influences really shine through. These Club Cs evoke retro basketball nostalgia while maintaining the simplicity of a regulation tennis shoe. They have a supple classic leather upper and simple Reebok side stripes with trendy color details. Not only are these '80s-style high tops super trendy, but they're also incredibly comfortable for all-day wear.
Originally debuted in 1985

Revolutionized women's tennis, '90s skate culture, and today's sneaker trends

Women's sizes 5 – 11 with half sizes available

Available in white with fierce gold, frost berry, core black, or porcelain pink details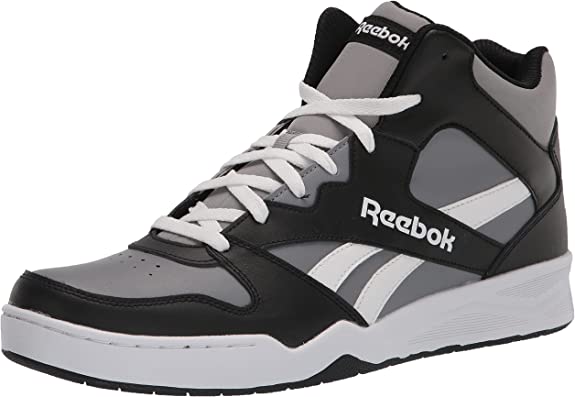 Back in 1986, Reebok introduced their classic BB 4600 basketball shoe silhouette, and the rest is history. After finding success in the fitness and aerobics sphere with the Freestyle and EX-O-FIT, Reebok decided to release their first basketball shoe, the BB 4600. Years before the iconic Reebok Pump, the BB 4600 paved the way for today's sneakerheads and collectible basketball and running shoes market.
Initially, this men's shoe had an NBA-sanctioned white upper and a few stripes of color, making them an instant hit with high school ballers both on the court and off. These days, the BB 4600 has evolved into the Royal BB 4500 Hi 2, a classic hoops-inspired sneaker that still looks right out of the '80s when paired with acid-washed jeans.
These mid-cut basketball shoes have a blended leather and mesh upper for style and breathability. They feature an extra wide fit to accommodate all foot shapes, and the '80s-style high top design adds ankle stability and support. The removable EVA foam sock liner keeps feet dry and happy all day long, while the rubber outsole offers a substantial grip. Although the Royal BB 4500 Hi 2 may be a new arrival on the scene, it's still one of the best '80s-inspired Reeboks you can find with direct roots from the OG old-school high-top basketball shoes.
Based on the BB 4600, which debuted in 1986

Directly descended from the first Reebok basketball shoe

Men's sizes 7-14 with half sizes available

Available in over a dozen color combinations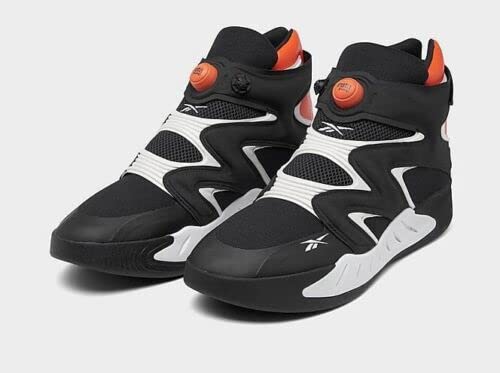 Rounding out the decade strong, Reebok released their signature basketball shoe, the Pump, in 1989. Initially considered a crazy, out-there idea, the Reebok Advanced Concepts team used inflatable chambers fitted in the shoe that could be inflated around the foot and ankle for a fully customizable fit. Dee Brown and his Pump Dunk at the 1991 NBA Slam Dunk Contest ultimately made the Pump one of the most famous shoes in basketball history. However, Dominique Wilkins was actually the first NBA star to be featured in a Reebok Pump TV commercial in November 1989.
The Pump has come a long way since 1989 with lines such as the Pump Omni Zone, Twilight Zone, and Instapump Fury. The Instapump Fury line is a newer iteration of the old-school Reebok Pumps that keeps all the retro style of the original by combining the iconic Fury OG and Pump Omni Zone II designs. In addition, it features the classic Pump button for a custom, lace-less fit with an air bladder for foot support.
Reebok Instapump Fury Zone basketball shoes have a fierce outsole tread based on late '80s and early '90s vintage Reebok high tops. These old-school high-top basketball shoes come in four flashy color combinations based on classic models such as Brazen Berry and Acid Yellow. There is even a Looney Tunes model based on Marvin the Martian for ultimate Space Jam vibes. From Allen Iverson to Shaquille O'Neal, all the biggest names in basketball during this golden era wore the Pump Reebok high tops, so why not you?
Based on The Pump, which debuted in 1989

Part of the iconic Reebok Pump series that revolutionized basketball shoes with an air bladder for a laceless custom fit

Men's sizes 6.5 – 13 with half sizes available

Available in four fun and bright color combinations
Reebok's top trainers for balling like it's 1989
When you wear a pair of these Reebok high tops, '80s authentic style will give you a stylish, retro-inspired look. No matter what type of '80s-style high tops you're looking for, there's a pair of Reebok high tops for you. So "Pump Up the Jam" and step into some classic Reeboks.