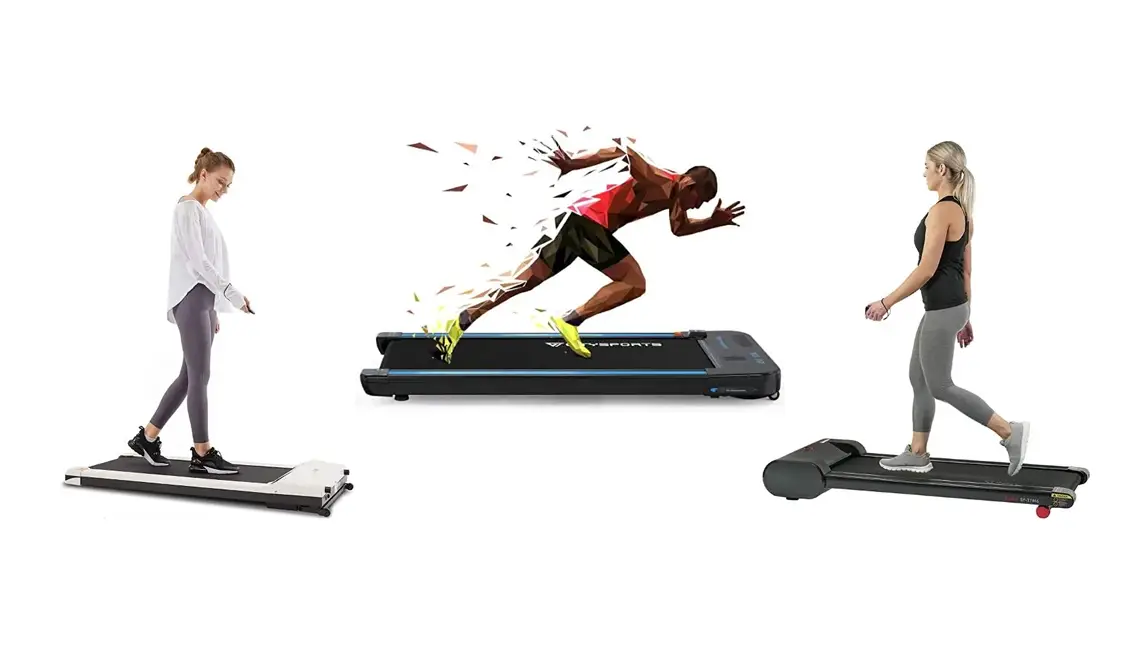 Are you looking to get moving, burn calories, and improve your health without sacrificing your free time? It's time to step into the future of work-from-home fitness with walking pads and under-desk treadmills. Cleverly designed to fit under standing desks, these products allow you to get your steps in while writing reports, compiling data, or participating in conference calls.
What is a walking pad?
A walking pad, also known as a desk treadmill, is a low-profile treadmill that fits under a standing desk for office or home use. Designed to get you moving while you work, a walking pad is an innovative way for people to stay active while working from home on their computers .
Unlike a traditional treadmill, walking pads don't have fixed, bulky handrails that would prevent you from using a computer. They are also much easier to store, with both thin and folding options available. Otherwise, a walking pad has all the same functionality as a treadmill but is made for the modern worker.
How to choose the right walking pad
Despite being a relatively new product, walking pads have exploded in popularity, and there are now tons of great options to choose from. So how do you find the right walking pad for you? First, it would be best to consider a few things, including the walking pad's size, speed, features, storability, and durability.
Size
While walking pads are designed to fit under standing desks, you'll want to check the dimensions to ensure that the one you choose fits comfortably under your desk. Also, measure where you will be storing your walking pad and make sure it fits well there as well.
Speed
Do you plan to sprint on your walking pad or walk extra-slow? While most models are designed for standard walking paces, check the speed range of the desk treadmill you're thinking of purchasing to make sure it works with your activity level.
Storability
Not everyone has the space for an entire home gym. That's part of what makes walking pads so great! However, when choosing your walking pad, it would be best to consider your home's storage limitations. Folding models may fit better in small spaces, and others are ultra-thin so they can easily slide under a couch or bed.
Durability
As with any fitness product, you want to ensure that it will be safe for its intended use and not break down on you. Check that your personal body weight fits within the walking pad's weight capacity limit. Also, consider purchasing one with a warranty.
Are under-desk treadmills worth it?
With so many fitness gadgets on the market today, it can be challenging to determine which products will actually help you improve your health and which are purely a gimmick. But as anyone who works behind a computer can attest, there are only so many hours in a day, and getting in enough cardio is a constant battle. That's where walking pads come in! By walking while you work, you can improve your overall productivity and wellbeing.
As more and more workers transition to working from home, innovative furniture solutions like standing desks have become increasingly common. Sitting all day isn't great for anyone, but why not take it a step — or a few thousand — further and add an under-desk treadmill to your work-from-home setup. Walking while you work makes it possible to burn calories, lose weight, improve blood flow, and increase focus all at once, making it an especially useful addition to any home office.
1. WalkingPad R2 Running and Walking Folding Treadmill
From the makers of the bestselling WalkingPad R1 Pro, the R2 folding treadmill is possibly the best treadmill available for people working from home. This specially designed foldable walking pad is 90% more space-saving compared to traditional treadmills and has a double folding design aided by smooth folding wheels.
The WalkingPad R2 has specific walking and running modes. In walking mode, it can slide under your desk without the handrail for speeds up to 3.7mph. Then, for a more intense workout, you can attach the handrail to use it on running treadmill mode with a safety rope for speeds up to 6.5mph.
The R2 also has an LCD display showing the time, speed, distance, and calories burned. You can switch the mode and speed using the included remote control or the mobile app. Other upgrades from the R1 pro model include a quieter motor, superior durability, EVA cushioning to protect your knees, and an anti-slip running belt.
Weight rapacity: 242 lbs

Speed range: 0.3 to 6.5 mph

Storage: Foldable

Dimensions: 57 x 28.4 x 51.2 inches working, 39 x 28.4 x 6.3 inches folded

Weight: 79.2 lbs
2. Urevo Folding Under Desk Walking Pad Treadmill
Another fantastic home treadmill option is the Urevo foldable walking pad. Great for small spaces, it has a folding design that makes it easy to store when not in use. A soft-drop feature allows you to set up your treadmill safely and hands-free.
Despite its storability, this walking pad has a wide, multi-layer tread belt that can easily compare to traditional treadmills. This offers a more comfortable walking or running surface for better stride and knee protection.
The Urevo under-desk walking pad has 12 pre-set training programs created to simulate natural terrain for a more realistic and productive walking experience. Workers who participate in multiple video conferences a day will love the Zoom audio setting that suppresses background noise.
Weight capacity: 260 lbs

Speed range: 0.5 to 7.5 mph

Storage: Foldable

Dimensions: 59.45 x 28.74 x 5.51 inches

Weight: 77 lbs
3. Goplus 2-in-1 Folding Treadmill with Dual Display
The Goplus two-in-one treadmill is an ideal walking pad solution for your home office. With an easy-folding handrail, it's simple to switch between walking and safe running modes. The motor is powerful yet quiet, so it's ideal for use in quiet, work-from-home settings.
If there isn't work to be done, you can connect your phone or tablet to the integrated Bluetooth speaker for a rocking workout. Changing settings and reading current data is a breeze with an easy-touch LED panel on the handrail, a second display at the top of the belt, and a remote control.
The running belt uses a unique seven-layer design for excellent shock absorption, anti-slip protection, and sound insulation. Sliding this foldable treadmill under a couch or table is easy with the transport wheels, making it great for cramped home offices. As a bonus, the Goplus folding treadmill comes pre-assembled so that you can get moving straight away.
Weight capacity: 265 lbs

Speed range: 0.5 to 7.5 mph

Storage: Slim with folding handrail

Dimensions: 49 x 27 x 42 inches

Weight: 74 lbs
4. UMAY Portable Treadmill with Foldable Wheels
Getting motivated and sticking to your fitness goals while working from home can be challenging. Luckily the UMAY portable treadmill comes with three months of free fitness courses through the SPAX app to make exercising even more fun. In addition to offering classes and fitness tracking, this app also works as a remote for your new treadmill.
That's right — you can connect your smartphone via Bluetooth if you would rather not use the included compact remote control. This walking pad features a convenient LED display at the top of the belt showing your distance, speed, time, and calories burned.
The belt on this running machine is multi-layer to prevent slipping and provide cushioning for your knees and joints. It's also easy to lubricate yourself. Just run the included silicone oil along the side of the treadmill desk to keep your UMAY portable treadmill running in tip-top shape.
Weight capacity: 198 lbs

Speed range: 0.5 to 4 mph

Storage: Folding wheels

Dimensions: 56.69 x 27 x 6.69 inches

Weight: 66 lbs
5. Sunny Health & Fitness Walkstation Slim Flat Treadmill
For a truly mini treadmill that you can use under a standing desk, the Sunny Health & Fitness Walkstation is a no-frills option that still delivers top quality. With a clever slim flat design, this treadmill can be stored under almost any piece of furniture and slides easily under the majority of standing desk models. It also has easy roll-away wheels, further simplifying storage.
Change settings using the wireless remote and stay safe with the active use detection, which will stop the belt after five seconds of a user not being detected. It also comes fully assembled, so all you have to do is hop on. Then, after 10 minutes of inactivity, the treadmill will enter Power Saving Mode.
Purchase of the Sunny Health & Fitness Walkstation comes with complimentary on-demand access to exercise videos and workout tracking with the Sunny Fit app available on both Google Play and the App Store.
Weight capacity: 220 lbs

Speed range: 0.5 to 3.75 mph

Storage: Ultra-slim design

Dimensions: 50 x 21.5 x 6.5 inches

Weight: 66 lbs
6. WalkingPad A1 Pro Smart Walk Folding Treadmill
From the makers of the original folding walking pad, the A1 Pro Smart is an innovative piece of fitness equipment that's ideal for any home office with a standing desk. Winner of the 2019 International Red Dot Design award, this walking pad has an ultra-thin height of 2.2 inches.
The WalkingPad A1 Pro Smart Walk comes fully assembled out of the box and can be stored practically anywhere with convenient transportation wheels. Furthermore, unlike other brands, the WalkingPad A1 uses intelligent speed control where your running speed is controlled by human motion trajectory. You can also choose to handle it manually with the remote control or via the KS Fit App.
This walking pad includes a number of safety features, including a novice speed limit, child lock function, automatic standby, and overload protection, so you can walk and work with peace of mind.
Weight capacity: 220 lbs

Speed range: 0.3 to 3.7 mph

Storage: Foldable

Dimensions: 56.5 x 21.5 x 5 inches

Weight: 60 lbs
7. CitySports Portable Walking Pad
As proven by the CitySports Portable walking pad, staying active in a small space such as your home office is possible. This compact two-in-one treadmill has two modes — walking and jogging — as well as a child safety lock for even more protection.
After 60 miles, this walking machine will even warn you that it's time to lubricate your treadmill for continued smooth operation. In addition, you can increase your motivation by playing music via the integrated Bluetooth speaker or take advantage of the quiet motor and silent belt for a distraction-free work environment.
When you purchase this walking pad, you also gain access to their app for free on-demand fitness videos to help you stay on track with your health goals.
Weight capacity: 240 lbs

Speed range: 0.6 to 5 mph

Storage: Slim with wheels

Dimensions: 55.5 x 24.75 x 6 inches

Weight: 55 lbs
8. Murtisol 2-in-1 Under Desk Electric Treadmill
Walking machine by day, jogging machine by night, the Murtisol under-desk treadmill allows you to switch from work-from-home walking to cardio training by simply raising the safety armrest. With a powerful yet ultra-quiet motor, you can focus on your work and avoid disturbing others.
The five-layer running belt is spacious for natural strides and has shock absorption to protect your knees and a no-slip texture to prevent injury. With intelligent integration through the Fitshow lite app, you can monitor all your fitness data while exercising. In addition, the holder on the handrail allows you to watch videos on your phone or tablet while exercising.
The Murtisol under-desk treadmill comes pre-assembled for your convenience. It also has a compact, foldable design that allows you to collapse the armrest and wheel it out of the way.
Weight capacity: 220 lbs

Speed range: 0.6 to 7.5 mph

Storage: Slim with folding handrail

Dimensions: 50 x 25 x 46 inches

Weight: 75 lbs
9. Rhythm Fun Portable Under Desk Treadmill Walking Pad
A modern treadmill for today's new work culture, the Rhythm Fun portable walking pad is a sleek, lightweight treadmill that will keep you moving while you work from home. Compared with other under-desk treadmills, this model has an extra-wide running belt for better balance, stability, and comfort.
However, this portable treadmill is still only 2.3 inches thick, so it fits under most furniture for out-of-the-way storage under a bed, sofa, or standing desk. With a shock-absorbing and noise-reducing design, you can exercise comfortably without distraction or disturbing others.
This walking pad features a large LED display and smart remote. The smart workout app can also track your time, distance, and speed to set and meet personal fitness goals. You do not even need to lubricate the Rhythm Fun portable walking pad. With a self-lubricating auto-oiling system, you simply add lubricant, and the running machine will use the oil as needed.
Weight capacity: 220 lbs

Speed range: 0.5 to 3.7 mph

Storage: Slim with wheels

Dimensions: 63 x 28 x 7 inches

Weight: 63 lbs
Working from home is the future of office work. Modernize your workspace, improve efficiency, and live a healthier lifestyle by adding a walking pad to your standing desk home office set up. With so many excellent models that are easy to use and store, fitting in cardio can now happen at the same time as your next Zoom meeting.