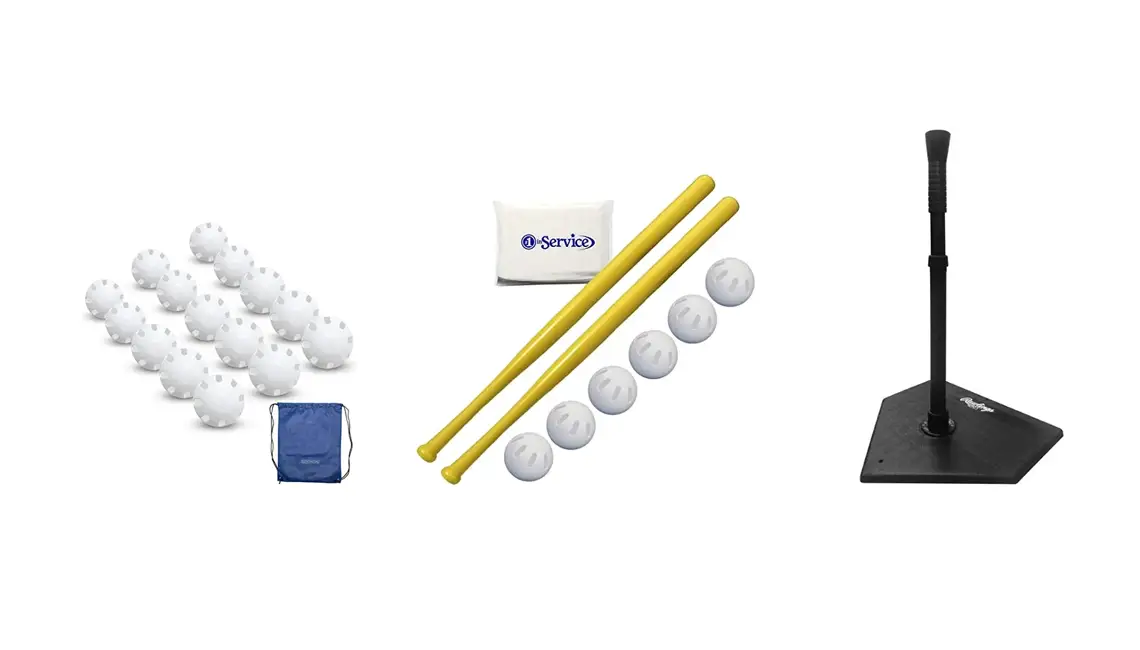 Whether you're a part of an organized wiffle ball league or you're simply looking for some backyard fun, you need the right equipment. This variation on America's favorite pastime is easy and fun to play, and it's safe for all ages. A good wiffle ball set is all you need to get started.
Types of wiffle ball equipment
When you're searching for wiffle ball sets, there are a few key types of sporting goods look for to make sure you have all the basics.
Wiffle ball
Wiffle balls are made of plastic and completely hollow. Small perforations are placed around the ball to facilitate air flow.
Official wiffle balls have exactly eight 3/4" holes, which are all located on one hemisphere of the ball. These asymmetrical perforations can give the ball a curved trajectory as it moves through the air. Other styles of wiffle balls are available as well, including those with holes around the entire surface, though these are generally not as effective for throwing curveballs intentionally.
Classic wiffle balls are the size of baseballs, but you can also find softball wiffle balls and junior wiffle balls if you prefer a larger or smaller size.
Wiffle ball bat
This type of lightweight bat is typically thinner than a standard baseball bat. Like the wiffle ball, it's plastic and is hollow inside. There's typically a small perforation at the bottom of the handle which allows some air inside the bat for a smooth swing.
A standard wiffle ball bat typically weighs 4.8 oz and measures 32" long and 1" wide. The classic design is a yellow bat. Other styles and sizes are available as well, which gives recreational players more options based on their preferences.
Batting tee
In addition to a bat and ball set, you may want to get a batting tee for wiffle ball. This type of tee ball equipment is great for younger players who aren't ready to hit directly off of a pitch yet. It can also be useful for batting practice between games.
Bases
If you want to make your game feel more official, add bases to your wiffle ball set. You'll need three bases plus a home plate to set up the baseball diamond. You may also want something to mark the pitcher's "mound" so that pitches are consistently thrown from the same distance.
Bases are ultimately optional in a wiffle ball set since some players hold their games on existing baseball diamonds and others may use makeshift bases for pickup games at the park or backyard wiffle ball competitions.
What is the size of a wiffle ball?
There are three wiffle ball sizes available:
Softball size: 3.82" diameter

Baseball size: 2.865" diameter

Junior ball size: 2.387" diameter
The regulation baseball size is the most common option by far, and is often simply called the "classic" wiffle ball size. Be sure to check the product information if you're not sure which size wiffle ball is included in a set.
What age is wiffle ball for?
Official balls and bats from Wiffle Ball, Inc. are rated for ages 3 and up. Because the equipment is lightweight, it's easy for even little batters to handle. For smaller players, it's a good idea to play T-ball style with a batting tee until their hand-eye coordination improves enough to hit off of a toss or a pitching machine.
While kids love wiffle ball, it can be just as fun for adults too. In fact, there are lots of adult wiffle ball leagues and tournaments, and many people enjoy all-ages games in their backyards or local parks.
1. Plastic Bat 2-Pack with 6 Official Wiffle Balls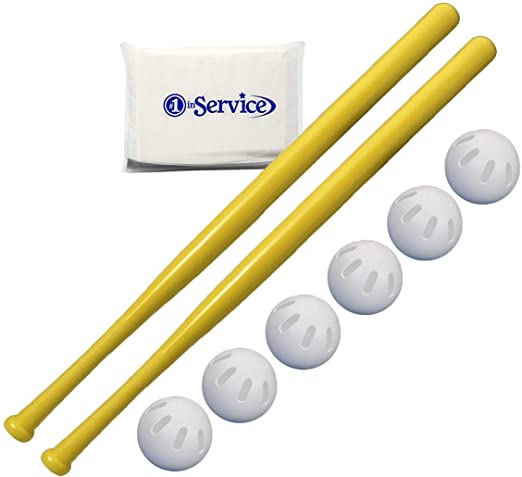 If you want a starter kit for getting into wiffle ball, this is one of the best options out there. It's made by Wiffle Ball, Inc. and features two 32" wiffle ball bats along with a pack of six official wiffle balls.
Both the bats and balls are made in the USA using high-quality, rubbery plastic. The holes are uniform and are designed for better throwing accuracy. A pack of NOIS tissues is included as well.
2 32" wiffle ball bats

6 wiffle balls

Made in the USA by Wiffle Ball, Inc.
2. Wiffle Bat and 3 Baseball Set Bundle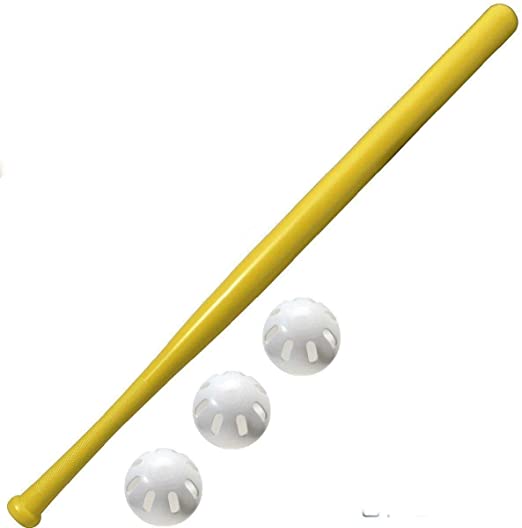 For a slightly smaller (and more affordable) option, choose this ball and bat set from Wiffle Ball, Inc. Like the set listed above, everything is made from high-quality plastic in the USA. It comes with one 2" wiffle ball bats as well as three official wiffle balls. This a great wiffle ball starter set for a young child or someone who just wants to play casually in the backyard.
1 32" wiffle ball bat

3 wiffle balls

Made in the USA by Wiffle Ball, Inc.
3. Louisville Slugger Replica Bat and Wiffle Ball

You'll feel like a pro when you swing this replica of the genuine C271 34″ MLB big league baseball bat. It's just as impressive as the real thing, even featuring an authentic wood grain pattern. However, this version has a lightweight design that's perfect for wiffle ball. Customer reviews note that this wiffle baseball bat is a great option for teens and adults in particular.
This set also includes one Stee-Rike 3 premium training ball. This classic white ball features perforations on one half and is made from hard, durable plastic. Both the ball and the bat are made in the USA.
34" replica Louisville Slugger bat

Authentic wood grain design

1 Stee-Rike wiffle ball

Made in the USA
4. Easton Pro Stix Plastic Bat & Ball Set

For a non-traditional take on wiffle ball, try this bat and ball set from Easton. The ball is made from seamed plastic, so looks more like a classic leather baseball. It essentially has the lightweight feel of a wiffle ball without the perforated style. The set also includes a high-quality plastic bat that looks just like a pro wood bat.
Seamed plastic training ball

Ultra-lightweight plastic bat

Great for wiffle ball and batting practice
5. 15-Pack of Wiffle Ball Baseballs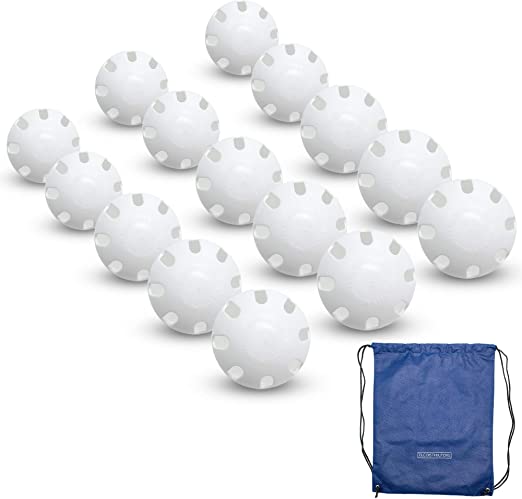 Already have a wiffle ball bat or plastic baseball bat, and just need a multi-ball combo to go with it? This 15-pack of game or practice balls is just what you need. Each ball features the iconic wiffle ball design that's engineered for better curveballs and long-distance home runs.
It also comes with a handy drawstring pouch, which makes for convenient storage when not in use and provides a great way to transport lots of balls to the park for games or batting practice.
Pack of 15 classic wiffle balls

Includes drawstring storage bag

Made in the USA
6. Franklin Sports MLB Baseball Base Set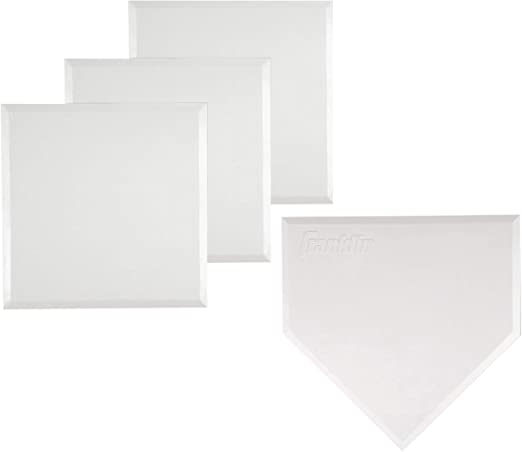 Make your wiffle ball games feel more official with this set of baseball bases from Franklin Sports. These bases are made of weather-resistant rubber and feature waffle construction grip to keep them in place, so you can simply throw down these bases whenever you're ready to play. They're easy to transport and can be used for a variety of different games, including wiffle ball, baseball, softball, and kickball.
Made with durable, weather-resistant rubber

Heavy-duty waffle construction

Excellent grip, even on wet or slick surfaces

Includes 3 square bases for first, second, and third and a home plate
7. Rawlings Youth All-Purpose Batting Tee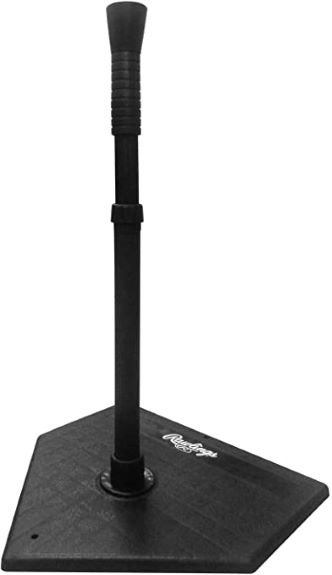 If you're setting up a game for the kids, consider adding this Rawlings batting tee to your collection of wiffle ball equipment. This is a simple yet sturdy option that's easy to set up. Adjust the height to different players' strike zones as needed for a fun, all-ages game.
Beginner batting tee

Plastic base with molded rubber tee

Snap-lock adjustable height from 20" to 31"
Ready to take a swing at playing wiffle ball? Choose from these sporting goods to assemble a custom equipment set with everything you need.