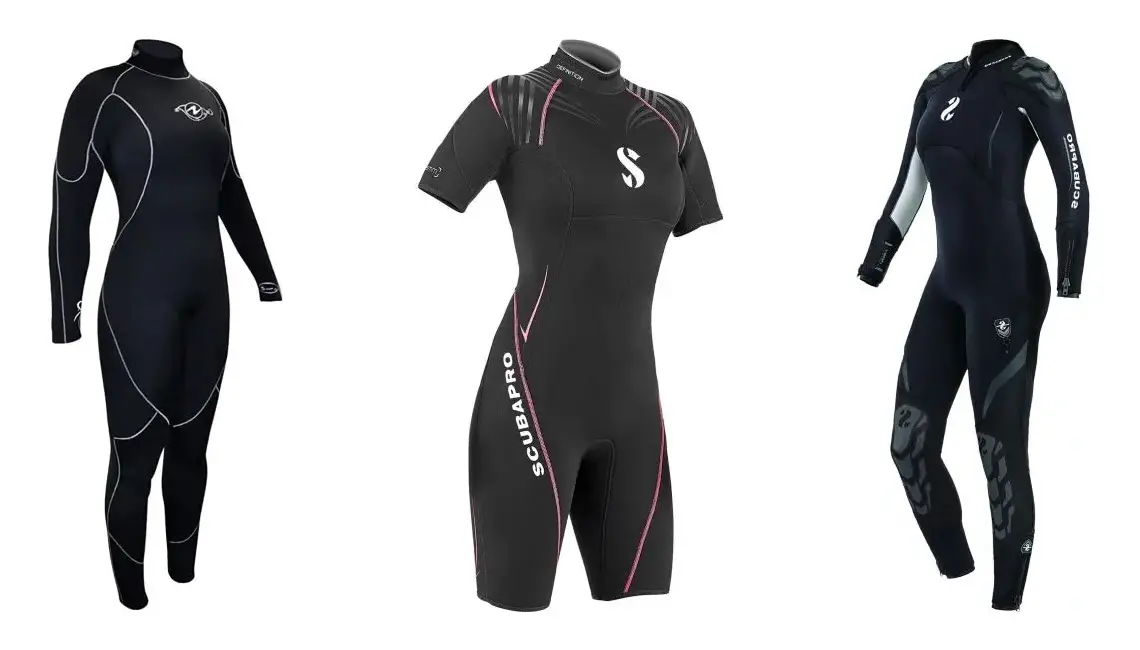 A good wetsuit is like an extension of your body when you're scuba diving, but suits designed for men rarely fit women's curves. With a specially designed female scuba diving wetsuit, you can get the exposure protection you need while staying comfortable and confident in the water. Check out the best women's scuba wetsuits available to find the right one for diving in your area.
Find your women's scuba diving wetsuit
How to choose a women's wetsuit
Finding the right wetsuit can make a huge difference in your comfort underwater. Here are some tips to help you choose the best women's wetsuit for you.
Temperature and warmth
Depending on the water temperature, you will want to choose a different neoprene thickness for your wetsuit. For cold water diving, you either need a thick full wetsuit or a dry suit for cold water diving. However, in warm tropical waters, you can dive with a thinner full suit or a shortie. In these more hospitable conditions, you may not even need a wetsuit and can opt for a rashguard instead.
Use this guide to find the appropriate wetsuit thickness based on the water temperature of where you dive:
85°F and up: Rashguard to 2mm

80°F to 85°F: 1mm to 3mm

73°F to 79°F: 3mm to 5mm

66°F to 72°F: 5mm to 7mm

50°F to 65°F: 7mm semi-dry to dry suit

49°F and lower: Dry suit
Your internal body temperature also matters when selecting a wetsuit. For example, female scuba divers tend to run a bit colder than men and are more likely to need a thicker diving suit to stay warm.
Besides water temperature, here are some factors that can affect how thick of a wetsuit you need:
Depth of the dive

How many dives you're doing

Surface conditions

Gender

Body fat

Metabolism

Age

Health
Fit
Getting the right fit is essential when purchasing a wetsuit. A neoprene wetsuit works by trapping a small amount of water inside the suit that's warmed by your body heat. A poorly fitting wetsuit can't keep you as warm if water seeps through the neck, ankle, and wrist seals, breaking this thermal seal.
Women divers should purchase a wetsuit designed specifically for female bodies. These wetsuits are better prepared to fit curves snugly and prevent awkward back, shoulder, or crotch gaps.
To see if a wetsuit fits properly, try it on and check the following areas:
Neck:

The neck seal should be tight enough not to let water come in but not so tight that it chokes you.

Shoulders:

You should have freedom of movement and be able to put your arms over your head but not have extra space in the shoulder area or under your armpits.

Arms and legs:

On a full-body wetsuit, the arms and legs should reach your wrists and ankles, and the seal should sit flat against your skin.

Crotch:

You want to be sure your wetsuit sits close to your crotch area and doesn't drop down between your legs.

Back:

Especially on a back zip suit, ensure the wetsuit sits flat against your spine and doesn't pull away from your body. In that case, it's too small, and your suit will likely rip at the bottom of the zipper.
Quality
At first glance, it might not seem like a wetsuit is an essential piece of scuba gear like a regulator or dive computer. However, the correct exposure suit is paramount for protecting you from hypothermia while diving in colder water. Therefore, you want to buy one that can stand up to the conditions where you scuba dive and last for a long time.
Look for wetsuits with features like robust YKK zippers and flatlock seams that keep water from seeping in. You also want to select a scuba diving suit from a trusted scuba brand to better guarantee quality. Some widely available options include Scubapro, Cressi, Aqualung, Mares, and Henderson.
Sport
There are many types of wetsuits designed for different activities, such as scuba diving, snorkeling, freediving, triathlons, and other water sports. In this lineup, scuba wetsuits are unique since they are specially designed for diving and are made from compression-resistant neoprene.
Like air pockets in our body, neoprene consists of tiny bubbles that compress under pressure. Wetsuits used for sports like surfing or swimming aren't compression-resistant.
If a scuba diver wears a non-scuba wetsuit, it won't offer the same warmth at depth. So suddenly, your 7mm wetsuit is only offering as much warmth as a 3mm, and you're forced to end a dive because you're freezing.
This is less of a concern for warm water dives, and a non-scuba wetsuit does still help prevent abrasion. However, wearing the wrong type of wetsuit for diving also wears out the neoprene faster, and it can even become permanently compacted.
9 scuba wetsuits for women
With one of these nine scuba wetsuits for women, female divers can stay warm and feel confident in any water temperature.
1. Mares Women's Coral USA 1mm Wetsuit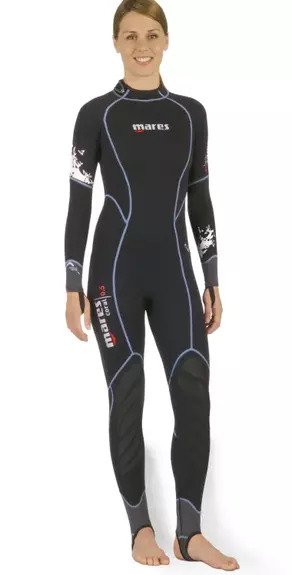 Best 1mm women's wetsuit

Suitable for water temperatures 82°F+

Great for using as a second skin or extra layer

Durable enough to be worn on its own with rubber knee pads and heat-retaining properties
Do you prefer a full jumpsuit or one-piece wetsuit for a dive in warm tropical waters? The Mares Coral is an excellent 1mm option. Combining the comfort of a stretch neoprene skinsuit, the durability of a thicker suit, and rubber knee pads, it's a great suit on its own. Or you can wear it as an extra layer under a thicker wetsuit or shorty for extra warmth. This wetsuit also has an internal layer made from Metalite, which has a heat-retaining effect for more warmth without adding thickness.
2. Scubapro Definition Shorty 2.5mm Women's Diving Wetsuit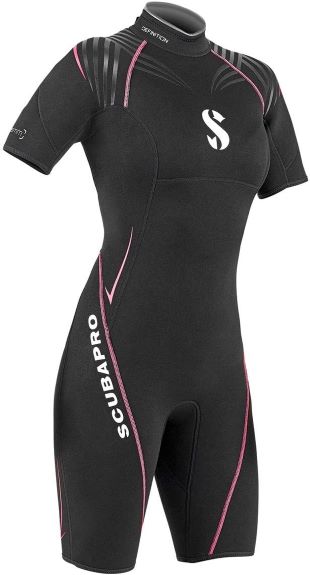 Best 2.5mm women's shortie

Suitable for water temps 80°F+

Perfect for preventing chafing during warm water diving

Comfortable to wear and easy to put on
Warm water divers everywhere will love the Scubapro Definition shorty wetsuit. This 2.5mm short sleeve spring suit has a durable neoprene construction with an inner plush lining for smooth skin comfort. Cut to fit women's bodies, the Scubapro Definition offers excellent mobility for a wide range of motion underwater and works great for layering or on its own. Taking this shortie wetsuit on and off is also a breeze with a brass slider YKK zipper.
3. Henderson Thermoprene 3mm Women's Front Zip Wetsuit Jacket

Best 3mm front-zip shortie

Suitable for water temps 78°F+
Front zip design and super stretch neoprene

Long sleeve shortie design is versatile for warm water diving
The Henderson Thermoprene is an excellent shorty wetsuit for female divers looking for a front zip option. This wetsuit has a front step-in jacket construction, making it incredibly easy to put on. It's made from super stretch thermo neoprene that's laminated with abrasion-resistant fabric for maximum durability. In addition, it has long sleeves, offering a little extra warmth and protection against chafing, and has a neoprene back flap that creates a comfortable seal along the back of the zipper.
4. Cressi Ladies' Morea 3mm Scuba Diving Wetsuit

Best 3mm full wetsuit

Suitable for water temps 73°F to 85°F

Unique smooth neoprene chest area improves hydrodynamics, and better fits women's bodies

Tight yet comfortable seals throughout help keep in heat
Lady divers looking for a classic back zip 3mm wetsuit will love the Cressi Morea. This full-body wetsuit features an anatomically shaped preformed collar, an Aquastop zipper flap, and Overlock leg and sleeve cuffs for tight yet comfortable seals all around. The Morea also has a smooth neoprene exterior chest region that improves hydrodynamics and flexibility. Finally, the interior elastic nylon lining has extra flexibility in the joint areas, and flat sewing throughout prevents fraying.
5. Bare Evoke 5mm Full Women's Wetsuit

Best high-end 5mm women's wetsuit

Suitable for water temps 66°F to 82°F

Designed by women for women

Excellent warmth versus thickness ratio thanks to infrared technology
Nobody knows more about what women want in a wetsuit than other women. That's why an all-female design team has created the Bare Evoke wetsuit. This 5mm full wetsuit has one of the warmest designs available, using Ultrawarmth Omnired technology to improve circulation and boost body warmth. A back zip with a double internal zipper flap prevents water from seeping in. It also features seamless underarms for improved mobility and comfort.
6. Aqua Lung AquaFlex Women's 5mm Wetsuit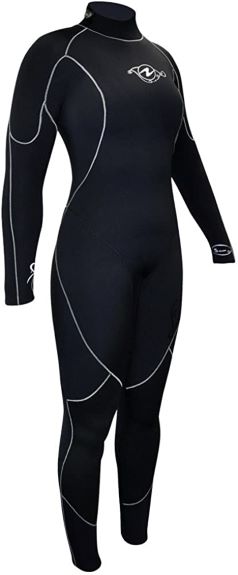 Best flexible 5mm wetsuit

Suitable for water temps 66°F to 82°F

Ultra flexible neoprene construction for easy on and off

Pre-bent arms and legs and no edge tape allow for a full range of motion
If you're looking for the most comfortable 5mm women's wetsuit, consider the Aqua Lung AquaFlex. Made from four-way stretch neoprene and specially sculpted at the joints, it's never been easier to put on your wetsuit or move around on a dive. While most wetsuits use edge tape to seal off the wrists and ankles, the AquaFlex uses a much more flexible fused finish that maintains warmth and movement. Inside the suit is an ultra-soft lining and added thermal insulation to help maintain core warmth.
7. Scubapro Women's EverFlex Steamer 7mm Wetsuit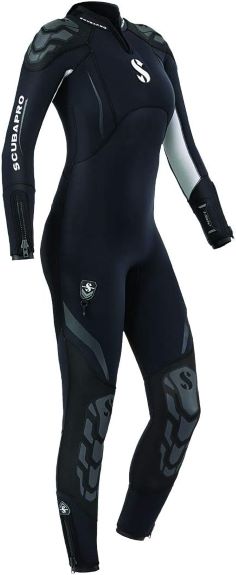 Best 7mm women's wetsuit

Suitable for water temps from 50°F to 72°F

A warm and flexible full wetsuit that's easy to take on and off

Available in a wide range of sizes to fit all female divers
The Scubapro 7mm Steamer is a warm and comfy wetsuit perfect for diving in temperate waters. Made from unique EverFlex neoprene, this wetsuit moves with your body for optimal freedom and long-term durability. The 7mm Steamer is available in a wide range of sizes to fit nearly all women, with sizes ranging from XX-small to 4X-large, all with short and tall versions. It also features a Diamond Span inner lining that drains water and double-blind stitched outer seams for extra cold water protection.
8. Mares Women's Flexa 8-6-5 mm Front Zip Wetsuit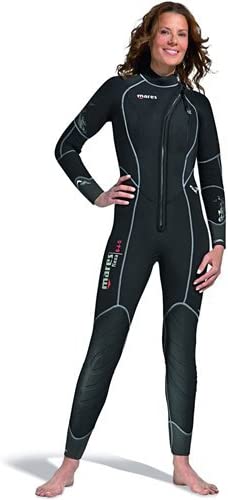 Best variable thickness cold water wetsuit

Suitable for water temps 50°F to 72°F

Different neoprene thicknesses for core warmth and joint mobility

Anti-abrasion graphics help prevent wear to common stress points
Need a warm wetsuit for cold water diving but hate how constricting thicker wetsuits can be? Check out the Mares Flexa 8-6-5. This wetsuit is made from ultra-stretch neoprene that has customized thickness zones for added warmth where you need it and flexibility where you don't. In addition, the Flexa has a front zip design with a custom neck closure and neoprene flap to make it even easier to put on and take off. This wetsuit includes added durability features like a specially designed back protection system that prevents tank rubbing and a grip area for dive computers and other instruments on the wrists.
9. Scubapro Nova Scotia Women's 7.5mm Semi-Dry Suit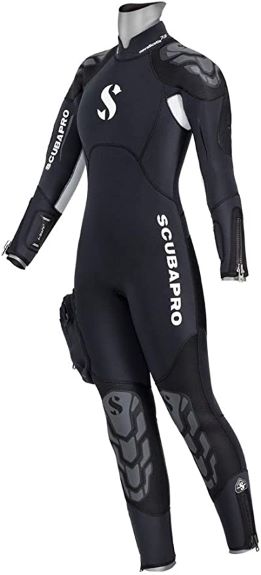 Best women's semi-dry suit

Suitable for water temps 45°F to 60°F

It keeps divers drier than a traditional wetsuit but maintains mobility

Included hood and attached pocket
Not quite cold enough for a dry suit, but still need some extra warmth? The Scubapro Nova Scotia is a 7.5mm semi-dry suit that offers the best of both worlds. By eliminating hydro drag, you stay relatively dry in the water yet can still move around easily. In addition, it has a water-draining plush inner lining, watertight seals, and an included hood for full-body warmth. The Nova Scotia features I-Safe straps for attaching instruments, abrasion-resistant shoulder and knee pads, and a 3D pocket on the right thigh for extra gear storage.
Women's scuba diving wetsuit FAQs
Check out the answers to some frequently asked questions about women's scuba wetsuits.
Can you use a surfing wetsuit for scuba diving?
Surfing and scuba wetsuits are designed for different purposes and shouldn't be used for the other sport. At depth, surfing wetsuits compress and don't offer the same level of warmth as dive wetsuits. Also, surfers will find scuba wetsuits too constricting while riding waves.
How thick of a wetsuit do I need for scuba diving?
Finding the correct wetsuit thickness depends on several factors, including the water temperature and your natural ability to withstand cold.
How cold is too cold for a wetsuit?
Technically, you can dive in a wetsuit or semi-dry suit in water as cold as 35°F. However, most divers will find that their cold tolerance threshold for needing a dry suit is around 50°F.
In what order should I buy my scuba gear?
After a well-fitting mask and pair of fins, one of the subsequent dive gear purchases you should consider is a wetsuit. Since wetsuits are incredibly personal to the user and fit matters, this should be the next purchase you make. Then, you should consider a dive computer, a regulator, and a buoyancy compensator device (BCD).