chack
What Is The Definition Of Chack In Figure Skating?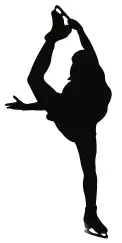 1. To chack means to fail to broadcast a medal-winning or otherwise important figure skating performance. As a result, skaters low in the rankings may not be shown if stronger competitors are up later.
How Does Chacking Happen?
Chacking can only happen during live performances when broadcasters must cut parts of the competition for time. If broadcasters don't anticipate that a skater will be a contender for a medal or one of the top-ranked performers of the event, they may decide not to show that skater's routine. 
How Do You Use The Word Chack?
Chack is a verb and can be used in the forms chacks, chacking, and chacked. For example, "they chacked" or "she's chacking" could be used to describe this action.
Where Did The Word Chack Come From?
At the 1993 U.S. National Championships, TV producers didn't believe American figure skater Michael Chack would win a medal. Hence, they chose not to broadcast his performance. However, Chack went on to win a bronze medal in the competition, and viewers missed it. 
Example Of How Chack Is Used In Commentary
1. After broadcasters chacked his performance, Michael Chack went on to win a U.S. Championship bronze medal.
Sport The Term Is Used