cross bat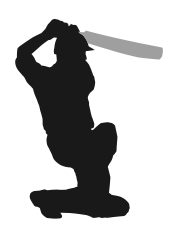 What Is The Definition Of Cross Bat In Cricket?
1. A shot played with the bat parallel to the ground. Variations of this type of shot include the cut, the square drive, the pull, the hook and the sweep. Generally, batsmen are less successful in making contact with the ball on a cross bat shot when compared to vertical bat shots. A batsman will usually only use this type of shot if the delivery is not heading towards the stumps.
Examples Of How Cross Bat Is Used In Commentary
1. His cross bat shot was powerful, and it ended up in cow corner.
Sports The Term Is Used
1. Cricket
Also Seen As:
1. Cross Bat Shot
2. Horizontal Bat Shot
----------------------------------------------------------------------------------------------------