F.C.
What Is The Definition Of F.C. In Soccer?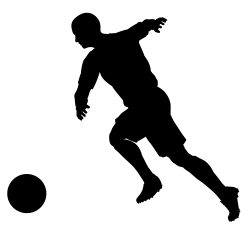 1. F.C. are the initials for "football club". This is not to be confused with American football, but with soccer. The F.C., or football club, initials are most commonly used in European soccer leagues.
F.C. vs. S.C. In Soccer
S.C. stands for "soccer club," a name that is sometimes given to teams in the United States. Since the term "football" is more widely associated with gridiron football in the U.S., F.C. is less widely used.
Why Do U.S. Teams Use F.C.?
Although "soccer" is the term for the sport in the U.S., the use of S.C. isn't consistent throughout country, especially at the professional level. For example, in Major League Soccer (MLS), there are a number of teams that use F.C., including Los Angeles F.C. and Atlanta United F.C. Only two teams in the MLS use S.C.: Orlando City S.C. and Nashville S.C.
The use of F.C. is part of a larger trend with U.S. pro clubs adopting team naming conventions used in Europe. In addition to F.C., there are MLS teams that use United (D.C. United, like Manchester United), Real (Real Salt Lake, like Real Madrid), and Sporting (Sporting Kansas City, like Sporting Clube de Portugal) in their names. These titles are intended to create deeper connections to international soccer traditions and lend more authenticity to the MLS, which is relatively new compared to most European football leagues.
Examples Of How F.C. Is Used In Commentary
1. The Manchester United F.C. has been one of the top football clubs in the English Premier League for decades. The football club has had some of the best players on the planet play on their team, such as David Beckham and Wayne Rooney.
Sport The Term Is Used
1. Soccer
Also Known As:
1. Football Club
----------------------------------------------------------------------------------------------------