flip jump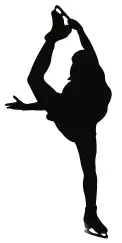 What Is The Definition Of A Flip Jump In Figure Skating?
1. A flip jump is a type of toe jump in figure skating. In a flip jump, skaters take off from the back inside edge of one foot and land on the back outside edge of the other.
How Many Points Is A Flip Jump Worth In Figure Skating?
The base value score for a single flip jump is 0.5 points, a double is 1.80, a triple is 5.50, and a quadruple is 11.00. However, a quadruple flip jump is extremely rare.
How Do You Do A Flip Jump?
A skater can enter a flip jump from an outside 3-turn or a Mohawk turn. Then, with one foot on the ice and knees bent, they extend their free leg backward to push off with their toe. 
In the air, the skater will pull their legs together. They finish with one arm outstretched in front, the other to their side. Now the opposite leg is free and kicked back. 
What Are The Variations Of A Flip Jump?
There are two variations of the flip jump:
The half flip is used as a common transitional step or a takeoff.
The split flip is a flip jump where a skater will perform the splits in the air mid-jump. 
Example Of How Flip Jump Is Used In Commentary
1. Japanese skater Shoma Uno shocked the figure skating community when he landed the first-ever quadruple flip jump at an international competition during the 2016 Team Challenge Cup. 
Sport The Term Is Used
Abbreviated As:
1. Flip