folk*style wrest*ling
What Is The Definition Of Folkstyle Wrestling?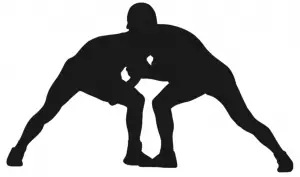 1. Folkstyle wrestling is a style of wrestling that is mainly practiced in high school and collegiate competition. This style is known as the more traditional style of wrestling in the United States and is similar to freestyle wrestling.
Some general rules to folkstyle wrestling, that differ from freestyle and Greco-Roman are:
To pin your opponent, you must hold them on their back for two-seconds.
When attempting a pin or takedown, a wrestler is allowed to lock their hands. It is illegal to lock their hands, or clasping, when riding.
A wrestler can be docked a point for fleeing during the match, if they have already been warned.
What Is The Difference Between Folkstyle & Freestyle Wrestling?
The main difference between folkstyle and freestyle wrestling is that in folkstyle, moves are allowed from the bottom position.
Examples Of How Folkstyle Wrestling Is Used In Commentary
1. Jones may have been a star in college where he excelled at folkstyle wrestling, but he'll have an adjustment period while trying to adjust to Greco-Roman in order to make the Olympics team.
Also Known As:
1. College wrestling
Sports The Terms Is Used
1. Wrestling
----------------------------------------------------------------------------------------------------